I have found another way to incorporate kefir's wonderful probiotic benefits into our family's diet. Healthy Kefir Popsicles are delicious and easy to make.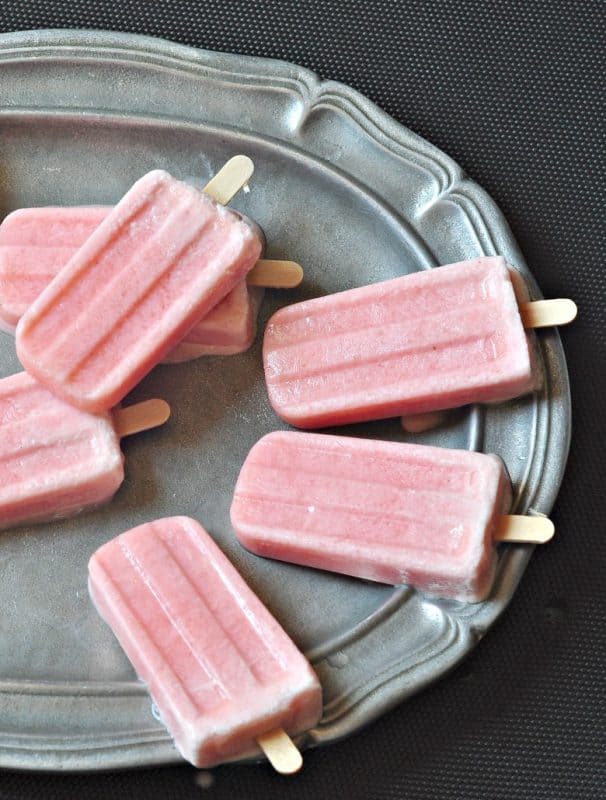 I shared earlier on the blog how easy homemade kefir is to make. It truly is so easy! I have primarily used kefir as a breakfast drink with fruit and sweetened with honey, so it is technically a smoothie.
But, now that the weather is hot, I started making these healthy kefir popsicles for the family. I definitely love popsicles since they're a great treat, but they are also a good way to make sure the children are hydrated enough to stay healthy in the summer.
Now, you don't necessarily have to use homemade kefir for this recipe. But I find that it makes it all the more delicious!
I actually use the same ingredients as if I am making a kefir smoothie but change the quantities. Three basic ingredients and imagination open a world of new treats!
I've sung the praises of kefir before, but I just can't help it! Kefir's not only a delicious drink all on its own, but it's a great additive if you want to make a regular recipe healthier.
Jump to:
Instructions
It's remarkable how simple it is to make these very delicious popsicles.
Add the kefir, frozen fruit, and honey to a blender and blend just until smooth.
Pour mixture into popsicle molds and freeze. Times will vary, but mine are usually frozen in about 8 hours.
You can't get much easier than that!
Plastic and stainless steel molds are available online. The first popsicle molds I purchased were from a local store on sale at the end of the season. They worked but the popsicles came out tasting and smelling like plastic - it was awful!
So, I threw them away and ordered (from my affiliate) these popsicle molds and love them! Not only do the popsicles look nice but the children love having the wooden sticks - it's the little things! 😉
Substitutions
There are lots of ways to enjoy popsicles! Try out a couple of different variations to see which ones you prefer.
Use agave or maple syrup instead of honey to sweeten your popsicles.
If you don't have kefir on hand, you can substitute greek yogurt or a full-fat can of coconut milk. Amounts needed may vary.
For some extra nutrition, make a green smoothie popsicle by adding ½ to 1 cup of spinach before blending.
Don't be afraid to experiment with these popsicles by trying different fruit combinations to see which you and your family like best! The options are endless! Let me know in the comments what ideas you come up with.
Tips
These kefir popsicles are incredibly easy to make and are a healthy treat that is great on a hot summer day! Here are some tips to make sure you get the perfect frozen treat you are looking for.
Make the mix sweeter than you think it needs to be - once they are frozen, the pops will not taste quite as sweet as they did beforehand.
Do not leave them at room temperature to get the popsicles out of their mold. They will most likely break when you are removing them.
To unmold the popsicles, run warm water down the bottoms of the mold for a few seconds, and then they should come out easily.
If the sticks are not able to stand up straight, freeze the popsicles without sticks, wait 30 to 40 minutes until it's a bit slushy then add the sticks. Just don't forget to add them in later!
Frequently Asked Questions
What can I use if I don't have a popsicle mold?
If you don't have a popsicle mold, try using containers around your kitchen like a loaf pan, yogurt container, or cupcake tins. Cover with aluminum foil, then poke your popsicle sticks through the top and freeze! You might end up with some funny shapes, but they will be just as delicious!
Does freezing the kefir kill the probiotics?
Nope! There is no evidence to suggest that freezing kefir will kill the probiotics. Instead, the probiotics go into a dormant state and are reactivated when thawed.
How do I store the popsicles?
Leaving the popsicles in the mold for long periods of time can cause the bottoms to become freezer-burned. To store your popsicles, lay them on a baking sheet covered with parchment paper and refreeze for 20 minutes. Then place them in an airtight container or freezer bag. Refreezing the popsicles keeps them from sticking together in the container or freezer bag.
If you've tried these Healthy Kefir Popsicles or any other recipe on Cultured Palate please take a minute to rate the recipe and leave a comment letting me know how you liked it. I love hearing from you! You can also FOLLOW ME on PINTEREST, FACEBOOK, INSTAGRAM, YouTube and TWITTER.
📋 Recipe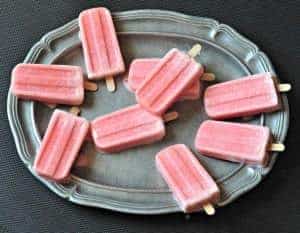 Kefir Popsicles
Cultured Palate
Take your homemade kefir and add some fruit, and you'll have popsicles everyone will love.
Ingredients
3

cups

kefir

1

cup

frozen fruit

strawberries, peaches, blueberries, bananas ...

½ - ¾

cup

honey

adjust to taste - we like them tangy!
Instructions
Blend all ingredients in blender -I blend just until smooth.

Pour into popsicle molds and place in the freezer.

Freezing time varies but mine are frozen in about 8 hours.

Serve and Enjoy!
Notes
Want to make your own kefir?
Now, you don't necessarily have to use homemade kefir for this recipe. But I find that it makes it all the more delicious!
I offer a video tutorial on how to make kefir here. I made this video because I'm a visual learner and I find it easier to learn by watching someone else do the process first. When I'm making a new recipe, I like to know about every step and every ingredient that goes into making it, so I want to extend that courtesy to all of you.
Nutrition
Calories:
51
kcal
Carbohydrates:
5
g
Protein:
2
g
Fat:
2
g
Saturated Fat:
1
g
Cholesterol:
8
mg
Sodium:
37
mg
Potassium:
36
mg
Sugar:
4
g
Vitamin A:
145
IU
Vitamin C:
13.9
mg
Calcium:
93
mg
Iron:
0.1
mg