Flavored Kombucha is a fermented drink that is a delicious treat and easy to make! This flavored Kombucha recipe uses fruit for a variety of flavors. Even kids love it!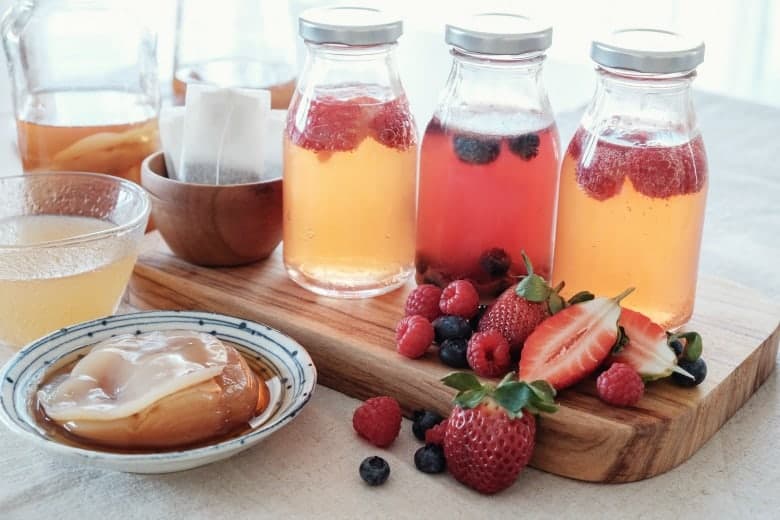 Kombucha is a fermented drink made from sweet tea, that is slightly carbonated and full of probiotics.
I am sure you have seen the bottles of fruit-flavored Kombucha in stores such as Sprouts or Whole Foods.
You may have even bought them.
I confess I have from time to time. Even though I do not like spending so much on them, they taste so good and it is so refreshing!
I have bought them at Sprouts and once even had a flavor with Chia seeds in it - it was delicious! I love chewing my juice!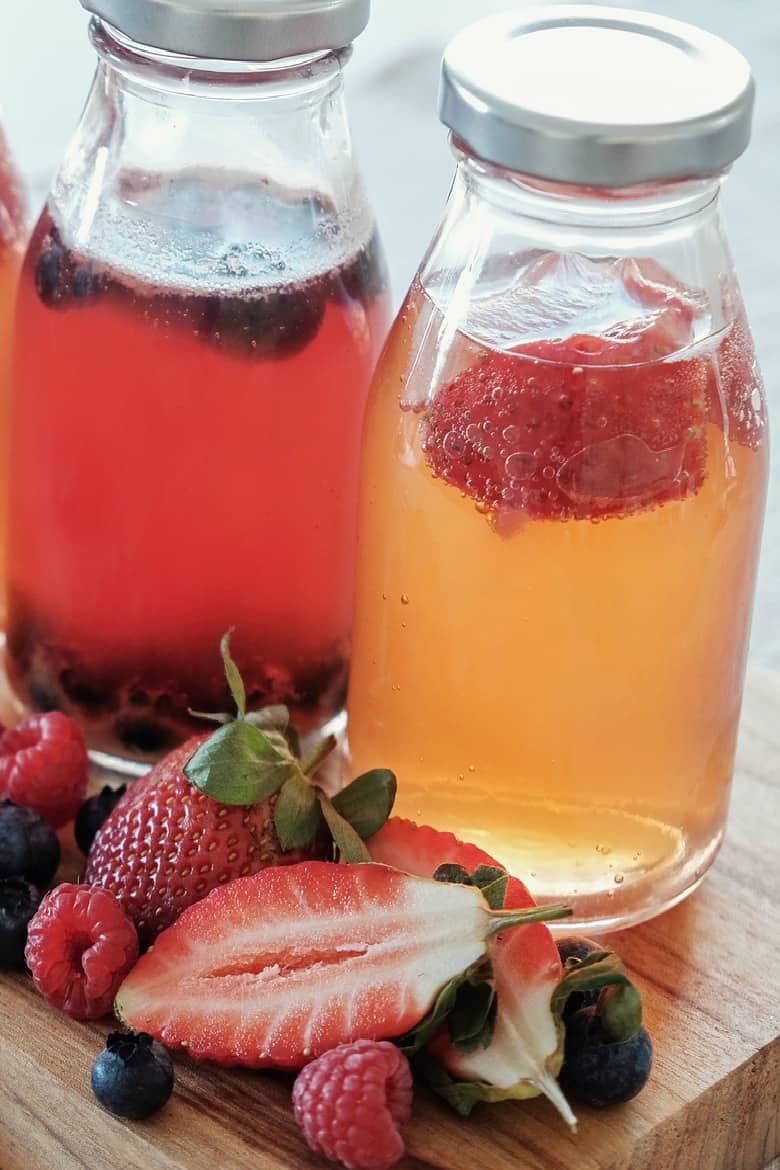 But, as I was drinking them, I kept thinking that I should be able to make this or at least something close to it!
Thanks to a friend whom I was talking with, now you can make fruit-flavored kombucha easily and for a fraction of the cost of the store-bought version.
Jump to:
Instructions
All you need is kombucha and fruit - you can use frozen fruit straight from the freezer or fresh fruit.
I used to make Kombucha (see How to Make Kombucha) a gallon at a time but I have fallen in love with the Kombucha Continuous Brew Method because it is so easy!
Either way, once the kombucha is fermented and ready, you will do a second fermentation.
I did a few batches to try it - strawberry, blueberry, and raspberry.
Adding the fruit:
For the strawberry, I used a half-gallon jar of kombucha and added 1 cup of whole frozen strawberries.
With the blueberry kombucha, I used ⅓ cup of frozen blueberries to a quart of kombucha.
For raspberry, I used ½ cup of fresh raspberries to a quart of Kombucha.
Once you add the fruit to the Kombucha, the berries begin changing the color of the kombucha almost immediately.
I let them sit on the kitchen counter for a couple of days before refrigerating the jars.
After 2 days, the finished product has a beautiful color - and the taste, well, I wish I could share it with you!
Experiment to see how strong a flavor you like the best. The longer you leave it out, the stronger the flavor becomes.
Variations
You can use almost any fruit you'd like and don't be afraid to get creative with different variations and combinations!
Fruit. We've had success using strawberries, blueberries, raspberries, cherries, cranberries, and grapes. Try substituting half of the fruit for a different fruit to create a delicious combination like strawberry-blackberry kombucha!
Herbs and spices. Basil, lavender, thyme, ginger, and cinnamon are all great additions to spice up the flavor of your kombucha. A lemon thyme kombucha would be perfect for spring and summer!
Fruit juice. For a stronger fruit flavor, try using fruit juice! Add ¼ cup juice to 16 - 20 oz of Kombucha.
You can use almost any fruit you can get your hands on. If using citrus fruit, I'd juice half and put the other half in slices instead of wedges.
Make sure to clean the peel/skin thoroughly before putting it into the Kombucha.
Frequently Asked Questions
Can you drink it daily?
Since Kombucha is a fermented drink and contains probiotics, it is fine to drink every day. In fact, probiotics can help maintain a healthy gut. (source)
For more information on the benefits of fermented foods, read my post on Getting Started With Fermented Foods. 
Can you eat the fruit after?
Yesssss!
Does it need to be refrigerated?
During the fermentation when the fruit is in the jars for a second fermentation, do not refrigerate.
After fermentation, the flavored Kombucha should be kept in the refrigerator.
This helps keeps the live probiotics produced in the Kombucha fresh and active.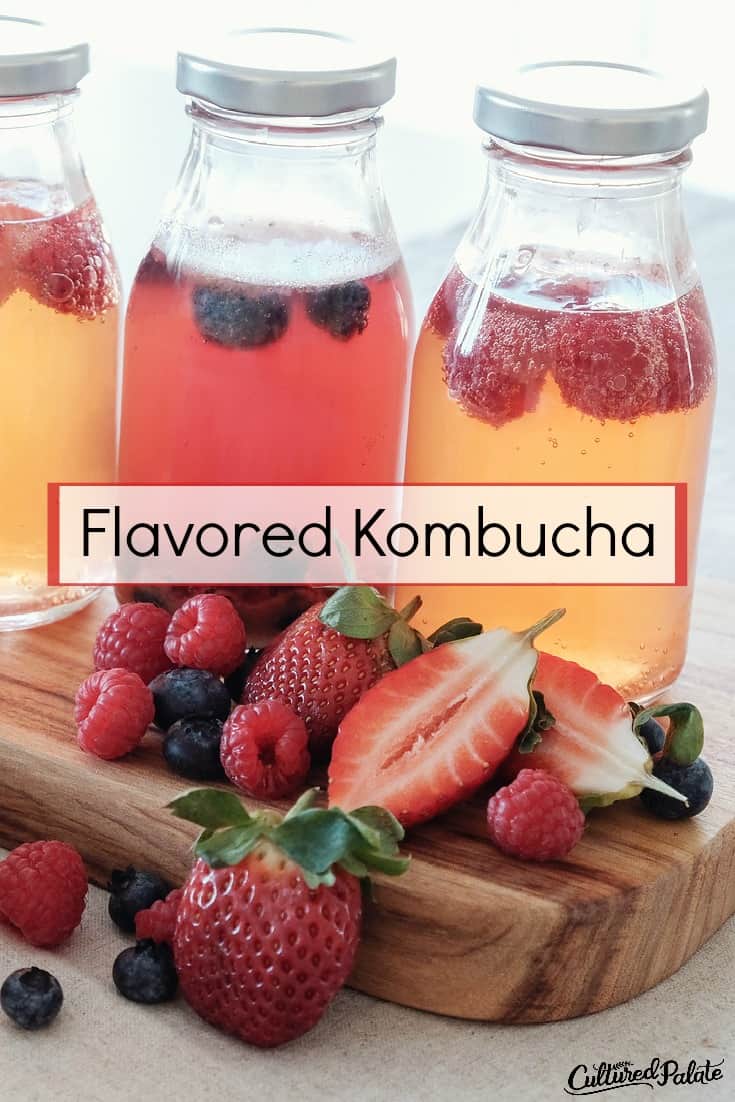 If you've tried this recipe for Flavored Kombucha or any other recipe on Cultured Palate please take a minute to rate the recipe and leave a comment letting me know how you liked it. I love hearing from you! You can also FOLLOW ME on PINTEREST, FACEBOOK, INSTAGRAM, YouTube and TWITTER.
📋 Recipe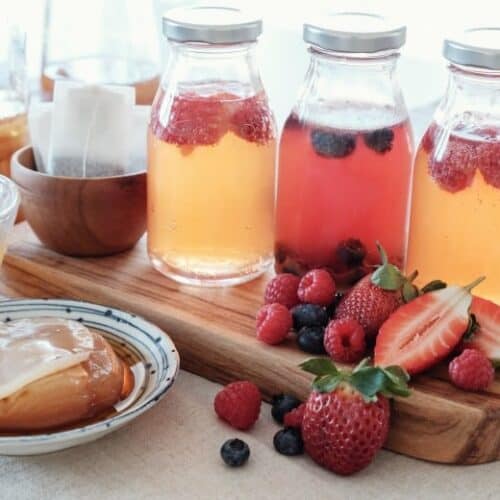 Flavored Kombucha
Cultured Palate
Learn how to add fruit and flavor to your homebrewed kombucha.
Ingredients
1 - 2

quarts

kombucha

⅓ - ½

cup

fruit

fresh or frozen

Kombucha is very forgiving so don't worry about being too exact in how much to use.
Instructions
Once your kombucha has finished fermenting, remove the desired amount and add it to a jar with a lid.

Add fruit to the kombucha, screw on the top and let sit for two days to a week - depending on the flavor you like.

When the second fermentation is finished, place kombucha in the refrigerator, chill and enjoy!
Notes
Fruit juice can also be used giving a stronger fruit flavor. Use about ¼ cup juice to 16 - 20 oz. of kombucha - adjust to your taste.
Flavoring Kombucha - What Fruits To use?
strawberry - This was probably our favorite flavor.
blueberry
raspberries
cherries
cranberries
grapes
use almost any fruit you can get your hands on
Nutrition
Calories:
33
kcal
Carbohydrates:
8
g
Sodium:
2
mg
Potassium:
52
mg
Sugar:
6
g
Vitamin A:
180
IU
Vitamin C:
1.3
mg
Calcium:
3
mg
Iron:
0.2
mg