Learning how to make vanilla extract is easier than you think! Now you can have the taste of real vanilla extract without the expense!
It really is true! I know because I make my own and have run the numbers. I'm tired of paying for imitation stuff when I could have the real thing for less!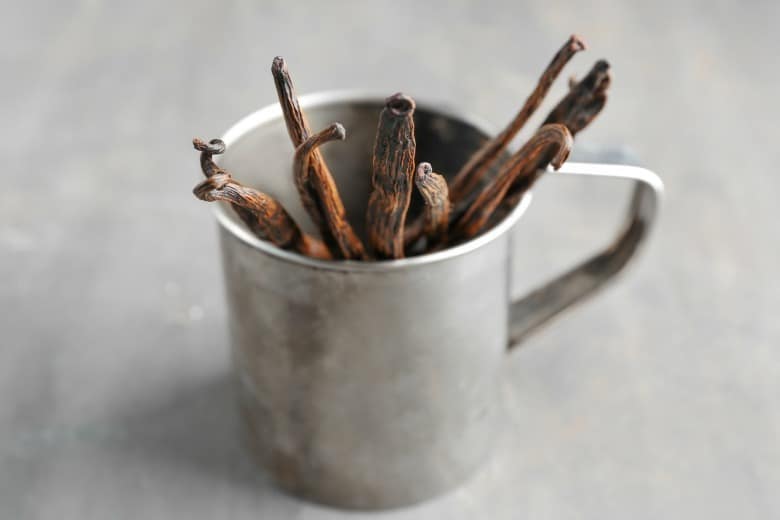 I was surprised to find that the most commonly used flavoring in kitchens today is vanilla extract. We home cooks use it for baking, adding flavor to main meals, and even adding a spike of flavor to beverages.
But, it is also one of the most expensive! Because of the labor required to grow vanilla beans, it is the second most expensive spice - second only to saffron.
Now, there are several reasons why the vanilla extract you see in the store may not be the best for your food. The main reason is purity.
The vanilla extract that doesn't cost you much may not be 100% real. There's a real chance it's cut with alcohol or another substance to stretch that particular batch out to be able to fill as many bottles possible.
If I'm going to spend money on something, I want to make sure I am getting what I paid for!
Making vanilla extract for yourself gives you a superior quality vanilla extract for just about the same price as buying the counterfeit. I don't know about you, but I say - let's do this!
I used to use imitation vanilla extract because real vanilla is so expensive.
But, after finding out how easy it is to make the real thing in my own kitchen AND how economical it is, I would never go back to the fake stuff! Watch for yourself to find out how easy it is!
Making Vanilla Extract
Have a watch and tell me what you think in the comments! After the video, I will give the recipe, resources for the things you see me use, as well as, more information about selecting the vanilla beans.
How to Make Vanilla Extract Video Resources:
I love knowing what others are using and why they enjoy them. So, here are the things I used in the video and they are linked to Amazon.
Please keep in mind that I may receive a commission when you purchase these products through one of my links. Rest assured, I only link to products that I personally use and like!
Organic Vanilla Beans or Not?
As I said in the video, there is really no need to buy organic vanilla beans because most are grown without pesticides and chemical fertilizers. The vanilla plant has very few predators and they are grown in areas where there may not be resources to spray harmful pesticides.
That being said, I have bought organic vanilla beans purchased in bulk, as well as, non-organic vanilla beans. There are typically 6 - 9 beans per ounce purchased.
Splits vs Gourmet
When finding vanilla beans online, you may see the words "splits" and "gourmet." These refer to the type of vanilla beans.
The splits are beans that actually split on the vine or during curing. They typically have a higher moisture and vanilla content.
If the beans have not split, they are considered gourmet. I normally use the gourmet vanilla beans. This is a personal preference, and you may read different preferences from other chefs or bloggers.
Should You Use Bourbon or Vodka When Making Vanilla Extract?
Vanilla extract can be made with bourbon or vodka. Vodka is normally chosen because bourbon has a stronger flavor on its own and will mask the vanilla flavor. But some people really like the bourbon-infused taste.
I have tested both inexpensive and more expensive vodkas for making vanilla extract and the least expensive works very well.
Due to less concern for taste, cheaper vodka can actually be more effective in working with the beans. Since the goal is a robust vanilla flavor, the less flavor the vodka has, the better the vanilla taste will shine through.
If you are concerned about gluten, be sure to use potato vodka.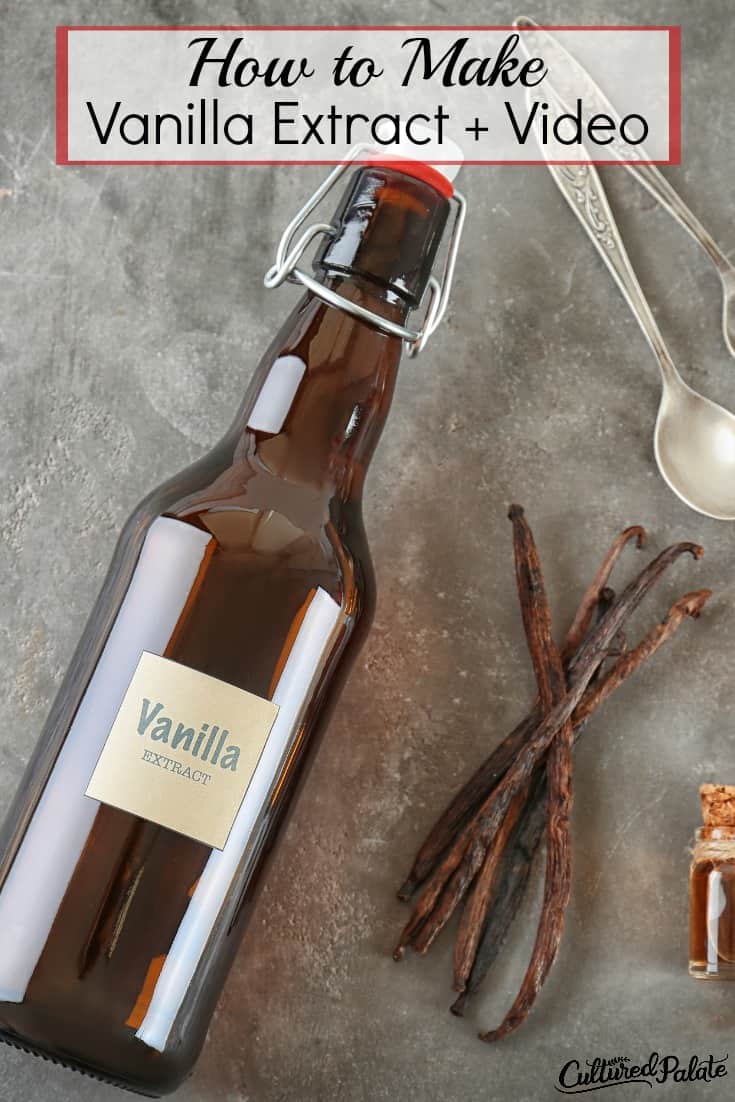 If you've tried making your own vanilla extract or any other recipe on Cultured Palate please take a minute to rate the recipe and leave a comment letting me know how you liked it. I love hearing from you! You can also FOLLOW ME on PINTEREST, FACEBOOK, INSTAGRAM, YouTube and TWITTER.
📋 Recipe
How to Make Vanilla Extract
Once you taste the flavor of homemade vanilla extract, you will never go back to store-bought!
Ingredients
8

oz

vodka

2 -4

vanilla beans per 8 oz vodka
Instructions
Split the vanilla beans lengthwise.

Place the vanilla beans in an airtight container.

Fill the container with vodka - be sure the beans are completely covered in vodka.

Place the bottle in a cool closet or pantry and allow it to sit for 4 - 8 weeks. I have found it good after 6 weeks.

To reuse, once a bottle is ½ empty, refill with vodka and allow to sit for another 8 weeks.
Notes
I prefer to use vodka to make my vanilla extract and use the cheaper brand. After testing, no difference was found in the taste of cheaper vodka vs the more expensive brands.
Nutrition
Serving:
1
teaspoon
Calories:
10
kcal
How did your vanilla extract turn out? Do you prefer bourbon or vodka-based vanilla extract?
Tell us all about your experience down in the comments!
Pin It!