Natural Remedies for Eye Pain is another one of those natural remedies that should be in everyone's toolbox of natural health care. While eye pain can be caused by a variety of factors, many can be treated at home successfully.
As an RN, member of the medical community and a mom, I love having solutions that work to try first, before seeking medical help. Unless, of course, it is important to seek that help first.
So, the question often asked is, when is it necessary to seek medical advice. My answer - If in doubt, seek it!
Let's discuss what can cause eye pain, common remedies and when to seek medical advice.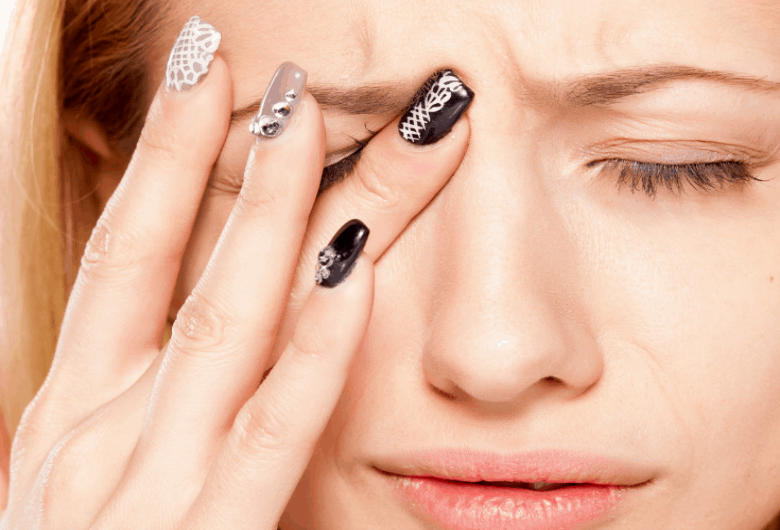 There is nothing quite like the feeling of eye pain. It can be a persisting irritation, stinging pain or even, a throbbing pain and acute headache.
Your eye may tear, may make you feel like you need to keep it shut or feel an intense pressure.
In this article, we'll go over some of the things that may cause eye pain and some great natural remedies for eye pain that you can try at home.
Causes of Eye Pain
A couple of very common causes are pink eye and allergies that cause eye symptoms. Be sure to check out Natural Remedies for Eye Allergies and Tea Bags: A Natural remedy for Pink Eye.
According to Healthline, these are the main issues that may cause pain on the surface of your eyes:
Debris:

Dirt or debris in the eye is the #1 cause of eye irritation and pain.

Glaucoma:

Glaucoma is an eye disease that can damage your optic nerve.

External Eyelid Stye:

This manifests as a small, read and painful bump on the outside of the eyelid.

Conjunctivitis:

More commonly known as "Pink Eye", is an infection that causes swelling and redness in the outer-membrane of your eyeball.

Sinus Infections:

These can affect your eyes as well as your nasal passages.

Nearsightedness:

This is when far away items appear blurry and yes, it can cause your eyes to hurt. As can

Farsightedness

, in which items near to you are harder to see.

Allergic Conjunctivitis:

This is similar to "pink eye" but is usually caused by a common allergy, such as pollen.

Dry Eye Syndrome:

Chronic dry eye is a problem that affects many people and can definitely cause irritation and pain.

Corneal Abrasions:

This is a cut or scratch on the thin layer over your iris and pupil. Depending on severity, this cause could need medical care.
Natural Remedies for Eye Pain
Taking care of your eyes is so important. They are the only ones that you've got!
What is good for eye pain?
Start with an eye wash -

Rinse your eye, gently, with some cool sterile water or saline to see if there is any debris that can be loosened or removed.

Cold Compresses -

Take a cold or frozen washcloth or ice pack and place it on your eye for a few minutes at a time. This can be done several times a day and will help with comfort and any swelling.

Warm Compresses - Using a warm compress several times a day will help with the pain of inflammation especially from a stye or eyelid infection.
Castor oil -

Try using an eye drop solution with Castor oil in it. Place one drop in each eye, at night, and then again in the morning.

Aloe Vera -

Because of aloe vera's anti-inflammatory and antibacterial

properties (1)

, some recommend using it to alleviate sore eyes. To use: Mix 1 teaspoon of fresh

aloe vera

gel into 2 tablespoons of cold water, and then soak cotton rounds in the mixture. Place the soaked cotton rounds on your closed eyes for 10 minutes. Do this twice a day.
Natural Remedies for Eye Pain and When to See Your Doctor
Since you are only given one pair of eyes, it is important to take care of them. Do not take any chances with your eyes! If you are unsure, seek medical advice.
When experiencing eye pain, make an appointment with your doctor if you:
recently had eye surgery

had an eye injection

had eye surgery in the past

wear contact lenses

have a weakened immune system

have been taking eye medication for two or three days and the pain hasn't improved
Some symptoms need immediate medical attention. Seek emergency medical help if:
the pain was caused by a foreign object hitting or been lodged in your eye

your pain was caused by a chemical being splashed in your eye

eye pain is accompanied by fever, headache, or unusual light sensitivity

you have a sudden vision change

you start seeing halos around lights

eye is swelling, or there's swelling around your eye

unable to keep your eye open

you're having trouble moving your eye

you have blood or pus coming from your eye(s)
As always, if something seems out of the ordinary or seems to last longer than it should, please seek the help of a licensed medical professional.
Other more specific infections can also be treated with natural remedies. See Tea Bags - A Natural Remedy for Pink Eye and Natural Remedies for Eye Allergies.
Pin It!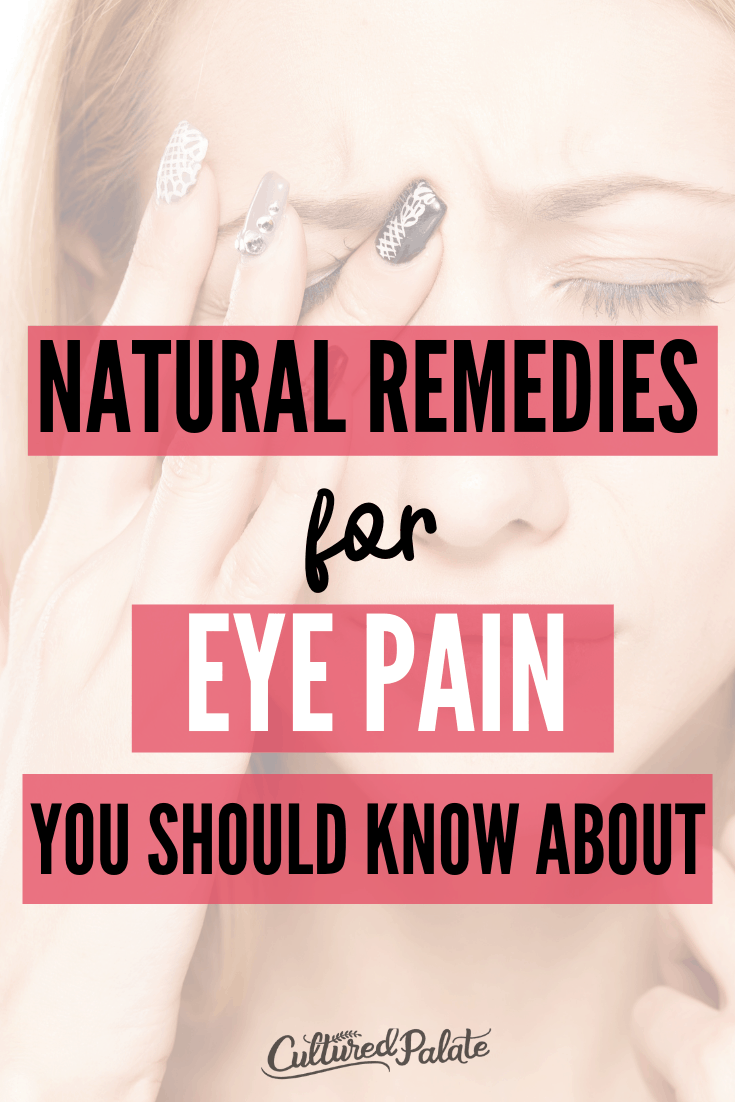 Have You Had Eye Pain - Did You Use a Natural Remedy
Leave a comment, I would love to know about it!