This Creamy Coleslaw Recipe is also an Easy Coleslaw recipe. In fact you can't get much easier than this plus, it is delicious and healthy! It's not only perfect for salad and summer barbecues but it's a great side or sandwich filler all year round.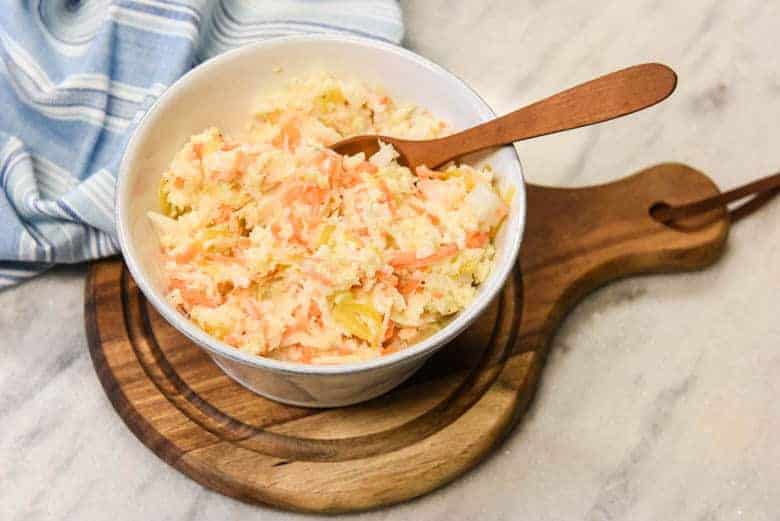 Does coleslaw remind you of picnics? It does me! My Creamy Coleslaw recipe will definitely be a hit at your next picnic or any meal for that matter.
I love it when my plate is dripping with the sauce from the coleslaw - especially when there is a hot dog or hamburger bun to soak it up! It's like a delicious saucy treat, with just enough crunchy freshness to make it all worthwhile.
Especially in the heat of summer, I tend to make meals consisting of salads and meals that don't heat up the kitchen - aka "grilling". That's where my easy coleslaw recipe comes in. Creamy Coleslaw recipe is just that type of meal!
I love a dish that is quick, easy and nutritious - did you see the word "easy"? Hence this also qualifies as an easy coleslaw recipe!
Having lived in southern Alabama before moving to west Texas, we frequented catfish restaurants all the time. They're known to the locals as "catfish camps."
Why? I have no idea. Maybe they started out as places where people camped out all night and cooked catfish. That sounds fun, doesn't it?
But the point is: These camps had all-you-can-eat fried catfish that was to die for! Oh, delicious fried catfish.
Each time, I would promise myself that I would never eat so much at one sitting again - So much for promises!!!!
Delicious coleslaw was always brought to the table so you could graze while waiting for those platters of piping hot catfish! The cooling aspects of the coleslaw definitely added to the appeal of the whole meal.
So began my love of coleslaw and the birth of this easy coleslaw recipe.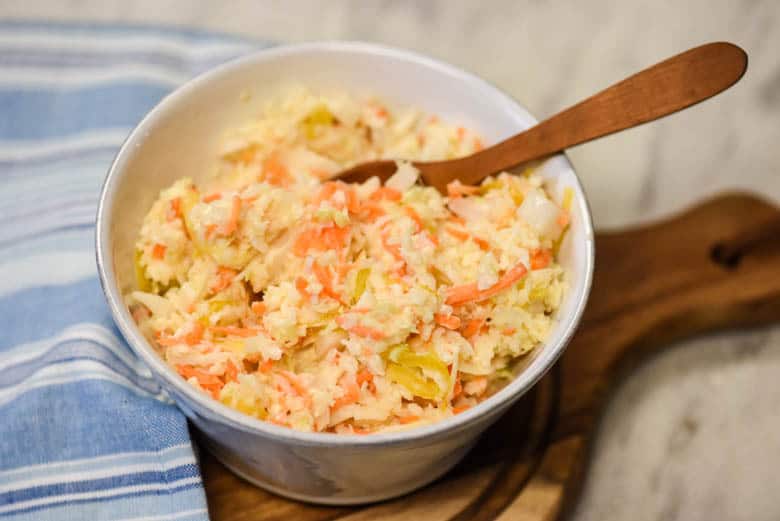 There are some coleslaw haters out there, for sure. Lots of people don't like the vegetable-ness of it all. But it's a great opportunity to incorporate some vegetables into your barbecue (or catfish fry) while still sticking with the general theme.
I have to tell you: It's all in the mayo.
The mayo keeps the cabbage from completely overwhelming the flavor of it all. That's the problem most people have with coleslaw—it feels like you're just eating a pile of cabbage!
But this coleslaw recipe was developed specifically to incorporate the mayo along with the cabbage in perfect harmony. I like a saucy coleslaw, and this definitely reflects that.
How to Make An Easy Coleslaw Recipe Step by Step
Shred cabbage - a food processor works great! Photo 1
Add carrots, onions and pickles to the shredded cabbage. Photo 2-3
Mix the sauce ingredients together. Photo 4
Pour the sauce over the cabbage mixture. Photo 5
Mix well. Photo 6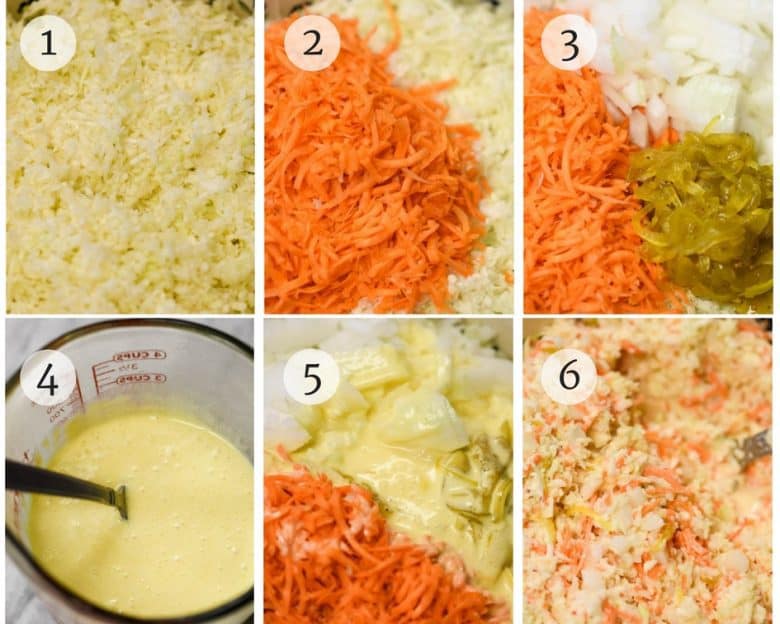 Tips For Preparing Creamy Coleslaw Recipe
One problem with coleslaw is the thought of grating all that cabbage! I know I've definitely groaned about the amount of cabbage I have to deal with before creating this recipe. But, that is what a food processor is for. I use my food processor to get the job done quickly - and it does do it quickly!
Using a homemade mayonnaise with olive oil and honey, rather than sugar (which is in so many coleslaw recipes for some reason) makes the following recipe a healthy and tasty version. I know what you're thinking—honey in mayo? What the heck? But trust me, it's absolutely worth it. Honey is a wonderful natural sweetener that adds a lot of goodness to foods.
With our family size, I normally start with 2 heads of cabbage and adjust the amount of sauce to cover it well. Remember, I like to see the sauce swimming on my plate! So feel free to tweak the ratios in the recipe until you find the combination that works for you.
This recipe doubles, triples, and even quadruples easily. Just make sure to make more sauce to cover that cabbage!
The sauce amounts can easily be doubled for an extra saucy coleslaw - it's delicious!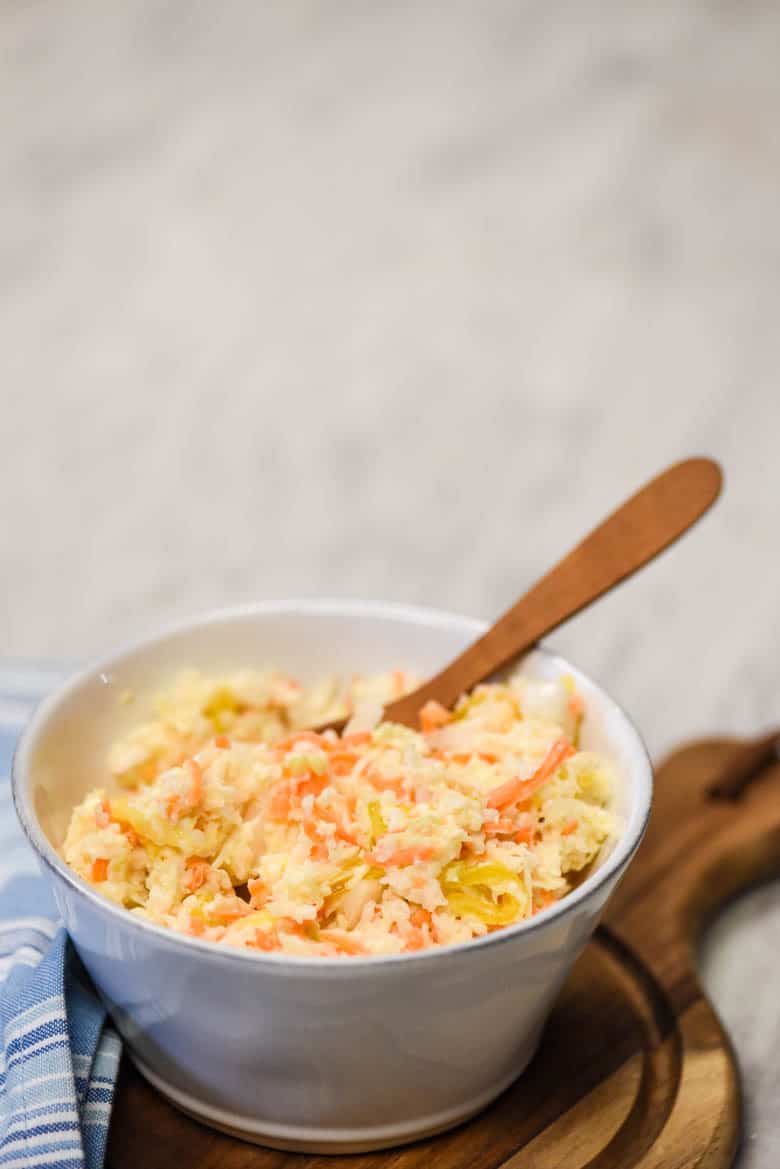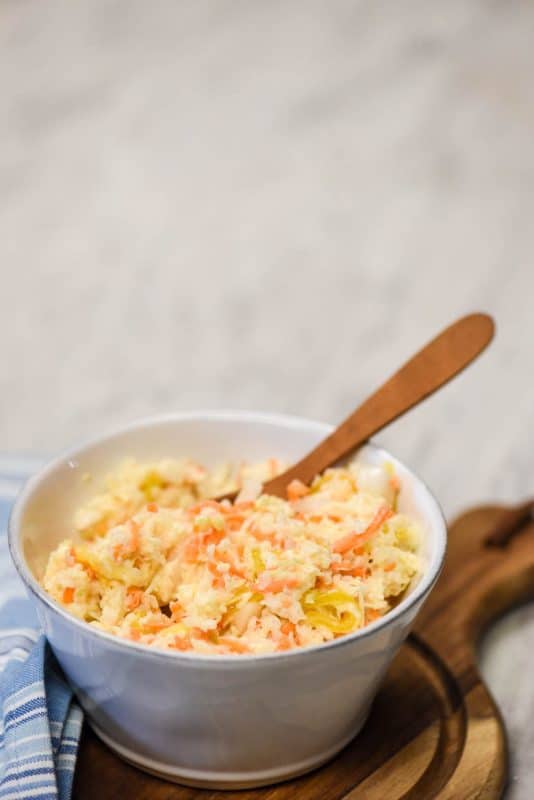 If you've tried this creamy coleslaw recipe any other recipe on Cultured Palate please take a minute to rate the recipe and leave a comment letting me know how you liked it. I love hearing from you! You can also FOLLOW ME on PINTEREST, FACEBOOK, INSTAGRAM, YouTube and TWITTER.
Now for the recipe...
📋 Recipe
Creamy Coleslaw
Cultured Palate
Makes about 4 cups
Ingredients
3

cups

cabbage shredded

3

carrots

grated

1

onion

chopped fine

pickle relish

optional
Sauce:
1

cups

mayonnaise

1

tablespoon

vinegar

raw

2

teaspoon

honey

½

teaspoon

salt

½

teaspoon

celery seed
Instructions
Combine the shredded cabbage, carrots onions and pickles.

Mix the sauce and pour over the cabbage mixture.

Mix well.

Chill and serve.

Enjoy!
Notes
Use a food processor for cutting the veggies to save time.
Using a homemade mayonnaise with olive oil and honey, rather than sugar (which is in so many coleslaw recipes for some reason) makes the following recipe a healthy and tasty version.
Nutrition
Calories:
162
kcal
Carbohydrates:
6
g
Protein:
1
g
Fat:
14
g
Saturated Fat:
2
g
Cholesterol:
8
mg
Sodium:
243
mg
Potassium:
166
mg
Fiber:
2
g
Sugar:
4
g
Vitamin A:
2620
IU
Vitamin C:
23.3
mg
Calcium:
34
mg
Iron:
0.4
mg