A homemade raisin vinaigrette dressing made with raisins and healthy olive oil. A delicious, flavorful dressing that's great with salads and grilled meats. Made with simple everyday ingredients it couldn't be easier.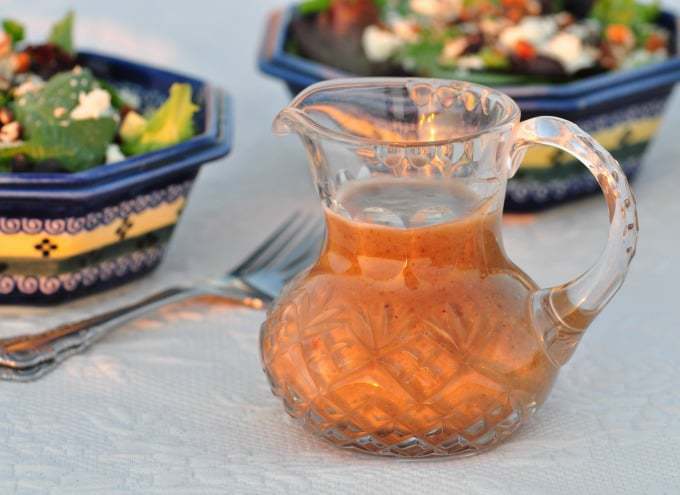 I visited my mother and sister in Georgia recently. While there, we had dinner with one of my nieces who served a delicious salad with a vinaigrette dressing. The raspberry vinaigrette was the highlight of the salad!
After returning home, I decided to recreate the salad complete with a vinaigrette dressing as part of a meal. The Toasted Pecan, Feta, and Raisin Salad was easy enough to recreate and with the addition of toasted nuts, it was delicious!
But, the vinaigrette was a different story. While shopping for ingredients for the salad, I had a bottle of raspberry vinaigrette dressing in my hand, reading the ingredients list. As much as it pained me, I could not purchase it knowing all the unnecessary ingredients not to mention the unhealthy ones!
So, I resigned myself to serving the salad with a plain vinaigrette dressing. But my mind was plagued with the complementary flavors of that dressing. I really thought it made the salad.
One afternoon while preparing for the next day's meals, I had the idea of using raisins to make a Raisin Vinaigrette Dressing.
I began experimenting. First I microwaved the raisins in vinegar until boiling and then allowed them to cool. Then came the other ingredients and voila - a delicious Raisin Vinaigrette Dressing.
In the Making Homemade Salad Dressing Video, I shared a quote that inspired me to begin making my own homemade salad dressing - "every home should have its own house salad dressing just like fine restaurants". Raisin Vinaigrette dressing is my new house salad dressing, especially when I serve Toasted Pecan, Feta, and Raisin Salad!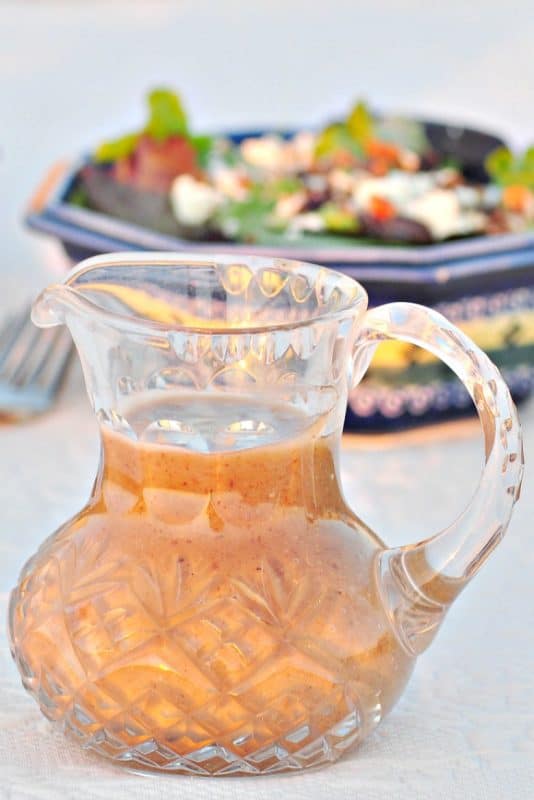 Jump to:
Ingredients
This vinaigrette recipe only takes 6 simple ingredients to make a delicious and healthy salad dressing. The exact measurements are listed in the recipe card down below.
Red Wine Vinegar - Acidity levels in red wine vinegar can range from 5-8%. For this recipe acidity level does not matter, so just go with whatever your preference is.
Raisins
Sea Salt - I prefer using sea salt because it is less processed and healthier than other types of salt, but you could also use kosher salt or table salt.
Black Pepper
Olive Oil - A good quality olive oil is super important to have when making homemade salad dressing.
Honey - I prefer using raw honey because of the extra health benefits.
Instructions
Homemade salad dressing is easier than you think to make at home! This Raisin Vinaigrette Dressing is delicious and healthy, and the best part is that it's ready in 10 minutes.
For the following instructions, I will be using the stovetop method, but you can use the microwave if you're short on time. The method for using a microwave is in the recipe card down below.
Start by adding the red wine vinegar, raisins, salt, and pepper to a small saucepan and bring to a boil.
Once it's started boiling, remove from heat and allow the mixture to cool completely before proceeding.
Using an immersion blender, blender, or food processor blend the raisin mixture, olive oil, and honey together until smooth.
Add water one tablespoon at a time and thin until desired consistency. I used all 6 tablespoons in my vinaigrette dressing.
Store in an airtight container or glass jar.
Serve over salad and enjoy!
Substitutions
The options are endless when making a homemade vinaigrette. The flavor might differ slightly, but here are some substitutions for this Raisin Vinaigrette Dressing.
Vinegar - If you don't have red wine vinegar on hand, balsamic vinegar can be substituted. Keep in mind that the end result will taste different and other adjustments may need to be made such as adding more or less honey to balance the flavors.
Honey - Raw sugar or sucanat could also be used in place of the honey. However, honey not only gives a balance of flavor but if you use raw honey, you are also getting the beneficial enzymes.
Sea Salt - Kosher salt would be the first choice of substitution, but you can also use regular table salt.
Tips
I love having an easy homemade vinaigrette dressing to serve on salads. It's way better than a store-bought dressing without all the unnecessary ingredients. Here are some tips for making homemade Raisin Vinaigrette Dressing.
I highly recommend investing in an immersion blender to use for salad dressings, mayonnaise, tomato soup, and whatever else you need to blend. I have found my Bamix Gastro Professional to be invaluable - the clean-up is just so quick and easy!
If you are short on time you can speed the process up by using the microwave. Add the red wine vinegar, raisins, salt, and pepper to a microwavable safe bowl and microwave for 2 minutes.
Frequently Asked Questions
How do I store Raisin Vinaigrette Dressing?
Because of the high acidity level in vinaigrette dressing, it will stay fresh for up to two weeks in the fridge. The oil and vinegar may separate, so give the bottle a good shake before serving.
What is the difference between vinaigrette and salad dressing?
All vinaigrettes use a base of oil and vinegar. There are a ton of ways to make vinaigrettes by using different kinds of vinegar like balsamic vinegar, white wine vinegar, or red wine vinegar like this recipe uses.
Whereas salad dressings can be anything you dress your salad with. This includes a vinaigrette, but also ranch dressing, blue cheese dressing, and whatever else you can think of to dress your salad with.
📋 Recipe
Raisin Vinaigrette
Cultured Palate
I love making my own salad dressings so I know exactly what ingredients are in them.
Ingredients
¾

cup

red wine vinegar

½

cup

raisins

1

teaspoon

sea salt

¼

teaspoon

pepper

1 ½

cups

olive oil

4

tablespoons

honey

6

tablespoons

water
Instructions
For Microwave:
Combine in microwavable boil the red wine vinegar, raisins, salt and pepper.

Microwave covered for 2 minutes.

Remove from microwave and allow to cool.
For Stovetop:
In a small boiler, combine the red wine vinegar, raisins, salt and pepper.

Bring to a boil.

Remove from heat, cover and allow to cool.
When Cool:
Blend with an immersion blender, blender or food processor. I use an immersion blender purchased from my affiliate partner: Bamix Gastro Professional

Add olive oil and honey and blend until smooth.

Add water one tablespoon at a time and thin to desired consistency - I used all 6 Tbsp.

Store in an airtight container.

Pour desired amount over salad and toss.

Serve and Enjoy!
Notes
How To Make Vinaigrette Dressing Healthier
This Vinaigrette Dressing uses good-for-you olive oil, and is sweetened with honey. Raw sugar or Sucanat could also be used.
Using an immersion blender for Vinaigrette Dressing, other salad dressings and mayonnaise works very well. But, a blender or food processor also works well.
Nutrition
Calories:
188
kcal
Carbohydrates:
8
g
Fat:
17
g
Saturated Fat:
2
g
Sodium:
119
mg
Potassium:
54
mg
Sugar:
3
g
Vitamin C:
0.3
mg
Calcium:
2
mg
Iron:
0.3
mg