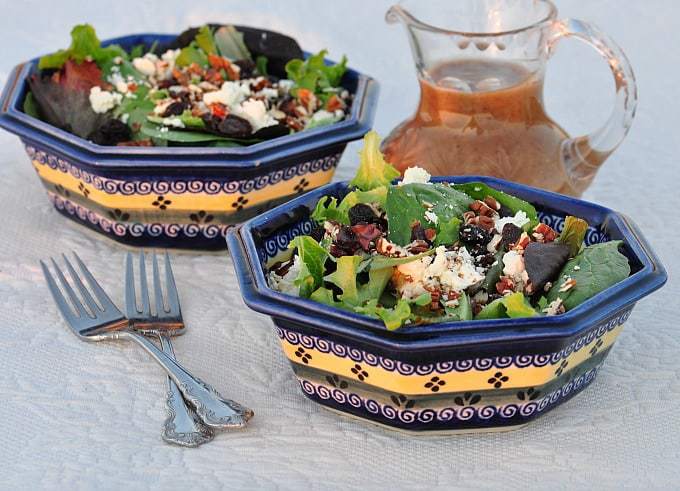 Served with Raisin Vinaigrette Salad Dressing, Toasted Pecan, Feta and Raisin Salad is almost too good to describe. Inspired by a salad my niece served on a recent visit to Georgia, there are only 4 ingredients! Who would have thought that 4 ingredients would produce such a blend of flavors.
I like hearty salads that lend themselves to being a complete meal. I am not talking a ladies' luncheon either. Remember, I have teenage boys, healthy farm boys with healthy appetites. So, a salad served as a meal around here has to be filling. The toasted pecans and feta cheese help make the Toasted Pecan, Feta and Raisin Salad just that – filling. And, after one taste, the compliments abounded! That is definitely an accomplishment. Normally the boys look at salad and want to know what else we are having to eat!
Don't let my 4 ingredients stop you from being creative. You could easily add others as your imagination leads. That is the nice thing about salads, you can expand upon them and add to them and come up with new tastes and creative dishes.
The first time I served Toasted Pecan, Feta and Raisin Salad, I did not toast the pecans – it was still good but the toasted pecans really add that little something extra. If you don't have pecans, feel free to use walnuts or almonds. I tell you how to toast them in the recipe – it is a 10 minutes well spent!
One final note before I give the recipe, be sure to try Toasted Pecan, Feta and Raisin Salad with Raisin Vinaigrette Salad Dressing. The two recipes compliment each other wonderfully.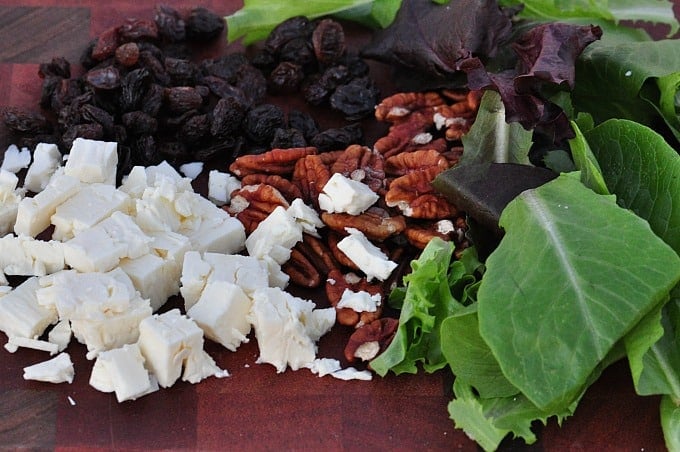 Toasted Pecan, Feta and Raisin Salad
These toppings really make the salad!
Ingredients
6

c.

salad mix of choice - lettuce, grated carrots, onions ...

1 1/2

c.

toasted pecans - instructions below

1

c.

feta cheese

1

c.

raisins
Instructions
To toast pecans:
Place the pecans on baking sheet and bake in 350F oven for 10 minutes. Allow toasted pecans to cool.
To finish the salad:
Place salad mix in in large bowl.

Crumble feta cheese, pecans and raisins on top.

Enjoy!
Nutrition Facts
Toasted Pecan, Feta and Raisin Salad
Amount Per Serving
Calories 667
Calories from Fat 459
% Daily Value*
Total Fat 51g 78%
Cholesterol 35mg 12%
Sodium 512mg 21%
Potassium 999mg 29%
Total Carbohydrates 48g 16%
Protein 14g 28%
* Percent Daily Values are based on a 2000 calorie diet.
Join the newsletter
Join and get my Top 10 GAPS RECIPES FREE!