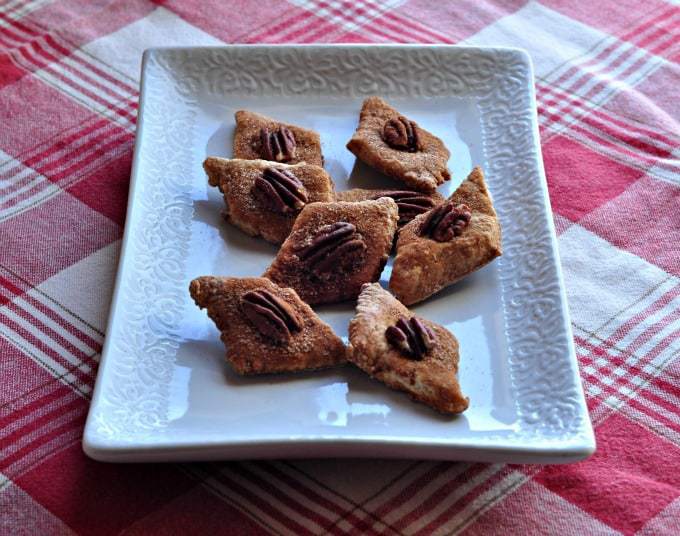 Sand Tarts is another holiday cookie recipe from my mother-in-law which we make every Christmas.
Sand Tarts are traditionally a very hard cookie, in fact, if they are not hard – like almost teeth-breaking, they are not right! That is why you roll the out thinly – so you can get them in your mouth at an angle and bite sand tarts with your back teeth! This way, you are less likely to crack a tooth   😉
Sand Tarts are delicious when enjoyed with a cup of coffee. Dip the Sand Tart into the hot coffee and let it soak up some until it is a bit soggy like you would with Biscotti. Not only does it taste good it saves your teeth!
Although Sand Tarts do not fall into the traditional foods category, they are a taste from John's childhood and memories are important so we choose to enjoy them!
In the following recipe, I have linked to products from my affiliate partners that I personally use and recommend.
Sand Tarts
Ingredients
4 c flour (where to buy sprouted flour)
1/4 tsp baking soda
2 c raw sugar
1/2 c whiskey
3 eggs, farm fresh
1 tsp nutmeg

Combine all the ingredients and refrigerate to chill overnight in a covered bowl.
Have ready:
1/2 c cinnamon sugar
2 egg whites

I buy all my real salt and spices from my affiliate partner, Starwest Botanicals because of their superior quality. Their herbs & spices are organic, non-irradiated plus, I think they are more aromatic and full flavored than any others.
Instructions
Preheat oven to 350 F.
Roll the dough very thin (about 1/8 inch) and cut into diamond shapes. You may cut with cookie cutters if desired but I roll the Sand Tart dough out and cut it with a knife in long lines and then come back across with a diagonal cut.
Transfer the cookies to a prepared cookie sheet - I use parchment paper.
Brush the tops with egg whites.
Sprinkle with cinnamon sugar.
Place half an almond or pecan on each cookie and brush again with eggs whites.
Sprinkle with a little more cinnamon sugar.
Bake at 350F for 10 - 12 minutes.
As the cookies cool they harder further.
Related posts: