This Homemade Vanilla Ice Cream is a family favorite and oh so good. My whole family loves a good bowl of ice cream, especially when it is hot outside. And, I love easy - this ice cream recipe is both!
I'm telling you, there is no one in our family who doesn't like ice cream! Our family tradition for years has been ice cream every Sunday night.
But, now, we are having ice cream more frequently - it is not just for Sunday nights anymore!
You might ask, "why?"
Well, with our lifestyle and working in the vineyard all day, we have our large meal at noon. This allows a rest period and an opportunity to be out of the sun during the hottest part of the day.
In west Texas during the summer - the sun can be brutal! Don't worry though, we all use homemade sunscreen!
Now, we tend to snack at night.
It is just too hot after a full day's work to have a big appetite in the evening - the sun just takes it away.
Sometimes we eat homemade mozzarella cheese and crackers, granola with fresh raw milk, or smoothies accompanied by chips and homemade salsa.
I know, you might be saying, "ICE CREAM for DINNER?" But it is healthy ice cream that is made from our family milk cow's raw, fresh milk.
That means that it is filled with nutrition that is easy for our bodies to absorb.
And, as you will see from the following recipe, it has a nice amount of cream which is full of healthy fats that growing children need!
Plus, to keep the beneficial enzymes found in raw milk, it is important to have a recipe in which the milk is not heated.
The following recipe yields an ice cream with the consistency of soft serve.
Jump to:
Equipment
When we had ice cream on Sunday nights, we used a traditional ice cream maker - the kind requiring ice and salt.
Not having an ice maker in the freezer, we had to remember to make ice the old-fashioned way - with ice trays. While it was not hard, it was difficult to remember to make it.
Now, though, I have purchased from my affiliate partner, two Ice Cream Makers. I bought them a couple of years ago after the grape harvest and they are absolutely wonderful!
No more remembering to make ice. No more melted ice dripping.
I keep the freezer bowls in the freezer so they are ready anytime.
When I am ready to make ice cream or frozen yogurt, I take the bowl out of the freezer, place it in the machine, add the mixing paddle, turn it on, and pour in the mix.
It only takes about 20 minutes and our frozen treat is ready to serve, eat and enjoy!
The following recipe works in my Cuisinart Ice Cream Makers but it also works great in the old-fashioned ice cream makers too!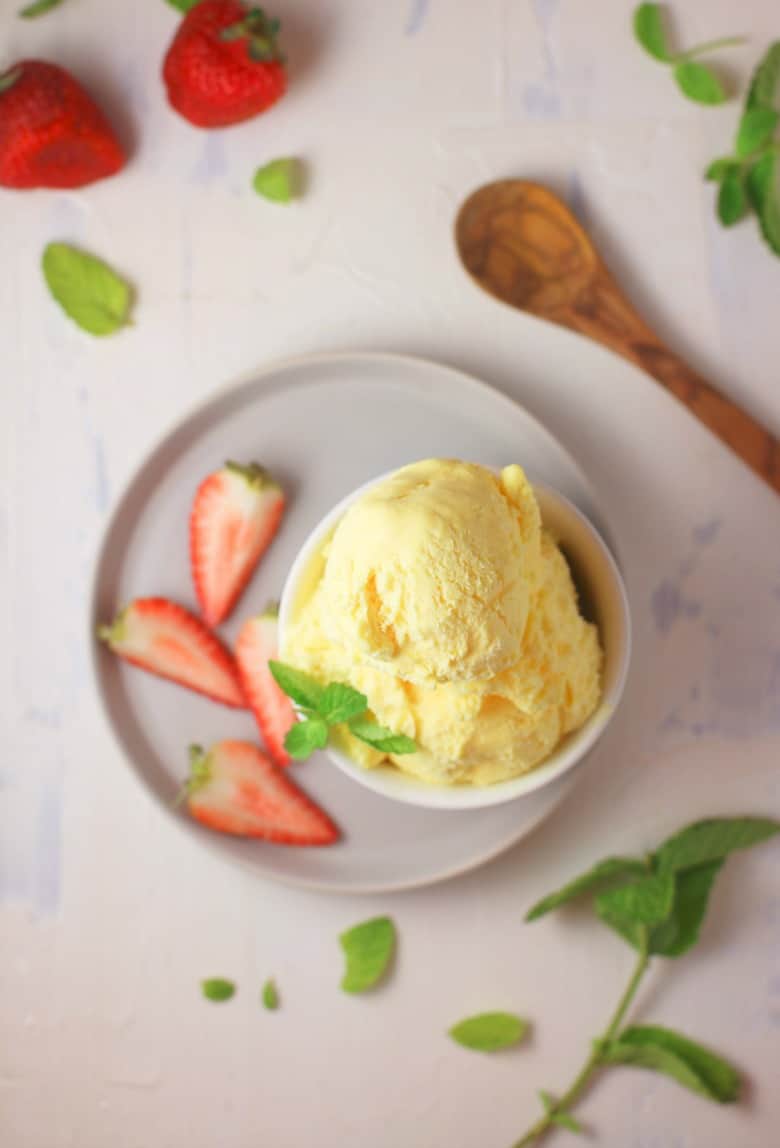 Serving Suggestions
There are tons of ways to enjoy homemade vanilla ice cream. Sometimes it's served best as-is to cool you down on a hot summer day and sometimes it's fun to add toppings and get creative with it! Here are a few of my favorite ways to serve vanilla ice cream.
Top with chopped fresh fruit
Add grated dark chocolate or chocolate chips
Serve with homemade brownies - try The Best Brownies or Coconut Flour Brownies
Serve with pie, cake, or a chocolate cookie
Make an ice cream sundae with whipped cream, flavored syrups, and your favorite toppings!
Instructions
The steps to make Homemade Vanilla Ice Cream are super easy - it takes a couple of minutes to mix it and then if using an automatic ice cream maker, about 20 mins until it is ready to eat.
In a large mixing bowl mix together the milk, honey or raw sugar, cream, salt, and vanilla and stir thoroughly.
If using honey, you will need to warm it so it dissolves completely before adding it to the rest of the ingredients.
Pour mixture into ice cream maker and freeze according to directions.

It's finished when it starts looking like soft-serve ice cream. Take it out of the ice cream maker and serve immediately or freeze in an airtight container for an additional 20 minutes for a thicker consistency.
Top Tips
This homemade vanilla ice cream recipe is super easy to make and ready in about 30 minutes! You can't get any better than that for a cold delicious treat. And, I think it's way better than any store-bought ice cream. 😉
For the Cuisinart Pure Indulgence Ice Cream Makers and probably most ice cream makers, be sure not to fill any higher than ½ inch from the top since the volume expands as it mixes and freezes.
Using an immersion blender works well to mix the ingredients together completely.
For a thicker consistency, take the ice cream out of the ice cream maker and place it into an airtight container and freeze for an additional 20 to 30 minutes.
Variations
One of the advantages of vanilla-flavored ice cream is that it makes a great base for adding and creating different variations of vanilla ice cream. Here are some suggestions:
Make chocolate ice cream by using 1 cup of chocolate syrup instead of the sugar.
Add your favorite cookie by adding roughly 2 cups of chopped cookies like Oreos, Reese's, or chocolate chip cookies, just before the ice cream is thick so they don't get soggy.
Make peanut butter ice cream by adding 1 cup of peanut butter - we prefer smooth.
Make a dairy-free vanilla ice cream by using coconut milk and coconut cream in place of the cow's milk and cream.
If you desire a firmer consistency, simply remove the ice cream from the ice cream maker and place it in the freezer for 20 - 30 minutes.
Frequently Asked Questions
What gives vanilla ice cream its flavor?
Most vanilla is flavored by natural vanilla flavoring. When flavored with artificial flavoring it is called vanillin.
You can also use real vanilla that you make yourself - see How to Make Vanilla Extract - or you can use artificial vanilla in your recipes. Vanilla is a simple flavor, but it's also very delicious. 
Can I make this recipe without an ice cream maker?
Yes! Although I recommend investing in an ice cream maker, you can definitely make ice cream without one, but the end result won't be as creamy and the texture might be different.
Start by pouring your mixture into a baking dish and sticking it in the freezer for 90 minutes. Remove from the freezer and whisk the mixture, making sure to scrape the sides of the dish. Return to the freezer.
Every 30 minutes, take the mixture out to whisk and scrape the sides, returning to the freezer as quickly as possible. Repeat this process 3 to 4 times until you end up with a soft-serve ice cream consistency.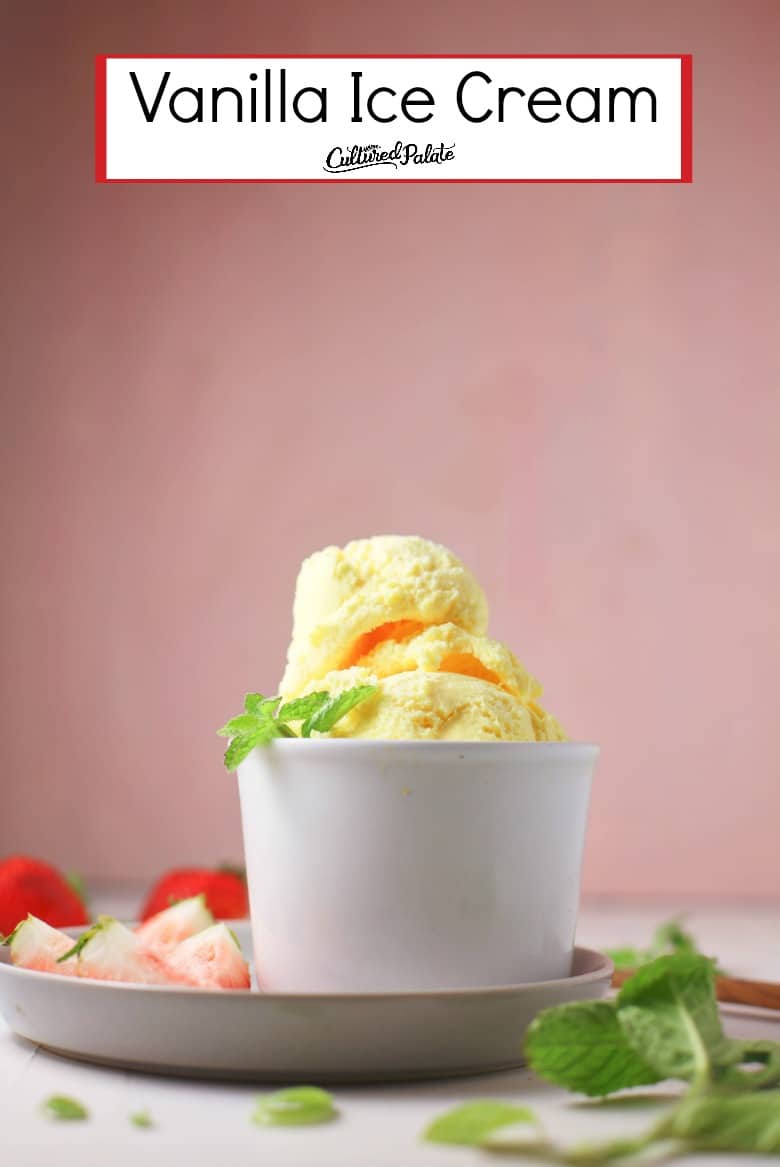 If you've tried this Homemade Vanilla Ice Cream or any other recipe on Cultured Palate please take a minute to rate the recipe and leave a comment letting me know how you liked it. I love hearing from you! You can also FOLLOW ME on PINTEREST, FACEBOOK, and YouTube .
📋 Recipe
Homemade Vanilla Ice Cream
Cultured Palate
Homemade ice cream is best eaten immediately.
Ingredients
2

cups

milk

1

cup

honey or raw sugar

4

cups

cream

¼

teaspoon

salt

2

tablespoons

vanilla
Instructions
Mix all ingredients and stir thoroughly.

If using honey, you will need to warm it so it dissolves completely.

Pour mixture into ice cream maker and freeze according to directions.
Notes
For the Cuisinart Pure Indulgence Ice Cream Makers, be sure not to fill any higher than ½ inch from the top since the volume expands as it mixes and freezes.
This recipe yields ice cream which is the consistency of soft serve ice cream - for a firmer consistency, put the ice cream in the freezer for 20 - 30 minutes.


Ways To Serve Homemade Vanilla Ice Cream;

Serve with chopped fresh fruit
Serve with grated of dark chocolate or chocolate chips
Serve with homemade brownies or desserts
Nutrition
Calories:
462
kcal
Carbohydrates:
33
g
Protein:
3
g
Fat:
36
g
Saturated Fat:
22
g
Cholesterol:
134
mg
Sodium:
118
mg
Potassium:
158
mg
Sugar:
30
g
Vitamin A:
1450
IU
Vitamin C:
0.8
mg
Calcium:
121
mg
Iron:
0.2
mg