Easy Quinoa Salad is ready in only 20 minutes! Talk about a quick and easy recipe that not only tastes great but if packed with nutrition. Quinoa salad is gluten free and a nutrient dense, real food treat! Serve for a healthy dinner, lunch or side at summer barbecues.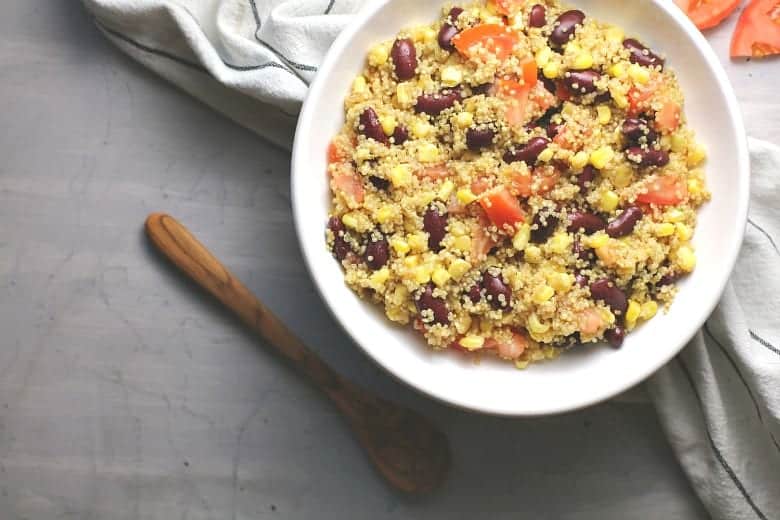 Quinoa's Bum Rap
Before Quinoa Pilaf made it to our table, quinoa really had a bum rap. But, that is all behind us now and quinoa has a changed reputation in our house!
So, how did we get off to such a rocky start with quinoa? It was all my fault. I didn't know how to cook it.
Years ago, before my experience with the GAPS diet, I did a detox diet in an effort to gain relief from my rheumatoid arthritis. This diet included, among other things, quinoa. John and the children, supportive as always, did the diet with me.
I have to admit that the diet was very restrictive and offered very few seasonings or condiments so, I boiled the quinoa. And, served it plain.
Have you ever tried eating quinoa plain? It does leave a lot to be desired - mainly taste!
Finally, I realized that it would be OK for them to add a bit of butter. But still, the damage was done and even served with butter and salt, the scars were there.
Plain quinoa is not bad. It is just, well, plain.
Thankfully, since those days, I have found much more tasty ways to prepare it - like Easy Quinoa Salad.
Quinoa is Nutrient Dense
Despite its bum rap, quinoa is a nutritional powerhouse - it is more nutritious than rice! Now, when I think of serving rice with a meal, I often fix quinoa instead.
Only now, when I am not making a pilaf, instead of simply boiling it, I also add plenty of onions, salt, pepper, butter and whatever other spices I feel like at the time of cooking.
Quinoa and this Easy Quinoa salad is a great gluten free dish.
Even though quinoa is a more nutritious choice than rice and lends itself to most dishes containing rice, did you know, quinoa is really not a grain?
That's right, quinoa is not a member of the cereal or grain family at all! It is a seed and member of the chenopod family which also contains spinach, Swiss chard, and beets.
Why You Should Eat Easy Quinoa Salad
Quinoa, pronounced KEEN-wah:
is gluten free
contains multiple phytonutrients which have anti-inflammatory actions
is a complete protein source
actually has more concentrated levels of two antioxidants than even cranberries and lingonberries
contains multiple phytonutrients which have anti-inflammatory actions
is higher in fat content (compared to grains like wheat) and can provide valuable amounts of heart-healthy fats like monounsaturated fat in the form of oleic acid
can also provide small amounts of the omega-3 fatty acid, alpha-linolenic acid
is a good source of vitamin E
contains over twice the amount of calcium compared to grains, ounce per ounce
nutrient benefits are not affected by cooking
Sources: 1, 2
Remember the next time you reach for the rice, try substituting quinoa and get the extra nutritional benefits that go with it!
Make it a Quinoa Salad Mediterranean Dish!
Adding the tomatoes and fresh veggies make this more of a Quinoa Salad Mediterranean - full of flavor and nutrition!
And, be sure to try adding some corn and kidney beans too - in fact, you should just try Easy Quinoa Salad - it is delicious!
Easy Quinoa Salad With Feta
I know, a lot of people don't like feta cheese. But, there are a lot who do!
If you are one of those folks that do, try adding some feta cheese to my Easy Quinoa Salad recipe - it is delicious. Just sprinkle it on top and mix it it!
If you do like feta, have you tried making your own? Check out "How to Make Feta Cheese at Home" for easy instructions.
Options to Add To This Easy Quinoa Salad
You can adapt this recipe with your favorite veggies - here are some idea;
Eggplant
Zucchini
Squash
Bell Peppers
Fresh herbs
Bean such as cannelini, cranberry (borlotti)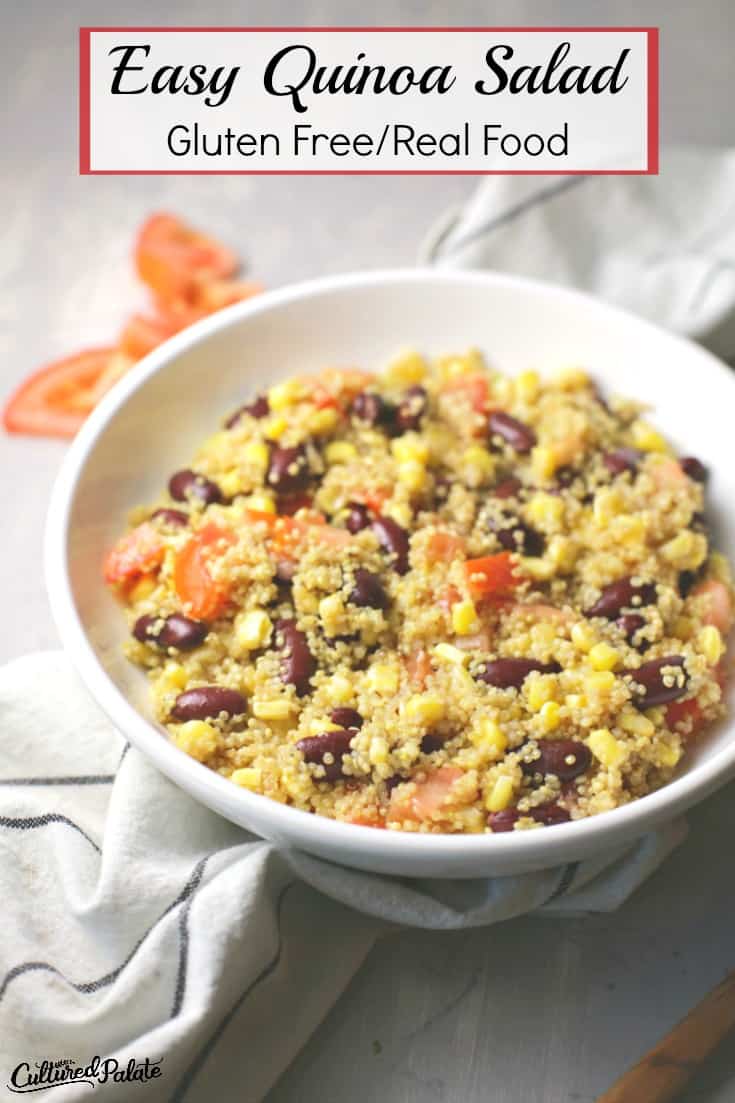 If you've tried this Easy Quinoa Salad or any other recipe on Cultured Palate please take a minute to rate the recipe and leave a comment letting me know how you liked it. I love hearing from you! You can also FOLLOW ME on PINTEREST, FACEBOOK, INSTAGRAM, YouTube and TWITTER.
📋 Recipe
Easy Quinoa Salad
Cultured Palate
Quinoa makes a gluten free, delicious salad that is wholesome enough to serve as a complete meal or as a healthy side dish.
Ingredients
4

cups

water or chicken broth

2

cups

quinoa

2

cloves

garlic

minced

1

onion

chopped

1

can

15 oz diced tomatoes (Rotel if you like it spicy)

2

cups

red kidney beans

may use 1 15 oz can

15

oz

can corn

2

teaspoon

cumin

2

tablespoon

cilantro

juice from 1 lemon

salt and pepper to taste
Instructions
Bring water or broth to boil and add quinoa - return to a boil and reduce heat to medium. Simmer until tender - about 15 min.

Add remaining ingredients and stir well.

Serve warm or refrigerate for a cool summer salad.

Enjoy!
Notes
You can add whatever veggies to like to this salad here are some ideas;
Eggplant
Zucchini
Squash
Bell Peppers
Fresh herbs
Nutrition
Calories:
670
kcal
Carbohydrates:
135
g
Protein:
19
g
Fat:
5
g
Sodium:
774
mg
Potassium:
926
mg
Fiber:
11
g
Sugar:
59
g
Vitamin A:
30
IU
Vitamin C:
13.7
mg
Calcium:
81
mg
Iron:
6.7
mg
What is Your Favorite Way to Eat Quinoa?
Pin It!