Quinoa Pilaf is a family favorite! Did you know that quinoa is nutritionally packed and an excellent substitute for rice? Plus, the addition of almonds adds that extra special touch. It is so easy to make and perfect for weekdays - you are gonna love it!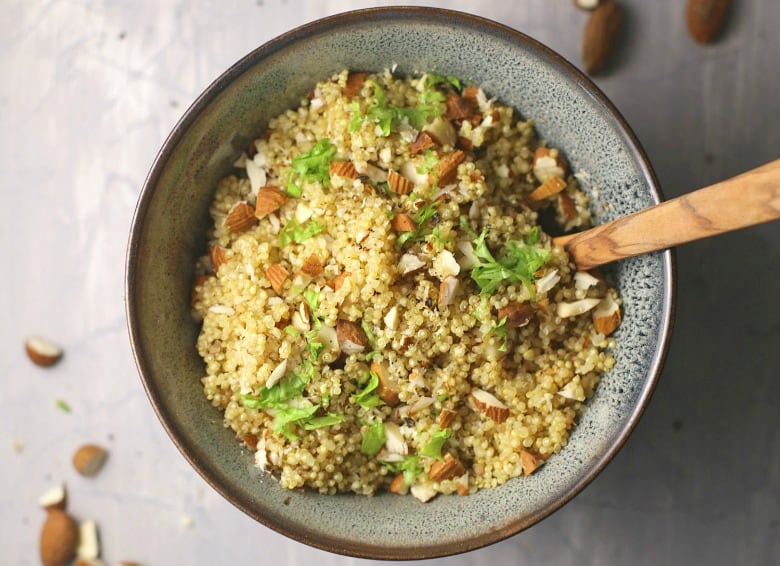 I have been transitioning off the GAPS diet and so far, I have added some non-gluten grains, such as, quinoa, buckwheat and millet.
Another favorite quinoa recipe for my family is Easy Quinoa Salad and it is super easy!
The challenge has been to find different ways to cook these grains besides just boiled in water with some butter added.
Don't get me wrong, they are good with just butter. Especially after almost 2 years without any grains at all - they are REAL good! But, variety is nice.
Quinoa in our house has gotten a bum rap. It all started years ago when I went on a detox diet for my rheumatoid arthritis - I sure wish I had known back then about the GAPS diet!
But I didn't so, I went on a detox diet which included quinoa.
Since my family is so supportive, John suggested that everyone do the diet with me.
Unfortunately, the diet was very restrictive and I did not know how to cook quinoa except boiled with butter and salt and well, the children nicknamed quinoa, "fish-eyes"!
Don't ask me why, but they did. And, it has stuck to this day! Even our younger children who were not around at that time, call quinoa, "fish-eyes"!
This Quinoa Pilaf Is Loved By All!
This reputation has been hard to overcome! But, Quinoa Pilaf with almonds has done it - this recipe was met with approval by all. Success - I love it!!!
I started experimenting with quinoa because I have heard how good it is for you. But, in my research, I have found out some interesting facts about quinoa.
Did You Know, Quinoa is Really Not a Grain?
That's right, quinoa is not a member of the cereal or grain family at all! It is a seed and member of the chenopod family which also contains spinach, Swiss chard, and beets!
Do you know how to say the word? My children (and husband) are sure that it should be pronounced, kwi-NOA. But, actually, quinoa, is pronounced KEEN-wah and is packed with nutrition.
Health Benefits of Quinoa
So, you may be asking, "what makes quinoa so good for you and why should I be eating it?". I am so glad you asked!
Quinoa is:
A complete protein source.
Actually has more concentrated levels of two antioxidants than even cranberries and lingonberries.
Also contains multiple phytonutrients which have anti-inflammatory actions.
Is higher in fat content (compared to grains like wheat) and can provide valuable amounts of heart-healthy fats like monounsaturated fat in the form of oleic acid.
Can also provide small amounts of the omega-3 fatty acid, alpha-linolenic acid.
Is a good source of vitamin E.
Contains over twice the amount of calcium compared to grains, ounce per ounce.
Quinoa's nutrient benefits are not affected by cooking.
Sources: 1, 2
And, if these are not enough, quinoa really does taste good! So, the next time you are tempted to cook rice, try substituting Quinoa Pilaf!
What Else Can I add to Quinoa Pilaf?
The possibilities are endless when it comes to other things to add to my Quinoa Pilaf recipe. Here are a few suggestions:
more onions
spinach
mushrooms
garlic
bell peppers
Why Is This Sometimes Called Toasted Quinoa Pilaf?
Some people call this recipe a toasted quinoa recipe and that is because you do toast the quinoa slightly to enhance the nutty flavors when you add it to the saucepan before adding the water or broth.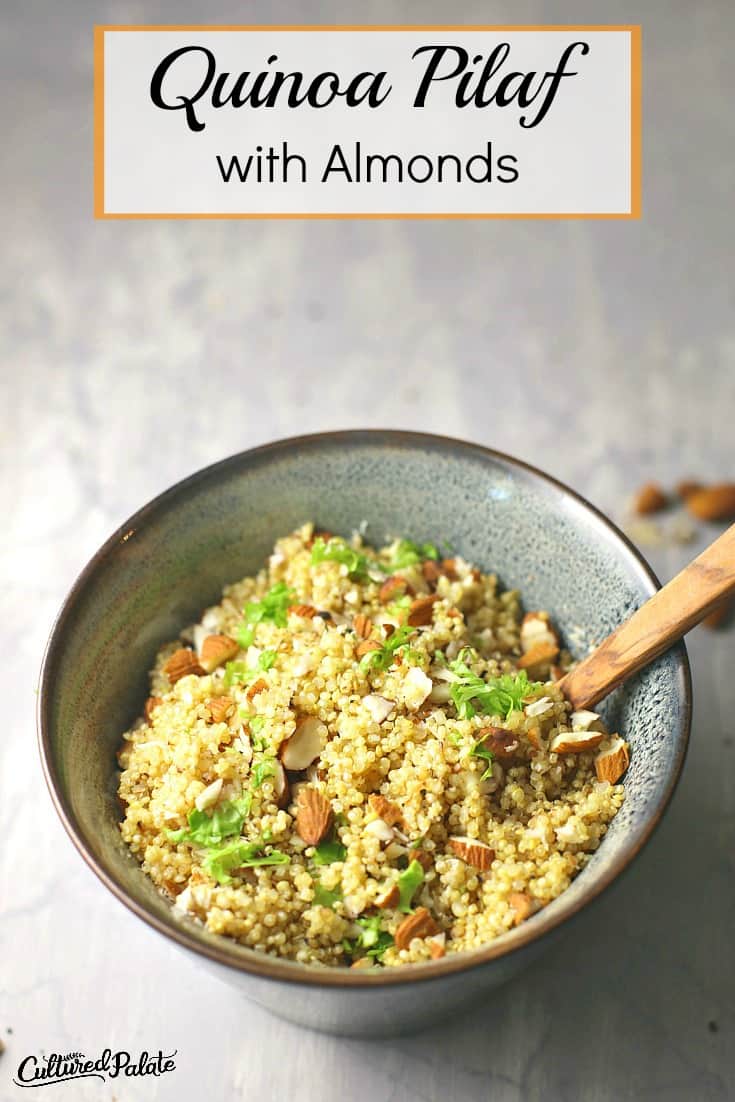 If you've tried Quinoa Pilaf or any other recipe on Cultured Palate please take a minute to rate the recipe and leave a comment letting me know how you liked it. I love hearing from you! You can also FOLLOW ME on PINTEREST, FACEBOOK, INSTAGRAM, YouTube and TWITTER.
📋 Recipe
Quinoa Pilaf
Cultured Palate
Quinoa Pilaf is an easy to make, delicious side dish loaded with flavor.
Ingredients
4

tablespoon

butter

1

onion

chopped

1

cups

quinoa

1 ⅓

cups

water

broth may also be used

½

cups

almonds

chopped (pecans or walnuts are also good!)

½

cups

fresh parsley

chopped

Salt and pepper to taste
Instructions
In medium saucepan, melt butter.

Add chopped onions and cook over medium heat until soft - about 6 minutes.

Add quinoa and toss quickly to heat then add 1 ⅓ cups water.

Bring to simmer, reduce heat to simmer and cover.

Cook until the water is absorbed and the quinoa is soft - about 20 minutes.

Stir in the nuts and parsley.

Add salt and pepper to taste.

Enjoy!
Notes
Other nuts may be substituted for the almonds.
This recipe works well in place of most rice dishes.
Nutrition
Calories:
443
kcal
Carbohydrates:
46
g
Protein:
13
g
Fat:
24
g
Saturated Fat:
8
g
Cholesterol:
30
mg
Sodium:
122
mg
Potassium:
663
mg
Fiber:
7
g
Sugar:
2
g
Vitamin A:
2845
IU
Vitamin C:
41.3
mg
Calcium:
126
mg
Iron:
5.3
mg
What Do You Serve Pilaf With?
Pin It!