Scripture Writing is one of the most rewarding Bible study programs that I have found. After doing these for a whole year (I know, it is hard to believe) I am back around to the Advent Scripture Writing verses for December.
If you are new to Scripture Writing, it is as the name implies, you write the given verses of the day.
Each day's verse or verses are designed to take no longer than 10 minutes. You can spend longer if you have the time but the goal is to get you into the Bible for refreshment.
You can see last year's December Scripture Writing verses which are part of Binder Vol. 1. These Advent Scripture Writing verses are a new and different set which is part of Binder Vol 2.
To get the most out of Scripture Writing, here is how I use the verses:
First, read the verses in context.
Write them down. You can either use the coordinating paper provided in the set or in a notebook.
Pray through them and meditate on them thinking how you can apply them to your life.
In the space provided on the coordinating sheets (or in a notebook) rite down your insights and inspiration you have received from them.
That is all there is to it. The goal is to get you into the Bible daily to encourage you to live the life you are called to live!
Who are these Bible Writing Verses for?
These are for you!
And your family!
They work great for home education (think penmanship practice), learning cursive or a new lettering style (kids or adults).
Really, they are for anyone - no matter the age - who wants to get into the Bible and focus on what is important. They are great for busy lifestyles!
What you get in the Advent Scripture Writing Set
In the set, you get the verses and two options for printing the coordinating pages.
The lined pages fit in a standard 3 ring binder.
The lined half pages print two to a page so you can cut them in half and use in a smaller 3 ring binder notebook. You can see the small notebook I use here.
Get Scripture Writing for a Whole Year!
You may find it more convenient to have 1 FULL YEAR of Scripture Writing Prompts. Both sets have different verses for each month: Binder Vol. 1 and Binder Vol 2.
Each set contains:
43 pages with different verses for each month's theme.
Binder cover
Binder spine with 3 size options (depending on what size binder you use)
Prayer List printable
2 different Bible reading plans.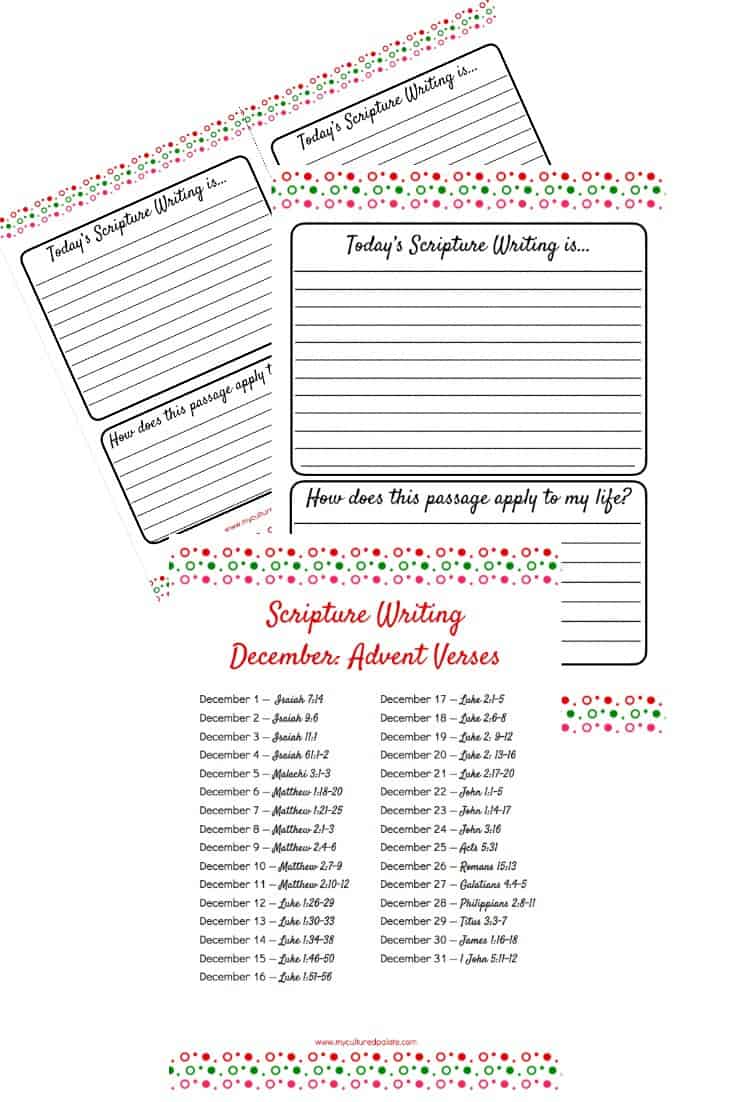 Binder Vol. 1 and Binder Vol 2 gives a full year of Scripture Writing for your convenience.