Body Scrub without Oil, is just what you are looking for if you want a sugar scrub made without oil! Sugar scrubs are easy to make, are great to give as gifts and won't break your budget!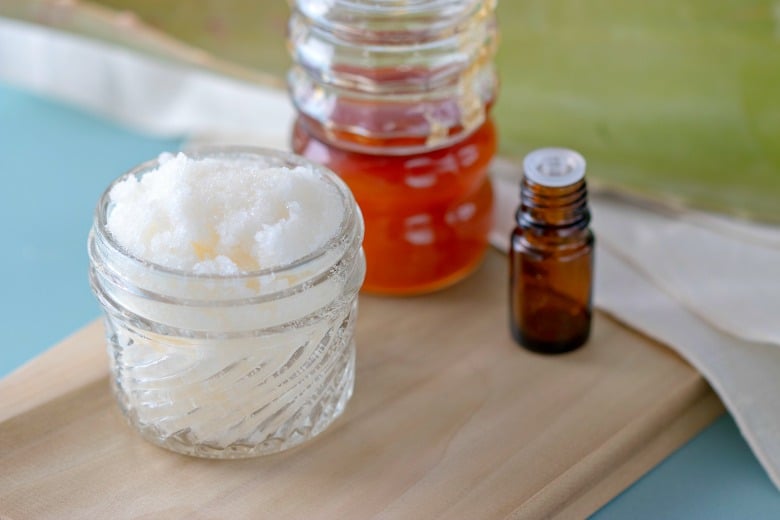 If you are looking for younger looking, glowing skin, using scrubs to exfoliate that are full of chemicals you can't pronounce, artificial and unnecessary ingredients isn't gonna cut it!
Enter Body Scrub without Oil.
A non oil based sugar scrub makes it a non-oily sugar scrub recipe. While it is perfect for any type skin, those with acne prone or oily skin will especially feel the benefits.
There are not many DIY body scrub without oil recipes so, I hope you enjoy this one!
Jump to:
Why are oils commonly used?
Oils are used in homemade sugar scrubs because they help soften the skin, as well as, bind the other ingredients together.
This can be done also by ditching the oil and using honey or aloe vera gel.
When using a body scrub with honey, please note that it will tend to be sticky. But, it is worth it - see the reasons to use honey below for the benefits.
If the stickiness of honey bothers you, choose aloe vera instead.
Why avoid coconut oil?
While coconut oil can be a beneficial ingredient in some skin care products, it's not generally recommended for use in body scrubs. This is because coconut oil is a highly comedogenic oil, which means that it can clog pores and lead to the development of acne and other skin problems.
When used in a body scrub, coconut oil can form a thick, oily layer on the skin that can trap dirt, bacteria, and other impurities, which can lead to breakouts and other skin issues.
In addition, coconut oil is solid at room temperature and can be difficult to rinse off completely, which can leave a greasy residue on the skin and make it feel heavy and greasy.
Your choice whether or not to use coconut oils will depend on your specific skin type!
Why use honey?
Honey is wonderful for your skin. It gently cleanses yet does not strip or dry out your skin. Plus, it is good for all skin types and leaves your skin smooth, moisturized and silky soft!
When using raw honey, it has natural antibacterial properties which makes it great for acne prone skin.
Honey is also full of antioxidants so it may help slow signs of aging while nourishing and protecting your skin.
According to OutdoorSelfReliance,
Bees use an enzyme known as glucose oxidase to make honey. Glucose oxidase breaks glucose (sugar) down into hydrogen peroxide, making it a great anti-septic used to fight germs. The amount of hydrogen peroxide is limited, occurring where the moisture contacts the honey, creating a fine oxidizing layer which literally "rusts" the germs to death…along with dehydrating them.

Honey's slight acidic Ph (between 3.5 and 4) discourages the growth of bacteria.

Honey is hygroscopic (draws moisture from its surroundings) in nature. Bacteria that come into contact with honey lose their moisture content, through osmosis, to the surrounding honey and die.
Why use aloe vera?
Aloe vera gel contains antioxidants, enzymes, Vitamins A and C, and it is highly anti-inflammatory. It can also help treat acne and dry skin.
The enzymes in aloe vera gel is a gentle exfoliate to the skin so, combined with the sugar in the body scrub, you get a slightly deeper yet soothing exfoliation.
Many think that applying aloe vera gel to your skin will help reverse wrinkles and other signs of aging.
While it doesn't reverse your skin from aging , it can help prevent you from getting deeper lines and wrinkles. (1)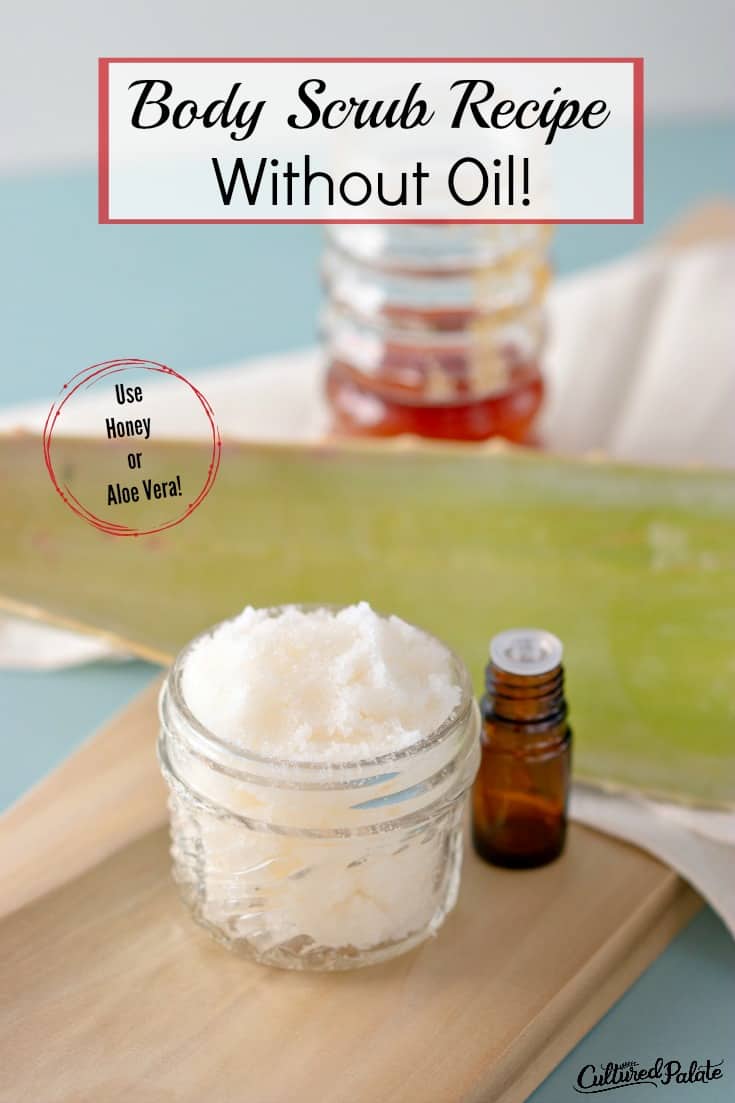 Why use fine sugar?
Fine sugar is often used in body scrubs because it is a gentle exfoliant that can effectively remove dead skin cells without being too harsh on the skin. Unlike coarser exfoliants, such as salt or nut shells, fine sugar granules are small and smooth, which makes them less abrasive and less likely to cause irritation or micro-tears in the skin.
This makes them suitable for use on sensitive skin, as well as for more delicate areas of the body, such as the face.
In addition to being gentle, fine sugar is also a natural humectant, which means that it helps to attract and retain moisture in the skin. This can help to prevent the skin from becoming dry and flaky after exfoliation, and can leave it feeling soft, smooth, and hydrated.
Fine sugar is also easily dissolved in water, which makes it easy to rinse off after use and prevents it from leaving any gritty residue on the skin.
How long will it last?
Because of the sugar content, it along with most other homemade sugar scrubs will last for at least a year. To be honest, I use mine up well before that.
Honey and sugar both have antibacterial properties meaning your sugar scrub will last for a long time!
If other additions are made like fresh or dried herbs, citrus rind, fruit or vegetable puree, the shelf life will be shortened.
Storing
My Body Scrub Without Oil recipe, like other sugar scrubs, should be stored in airtight containers. I prefer glass jars and while there are many cute ones available, mason jars make great storage containers.
Here are a two that I use and are available online:
4 oz jelly jars
8 oz mason jars
Thrift stores are another place to shop for jars. Just be sure they are airtight!
Body Scrub Without Oil for Gifts!
People love being treated special with homemade sugar scrubs. This non-oily sugar scrub recipe is a special treat!
To use for gifts: Make the sugar scrub recipe, place in jar and add a ribbon or bow and voila - you have a beautiful gift.
📋 Recipe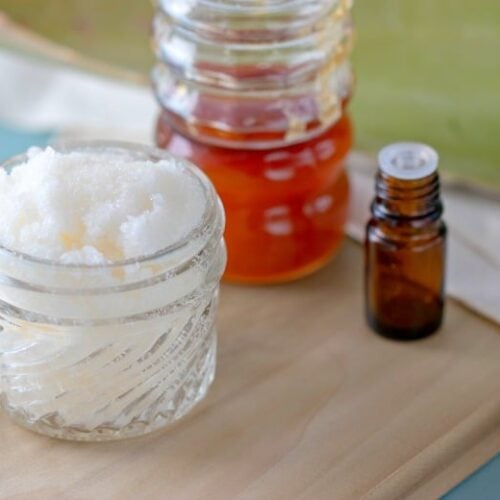 Body Scrub Without Oil
If you are looking for younger looking, glowing skin, using scrubs to exfoliate that are full of chemicals you can't pronounce, artificial and unnecessary ingredients isn't gonna cut it!
Ingredients
½

cup

honey

or 1 cup aloe vera gel

1

cup

sugar

5

drops

peppermint

or orange, or lavendar - optional
Instructions
Mix ingredients together well in a small bowl.

Spoon into an airtight container.
Notes
To use: Apply a small amount to skin and rub in a circular motion for about 60 seconds.Repeat for remaining areas of body.Rinse with warm water using a facecloth to remove any remaining Body Scrub Without Oil.
Have You Tried This Body Scrub Without Oil recipe - leave a comment and let me know!
Why use an exfoliator at home?
Using a skin exfoliator helps to remove dead skin cells from the surface of the skin. This helps to:
Improve skin texture: Exfoliating the skin helps to smooth out rough, dry patches and improve its overall texture.
Clear pores: Removing dead skin cells can help to unclog pores and reduce the risk of acne and other skin problems.
Brighten complexion: Exfoliating the skin can help to brighten its appearance and give it a healthy, radiant glow.
Faster cell turnover: By removing dead skin cells, exfoliation can help to speed up the natural cell turnover process, which can help to prevent dull, lifeless skin.
Improved product absorption: Exfoliating the skin can help to remove any buildup of dead skin cells, which can make it easier for moisturizers and other skin care products to penetrate the skin and be more effective.
Using a skin exfoliator can help to improve the appearance and health of your skin, leaving it looking and feeling smoother, softer, and more radiant.
Using a DIY at home skin scrub gives you total control over the ingredients, which can help isolate and reduce irritation and other skin problems caused by over-the-counter products.