Moisturizing Sugar Scrub
is the homemade body scrub for dry skin - summer or winter! 
Sugar scrubs
are easy to make, the variations are endless and you will be left with soft silky skin.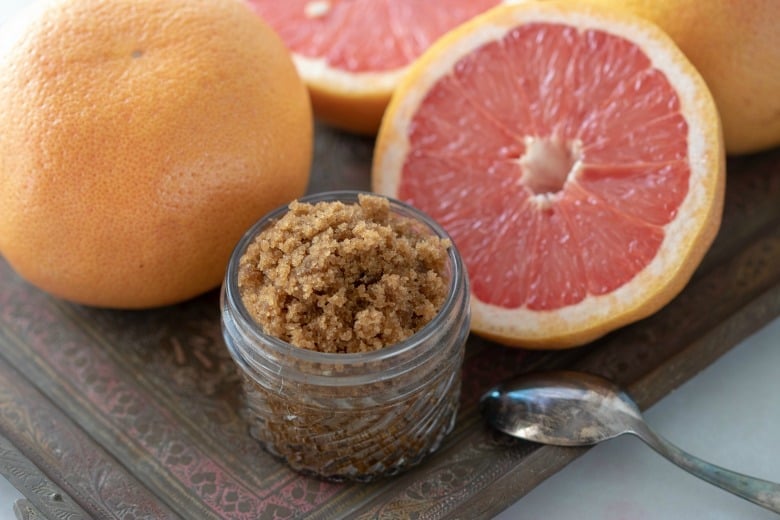 Seriously, if you have never tried making and using sugar scrubs, you don't know what you are missing.
The moisturized soft feeling your skin will have when you are finished will make you wonder what took so long to start!
Homemade Body Scrub for Dry Skin
This Moisturizing Sugar Scrub recipe may seem like a basic sugar scrub recipe. But, the big difference is that Vitamin E oil is used in addition to the oil.
The addition of Vitamin E oil mean extra moisture for you!
That's right, I love using vitamin E oil as a moisturizer all by itself on my face. And now, used in combination with the sugar for a scrub, you have the benefits of exfoliation while moisturizing.
Bye-bye dry skin - Heelllloo fresh, younger-looking, glowing skin!
Olive Oil Sugar Scrub
Moisturizing Sugar Scrub is an olive oil sugar scrub. That means, that the carrier oil used in this sugar scrub recipe is olive oil. See Sugar Scrubs for more info on carrier oils and the how-to's of sugar scrub recipes.
While other oils may certainly be substituted, olive oil is a healthy fat that helps hydrate skin without clogging pores. It can also help prevent breakouts.
How Do You Exfoliate With Moisturizing Sugar Scrub
Any and all sugar scrub recipes are applied the same way:
Apply a small amount to your palm.
Gently massage using a circular motion into your skin.
Repeat for the whole body.
Rinse with warm water using a facecloth to remove any residual sugar scrub.
Pat dry and enjoy your soft silky skin.
What are the Benefits of Sugar Scrub?
Using sugar scrubs has many benefit.
The first is the exfoliation that comes from rubbing the sugar crystals on your skin. This helps remove dead skin cells revealing younger-looking skin.
Sugar is a good natural source of glycolic acid which in synthetic form is found in many beauty products. I love having natural ingredients that my skin can use! Glycolic acid is able to penetrate the skin cells and leaves you fresh an rejuvenated.
The second benefit is the cleansing and moisturizing that comes from the carrier oil used. The carrier oils help unclog pores and balance the skin's oil production. They also nourish and moisturize the skin, which helps lessen the excess oil being produced.
Benefits of other ingredients is another one of the benefits of using a sugar scrub. Each essential oil has characteristics that can help support the systems of your body. Think aromatherapy!
Choosing Essential Oils
I know there are many choices when it comes to essential oil companies. And, I while I will tell you my choice, I am not going to tell you others are bad - there is no perfect company.
But, I will encourage you to choose quality and not skimp when it comes to purity.
Your skin is the largest organ in your body and what you put on your skin (lotions, creams...) can reach your bloodstream faster than the food you eat.
Choose wisely!
Personally, I use doTerra essential oils and am confident of their quality. I use them for all my DIY projects, diffusing and for my family.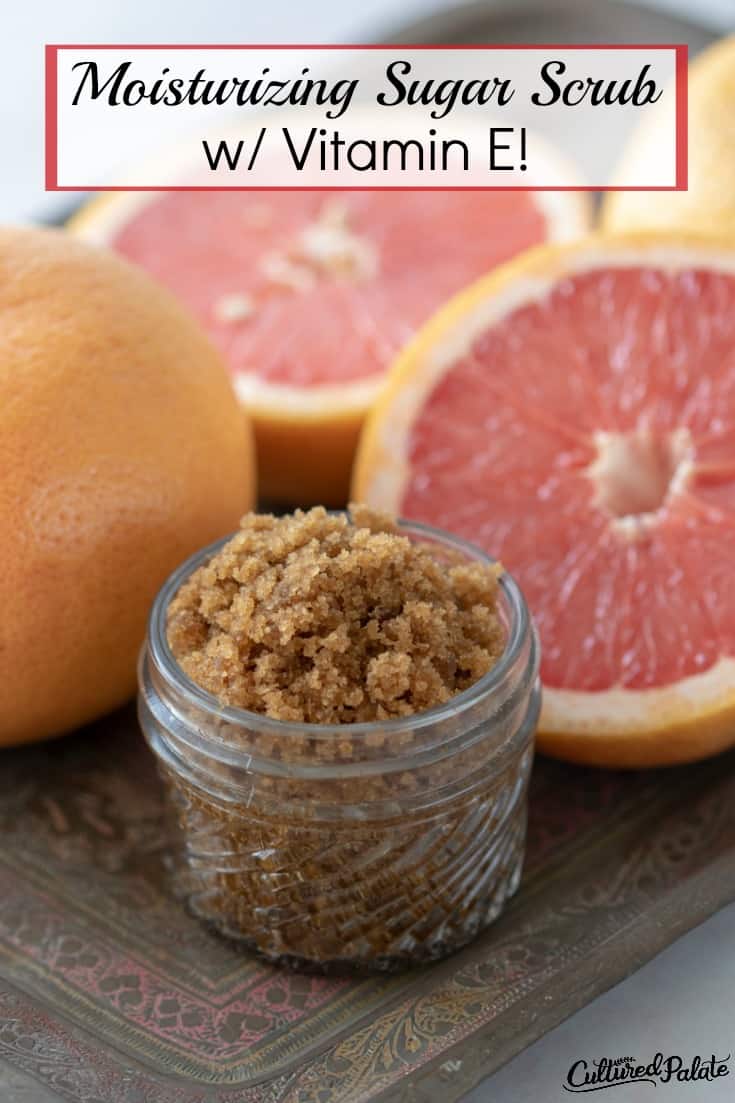 How Often Should You Use Sugar Scrub on Your Body?
The frequency that you use Moisturizing Sugar Scrub or any sugar scrub is completely up to you. I find several times a week to be good.
If you do a quick online search, you will find suggestions of  1 - 2 times per week.
I personally use them more frequently, especially in the heat of summer when we are working in the vineyard and garden, or in the cold of winter when my skin is really dry.
Can Moisturizing Sugar Scrub Be Used on Your Face?
Moisturizing Sugar Scrub can be used on your face. In fact, the vitamin E oil is very nourishing to your skin (face or body) and leaves your skin silky soft.
Many people find that white sugar is a more abrasive exfoliant than brown sugar. White sugar crystals are larger than brown sugar making it a bit harsher.
If you have sensitive skin, I would recommend using brown sugar for your face.
How Long Do Sugar Scrubs Last?
Because of the antibacterial nature of sugar, homemade sugar scrubs last a looonng time. I normally use mine up fairly quickly but have kept some for a year without any problems.
Using Homemade Sugar Scrub For Gifts
Homemade sugar scrubs for gifts are easy to make and economical to give. Plus, people love getting homemade beauty and spa products as gifts.
For gifts: Place sugar scrub in a cute glass jar (mason jars work great), tie a ribbon or bow and there you have it - a ready to give gift.
For a gift basket: Add your sugar scrub jar to a basket along with other spa items, such as:
Don't forget gift tags to add that special touch to your gift!
How to Use Sugar Scrub
This Moisturizing Sugar Scrub is best used in the shower or bath. If using in the shower, be sure to sit down when using on your feet - the sugar scrub will make them slippery.
Scoop a small amount (using a clean finger, spoon or spatula) into your had and rub in a circular motion.
Repeat for the remainder of your body.
Rinse with warm water and pat dry.
Pin It!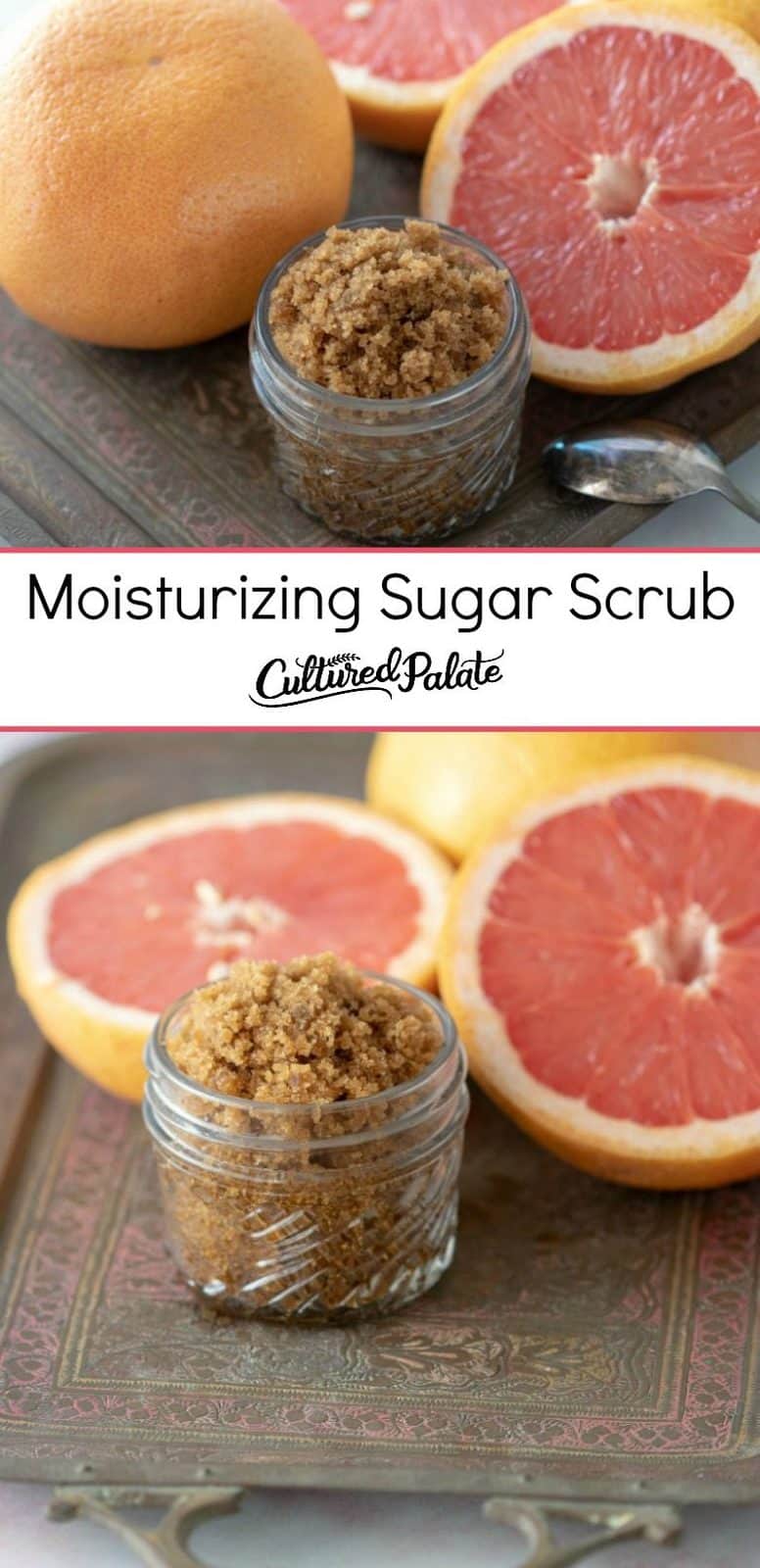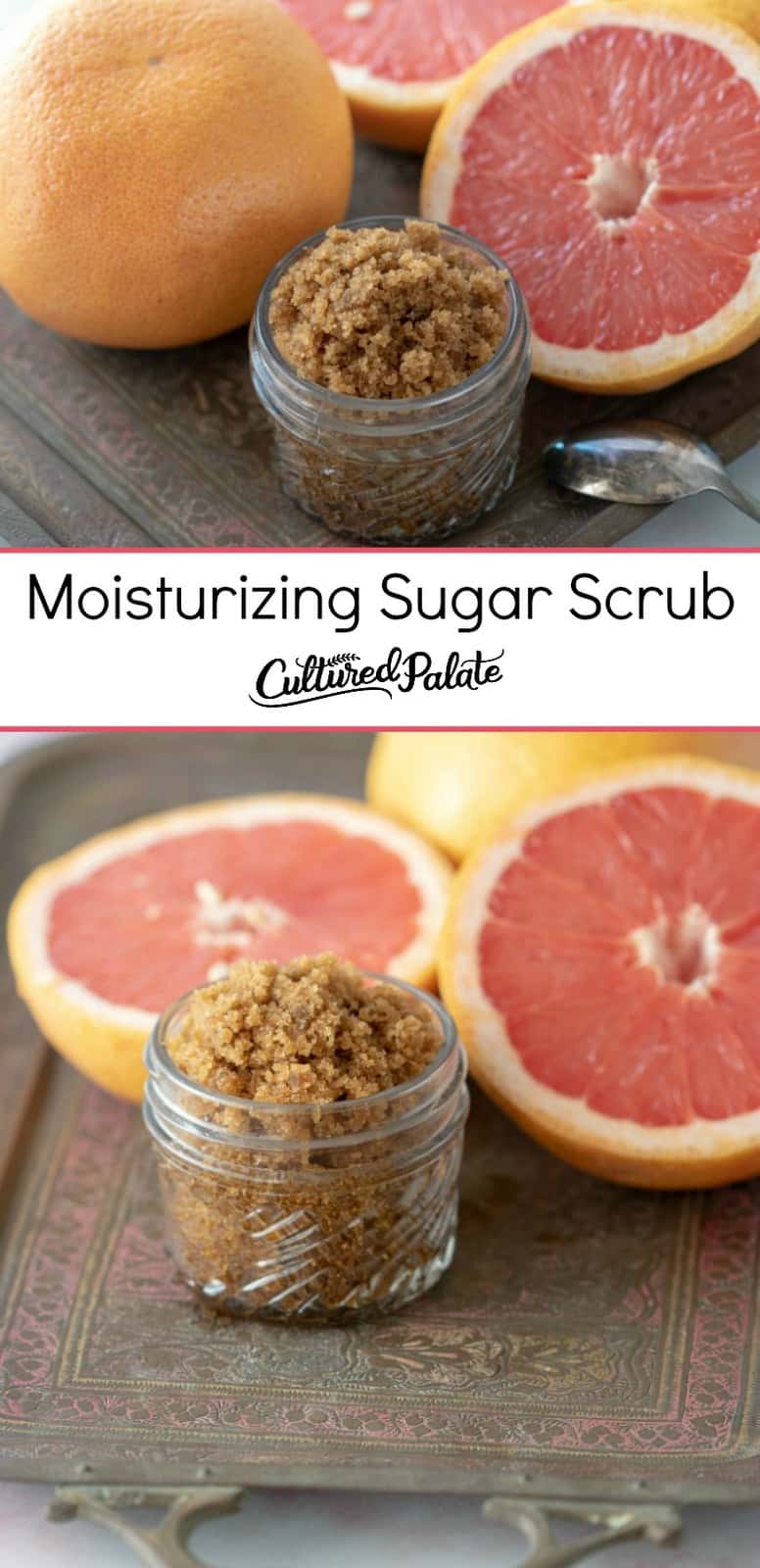 Moisturizing Sugar Scrub
1 c. sugar

¼ c. olive oil (sweet almond or coconut oil may be used)

¼ c. vitamin E oil

Essential oil of choice: Try grapefruit, lavender, orange, peppermint and add to desired fragrance. I start with about 12 drops and add from there if needed.
Directions
Mix all ingredients together and adjust the amount of essential oil as desired.
Store in airtight container.
To Use:
Spoon out a small amount of the Moisturizing Sugar Scrub into your hand.
Using a circular motion, rub it into your skin. I like to massage for about 60 seconds.
Rinse with warm water and pat dry.
What is Your Favorite Oil to Use for Moisturizing?
Not Into DIY or Making Your Own Sugar Scrub?
Don't worry if you are not really into making your own DIY products because there is still a safe skincare and cosmetic option for you.
It is important to remember that just because products say "organic" does not mean they are safe.
Many have unnecessary ingredients, chemicals that are harmful and even hide behind the word "fragrance" so they can add unhealthy ingredients.
Since your skin is the largest organ of your body, and what is put on your skin can get into your blood stream quicker than the food you eat, "safe" is a keyword in skincare and cosmetics!
It is very important to use only safe, non-toxic, chemical free products on your skin. This Sugar Body Scrub in Lemongrass from Beautycounter is wonderful AND it contains only food-for-you ingredients. It is gently enough for your face too!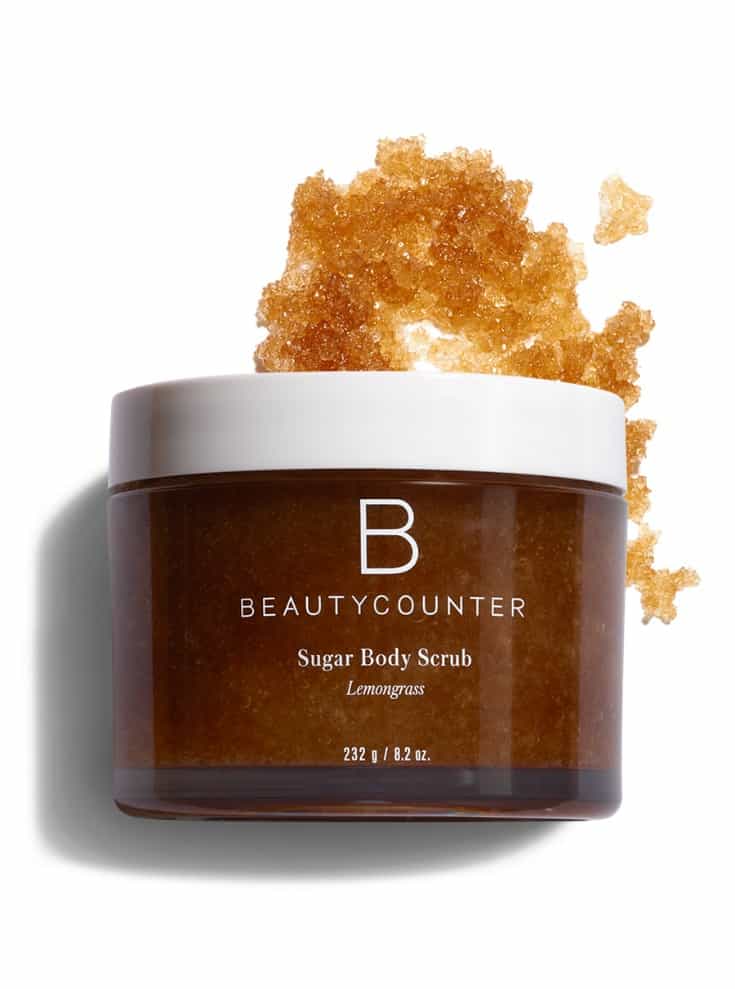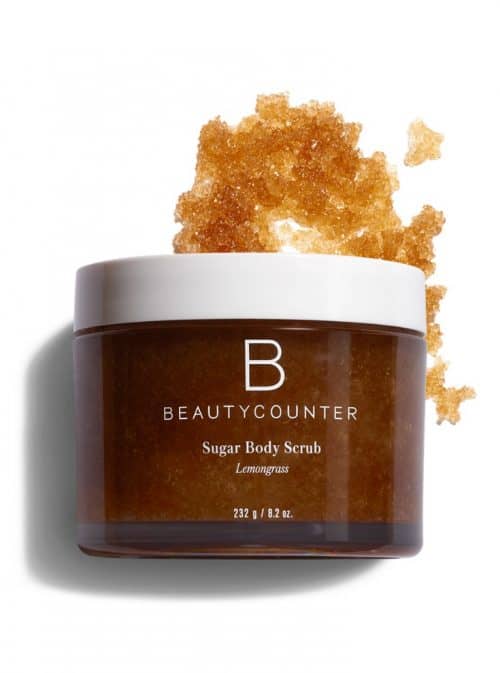 The Body Oil in Citrus Rosemary  Beautycounter is another effective product that leaves your skin soft and moisturized.
It is a blend of 13 botanical oils that absorb instantly and leaves your skin feeling silky soft. The scent is wonderfully invigorating yet subtle and has hints of grapefruit, sweet orange, and rosemary.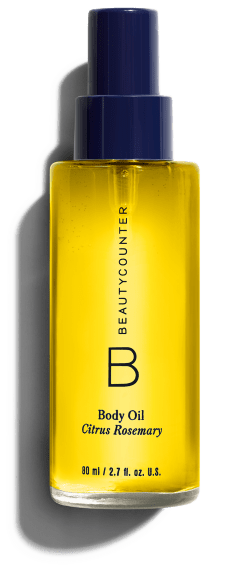 This No. 1 Brightening Facial Oil containing vitamin C from Beautycounter is citrus-scented facial oil quickly absorbs and penetrates to awaken and nourish your skin. It is definitely one of my favorite products and I love the citrus scent that come from its proprietary blend of seven natural oils.