Energizing Body Scrub is a DIY sugar scrub that will leave you uplifted and refreshed! Sugar Scrubs are all the rage and with this invigorating body scrub, you will hit the ground running! This is one recipe you can't live without!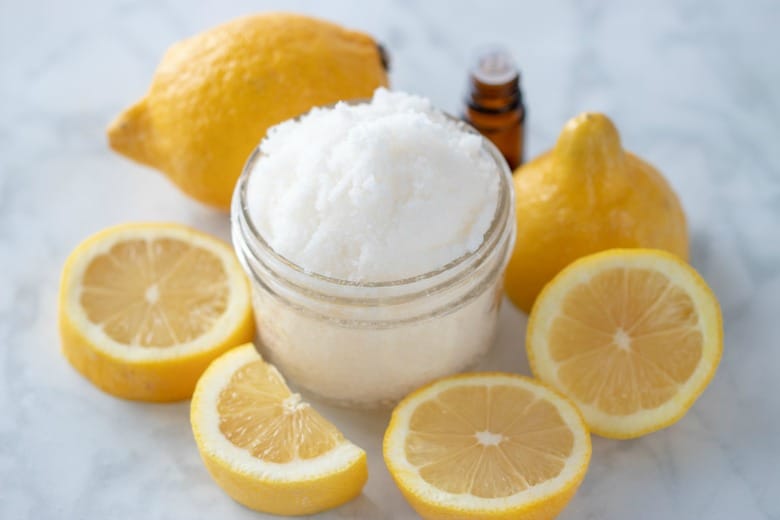 With this energizing body scrub, I will give optional ingredients that you are free to add. But, as it is written, this is probably the best body scrub to remove dead skin that I have found.
Thanks to the sugar, it is a gentle but effective body exfoliator scrub that is gonna give you a refreshing pick-me-up.
I know, you have probably heard that sugar is bad for you.
And, that is true if you are talking about your gut. It is bad for your intestines and digestion.
But, it turns out, sugar is excellent for your skin. You can find out more details on my Homemade Sugar Scrubs page. Here are a few highlights:
Sugar is also a good source of glycolic acid.

Glycolic acid is in many skin care products but is found naturally in sugar. It is a safe exfoliant and penetrates the skin cells leaving you looking fresh and rejuvenated. (1)
How to Make Energizing Body Scrub
As with any DIY sugar scrub, just follow the recipe - mix all ingredients well and place in an airtight container.
What if My Body Scrub Separates?
Body scrubs and sugar scrubs can separate. Separating can happen but does not affect the final product.
If your body scrub separates, use a clean finger, spoon or spatula to stir, mixing it back together and enjoy.
How to Use Energizing Body Scrub
I like to use Energizing Body Scrub during a bath or a shower. Apply a small amount to your skin, rub or massage in and continue until your whole body is massaged. Rinse with warm water and pat dry.
Enjoy your silky soft skin.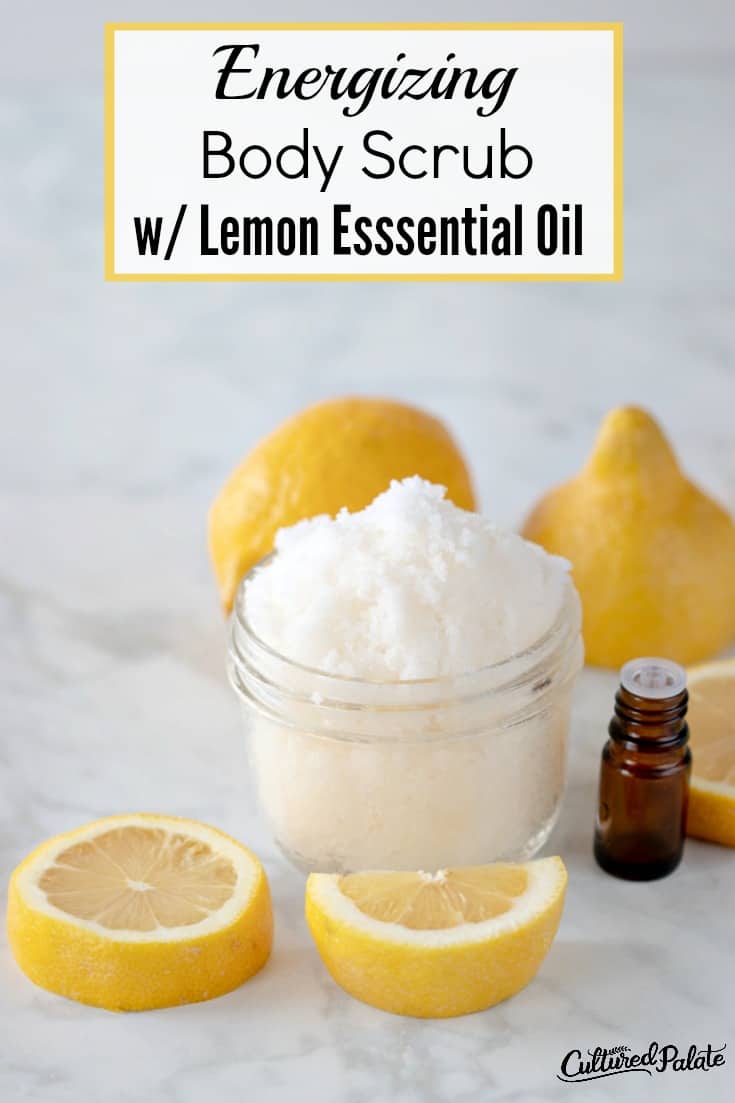 How to Store This DIY Sugar Scrub
This Body Scrub, like any sugar scrub, should be stored in an airtight container. I prefer glass jars and there are many cute and inexpensive ones available.
Hobby Lobby is a good source and many are also available online.  8 oz mason jars make great gifts and if you are making a lot of sugar scrubs as gifts, this is a cute set with cork stoppers.
What Essential Oils are Good to Use?
Since your skin is the largest organ in your body, it is important to use only good quality pure products on your skin - including essential oils.
The ingredients used in oils, lotions, creams applied to your skin can reach your blood stream quicker than the food you eat!
So, be sure to invest in good quality essential oils. There are a lot of reputable essential oil companies and I am sure there is no one "perfect" company. They all have quirks and problems.
Just be sure to check them out and decide for yourself.
Personally, for myself and for my family, I use doTerra essential oils and am confident of their quality. I use them for all my DIY projects and diffusing.
Is There a Safe and Healthy Way to Color Sugar Scrubs?
I often get the question, especially when people are making the sugar scrubs for gifts, about what can be used to color them making them prettier.
When it comes to colorants that I use for DIY sugar scrubs, I use India Tree because of their quality. They are vegetable colorings without any corn syrup or synthetic dyes.
Again, remember, your skin is the largest organ of your body and what is put on it can be absorbed into the blood stream very quickly!
Is This a Whitening Body Scrub?
Since this body scrub has lemon essential oil in it, it can help lighten and brighten skin tones. The lemon essential oil is also responsible for much of the sugar scrubs energizing effect.
But, sugar scrubs help with skin tones anyway because of their exfoliation which cleans away dead skin revealing younger looking, brighter skin.
What are the Best DIY Whitening Body Scrub Products?
Lemon essential oil and lemon juice have long been known to help with whitening and lightening skin and hair.
Parsley is an uncommon ingredient to include in an energizing body scrub but works great. It helps lighten skin tones and can help reduce the appearance of hyper-pigmentation. Parsley can also help heal blemishes and prevent acne breakouts. (1)
Can I Make This a Charcoal Body Scrub?
The Energizing Body Scrub can easily be made into a detoxifying body scrub by adding activated charcoal. To the following recipe, add 3 tablespoon of activated charcoal.
The recipe, as written, is already detoxifying in that it is a body exfoliator scrub. The sugar exfoliates while the oil moisturizes and helps clean the pores of your skin.
Essential oils of choice may be added for their particular characteristics.
Activated charcoal is a good detoxification ingredient but be aware that adding it will leave a black residue on your tub or shower.
Use as directed in the tub or shower but be sure to wash and rinse well after use - and clean your or wipe down your tub and shower.
Can This be Made into a Whipped Sugar Scrub Recipe?
Energizing Body Scrub can easily be made into a whipped sugar scrub recipe if coconut oil is used. Since coconut oil is liquid at temps above 75F it will need to be hard meaning that it is at a temp under 75F.
Using a hand mixer, mix all ingredient, whipping them together.
Sugar Scrubs for Gifts!
DIY sugar scrubs make great gifts and this Energizing Body Scrub is no exception. It can be as simple as putting the body scrub into a jar, tie a ribbon around it and voila, you have your gift.
Try making a spa basket with sugar scrubs, bath items like a loofah, shower cap, washcloth and other homemade beauty products.
Think batches of whipped body butter recipe, homemade sunscreen or DIY bath salts recipe...
Don't forget gift tags to add that special touch to your gift!
Pin It!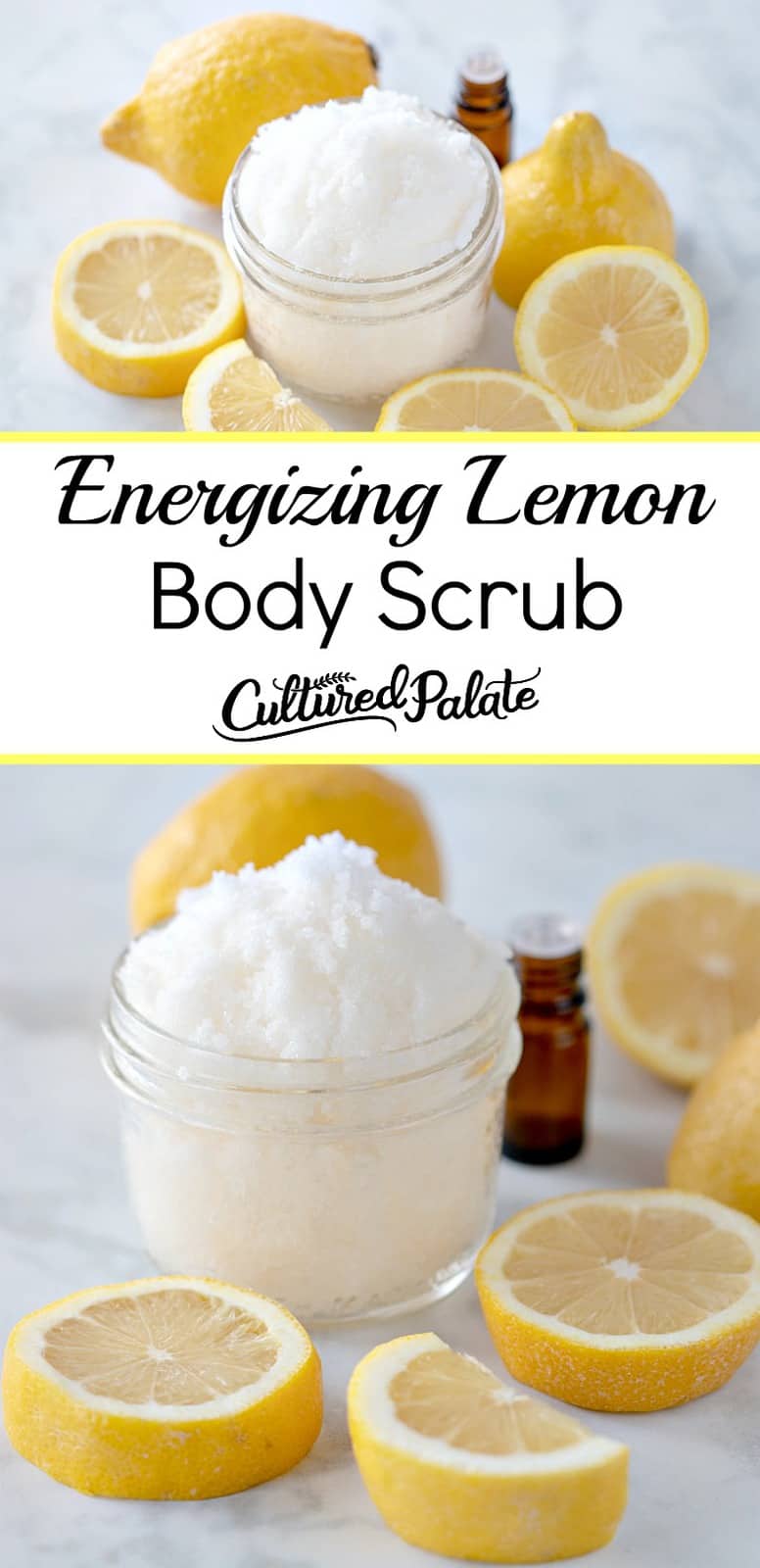 Energizing Body Scrub
Ingredients
1 ½ c. of sugar (white or brown)
¼ c. oil of choice (almond, coconut, grape seed, olive)
6 - 9 drops Lemon Essential Oil (more or less to achieve your desired scent)
Optional Ingredients
Coffee, charcoal (3 Tbsp), Essential oils - lime, grapefruit, wild orange, peppermint
Instructions 
Mix all ingredients together.
Store in an airtight container.
To Use
During a shower or bath, apply a small amount of Energizing Body Scrub to your skin rubbing or massaging in a circular motion for 30 - 60 seconds.
Repeat with the remainder of your body.
Rinse with warm water and pat dry.
What is Your Favorite Essential Oil or Oil Blend to Energize Your Body?
Not Into DIY or Making Your Own Sugar Scrub?
Don't worry if you are not really into making your own DIY products because there is still a safe skincare and cosmetic option for you.
It is important to remember that just because products say "organic" does not mean they are safe.
Many have unnecessary ingredients, chemicals that are harmful and even hide behind the word "fragrance" so they can add unhealthy ingredients.
Since your skin is the largest organ of your body, and what is put on your skin can get into your blood stream quicker than the food you eat, "safe" is a keyword in skincare and cosmetics!
It is very important to use only safe, non-toxic, chemical free products on your skin. This Sugar Body Scrub in Lemongrass from Beautycounter is wonderful AND it contains only food-for-you ingredients. It is gently enough for your face too!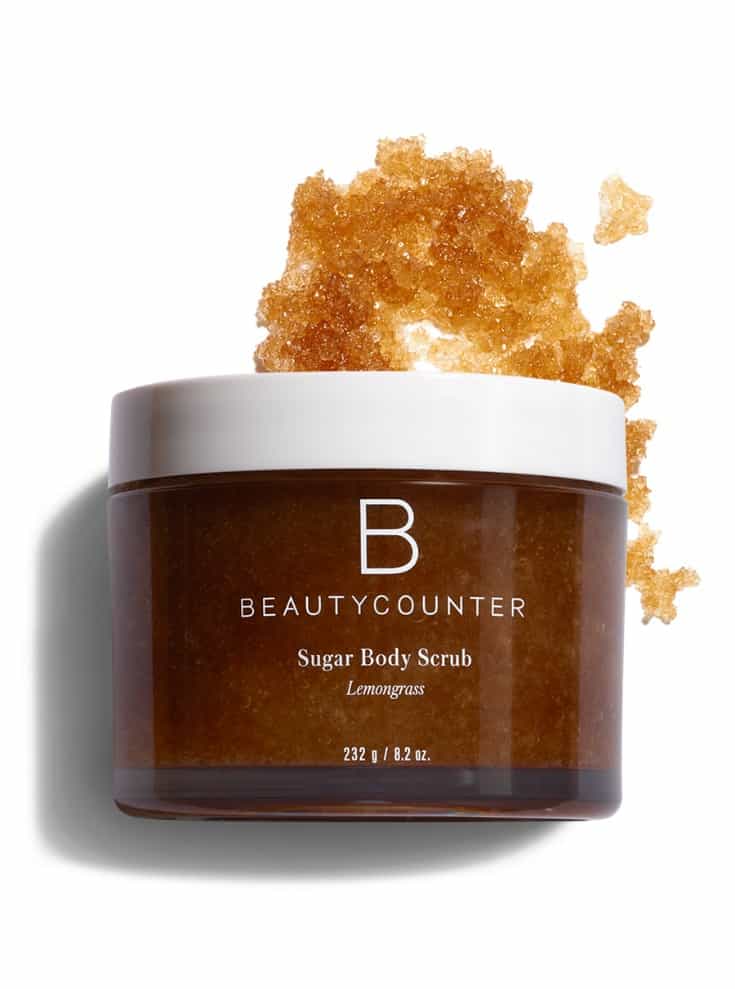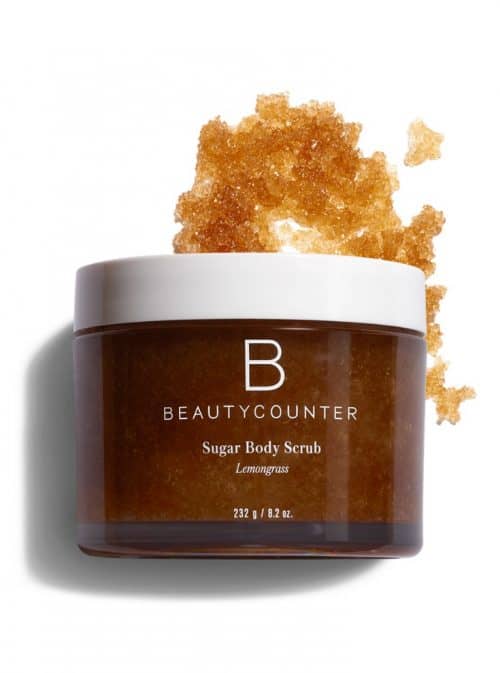 The Nourishing Cream Exfoliator by Beautycounter is another affective product to remove dead skin cells leaving you looking more youthful.
Using jojoba beads, it gently exfoliates and removing dry, dull skin leaving behind a brighter, more youthful looking skin. It also contains organic coconut oil and aloe to soothe and hydrate your complexion.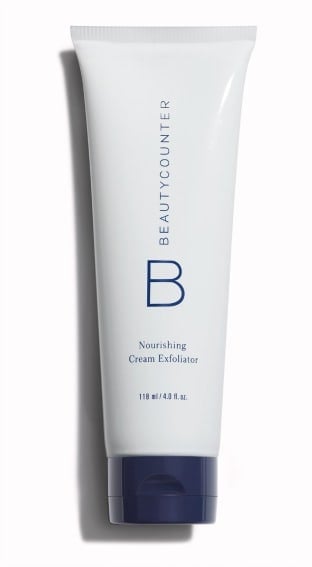 The Body Butter in Citrus Momosa from Beautycounter is another must-have for those with dry skin. It contains shea butter and mongongo oil to hydrate and nourish, plus organic sunflower oil, aloe, and chamomile to soothe and smooth. This Body Butter is thick, rich and melts into skin being absorbed without leaving you feeling greasy.