Learn how to make DIY Bath Salts using this bath salts recipe. You can enjoy the luxury of a spa treatment at home or give it as a gift. Homemade baths salts are easy peasy! And, they can be made with the essential oils of your choice, or without essential oils.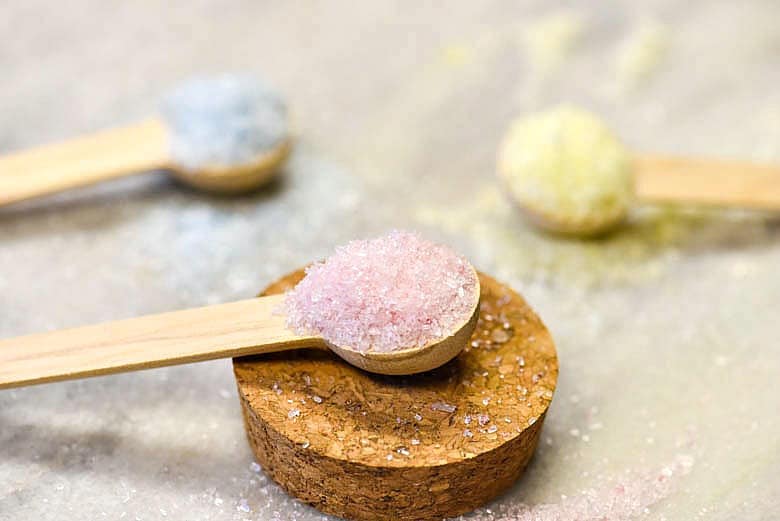 Learning how to make bath salts is really very simple. In fact, it is so simple that I have skipped the photos showing the process. All you do is put the ingredients in a bowl, stir to mix well and put the bath salts into jars.
Making homemade bath salts without essential oils is easy - just leave them out and follow the recipe. You will still have all the benefits of Epsom salt with a relaxing spa experience. Using the colorant also adds a bit of fanciness to them.
Coloring
Be sure to use only food grad colorant. Remember, your skin is the largest organ in your body. What you put on your skin can be absorbed quicker than the food you eat!
I like to use India Tree Colorant because of its quality. Just be sure to use a good quality, food grade colorant.
Containers
I love finding cute jars to put the homemade bath salts in or it can be as simple as mason jars. You can then either wrap them or put a ribbon around the jar.
Don't forget gift tags to put on them too - here are some you can print:
Tips
Be creative and try different essential oils and blends.
Want a colored bath salts? These Soap Colorants work well and don't stain!
These make wonderful gifts and can be put into a variety of jars.
Be sure to add a cute printable gift tag for that little extra touch when using as a gift.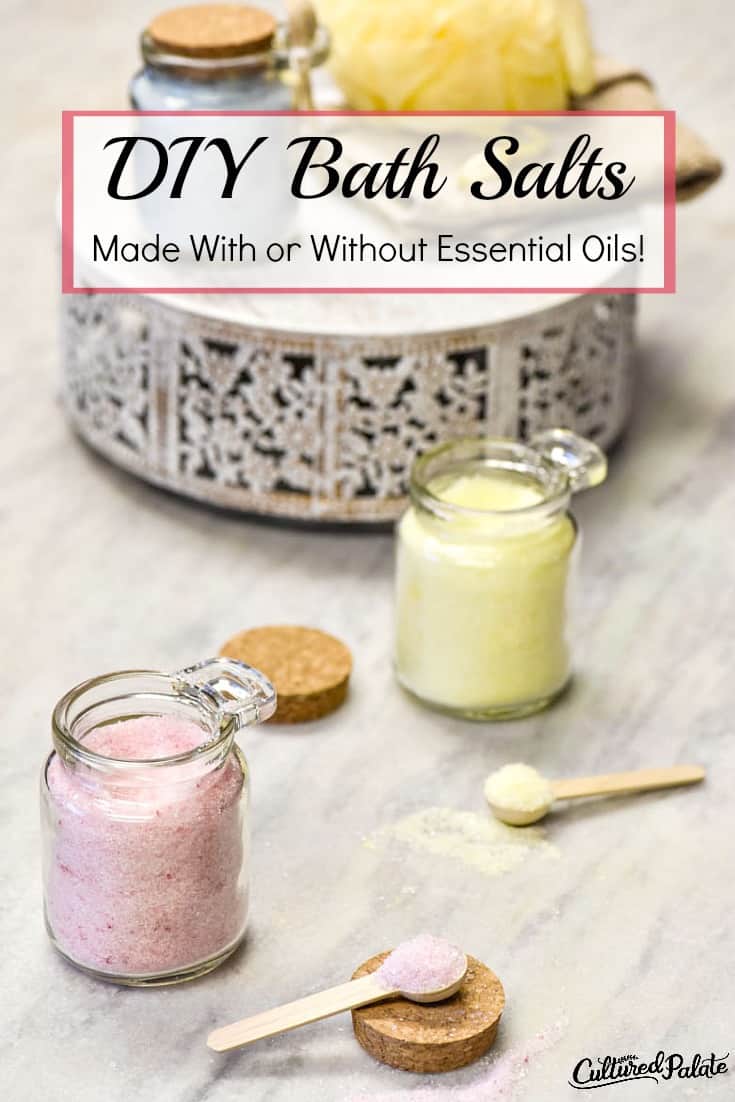 Here's the ingredients you'll want to incorporate:
1. Epsom Salt
Epsom salt is not actually a salt! It is magnesium sulfate which can be used as a laxative (as is used in the gallbladder cleanse or passing kidney stones naturally) and to help detoxify your body, as well as, have the health benefits of magnesium in your bath.
Magnesium is readily absorbed through the skin so using it in a bath is a great way to get its benefits. Some benefits include:
Stress relief
Detoxification
Helps reduce inflammation
Helps improve the absorption of nutrients
2. Baking Soda
Baking soda is sodium bicarbonate and is the same stuff used in baking. Like Epsom salt, it also helps remove toxins. Some benefits include:
Detoxification
Helps alkalize your body
Softens skin
Gives skin a silky soft feel
3. Essential Oils
Essential Oils are beneficial for your body in many ways and each essential oil has benefits of its own. For example:
Lavender is great to use before bed to help you relax.
Citrus oils help energize and reinvigorate your mind and body.
Eucalyptus is great if you are not feeling well or feel a cold is coming on.
The sky is the limit with the combinations you can make!
4. Extras
Spices, such as, ginger and cinnamon, make great additions.
Oils can be added for extra moisturizing - coconut, jojoba, almond, argan. To the following recipe, add 1 tablespoon if desired.
Sea salt contains about 21 minerals that are occur naturally in our bodies. However, because they are depleted during the day, they should be replenished. Examples include: Potassium, sodium, bromides. These along with the other minerals help detoxify and cleanse our bodies. To the following recipe, add ¼ cup.
Can I leave Out the Baking Soda?
Absolutely, if for some reason you do not want to use the baking soda, leave it out. You will still have a wonderful bath salt for a luxurious bath salt.
Recipe
Makes 12 ounces
Ingredients:
1 cup Epsom salt
½ cup baking soda
5 - 10 drops essential oil
colorant of choice - add a couple of drops and mix at a time until the desired color is reached
Optional ingredients - 1 tablespoon oil of choice (coconut, jojoba, almond, argan), 1 - 2 tablespoon dried spices, ¼ c sea salt
Directions:
Combine all ingredients in a medium sized bowl, stirring well to incorporate the baking soda and essential oil.
Divide between jars as desired.
Use immediately, or store in an airtight container.
To Use: Add ¼ - ½ c per bath
Just as this Bath Salts Recipe is super easy to make and makes great gifts, so are my Sugar Scrub, Whipped Body Butter and Homemade Sunscreen.
 What essential oil do you add to your bath salts? Leave a comment!