Butternut Squash Pancakes are GAPS Legal, paleo pancakes and oh, so good! This butternut squash pancake recipe is not only easy but also delicious and healthy – definitely a win-win! Not convinced? Watch the video to see how easy they are to make!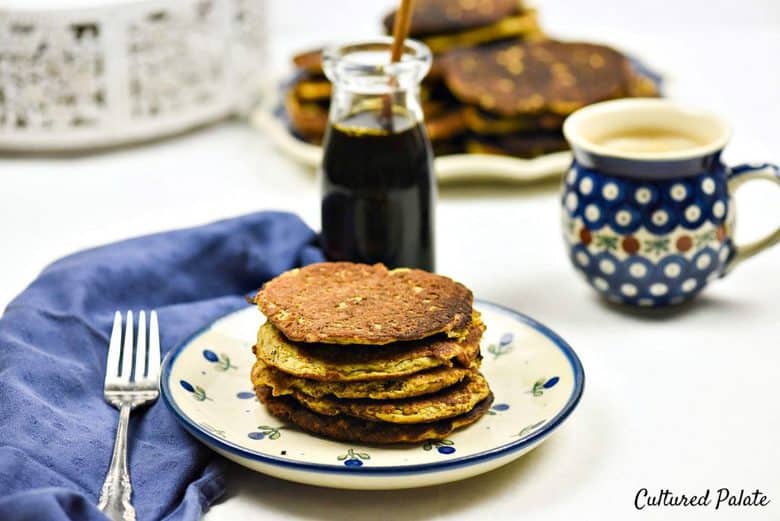 As I posted earlier in Roasting Butternut Squash, if there is one vegetable our garden produces a ton of, it is butternut squash. With its sweet nutty flavor, everyone loves it – it is definitely a family favorite. So, it makes sense that these Butternut Squash Pancakes are really a hit with everyone too.
I am glad too, since butternut squash is a great source of vitamins A, C and E, magnesium and potassium. You can read more about the Health Benefits of Butternut Squash if you need some convincing!
My History with Butternut Squash Pancakes or Paleo Pancakes
To be honest, before going on the GAPS diet, I had never even tried butternut squash! It was just not a vegetable that my mother ever cooked and I have tended to cook like she did!
My first attempt was with Butternut Squash Soup and that was delicious. But, it was not until the third stage of the GAPS Introduction that I started making Butternut Squash Pancakes. 
After the first two stages of the introduction diet, everyone was hungry for anything resembling a "real" pancake and these were definitely a hit!
After several years of being off the GAPS diet, I am back on it to help get rid of my eczema naturally I have worked through the Introduction stages and am now on the full GAPS diet to help and, it is working by the way!
When I first began having them, little did I know that they were also a paleo pancakes recipe! I love eating healthy and plan to continue – food truly can be medicine!
Butternut Squash or Paleo Pancakes Video
I learn best by watching someone else. So, watch the video and see for yourself just how easy it is to make Paleo Pancakes!
Butternut Squash/Paleo Pancakes Video Resources
I love knowing what other people use and why they like particular products. Here is a list of resources that you see me use in the video and why I like it. Most links will take you to Amazon.
Cast Iron Skillet – I love cooking with cast iron. It's natural nonstick coating is easy to maintain and the heat is so easily distributed.
Almond Flour – I use this brand and really like it.
Glass Milk Bottle – These bottles work great for serving things like syrup, salad dressing and I even use them as vases for wild flowers.
Tips for Making Butternut Squash/Paleo Pancakes:
I roast my butternut squash for this recipe (and most others too!) because it intensifies the flavor. Roasting is the easiest method of preparation and you don't kill your hands using the potato peeler!
Don't just think "pancakes" = "breakfast" – these are great served as a side dish to accompany other dishes or even alone!
Butternut squash keep for long periods of time as long as they are kept cool so stock up when they are on sale.
How to Make Butternut Squash or Paleo Pancakes Step by Step
Cook butternut squash and mash. Cut the squash into cubes and boil until tender or

Roast Butternut Squash Photo 1

Place all ingredients in a mixing bowl. Photo 2

Using a hand mixer or a whisk, mix well. Photo 3

In a hot skillet with a bit of oil in it, pour 1/4 c. of batter and cook over medium heat until browned, flipping once. Photo 4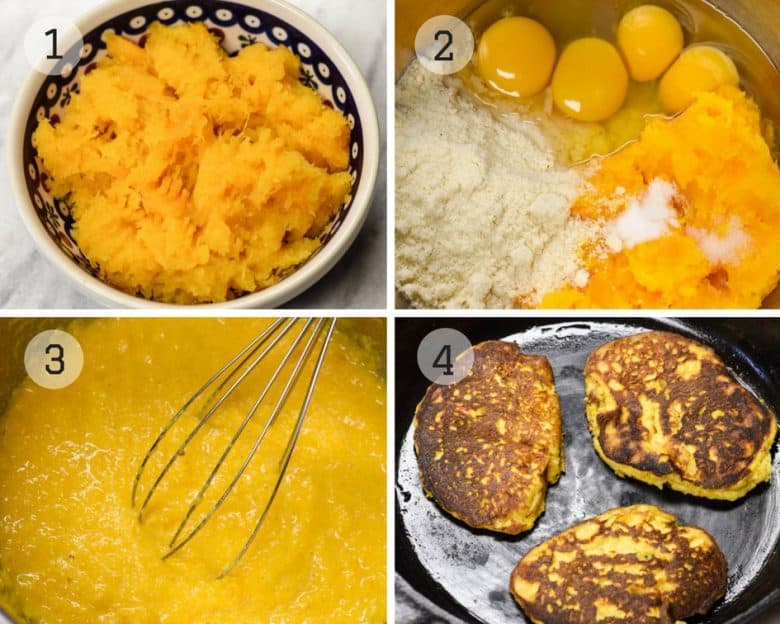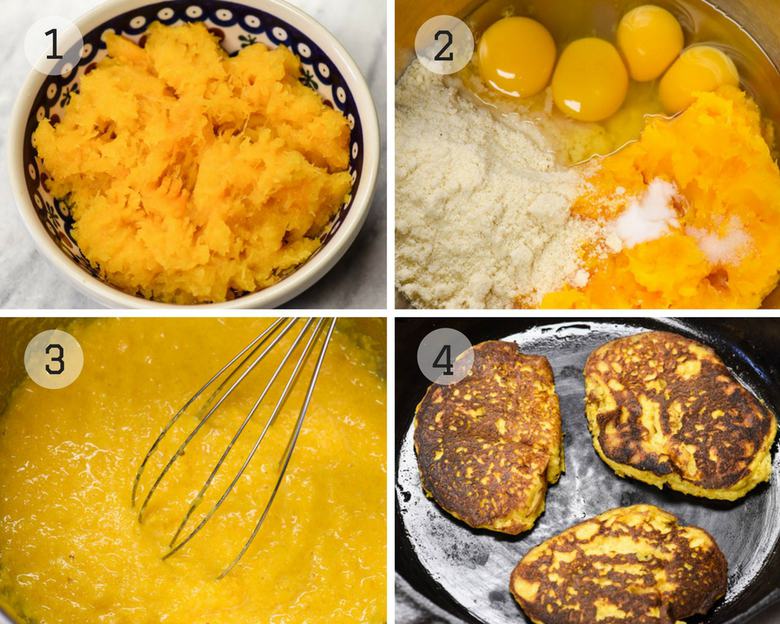 If you've tried these butternut squash pancakes (paleo pancakes) or any other recipe on Cultured Palate please take a minute to rate the recipe and leave a comment letting me know how you liked it. I love hearing from you! You can also FOLLOW ME on PINTEREST, FACEBOOK, INSTAGRAM, YouTube and TWITTER
Now for the Recipe…
Butternut Squash Pancakes
Butternut Squash Pancakes are not just for breakfast - they make a great anytime snack!
Course:
Breads, Breakfast
Keyword:
butternut squash, healthy pancakes, kids
Ingredients
2

c.

butternut squash

cooked and mashed

1

c.

nut butter or nut flour

4

eggs

1/4

tsp

salt

1/2

tsp

baking soda

optional

2

tbsp

tallow, lard or coconut oil
Instructions
Cook butternut squash and mash. Cut the squash into cubes and boil until tender or Roast Butternut Squash

Mix all ingredients together with a hand mixer.

Place a small amount of tallow, lard or coconut oil into a preheated skillet and melt.

Pour 1/4 c. of batter into the skillet and cook over medium heat until browned.

Flip the pancake once and cook the other side until brown.

Serve warm and Enjoy!
Recipe Notes
Roasting butternut squash intensifies the flavors plus it is easier on your hands!
Pancakes are NOT just for breakfast - these make great sides to go with other meals.
Butternut squash is a winter squash and will keep for long periods of time uncooked, if kept cool.
Nutrition Facts
Butternut Squash Pancakes
Amount Per Serving
Calories 339
Calories from Fat 234
% Daily Value*
Total Fat 26g 40%
Cholesterol 109mg 36%
Sodium 246mg 10%
Potassium 318mg 9%
Total Carbohydrates 17g 6%
Protein 12g 24%
* Percent Daily Values are based on a 2000 calorie diet.