Like most homemade products, once you try them, you don't want to go back to the store-bought version. Homemade tallow soap is no different. Learn how to make soap - this recipe is easy to make and uses tallow so it is nourishing to the skin.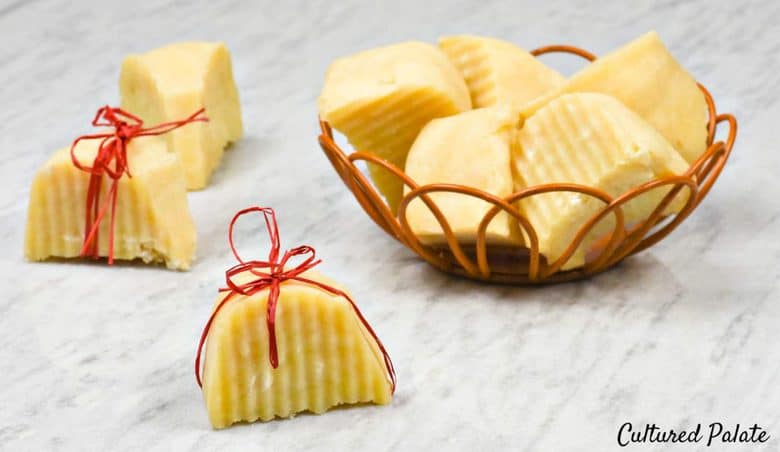 At first glance, homemade soap my seem overwhelming to make. And, it does take some time but, believe me, the end result is well worth the effort. It really is easy despite all the steps and once you make it, I am sure you will agree that it is indeed easy.
Video
Watch the video and learn how to make soap - the process is not hard at all!
I love seeing what others use and why they like the product. Here are the items that I use in the video and for soap making. These links will take you to Amazon and where you can find the products that I use for my family.
Digital Thermometer - You can also use a dial thermometer but this is what I use for cheesemaking.
Digital Scale - All ingredients are by weight and this is one is easy to read
Crock Pot
Roaster - You will need the larger size of a roaster if you double the recipe, otherwise, the 8 qt crock pot above is all you need.
Immersion Blender - There are cheaper immersion blenders available but this one has held up to our large family usage. I use it daily.
Tallow - You can render your own tallow or find it here. If I don't have some on hand that I have rendered myself, I usually buy the regular tallow linked to.
Lye - I have found these lye crystals link to be the least expensive and honestly, they all seem to work the same.
Essential Oils - I know there are many reputable companies but, I choose doTerra because of their quality. Find them here.
Mold - I use a silicone bundt cake mold. There are many different shapes and sizes available.
Cutter - Since we make soap so often, I use this one - it is much easier than cutting with a butcher knife.
The ingredients are measured by weight. Following the amounts given, the recipe fits perfectly in an 8 quart crockpot.
If you double the amount, you will need a roaster.
Equipment
crock pot - 8 qt.
immersion blender
digital scale
digital thermometer
small bowls - glass, stainless or ceramic
long handled spoon
for protection: gloves, long sleeved shirt, safety glasses or sunglasses
mold - you can use almost anything - I use silicone cake molds
parchment paper to line molds other than silicone
Ingredients
22 oz tallow or render your own
10 oz olive oil
10 oz coconut oil
6 oz lye (sodium hydroxide)
2 ½ oz essential oil - I like to use orange or peppermint
Instructions
Measure all ingredients. Wear gloves when measuring the lye and pour it slowly so you do not create a dust cloud - you do not want to breathe lye. (Photo 1)
Melt tallow and coconut oil in a crock pot on low. Add the olive oil and keep on low heat. (Photo 2)
Add water to a glass or ceramic bowl - take it outside with the lye and a long handled spoon. Wearing your protective gloves, eye wear and even a mask, slowly add the lye to the water while mixing gently. The mixture will get very hot so be careful. Allow it to change from cloudy to clear and then bring it inside. Let cool for 10 - 15 mins before beginning the next step. (Photo 3)
Add the lye to crock pot slowly and be careful not to splash. Stir slowly for a few times. (Photo 4)
With the immersion blender, blend until it is the consistency of pudding. This is called "trace". (Photo 5)
Cover and cook on low. As it cooks the oils should rise up the sides and then fold back down into the mixture. It usually takes about an hour but check it often. (Photo 6)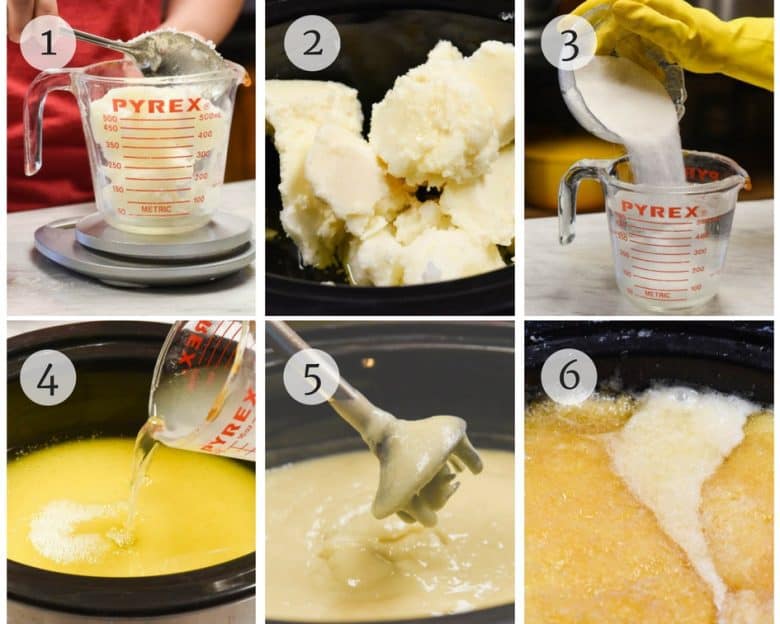 The soap is ready when it looks like a semi-translucent Vaseline and there are no oil puddles in the middle. To tell if it is done, rub a little of the soap between your fingers and it should feel waxy. Next, touch a bit to your tongue and it is zaps you, it is not done. (Photo 7)
Now that the soap is finished cooking...
Once the soap no longer zaps your tongue, add the essential oils and stir well. (Photo 8)
Spoon into your mold. Allow it to sit until firm - about 24 hours. (Photo 9)
After 24 hours, the soap should be hard enough to remove. (Photo 10)
Cut into pieces if necessary. (Photo 11) Depending on your mold, this may not be necessary.
Spread the soap bars on a tray or rack so that it can get airflow to completely dry it out. As the soap hardens, the bars seem to last longer. But, we begin using and enjoying it right away. (Photo 12)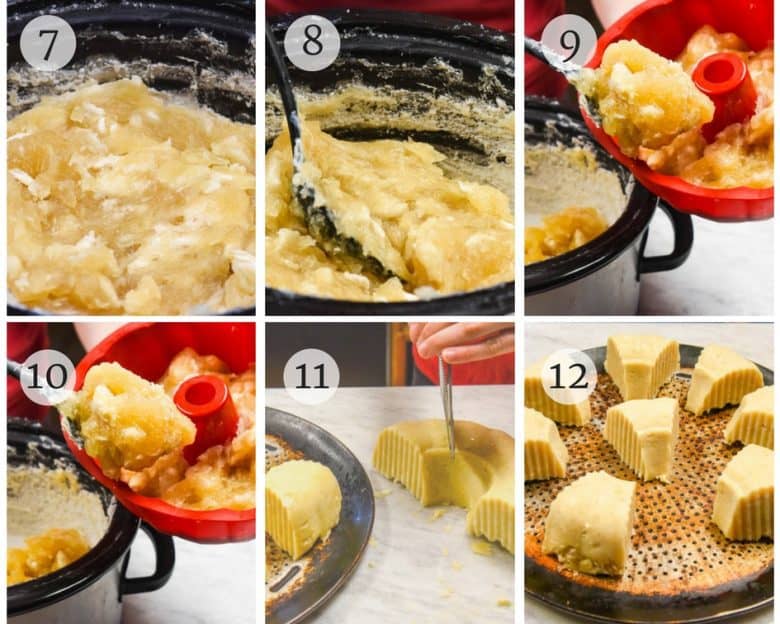 Top tips
Be sure to work in a well ventilated area when working with lye - Wear gloves and use eye protection.
Be sure to watch the soap as it cooks and check it frequently.
How to know when the soap is finished cooking - dip your finger in the soap getting just a dab on your finger. Touch this to your tongue. It should not "zap" you tongue when it is ready.
Molds - Almost anything can be used as a mold. Toys, wooden molds, plastic molds, silicone molds and even cooking pans. I like to use silicone cake molds because they are easy to peel off the finished soap. I have also used metal bread pans and line them with parchment paper for easy release.
FAQ
Before I give the recipe, here are FAQ's and answers to help you get started
How long does homemade soap take?
Making soap normally takes about 2 hours - it depends upon the amount of heat your crock pot gives and how quickly the soap cooks.
Is making soap dangerous?
Making soap is not dangerous. People see the word "lye" and become scared but, as long as precautions are taken when adding it, there is no problem.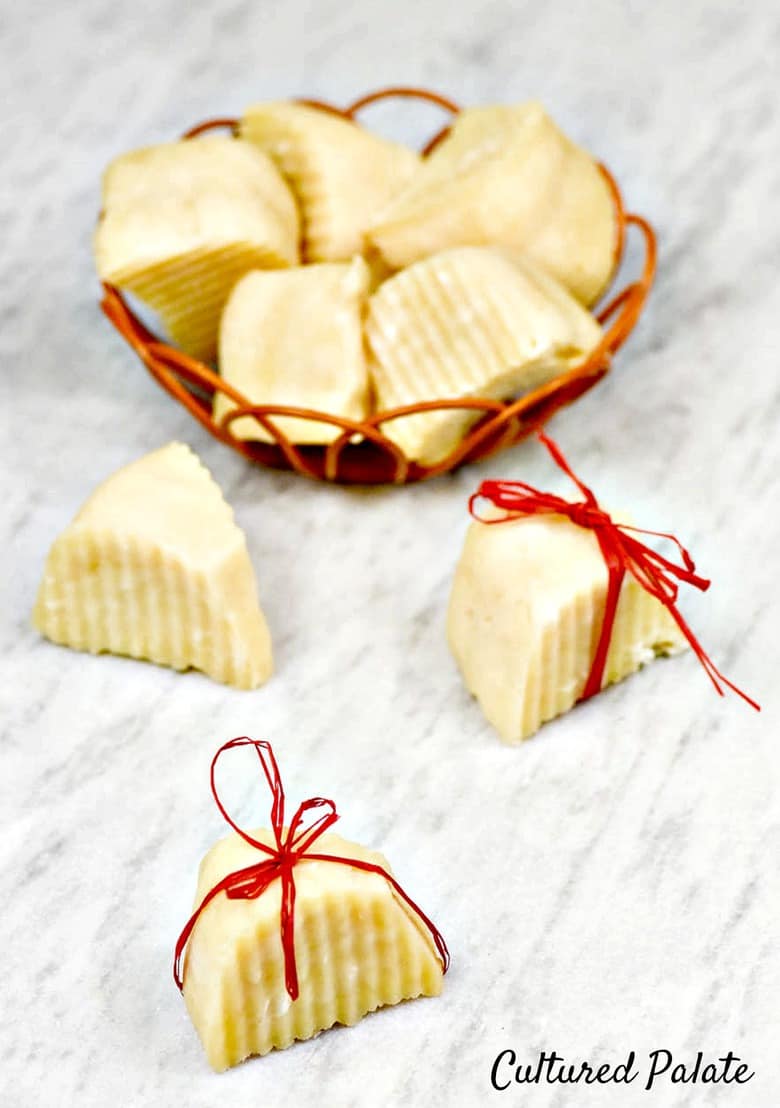 What precautions should be taken when making soap?
Adding the lye in a ventilated area while using gloves and eye protection is important. I normally add the lye outside and pour it slowly so no dust cloud is made. I have done this step inside when I had the windows open but again, you do not want to breathe the lye.
Do I need special molds?
Almost anything can be used as a mold. I use silicone cake molds which I only use for soap making. Use your imagination and what you have around the house - or purchase some fun shapes!
Where can I find lye?
I have linked above to what I use. It can also be found with the drain cleaners at your local store.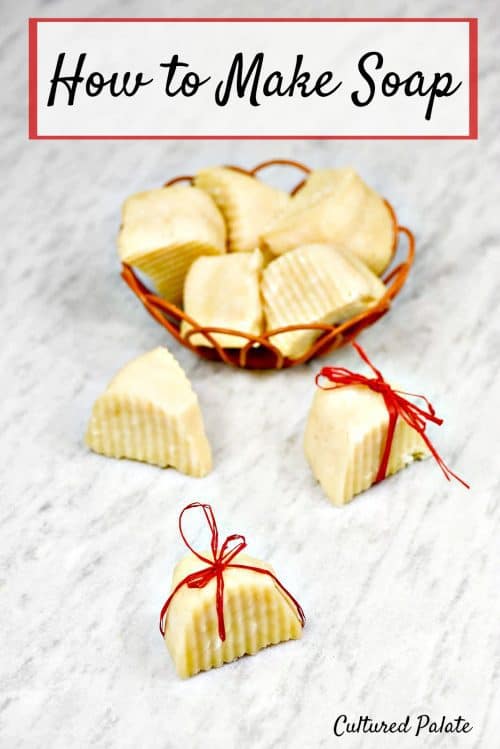 Have you made your own soap? If so, I would love to hear about it - leave a comment!