This Easy Eggplant Lasagna Recipe can be a Vegetarian Lasagna or a meat lover's delight. It is a great way to use the fresh eggplant from your garden and also works well with frozen eggplant! A comforting and delicious meal that the whole family will enjoy.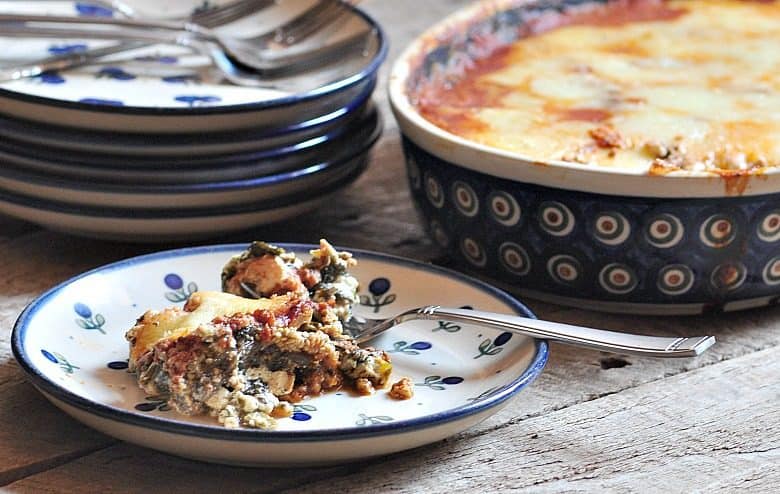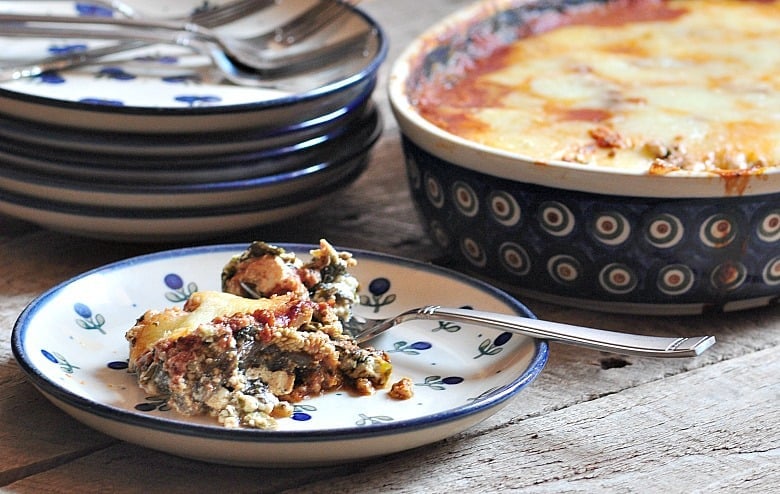 I love lasagna! And, do you what is better than plain lasagna? Eggplant Lasagna. I am confident that the following Easy Eggplant Lasagna Recipe is sure to become your new family favorite - it is ours!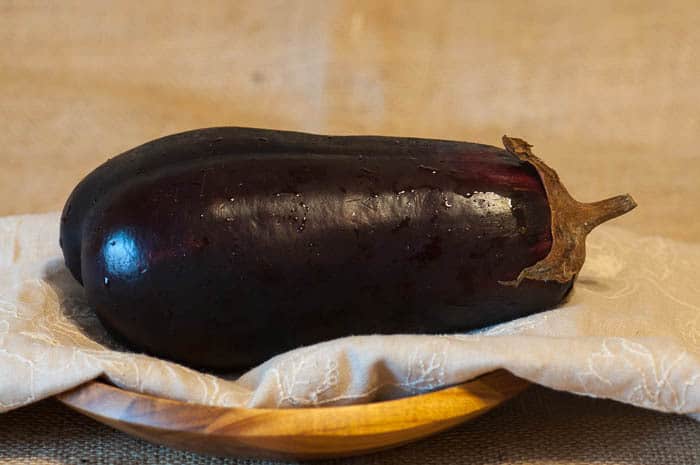 Why? Well, number one - it tastes great! And, number two, like the name says, it is easy! Really, who doesn't like lasagna?
Think Garfield and his great admiration for Lasagna. Plus, Easy Eggplant Lasagna is gluten free! It can also be a Vegetarian Lasagna recipe!
For years, my go-to lasagna recipe has been Spinach Lasagna, but one vegetable that our garden produces abundantly is eggplant. In an effort to be creative, I began using eggplant in place of the noodles - and, it is delicious!
So now, the eggplant dish of choice coming from my kitchen is Eggplant Lasagna. Oh, I still use spinach in the filling sometimes, and sometimes I don't.
Jump to:
Can you freeze eggplant?
I normally do not peel my eggplant if I am using fresh. But, when eggplant is pouring out of the garden, I wash, peel, slice and freeze it. I did not always peel it, after all, why add another step to the processing.
The result was a freezer full of eggplant with tough skin! For some reason, after freezing, the eggplant skin gets tough and does not become tender with cooking. So, now I take the extra time and peel it - it is so much more enjoyable to eat!
While many Eggplant Lasagna recipes call for roasting the eggplant slices first (which I give instructions for below), I normally boil (blanch) mine.
Being basically lazy, I have even tried placing the thawed eggplant slices into the dish without cooking and just allow them to cook with the lasagna.
If the eggplant was very young and tender this works but otherwise, it tends to be a bit under-cooked. So now, I cook the eggplant first and then assemble the lasagna.
Preparation
Which brings me to the point of preparing each layer and then assembling the Eggplant Lasagna into the final dish. My preparation looks like this:
First I season tomato sauce with Italian spices. This is much more economical for a large family than jars of ready-made tomato sauce - and only the ingredients I choose go into it! But, feel free to substitute ready made tomato/spaghetti sauce.
While simmering the sauce, I also begin water boiling and cook the eggplant. Finally, while the eggplant is cooking, I prepare the filling. Now comes the fun part - putting it all together to make that beautiful dish of Easy Eggplant Lasagna!
For Vegetarian Lasagna use tomato sauce without meat - it is delicious too!
Top tips
You can replace with beef with spinach or lentil to create a vegetarian lasgana
If you have leftover vegetables in your fridge that need used up, use them in this!
You can top the lasagna with any good melting cheese you have, cheddar, gruyere etc.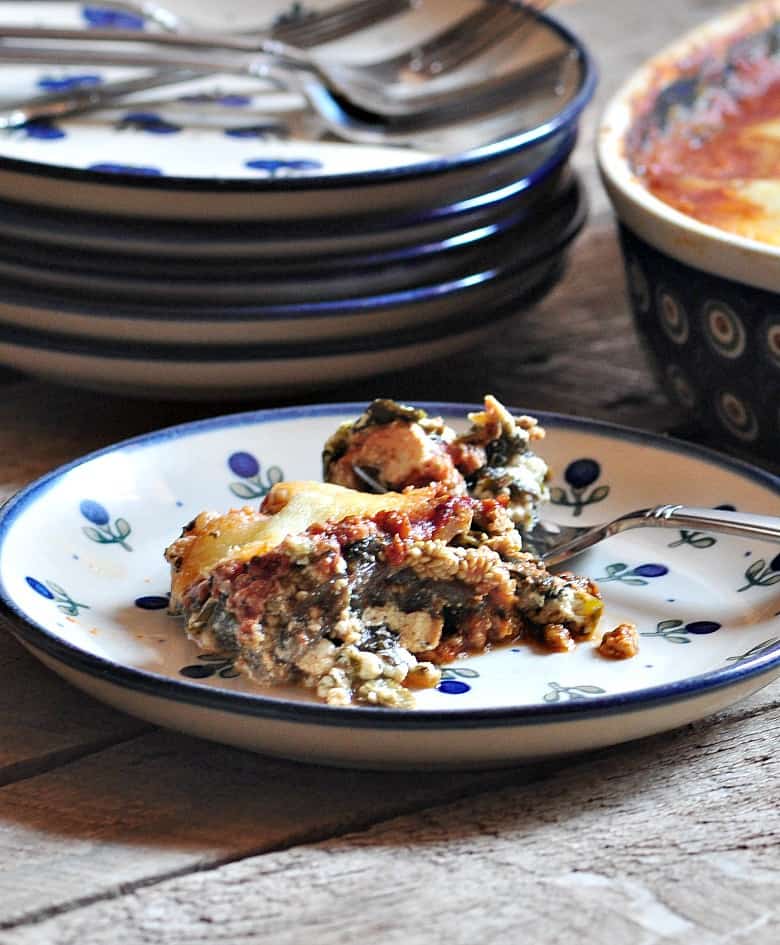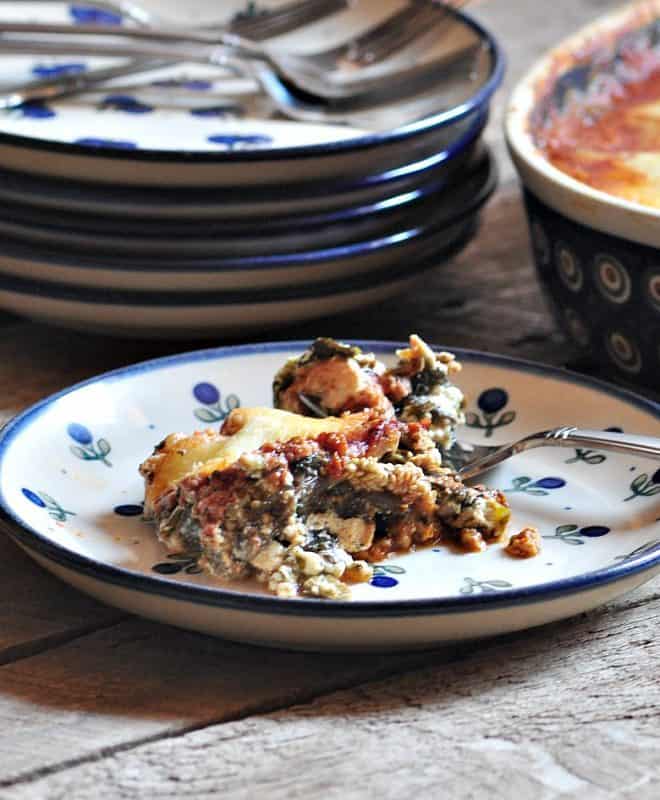 If you've tried this Eggplant Lasagna - Vegetarian Lasagna or the meat lover's version - or any other recipe on Cultured Palate please take a minute to rate the recipe and leave a comment letting me know how you liked it. I love hearing from you! You can also FOLLOW ME on PINTEREST, FACEBOOK, INSTAGRAM, YouTube and TWITTER.
You might also enjoy this Stuffed Eggplant Parmesan recipe!
📋 Recipe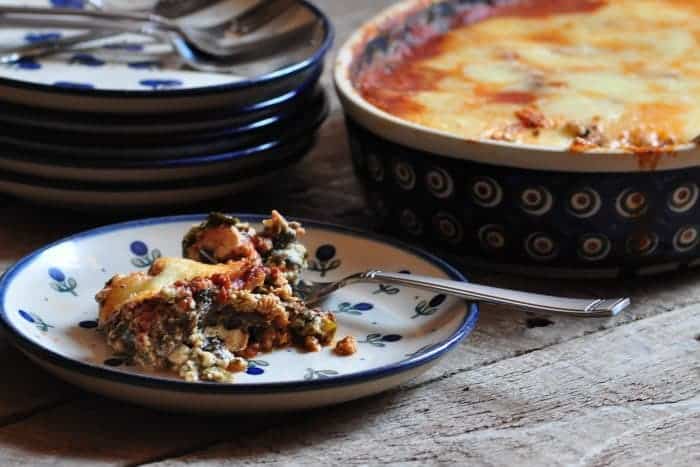 Eggplant Lasagna
Cultured Palate
Love this low-carb version of traditional pasta.
Ingredients
2 - 3

eggplants

depending upon size
Filling:
2

lbs

Ricotta Cheese

3

eggs

2 - 10

oz

pkgs frozen chopped spinach

optional

1

teaspoons

garlic powder

1

teaspoons

salt
Tomato Sauce:
32

oz

jar of spaghetti sauce OR

32

oz

can tomato sauce

1

lb

ground beef

2

onions

chopped

4

cloves

garlic

minced

2

tablespoon

oregano

2

tablespoon

basil

6

tablespoon

olive oil

½

teaspoons

salt
Instructions
Peel the eggplant (or not - your choice) and slice lengthwise in ¾ inch slices.
Cook eggplant:
To Boil: Cook eggplant slices until tender in boiling water.


To roast: Place eggplant slices in a single layer on cookie sheets. Brush lightly with olive oil, sprinkle with salt and pepper and bake at 400F for 10 minutes. Turn slices over and bake for another 10 minutes or until golden brown and tender.
Make Filling:
Combine all ingredients in a bowl and set aside.

Make Tomato Sauce:
In a medium saucepan heat oil and saute onions and garlic until tender. Add ground beef and continue to stir until browned. Add the remaining ingredients, reduce heat and simmer for 15 - 20 minutes. Adjust spices to taste.

Assemble:
In a greased 13 x 9 pan, starting with a bit of tomato sauce in the bottom to prevent sticking, layer:

Eggplant Slices
Filling
Tomato Sauce
Mozzarella Cheese
In that order! Be sure to end with Mozzarella Cheese.


Bake at 350F for 1 hour.

Enjoy!
Notes
Extra Tips For Making Eggplant Lasagna;
You can replace with beef with spinach or lentil to create a vegetarian meal
If you have leftover vegetables in your fridge that need used up, use them in this!
You can top the lasagna with any good melting cheese you have, cheddar, gruyere etc.
Nutrition
Calories:
545
kcal
Carbohydrates:
23
g
Protein:
28
g
Fat:
38
g
Saturated Fat:
15
g
Cholesterol:
159
mg
Sodium:
1192
mg
Potassium:
1130
mg
Fiber:
7
g
Sugar:
12
g
Vitamin A:
1180
IU
Vitamin C:
14.4
mg
Calcium:
313
mg
Iron:
4
mg