Stuffed Eggplant is a family favorite and the variations make it flexible for any type of diet - meat lover, vegetarian or paleo.
Our garden is still in full swing and one big producer at the moment is eggplant. It takes creativity to use gobs and gobs of eggplant! But, one dish that remains a family favorite is Stuffed Eggplant.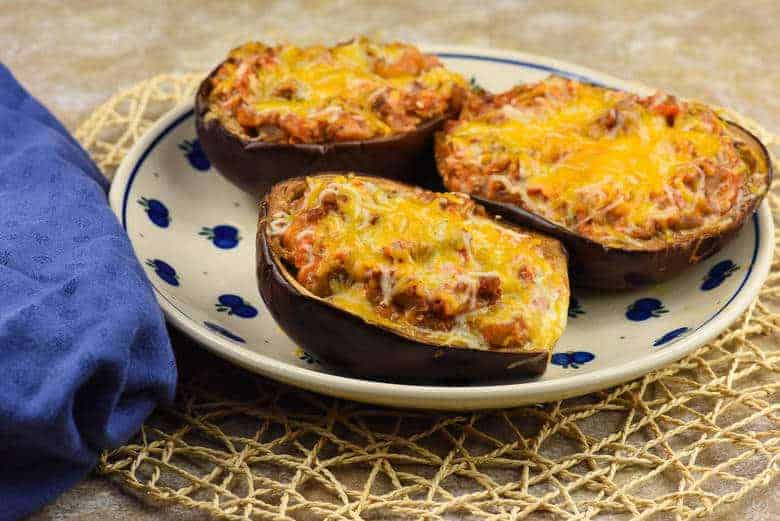 Can You Eat The Skin Of An Eggplant?
I don't know about your family, but I like our family to eat the entire eggplant when I serve Stuffed Eggplant - skin included. But, that means that it has to be tender and not bitter! The key to tender Stuffed Eggplant is picking the eggplant when it is young and using it while it is still fresh.
Trust me, I know, the shell of the eggplant gets tough as it ages - how do I know this? Let's just say, it has happened!
Nutrition
After all, there is nutritional value in the skin and don't forget the fiber! In fact, the eggplant is not loaded with any one nutrient but has a good array of nutrients. One study found that the skin of the eggplant contains anthocyanin phytonutrients, called nasunin. Nasunin is a potent antioxidant that targets free radicals and protects the fats in brain cell membranes.
Eggplants also contain the antioxidant, phenols that are known to be one of the most powerful free radical scavengers. This means that they may prevent cancer development and heart disease. But, it is the phenols that give eggplants a slightly bitter taste.
Variations
One thing I love about my Stuffed Eggplant recipe is how versatile it is. Whether you are a meat lover, vegetarian, or paleo, this recipe works!
For years before the GAPS diet, I was a vegetarian because I suffered from meat allergies. Thankfully, that all changed but, while allowing my gut to heal on the GAPS diet, I could no longer eat grains. I was still able to enjoy Stuffed Eggplant! Now that I am a devout carnivore and have 30+ yrs of non-meat eating to make up for, I still enjoy Stuffed Eggplant!
So, a few notes about the variations possible with Stuffed Eggplant.
Meat lovers - add browned ground beef (turkey or sausage) to your spaghetti sauce
Vegetarians - do not add meat
Paleo - Leave out the rice and mix the spaghetti sauce with the eggplant and onion mixture.
You can also freeze eggplant in advance if you want to prepare it at an earlier date, for easier cooking.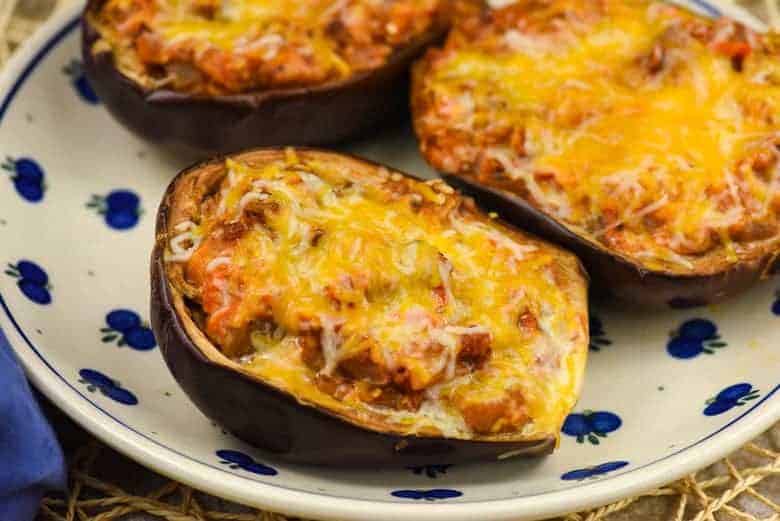 If you've tried this recipe for Stuffed Eggplant or any other recipe on Cultured Palate please take a minute to rate the recipe and leave a comment letting me know how you liked it. I love hearing from you! You can also FOLLOW ME on PINTEREST, FACEBOOK, INSTAGRAM, YouTube and TWITTER.
📋 Recipe
Stuffed Eggplant with Parmesan
Cultured Palate
Not a fan of stuffed peppers? Give this a try.
Ingredients
3

small

eggplants

or 2 large eggplants

2

cups

cooked rice

1

large onion

diced

3.

cups

spaghetti sauce

or tomato sauce seasoned with basil, oregano and garlic

1

cups

parmesan

optional
Instructions
Cut each eggplant in half.

Scoop out the inside leaving about a ⅓ inch around as a shell. Cut the removed eggplant into cubes.

Boil the eggplant cubes along with the onion until tender.

Mix the eggplant, rice (if using), spaghetti sauce and parmesan.

Fill the eggplant halves with the stuffing.

Place the stuffed eggplant shells in a baking dish and add ½ inch of water to the dish. This steams the shells.

Bake at 350 F for about 45 minutes or until the shell is tender when tested with a fork.

Enjoy!
Notes
Meat lovers - add browned ground beef to the spaghetti sauce
Vegetarians - leave out the meat
Paleo - Omit the rice and mix the spaghetti sauce with the eggplant and onion mixture.
Nutrition
Calories:
354
kcal
Carbohydrates:
44
g
Protein:
15
g
Fat:
13
g
Saturated Fat:
8
g
Cholesterol:
41
mg
Sodium:
870
mg
Potassium:
1008
mg
Fiber:
9
g
Sugar:
14
g
Vitamin A:
960
IU
Vitamin C:
14.7
mg
Calcium:
332
mg
Iron:
2.2
mg
Source: Eggplants