Are you looking for an easy Face Sugar Scrub Recipe? Look no further - I've got you covered. Be sure to check out my Sugar Scrubs page if you are new to DIY beauty products because it will give you everything you need to know to get started today!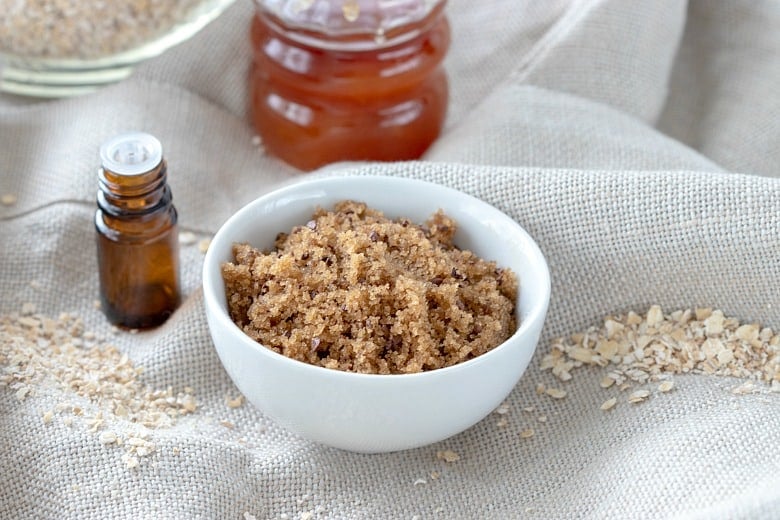 Brown Sugar Face Scrub
Sometimes it can be hard to find a Face Sugar Scrub Recipe that is not too harsh for the sensitive skin of your face.
Often, the biggest complaint about a face sugar scrub recipe is the harsh exfoliation because of the white sugar used in the recipe. But, there is a solution!
Instead of using white sugar (which has larger crystals and gives a coarser exfoliation), use brown sugar which has smaller crystals and therefore, a more gentle exfoliant than other sugars.
Why Use a Face Sugar Scrub Recipe?
A homemade face scrub is a great natural exfoliant for your skin. The sugar used is also a good natural source of glycolic acid which is found in many skin care product.
Since it is a safe exfoliant and able to penetrate the skin cells, it leaves you with a fresh, rejuvenated look. (1)
Sugar Scrub for Face Benefits
One of the main benefits of using a sugar scrub on your face is the exfoliation.
Exfoliating your skin once or twice a week helps to remove dead skin cells, unclog pores and speed up the skin's regeneration process.
Sugar is a natural humectant meaning it pulls moisture from the environment into your skin. It helps retains moisture and makes sure the skin is kept hydrated. This makes a face sugar scrub recipe perfect for sensitive and aging skin.
Sugar is a natural source of Glycolic acid (AHA) which helps support cell turnover by breaking down dead and flaky skin. Glycolic acid is often used in synthetic form in store bought skincare products.
When used with nourishing oils (carrier and essential oils) you are left with silky soft skin.
Many people find that their routine skincare products work better on exfoliated skin probably because the pores are unclogged and the skin is more moisturized.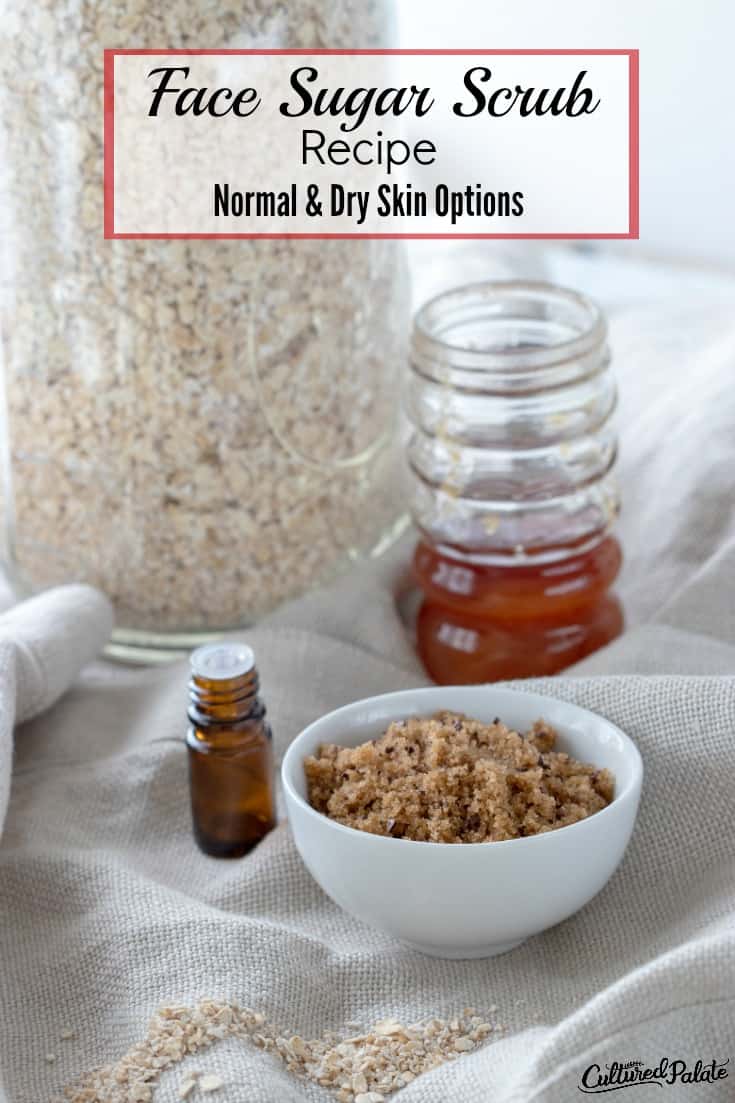 How to Use a Face Sugar Scrub
You can use a sugar scrub on your face as often as you desire. Normally, exfoliation is done once to twice a week.
Regular use will give the optimum benefits of clear, glowing, youthful skin.
Apply a layer of the face sugar scrub recipe to clean skin. Using a circular motion, gently massage into skin for 60 seconds.
Rinse with warm or cold water - using cold water will help seal pores. Use a facecloth to help remove any sugar scrub that remains.
Why Should I Exfoliate My Skin?
Exfoliating your skin is getting rid of the dead skin cells which leaving your skin soft and glowing. Exfoliation removes the dull skin and reveals the vibrant fresh cells exposed.
Sugar Scrub for Face Acne
Sugar is less coarse than salt, making a sugar scrub a good choice for face acne. It is also good for sensitive skin because it is less abrasive, especially when a brown sugar face scrub is used.
It loosens dead and damaged skin cells which help unclog pores. Pores clogged because of dead skin is one of the leading causes of acne.
Sugar Scrub for Dry Skin
In the following recipe, there is an option for dry skin. You may find the basic recipe works wonders. So, I recommend starting with it.
However, if you still feel as though you need more moisturizing, try the dry skin option.
Oatmeal contains avenanthramides which are naturally occurring polyphenols and have been shown to have anti-inflammatory, antioxidant, anti-itch, and anti-irritant properties. (2)
That all means that oatmeal can help soothe itchy, dry and irritated skin.
How to Store Sugar Scrubs
Sugar scrubs should be stored in airtight containers. I prefer glass but there are plenty of plastic ones available. Here are a few of my faves:
round jars with cork lid
squared jars with cork lids
glass jar with wooden spoon. My personal favorite!
Pin It!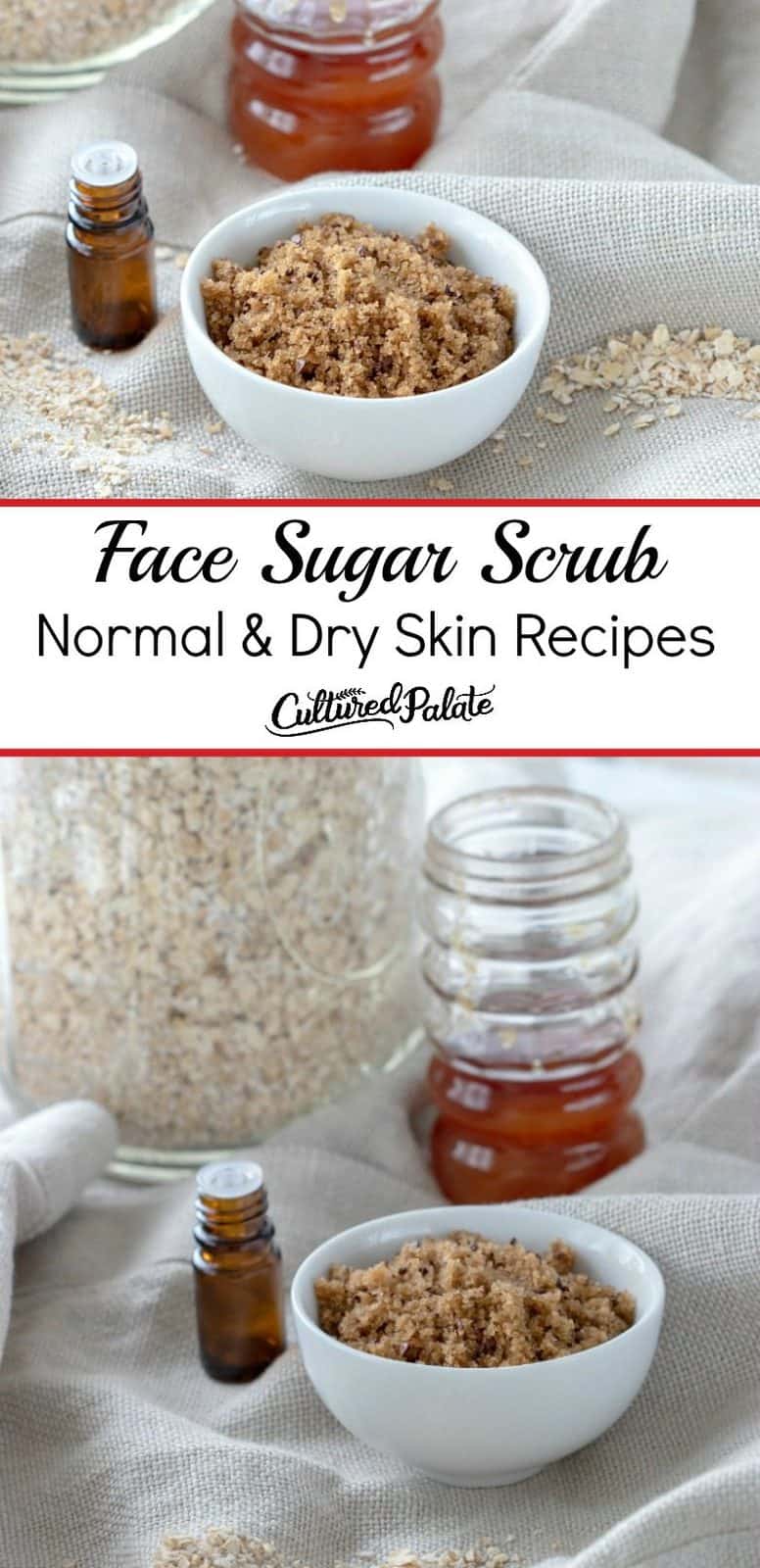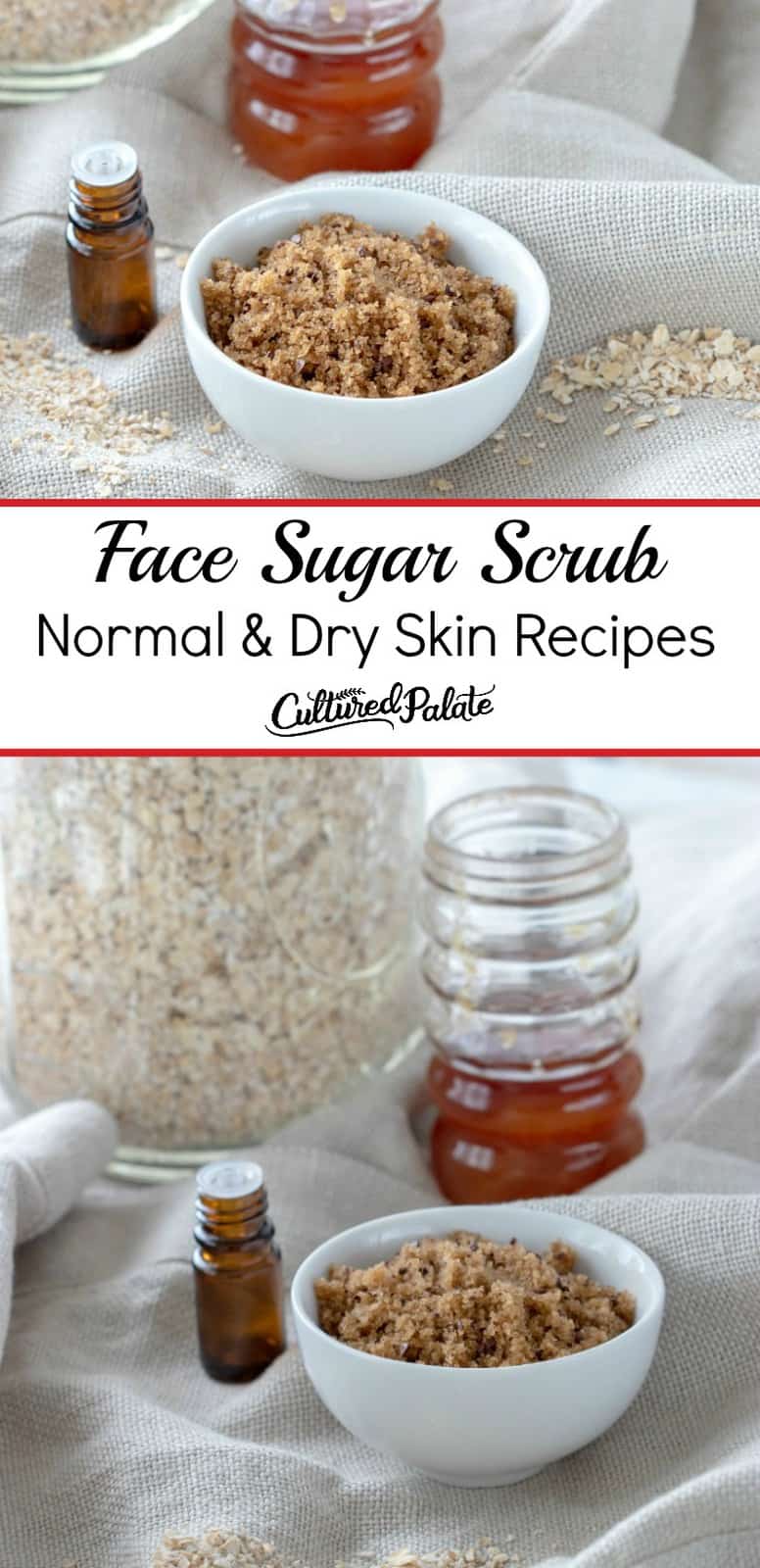 Face Sugar Scrub Recipe
For Normal Skin:
Ingredients
¼ c coconut oil (sweet almond or jojoba oil also works well)
½ c brown sugar (white may be used but will be a harsher exfoliant)
Essential oils (opt.) - start with 4 drops of any of the following: frankincense, myrrh, lavender or your choice
Directions
Combine all ingredients in small bowl and mix well.
Rub into your face and neck skin for 60 seconds and rinse with warm water.
I like to use a warm facecloth for rinsing.
For Dry Skin:
The oats in the following recipe will gently exfoliate the skin while removing dead and dry skin.
Ingredients
½ c. uncooked dry oats
¼ c. olive oil (shea butter or coconut oil may also be used)
¼ c honey
Directions
Using a food processor, pulse oats until they are broken down - not too long because you don't want them powdery.
Place oats in a small bowl, and add the honey and olive oil (or oil of choice).
Mix ingredients well.
To Use Face Scrub Recipe:
Apply a thick layer of the face sugar scrub recipe, to clean skin and gently massage for 60 seconds.
If desired, for extra moisture, leave scrub on face for an extra 5 – 10 minutes.
Rinse with cold water to seal pores - use a facecloth to help remove any remaining scrub.
Store unused sugar scrub in an airtight container. It will keep for a long time at least one year but probably longer.
Have you made this Face Sugar Scrub Recipe - Leave a comment and let me know how you liked it.
Not Into DIY or Making Your Own Sugar Scrub?
Don't worry if you are not really into making your own DIY products because there is still a safe skincare and cosmetic option for you.
It is important to remember that just because products say "organic" does not mean they are safe.
Many have unnecessary ingredients, chemicals that are harmful and even hide behind the word "fragrance" so they can add unhealthy ingredients.
Since your skin is the largest organ of your body, and what is put on your skin can get into your blood stream quicker than the food you eat, "safe" is a keyword in skincare and cosmetics!
It is very important to use only safe, non-toxic, chemical free products on your skin. This Sugar Body Scrub in Lemongrass from Beautycounter is wonderful AND it contains only food-for-you ingredients.
It is gently enough for your face too!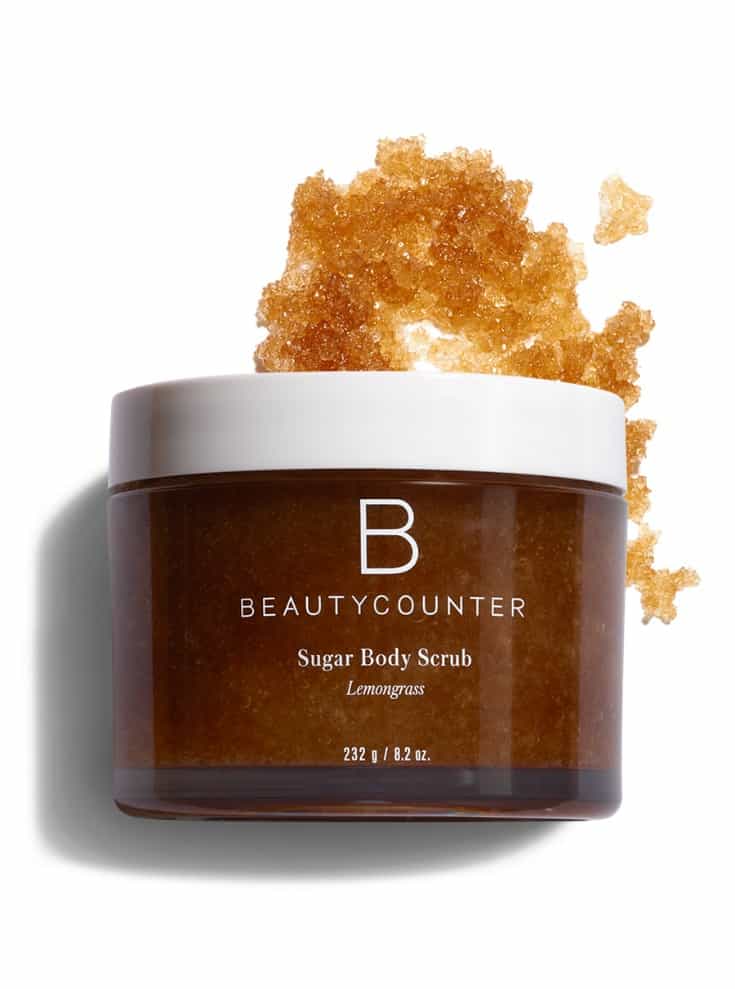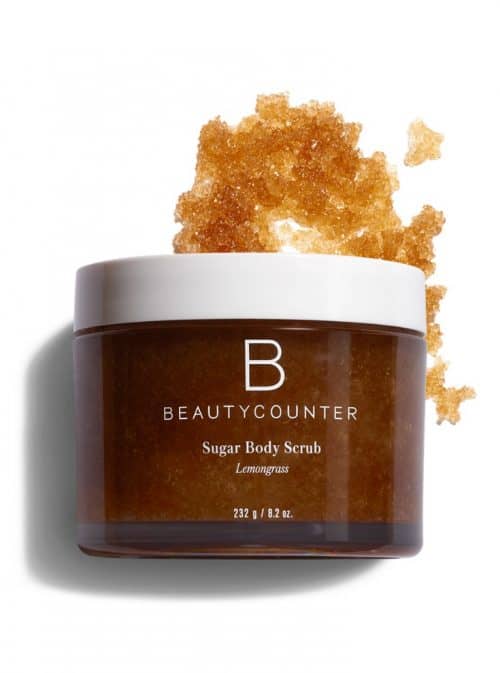 The Body Oil in Citrus Rosemary  Beautycounter is another effective product that leaves your skin soft and moisturized.
It is a blend of 13 botanical oils that absorb instantly and leaves your skin feeling silky soft. The scent is wonderfully invigorating yet subtle and has hints of grapefruit, sweet orange, and rosemary.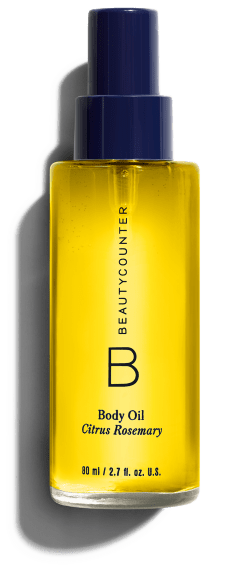 This No. 1 Brightening Facial Oil containing vitamin C from Beautycounter is citrus-scented facial oil quickly absorbs and penetrates to awaken and nourish your skin. It is definitely one of my favorite products and I love the citrus scent that come from its proprietary blend of seven natural oils.