Hopefully by now, you have taken the plunge and given coloring a try. Whether or now you have, these Bible Coloring Pages are for you to either encourage your coloring addiction or to encourage you to give it a try. You really have nothing to lose!
You might find that you enjoy it. Coloring is very relaxing and you can do it just about anywhere. Unlike many things you can get involved in, there is not a lot of expense to actually do it. I love budget friendly forms of entertainment.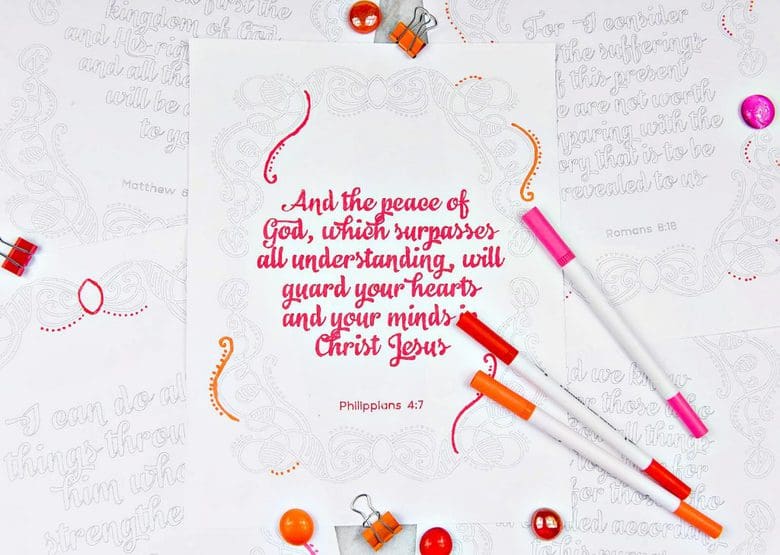 I use the word "addiction" when describing the coloring habit but it is a good addiction. Maybe, instead of an addiction, I should call it a hobby. It is an art and encourages your creative side.
Now, that you are ready to get started with this hobby, you might wonder what you need as far as supplies. That is easy. You only need set of markers or colored pencils. These are links to the markers and pencils that I personally use - I have been very pleased with them. They are not very expensive but certainly do the job.
Why These Free Bible Coloring Pages?
I especially like Bible coloring pages because I can mediate and think about the verse I am coloring. And, they are FREE - can't get better than that!
You can print these on regular paper or card stock for a stiffer and stronger page. I have found that the card stock does not bleed through like regular paper when using markers.
What You Get
There are 5 designs to choose from - you can choose one or all. There are two ways to print the designs. You can click on the image of each design and it will take you to a pdf to download and print. Or, you can scroll to the very bottom and find the links for each design. This will also take you to the pdf.
Now, let's take a look at the designs - I hope you are as excited as I am!
You can get your set free by following the link at the bottom.
Matthew 6:33 "But seek first the kingdom of God and His righteousness, and all these things will be added to you."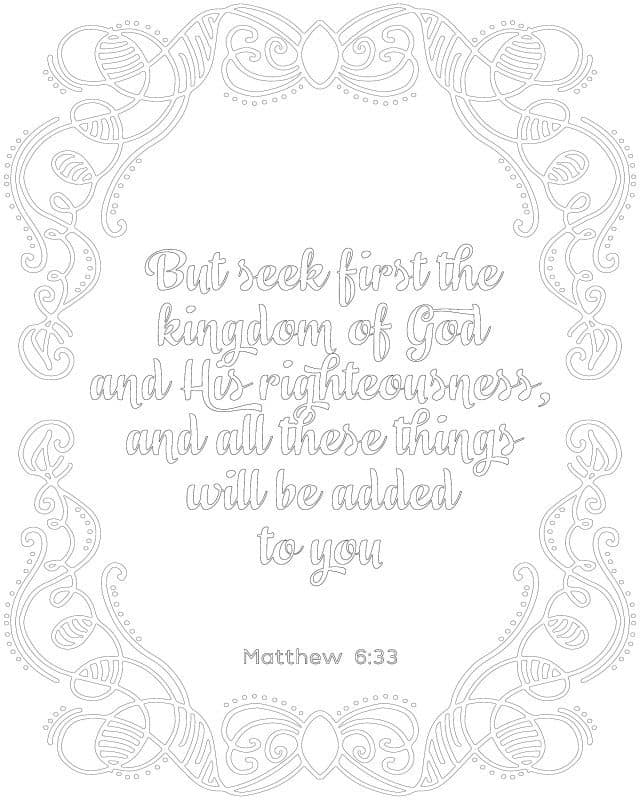 Romans 8:28 "And we know that for those who love God all things work together for good for those who are called according to His purpose."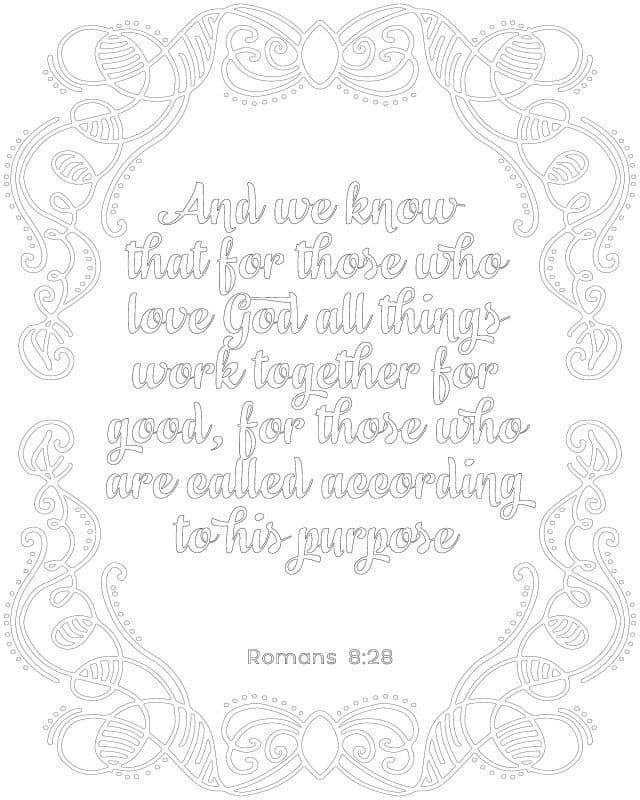 Philippians 4:7 "And the peace of God, which surpasses all understanding, will guard your hearts and your minds in Christ Jesus."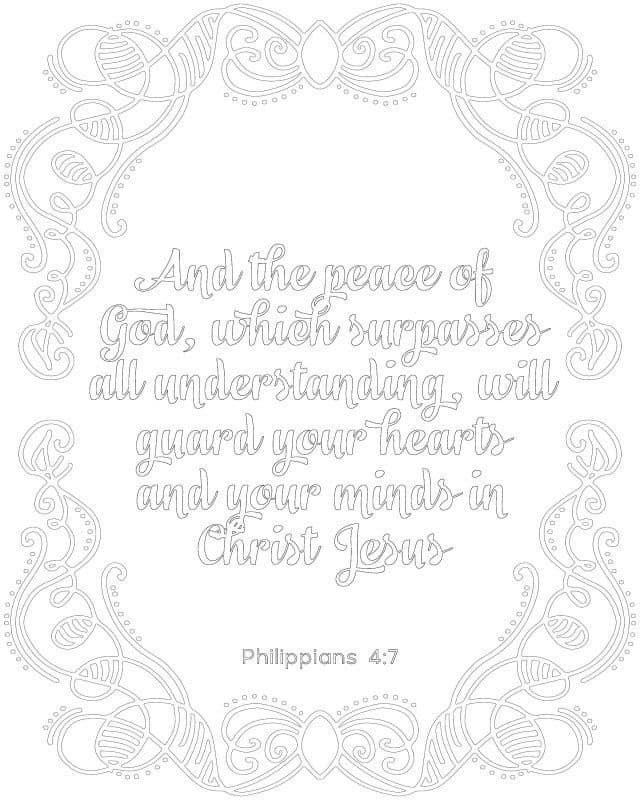 I would not be lying if I told you that each of these verses would be on my "favorites" list. They are each so good!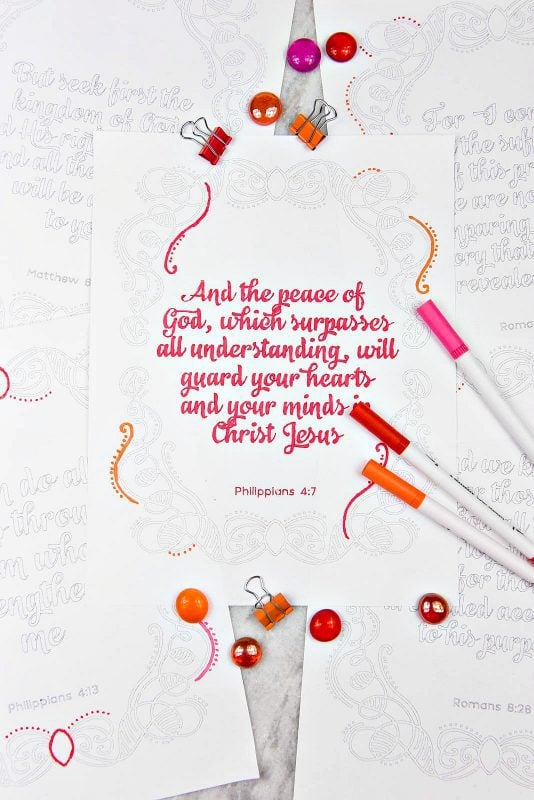 Philippians 4:13 "I can do all things through him who strengthens me."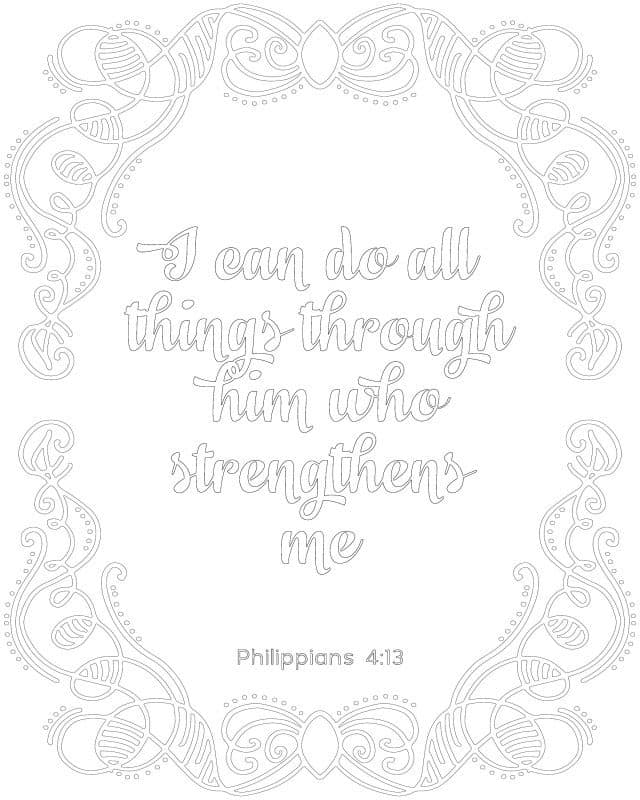 Romans 8:18 "For I consider that the sufferings of this present time are not worth comparing with the glory that is to be revealed to us."
I hope you enjoy them - happy coloring.
Looking for other unique coloring sheets? Check out my Printables Shop!
This set includes the following verses and is a free download with the code.
Matthew 6:33
Philippians 4:7
Romans 8:28
Philippians 4:13
Romans 8:18