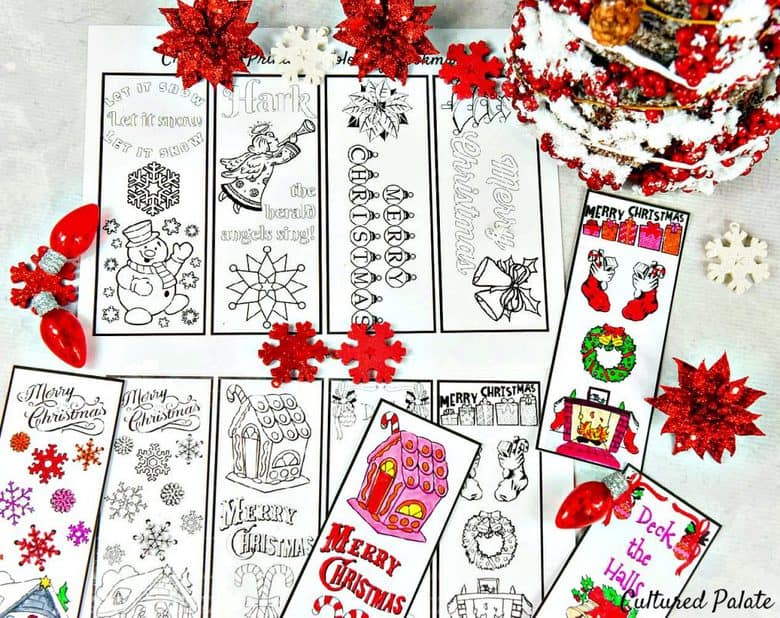 Do you like to color? Well, I am loving printables that can be colored and these Christmas Bookmarks to Color are no exception. From my 9 yr old to my 22 yr old - this is family fun!
What Inspired Free Christmas Bookmarks to Color?
You might wonder what inspired Christmas Bookmarks to color? About a year ago, I was planning to have two of our grandchildren stay with us for a week. My goal was to have fun with them and make wonderful memories.
Keep in mind, this is before I knew about printables that you could print at home for free. So, I went to Hobby Lobby to find some crafts. One of my purchases was a pack of bookmarks to color.
I would never have believed how much fun everyone had coloring those bookmarks! Boys and girls, older children and younger, they were a hit.
And, the fun did not end with the coloring! Everyone used those bookmarks for quite awhile to mark their places in the books they were reading.
This year, with my new obsession over printables, I thought, why not create some bookmarks that you and your family can enjoy. And, the best part - they won't cost you a dime!
Don't you just love FREE?
I prefer to use cardstock to print the bookmarks on because it is a bit heavier and stiffer that regular paper. To take it a step further and preserve the artwork, once the bookmarks are colored, you can laminate them for extra durability. Laminating is also easy to do yourself!
How to Laminate
To laminate yourself at home simply use clear matte self-adhesive - this is the type I use and here is how I do it:
Cut 2 pieces of the clear matte paper slightly larger than the bookmark - you can always trim it later. You want the plastic pieces to stick to each other all around the bookmark
Peel off the back of 1 piece and lay it over one side of the bookmark smoothing it as you go so there are no bubbles.
Peel off the back of the second piece and place the other side of the bookmark on it. Smooth again.
Your bookmark is now encased in plastic.
Trim the edges so that the plastic is even all around the bookmark.
You can do a whole sheet at a time but the larger the piece you work with the more challenging it is to keep it smooth.
It really is very easy to do it yourself!
There are 2 pages with 4 bookmarks on each page for a grand total of 8 bookmark designs. Feel free to print as many as you want and if you are giving books as gifts this Christmas, these bookmarks will make a nice addition!
How to Print Christmas Bookmarks to Color
There are two ways to print:
Click on each design picture and it will take you to the pdf for you to print.
At the very end of the post is a list of the designs that you can click on and print.
Page 1: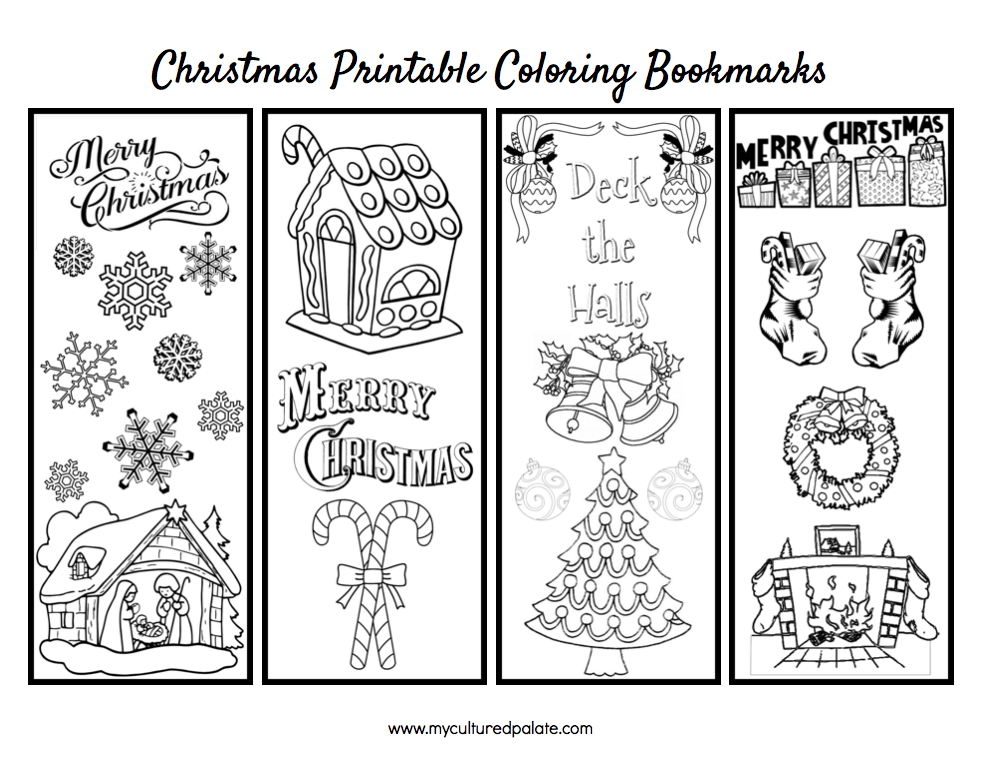 Looking for other unique coloring sheets? Check out my Printables Shop!
Download the Free Christmas Bookmarks to Color:
Page 1: Merry Christmas Nativity, Gingerbread House, Deck the Halls, Wreath and Fireplace
Page 2: Snowman, Hark the Herald, Poinsettia Merry Christmas, Tree and Bells Merry Christmas
These printables are intended for personal use only and not for resale. Please do not alter or sell them without my personal written consent.
If you are you looking for a way to keep all your gifts organized, the Gift List which is a free printable in the Daily Life Planner set is just what you need!