These Sourdough English Muffins are not only easy to make but are delicious to eat. Be sure to have plenty of grass-fed butter and honey on hand!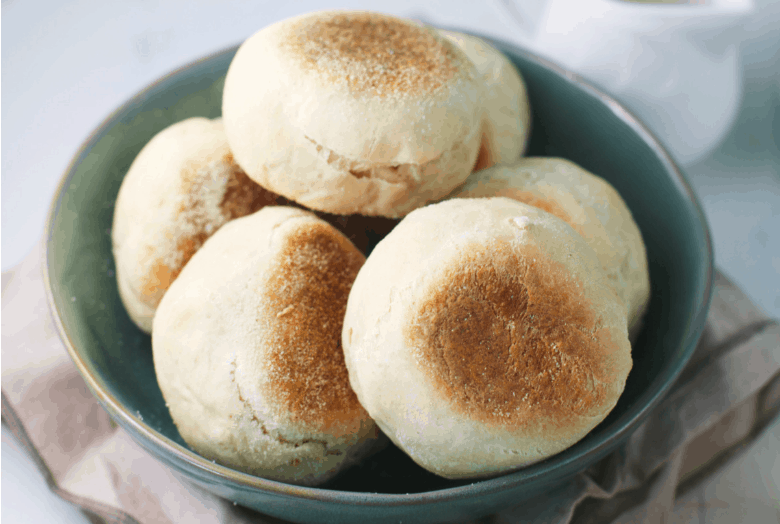 I am definitely on a sourdough kick! Not only is it fun to experiment but the sourdough breads just taste so good! I am sure it has nothing to do with being off grains for almost 2 years!
I have experienced such life changing health benefits from the GAPS diet but it is time to begin adding foods back into my diet. And, I am really enjoying sourdough!
My first addition was non-gluten grains and now sourdough breads. After the Sourdough Bread Bowls and Sourdough Pancakes came Sourdough English Muffins and, they were met by just as much approval.
And in case you were wondering, these make great English Muffin French Toast with Yogurt Sauce.
If you just want a great pancake topping, try the Yogurt Sauce or Homemade Syrup that does not have all the unnecessary ingredients and you can use your choice of sweeteners.
With 7 children still at home, I am very blessed that I don't have picky eaters.
Can you imagine if I had to fix 7 different plates at each meal?
But, even though they will eat almost anything, they do have opinions. And, when asked, they will tell me if they think something does not taste good.
There were no complaints at all with the Sourdough English Muffins - only compliments!
The only problem was that I had not made enough for everyone to have seconds - I will not make that mistake again!
Sourdough English Muffins and Poached Eggs
For me, English muffins are reminiscent of my childhood - and poached eggs. My mother would poach eggs and place them on sliced, buttered and toasted English muffins.
When a soft poached egg is placed on top of an English muffin, magic happens as you begin to eat.
With the first cut into the egg, the soft white and yolk ooze out, coating and soaking into the English muffin mixing the flavors into the most heavenly taste!
If you don't like soggy, gooey bread, you probably will not like soft poached eggs on your muffins so forget what you just read and skip to the part about serving them with lots of grass-fed butter!
Unfortunately, I have not found an egg poacher large enough for my family. However, we do fry eggs and sunny-side up eggs (or "snot-on-top" as some call them) are also delicious on sourdough English muffins!
Whether you are serving sourdough English muffins with eggs or not, be sure to have plenty of grass fed butter nearby. And, don't forget the honey or cream cheese or jam....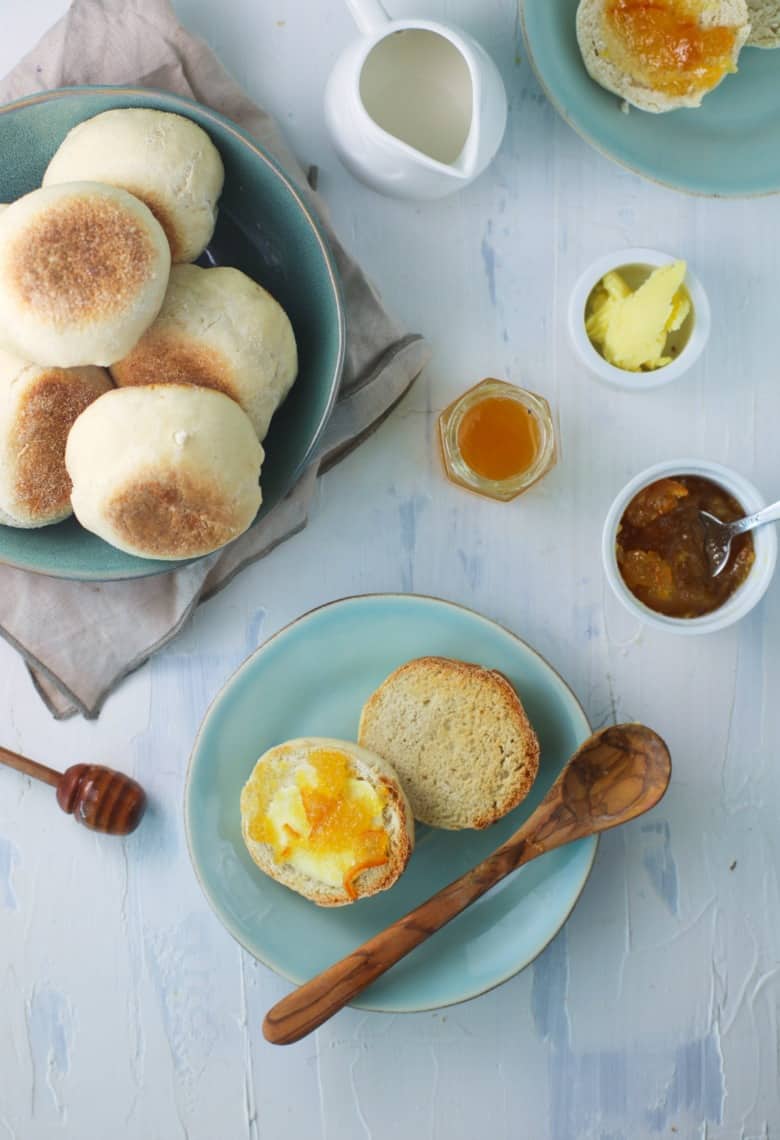 What Can You Have With English Muffins?
Have you ever wondered what you can have with English Muffins? First of all, English muffins are great to have any time of the day.
Any of these suggestions will work at any point. English muffins are delicious in many forms. If you're a meat eater, you can add sausage and cheese to it.
If you're a Vegan, you can add jam or a veggie of your choice to it. I like avocado on mine. It tastes delicious.
You could also make little pizzas with Sourdough English muffins. When we want pizza but don't want to spend the money ordering it, I make little English Muffin pizzas for us.
I also like spreading a nice layer of peanut butter on English muffins for a bit of a different taste.
How to Store Sourdough English Muffins
Have you ever wondered how you can store English Muffins? After you've spent all this time on them, you certainly don't want them to go to waste.
Just like most items that you want to keep, they need to be store in an airtight container. However, you can store English Muffins at room temperature.
If English Muffins are stored correctly, then you should be able to keep them for about 2 weeks. There is nothing more yummy than English muffins in the morning for breakfast.
Can You Eat English Muffins Without Toasting Them?
I personally prefer to toast my English muffins. If you bite into an English muffin, untoasted, it does have a different taste than when toasted.
You can totally eat an English muffin without toasting it. There is no law saying you have to toast them.
Honestly, homemade Sourdough English muffins have a much better taste than store bought ones. So, you may find that they are better not being toasted.
My advice would be to try these Sourdough English Muffins toasted and untoasted. Let me know what you think.
Tips For Making Sourdough English Muffins
Store these in the fridge or freezer after they have cooled completely
Try adding spices such as cinnamon and sweetener for a cinnamon toast taste
Top with butter, honey and sliced banana for a delicious breakfast or snack
They are delicious served with eggs (prepared in your favorite way)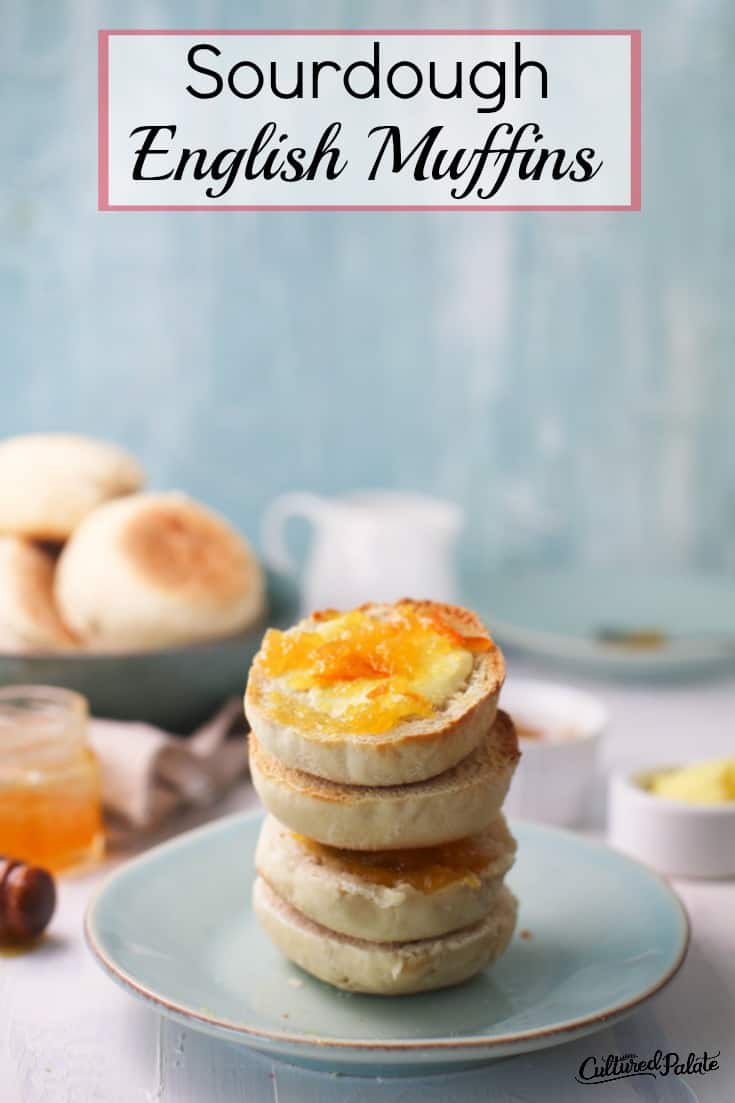 If you've tried these Sourdough English Muffins or any other recipe on Cultured Palate please take a minute to rate the recipe and leave a comment letting me know how you liked it. I love hearing from you! You can also FOLLOW ME on PINTEREST, FACEBOOK, INSTAGRAM, YouTube and TWITTER.
📋 Recipe
Sourdough English Muffins
Cultured Palate
I love the flavor the sourdough lends to these English muffins.
Ingredients
½

cups

active sourdough starter

1

cups

kefir or milk

2

cups

whole wheat flour

1

tablespoon

honey

1

teaspoon

sea salt

1

teaspoon

baking soda
Instructions
Place sourdough starter in mixing bowl and add kefir (or milk).

Add flour and mix thoroughly.

Cover with saran wrap and allow the dough to proof until it doubles - this takes 12 - 18 hours.

After the dough has proofed, add sea salt, baking soda and honey. Mix thoroughly.

Knead the dough on a lightly floured counter for a few minutes.

Roll the dough out to 1 inch thickness and cut into 2 - 2 ½ inch muffins.

Place muffins on a baking sheet, cover and allow to rest for 1 hour.

Heat skillet to medium on the stove top.

Working with a few muffins at a time, cook on each side for about 5 minutes and flip.

Serve and Enjoy!

Keep uneaten muffins (if there are any!) in the refrigerator or freezer.
Notes
Tips For Making Sourdough English Muffins
Store these in the fridge or freezer after they have cooled completely
Try adding spices such as cinnamon for a sweeter version
Top with butter, honey and sliced banana for a delicious and healthy breakfast or snack
They are delicious served with eggs (prepared in your favorite way)
Nutrition
Calories:
94
kcal
Carbohydrates:
18
g
Protein:
3
g
Fat:
1
g
Cholesterol:
2
mg
Sodium:
309
mg
Potassium:
72
mg
Fiber:
2
g
Sugar:
2
g
Vitamin A:
40
IU
Calcium:
31
mg
Iron:
0.7
mg
What do You Like on Your Sourdough English Muffins - Butter, Jam...
Leave a comment, I would love to know!
Pin It!