Getting started with fermented foods or cultured foods helps you get probiotics for gut health, reversing leaky gut syndrome, GAPS diet and general health.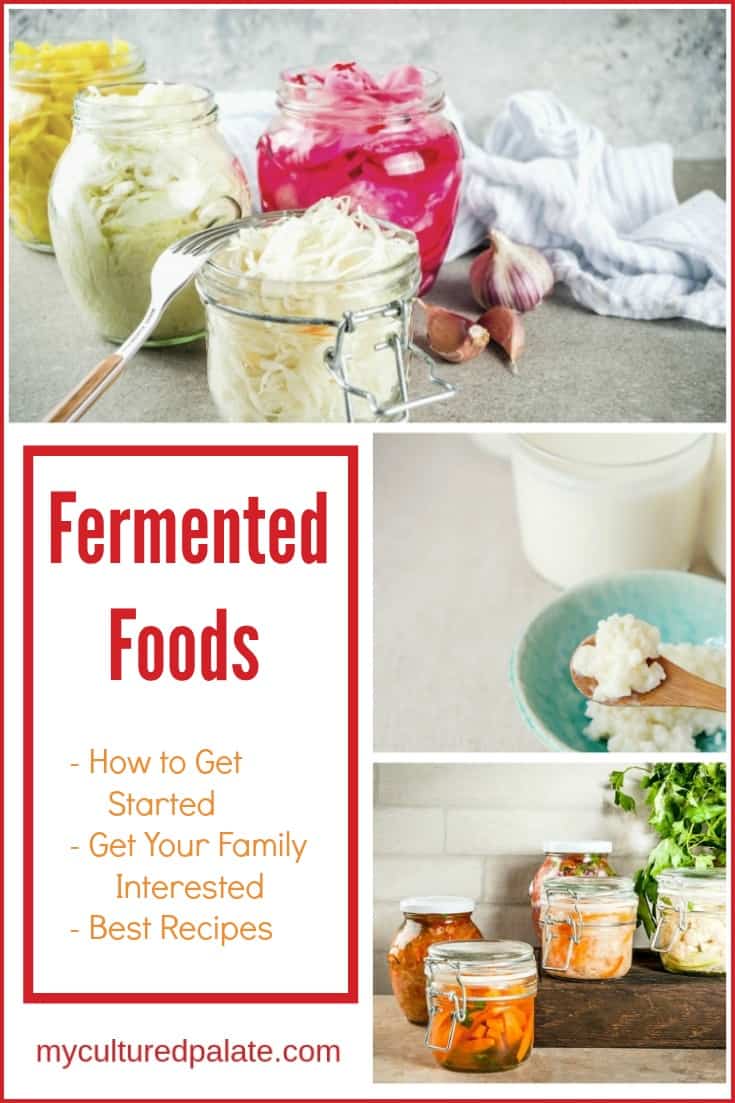 You know you should eat cultured foods.
You know your family should eat cultured foods.
But, how do you get started and how do you get your family interesting in fermented foods? It can definitely be a challenge!
Isn't it funny that many of us eat fermented foods but don't even recognize them as cultured or fermented?
Lacto Fermentation is All But Lost!
Do you know the reason?
It is because many of the foods that we eat today were, years ago, truly cultured or fermented.
For example, pickles, soda, cheese, sour cream and even bread!
But, thanks to industrialization, the healthy, lacto-fermented foods of yester years have been replaced with a more consistent end-product.
The lacto-fermentation method of fermenting (or culturing) has been replaced with processing. Why? There are 3 reasons:
it is cheaper
has a longer shelf life
is easier to produce
But, it basically results in an unhealthy final product!
To learn more, check out Lacto-fermentation - What is it?
Now, unless you are already make cultured foods at home with true starter cultures (or buy brands with the probiotics intact), you are ingesting fake, processed substitutions.
Since most of us have tastebuds that are used to the processed products, that are often filled with sugar, it can be hard to know how to get your family interested in fermented foods!
And, to not only be interested but to want them.
Making minor taste changes to their beloved staples is a serious matter!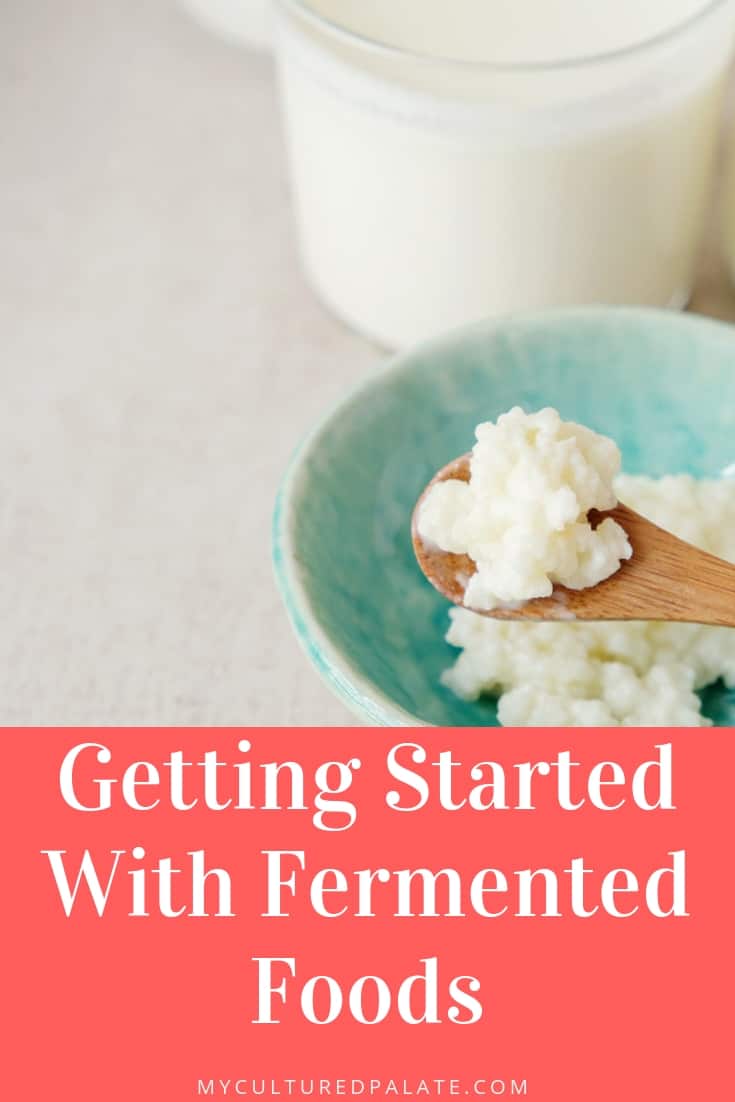 How to Get Your Family Interested in Cultured or Fermented Foods - My Tips
So, how do you get your family interested in cultured foods?
Our children are all good eaters for a couple of reasons:
They work and play hard and are hungry.
They know they are expected to eat what is served.
That being said, here are a few tricks that I learned as we began eating and living a more healthy lifestyle.
1. Young Children
I have found that the easiest ones to convince are our younger children.
They do not have the baggage of taste buds that have been conditioned with processed foods.
It is easier to develop a taste for foods, spices and textures served at a young age.
Each day, I serve kefir and cultured vegetables. Some favorites include:
They learn and develop a taste for the tangy flavors. Processed sweets (like a few dessert recipes I have shared) are reserved for an occasional treat.
2. Older Children and Teens
Because I began our healthy eating and healthy living journey when several of our children were in this group, they have been a bit more resistant to changes.
Their taste buds have been conditioned and corrupted by the sweet processed food "treats" that I once served more liberally.
Talking with you children and explaining why you are making the dietary changes is important to do.
Explain that you were wrong in the way you have fed them in the past. I know - eat humble pie!
Use this opportunity to teach your children that the processed foods are inferior. And, that you want them to have the best nutrition possible - to be the best and healthiest they can be.
They need to understand why fermented foods are so good for you and your health.
For this group, implement change slowly. Our children watched as my health returned because of the GAPS diet.
That helped them to embrace the changes I was making in the foods served.
If your children are resistant to change, add one fermented food at a time and give them time to adjust.
Remember, healthy living and healthy eating is not a sprint, it is marathon - you want the changes to last.
If they understand the reason for the changes, they will be more likely to continue them for themselves!
3. Spouse
Again, use this opportunity to educate. Read bits and pieces of the information you are learning from. It is important to build up your spouse and not nag or talk down to them.
Bad mouthing the foods your spouse enjoys is an invitation for disaster.
Instead, in addition to sharing your growing knowledge about the benefits of fermented foods, teach by example. Eat the fermented foods yourself and offer them freely.
My husband, like our children, was amazed at the reversal of my chronic rheumatoid arthritis and stomach issues that I had as a result of my GAPS diet experience.
This included adding fermented foods to my diet!
Not only was he supportive, but after reading Gut and Psychology Syndrome together, he suggested we try it as a family just to make sure everyone had healthy gut bacteria!
He understood from the book, why healthy gut bacteria was so important and why the diet worked! Be sure to check out my Gut and Psychology Syndrome Book Review and My GAPS Diet Experience.
Variety is the Spice of Life!
Be sure to try a variety of new fermented foods.
Not only are the homemade fermented foods tastier, they are also more economical and budget friendly. Our family enjoys the foods I linked to above and here are a few more for you to try:
Here are couple of my favorite books filled with wonderful fermented recipes:
Real Food Fermentation has beautiful pictures and step by step illustrated instructions.
Wild Fermentation gives not only recipes but also the history of fermentation and more about using wild bacteria to ferment.
How to Get Started with Fermented Foods
Now that you have an idea as to how to get your family interested in fermented foods, where do you start?
As with anything new, getting started with fermented foods can be scary and overwhelming.
Whether or not you suffer with leaky gut syndrome, probiotics found in fermented foods are good for you! Your gut needs the beneficial bacteria found in fermented or cultured foods! (source)
Can I Take a Probiotic Supplement?
Yes, however, many on the market do not make it through the stomach and into your intestines.
They get digested in the stomach leaving your gut lacking the benefits. This is where naturally fermented foods come in. (source)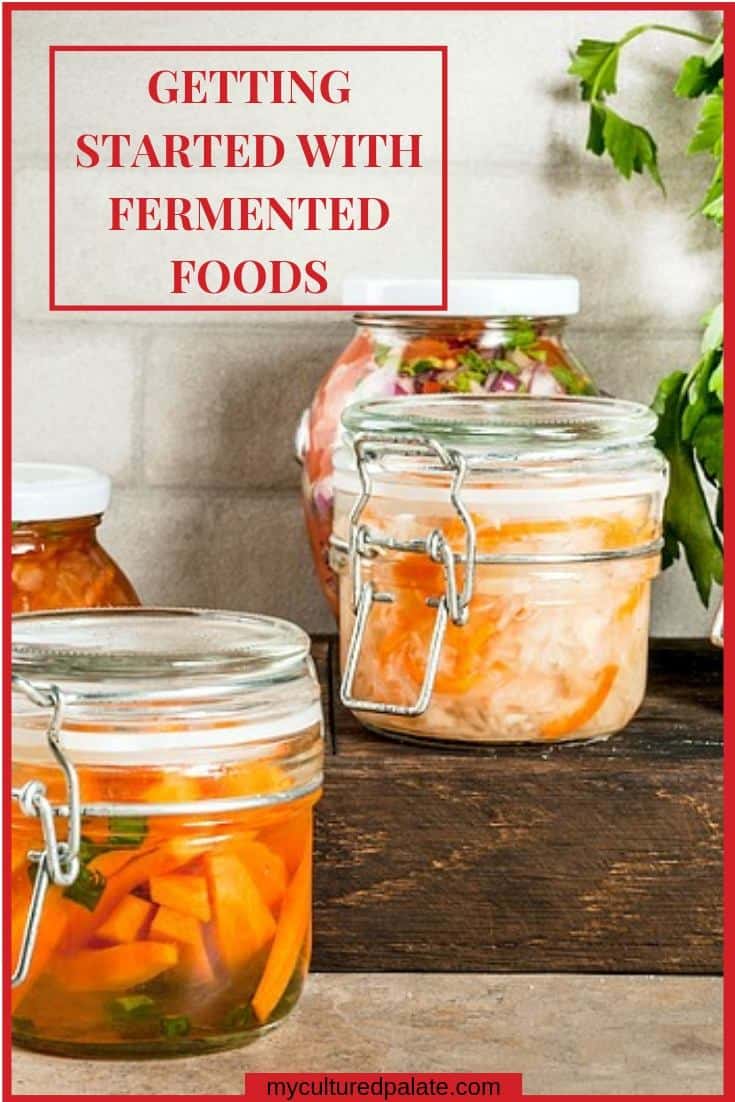 Which are the Best Fermented Recipes to Start With?
I have already linked to some of my favorites and several of them have videos to walk you step by step. But again, here are good fermented recipes that are easy and a good place to start.
1. Especially if you have a dairy allergy, Homemade Sauerkraut is a good one to start with.
It is a staple on the GAPS diet to help reverse leaky gut. The homemade version is very different and tasted much better to me than the canned store-bought!
2. How to Make Yogurt walks you step by step in making this super easy fermented foods dish.
It is also readily enjoyed by children too. Think smoothie or fruit topped yogurt.
3. How to Make Kefir shows just how easy it is to make this probiotic rich food that also makes great smoothies.
Kefir is like yogurt on steroids when it comes to the probiotics in it! While yogurt may have 5 - 7 strains of beneficial bacteria in it, kefir can have 50+ in it!
Another difference between yogurt and kefir is the taste. Kefir is much tangier than yogurt.
So, you may need to get use to the taste. The tang can be controlled to some degree by the amount of time the kefir grains are left in the milk - the longer the grains are left in the milk, the tangier the kefir tastes.
The basic process involves:
putting kefir grains in a glass jar
adding milk
leaving them on your counter for 24 hours
strain the kefir (catching the grains)
place the grains in a clean jar and refill with milk.
4. Fermented Carrots are a special treat around my house!
They make a great side dish to any meal or a quick snack.
I have started using baby carrots instead of cutting up large carrots when I am pushed for time. The basic process is:
fill ½ gallon wide mouth jar (a quart works too!) with carrots
add whey or a starter culture
leave on the counter for 2 -3 days with the lid on and they are ready to eat
How easy is that? You can find the detailed recipe at the link above.
5. Sour Cream
Everyone is familiar with sour cream so, right from the start, there is a sense of comfort.
Top a baked potato or try a healthy dollop in your soup. You can purchase sour cream that states on the packaging that it contains active cultured or you can make your own.
To make sour cream you can purchase the ingredients at your local grocery store.
You need heavy cream and cultured buttermilk (this contains the live cultures).
Using a pint jar, pour the heavy cream into the jar and add 2 tablespoon of cultured buttermilk.
Put the lid on, shake well and then loosen the lid slightly.
Leave the jar on your counter for 12 - 24 hours - until the sour cream is thick and creamy.
That is the easiest way to begin making your own sour cream.
Once you see how easy it is, you may want to get starter culture and try an even thicker and creamier tasting sour cream. The directions are including in the packet.
Now it the Time to Get Started with Fermented Foods!
I hope you are encouraged to begin eating fermented foods on your journey to health through healthy eating and a healthy lifestyle.
Whether you have leaky gut syndrome or not, probiotics for gut health are important and an easy and effective way to add them is through cultured foods.
It really is worth the time it takes to make the changes - I am proof of that!
What are Your Favorite Fermented Foods?
Leave a comment - I would love to know!