Mom's Homemade Chicken Pot Pie recipe combines the great tastes of chicken, vegetables, broth and crust to make the ultimate comfort food.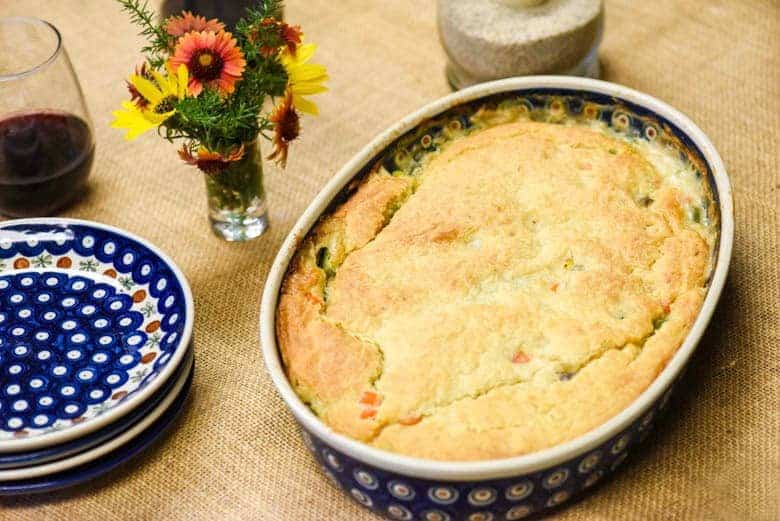 If I were to ask you what your favorite comfort food is, what would it be? Mine would be Chicken Pot Pie like my mother made.
Mom did not buy the individual tins of Chicken Pot Pie in the freezer section of the grocery store - but they are really cute and it is fun to have your own little pie! She made homemade chicken pot pie from scratch. And the crust, ohhh, it is so good!
You Too Can Make The Best Homemade Chicken Pot Pie!
If you are envious, don't be! Keep reading and you too can have this comfort food on your own kitchen table for supper. You are not going to believe how easy it is. In fact, I normally make two large Chicken Pot Pies and have a couple of meals worth - I love having leftovers!
When John and I got married, I went through my mother's recipe box and copied almost all the recipes she had. Homemade Chicken Pot Pie was one of them.
Now, I make it for my children who don't even know what those cute little individual pies from the frozen food section taste like! Poooor children - they are deprived - they only get the homemade version!
Homemade Chicken Pot Pie Step by Step
For the filling: Mix all the ingredients (except for those for the crust) - chicken, cream of mushroom soup, chicken broth, mixed vegetables, mix well and place in a greased 9 x 13 casserole. Photos 1 - 6

For the crust
Mix crust ingredients - flour, salt, baking powder, melted butter and milk - mix well. It will be soupy - pour/spread over chicken mixture. Photos 7 - 12
Bake, serve and enjoy!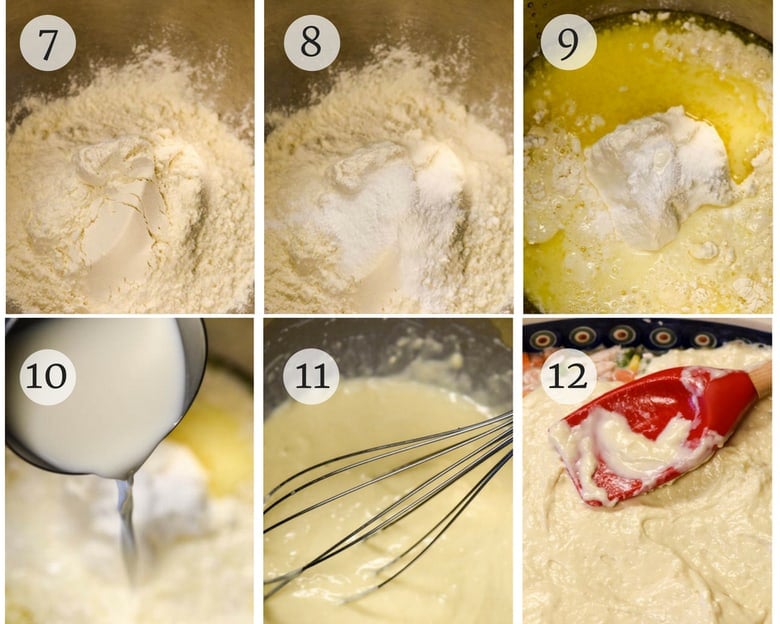 For some reason, even if I am not sick, Homemade Chicken Pot Pie is such a feel-good meal.
Maybe it just has to do with the good memories of my mother making it. Or possibly it is the taste of the chicken, vegetables and broth all mixed up. Maybe it is some of both - who knows.
Oh wait, I bet it has to do with the nutrition and good fats that the homemade chicken broth add! My body knows that not only is it good tasting, it is good for me. I'm smiling now because the question is answered - thanks for talking me through it!
If you are wondering about making it yourself, here is how I make my own chicken broth. and there is even a video to walk you through it!
Tips For Making Homemade Chicken Pot Pie
Mom's Homemade Chicken Pot Pie recipe calls for two cups of cooked chicken and I like to start with a whole chicken and cook it covered with water in the crock pot overnight on high - this gives a lot of delicious homemade chicken broth. In the morning, it is ready to de-bone and get on with the Chicken Pot Pie recipe. If time permits, you can make the broth even healthier - here is how I make my own chicken broth and there is even a video to walk you through it!
While whole wheat flour works well for the crust, I normally use a mix of whole wheat and unbleached white flour. The mixture tastes better to me and is a bit lighter but feel free to use what you want - both reeeeaaaaly taste good!
Need a gluten free option? See Gluten Free Chicken Pot Pie
You can also make your own cream of mushroom soup to make this recipe even healthier.
And of course, you can always make any recipe healthier with these 5 easy steps!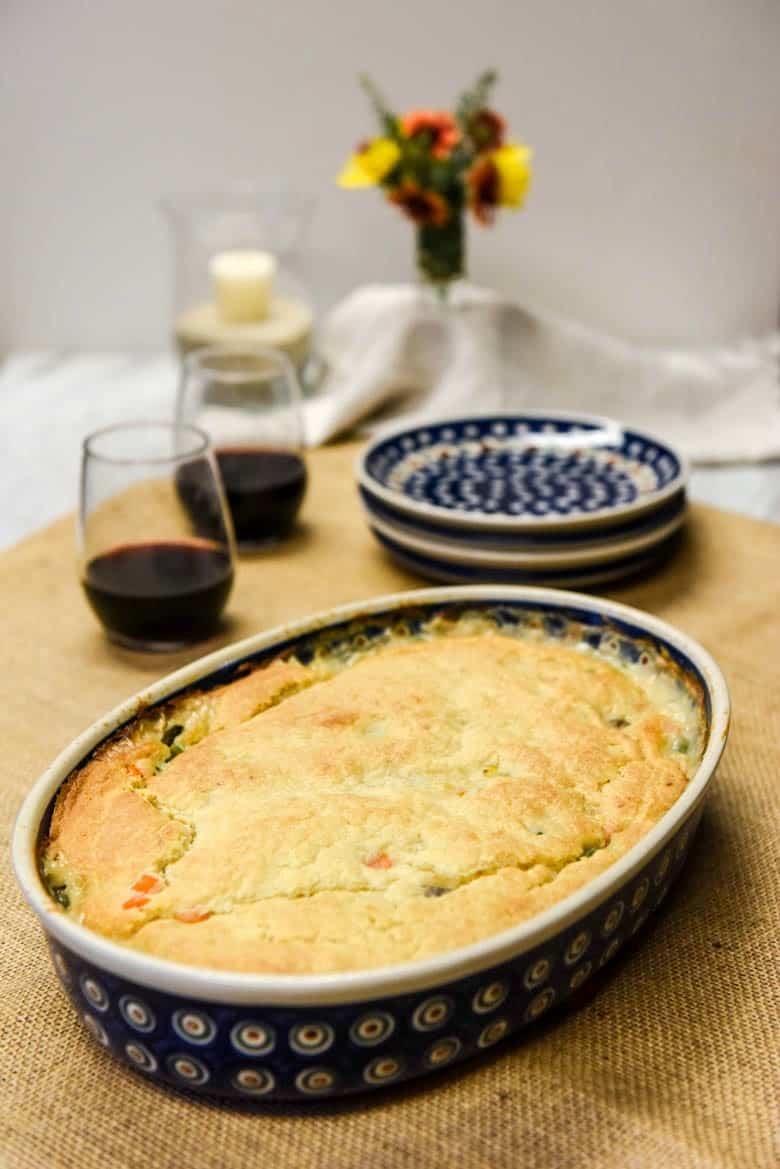 If you've tried this Homemade Chicken Pot Pie recipe or any other recipe on Cultured Palate, please take a minute to rate the recipe and leave a comment letting me know how you liked it. I love hearing from you! You can also FOLLOW ME on PINTEREST, FACEBOOK, INSTAGRAM, YouTube and TWITTER.
📋 Recipe

Mom's Homemade Chicken Pot Pie

Cultured Palate

I love the comfort of this dish, especially using all homemade ingredients.

Ingredients

2

cups

boned chicken

1 ½

cups

chicken broth

16

oz

frozen mixed vegetables

For Crust:

1

cups

flour

whole wheat, unbleached or sprouted

1 ½

teaspoon

baking powder

¼

teaspoon

salt

½

cups

butter

1

cups

milk

Instructions

Mix all the ingredients except those for the crust and place in a greased 9 x 13 casserole.

Melt the butter and mix crust ingredients well - it will be soupy - pour over chicken. Spread batter to the sides sealing in the filling.

Bake 45 minutes at 375 F until the crust is golden.

Serve and enjoy!

Nutrition

Calories:

526

kcal

Carbohydrates:

43

g

Protein:

22

g

Fat:

29

g

Saturated Fat:

14

g

Cholesterol:

104

mg

Sodium:

566

mg

Potassium:

580

mg

Fiber:

4

g

Sugar:

2

g

Vitamin A:

4480

IU

Vitamin C:

13.3

mg

Calcium:

143

mg

Iron:

3.5

mg