This Carrot Juice With Milk may give you visions of a milkshake or smoothie and it is just that good! Carrot juice recipes can taste good and are super nourishing.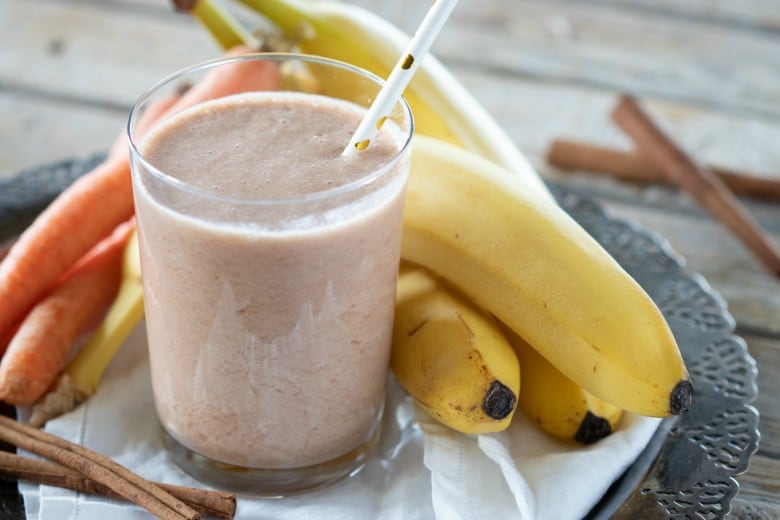 This may be a slightly different carrot juice than what you are normally used to. But, it is just as tasty and perfect for healthy living.
You can make it with any type of milk, so it appeals to all.
My children help me with all the juicing and even do it themselves.
Of course, there are safety issues. Depending on the age of your children, it may not be appropriate for them to be left alone juicing. But, as long as you make sure your children know how to safely use a juicer, they can easily learn how to make carrot juice with milk or any other juicing recipe.
It could be a great activity for you and your children! If your children are nervous about trying carrot juice, try starting with the Carrot Juice Recipe For Kids, it tastes just like a smoothie!
Jump to:
Equipment
For this recipe, you can use either a blender or a juicer. Both will produce a delicious and nutritional drink with some minor differences depending on which equipment you use.
Juicer - A juicer separates the fiber from the rest of the fruit or vegetables, leaving only the juice left and the fiber is discarded. Using a juicer will give you a thinner consistency drink.
Blender - A blender processes the whole fruit or vegetable, including the fiber, leaving a thicker and more smoothie-like consistency.
Both options work well for this recipe. If you don't have a juicer, no need to go out and spend money on one (unless you really want to of course 😉) because a blender will work just fine.
Instructions
The basic steps are the same as with any fresh juice recipe. You can use a juicer or a blender. Some juicers will juice bananas better than others.
My Juice Fountain Duo has a special attachment to use for soft fruits that work well. If your juicer does not do soft fruits well, try the blender.
For juicer:
Wash the carrots and peel the banana.
Juice the carrots and banana, then mix with the remaining ingredients.
For blender:
Wash the carrots and peel the banana.
Add all ingredients to a blender and blend until smooth. Add more milk for a thinner consistency or less for a thicker juice.
I think my favorite way to have this is when it is made in a blender for more of a smoothie consistency. Then again, it depends on the day! 😉
Serving Suggestions
As with any juice, it can be served in many ways. Here are a few suggestions:
Add honey to taste for a sweeter treat.
Add ¼ teaspoon nutmeg for additional spice.
Try out different types of milk, like oat, almond, or coconut milk to decide which you prefer.
Add additional fruit or veggies like apples, beets, or celery. I recommend sticking with nut or oat milk to avoid your milk curdling if you choose to add anything acidic.
For a frozen treat use 4 ice cubes and blend in the blender with all ingredients.
Frequently Asked Questions
Can you juice a banana?
That totally depends on your juicer. My juicer has an attachment specifically for softer fruits. My cold-pressed juicer does not.
If your juicer will not juice a banana well, just throw all ingredients into the blender and blend away to enjoy this delicious carrot milk.
What kind of milk can be used?
Some carrot milk recipes you find will have you use sweetened condensed milk - ugh! Unless of course, you are talking about Homemade Sweetened Condensed Milk that is healthy.
We are aiming for good taste and healthy living here!
Depending upon your diet, you can use regular milk, coconut milk, or almond milk. All work well and taste great giving a smooth milky consistency.
I personally like to use fresh raw milk from our family milk cow!
Is this good for children?
Yes, like other carrot juices, this recipe is also good for children to drink and is a good way to introduce younger children to carrot juice.
Plus, depending on which milk you choose to use, they are getting another nutrient profile filled with important vitamins, minerals, and enzymes.
How long can I store Carrot Juice with Milk in the fridge?
Unfortunately, carrot juice has a pretty short shelf life. Once juiced, carrot juice will typically last up to 48 hours in the fridge. It also starts to lose some nutritional value the longer it is in the fridge.
I recommend making this as a single serving so you can enjoy this delicious drink fresh and get all the high nutritional benefits of carrot juice!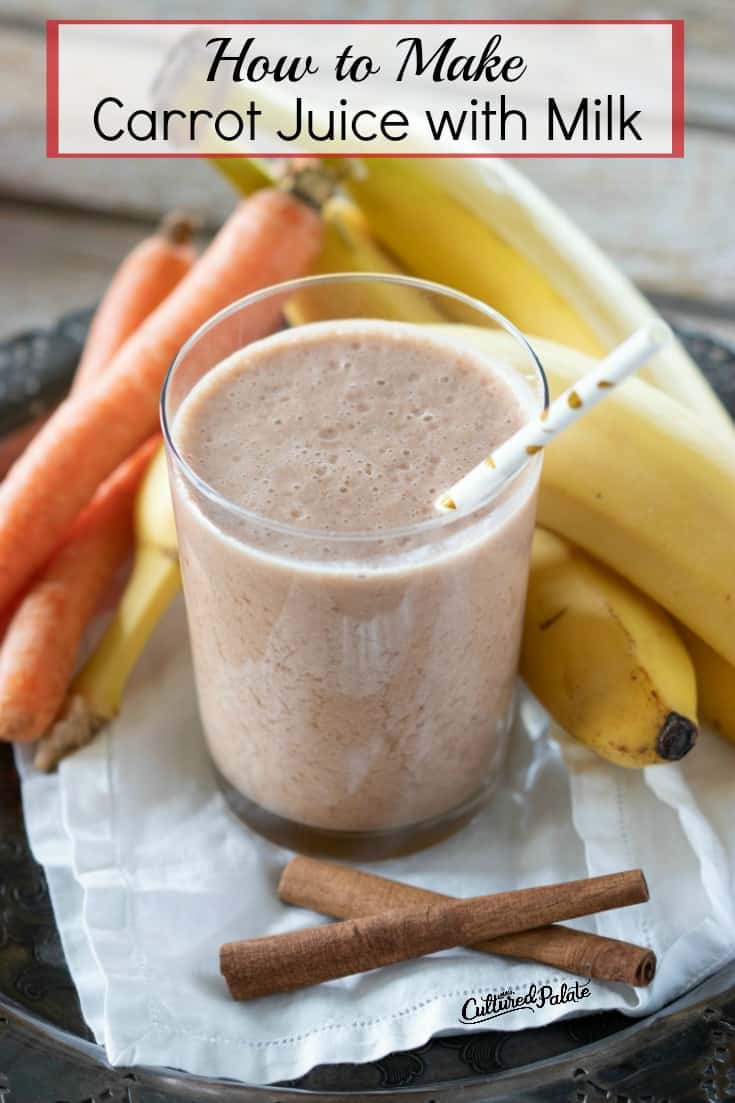 If you've tried How to Make Carrot Juice With Milk or any other recipe on Cultured Palate please take a minute to rate the recipe and leave a comment letting me know how you liked it. I love hearing from you! You can also FOLLOW ME on PINTEREST, FACEBOOK, INSTAGRAM, YouTube and TWITTER.
📋 Recipe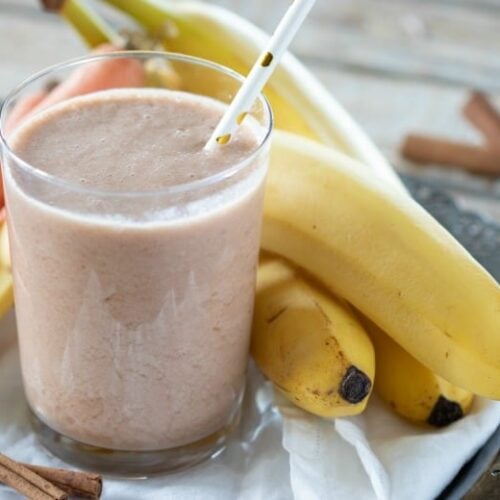 How to Make Carrot Juice with Milk
Think milkshake or smoothie and you have a good idea just how good this tastes! 
Ingredients
6 

carrots

1

banana

1 ½

cup

milk

(coconut milk or almond milk)

1

teaspoon

cinnamon
Instructions
For Juicer:
Wash carrots and peel banana

Juice carrots and peeled banana.

Mix with the remaining ingredients and enjoy!
For Blender:
Wash carrots and peel banana.

Add all ingredients to blender and blend until smooth.

Add more milk for a thinner consistency and less for a thicker juice.
Notes
Suggested Optional Ingredients:
honey to taste
¼ teaspoon nutmeg
For a frozen treat: add 4 ice cubes to blender along with the ingredients and blend.
Nutrition
Calories:
109
kcal
Carbohydrates:
20
g
Protein:
4
g
Fat:
2
g
Saturated Fat:
1
g
Cholesterol:
7
mg
Sodium:
105
mg
Potassium:
522
mg
Fiber:
3
g
Sugar:
12
g
Vitamin A:
15395
IU
Vitamin C:
8
mg
Calcium:
143
mg
Iron:
0.4
mg