Lemon Tea Cakes (teacakes). Utterly delicious and easy to make. Using this tea cakes recipe, you will enjoy the taste of lemon while having the fancy treat of eating tea cakes. These little cakes make a great sweet treat to be enjoyed with a cup of tea or coffee.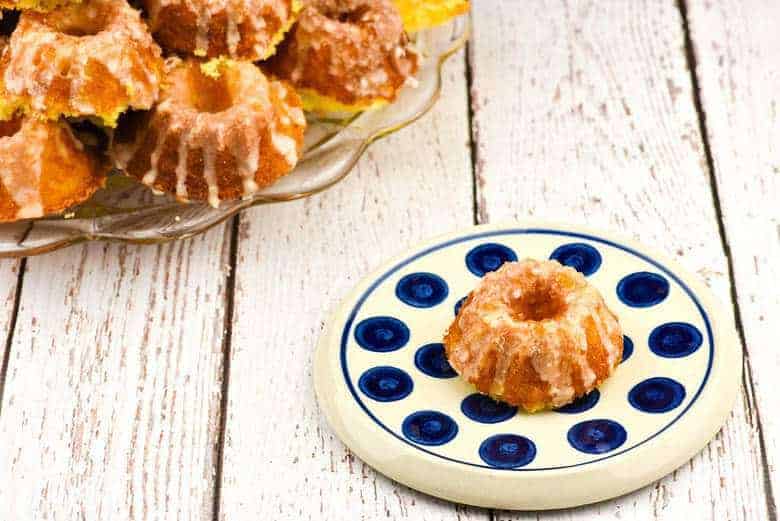 What good memories this Lemon Tea Cakes recipe brings to mind!
My mother made these when I was a little girl! In fact, it was my favorite birthday cake! Nothing beats the fresh taste of lemon and, combined with an easy recipe, it's a win-win!
Confession time. But, you have to promise you won't spread the secret: Lemon Tea Cakes recipe starts with a cake mix! Shhhhhh!
No one else has to know. Let them think you slaved for hours and hours - it's our secret!
But wait: What is a tea cake?
According to Wikipedia, this is what constitues an English-style tea cake:
In most of England, a teacake is a light, sweet, yeast-based bun containing dried fruits, most usually currants, sultanas or peel. It is typically split, toasted, buttered, and served with tea. It is flat and circular, with a smooth brown upper surface and a somewhat lighter underside. Although most people refer to a teacake as a cake containing fruit, in East Lancashire, certain areas of Yorkshire and Cumbria the name currant teacake is used to distinguish fruited 'cakes' from plain bread rolls.
Wait, currants?! What are all these different variations?
In West Yorkshire, a large plain white or brown bread roll 9 inches or 225 mm diameter is often also called a teacake and is used to make very large sandwiches. Many cafes sell these for breakfast or midmorning snacks. In Kent, the teacake is known as a "huffkin", which is often flavoured with hops, especially at the time of harvesting hops in September. In Sussex, a luxurious version of the teacake with added aromatics such as nutmeg, cinnamon and rose water is still sometimes made and called a manchet or Lady Arundel's Manchet.
But they go on to describe even more variants...
In East Lancashire, the former West Riding of Yorkshire and elsewhere in the North like the town of Barnsley, a teacake is a round bread roll which is cut in half to make sandwiches. They do not usually contain any sort of dried fruit. They can be made with either white, brown, wholemeal, or Granary flour (a brand of flour produced by Hovis, made by malting wheat, crushing the grains, roasting them, and then mixing them with brown flour).[2] A favourite way to eat them is to slice them into fingers, toast and then spread with butter and Bovril or Marmite.
So the lesson is: Tea cakes (sometimes called the one-word teacakes) can be whatever you want them to be.
There are lots of variances upon tea cakes. These particular cakes most closely resemble the teacakes found in England. They don't contain dried fruit, though you can definitely add some on top. I'm definitely not brave enough to flavor mine with hops! If you do it at home, write about how it in the comments!
Reading about all these different tea cake recipes was a little overwhelming at first. Every country seems to have it's own tea cakes recipe. And even within countries, they can be different. Did you know the tea cakes of the South are more like cookies?
But it's also inspiring to read about all these different recipes. All over the world, there are people enjoying small little cakes with tea. Maybe even with no tea. These are just tiny cakes you can share with people you love on a lazy afternoon. That's the only qualifier that seems to stick!
But they have a very distinctly American bent, which is....
The secret ingredient found in these Lemon Tea Cakes is apricot nectar.
Apricot nectar can be found in a can on the juice aisle in your local grocery store. It smoothes the flavors of the cake and combined with the lemon glaze is just melt-in-your-mouth good!
Tips for Making this Lemon Tea Cake Recipe:
I use this mini fluted cake pan to make the Lemon Supreme Tea Cakes. Even though it is a nonstick pan, be sure to spray it well with a cooking spray for easy release.
Be sure to glaze the cake or tea cakes while still warm - this is really important! The glaze begins to soak into the cake as it runs down the flutes leaving a beautiful glaze effect
If you've tried this Lemon Tea Cakes recipe or any other recipe on Cultured Palate please take a minute to rate the recipe and leave a comment letting me know how you liked it. I love hearing from you! You can also FOLLOW ME on PINTEREST, FACEBOOK, INSTAGRAM, YouTube and TWITTER
📋 Recipe
Lemon Supreme Tea Cakes
Cultured Palate
Sweet treats in individual servings. Also great for gifting.
Ingredients
1

box

lemon cake mix

½

cups

sugar

¾

cups

oil

1

cups

apricot nectar
Glaze:
2

cups

powdered sugar

Juice of 2 or more lemons
Instructions
Using a hand mixer, combine the ingredients in order and add the eggs one at a time according to box directions - beat well after each addition.

Grease a tube pan or mini tube pan well and add batter.

For tea cakes, fill each cavity ½ full - they rise nicely.

Bake 1 hour.

Let stand 5 minutes then turn out onto cake platter.

Mix glaze and be sure it is thick - when spooned over the warm cake it becomes thinner.

Spoon glaze over warm cake and allow it to run down the sides as it absorbs into the cake.
Notes
Don't worry about making the glaze to thin - if you do, just add more powdered sugar!
Be sure to glaze the tea cakes while still warm so it soaks in.
I use this mini fluted cake pan to make this Lemon Tea Cakes recipe. Even though it is a nonstick pan, be sure to spray it well with a cooking spray for easy release.
Nutrition
Calories:
245
kcal
Carbohydrates:
43
g
Fat:
8
g
Sodium:
157
mg
Potassium:
21
mg
Sugar:
34
g
Vitamin A:
130
IU
Vitamin C:
0.1
mg
Calcium:
46
mg
Iron:
0.5
mg