Have you ever tasted real butter? I mean real, FRESH butter?
This butter recipe is just one of the recipes included in my Simple Cheesemaking ebook. Follow the link to find more wonderful cheese recipes with easy to follow instructions and much more!
There is nothing like the taste and feel of it on your tongue as it coats your mouth. Once you taste it, with all its creaminess, you have a greater appreciation for the expression "buttery soft".
Well, not only does real butter taste good, but it is also good for you! I know, you are thinking about all the fat in real butter that we should be avoiding. While this may be a "politically correct" view, the fact is, animal fats are good for you. Not only do they provide energy but they also act as carriers for the fat soluble vitamins A, D, E, and K.
So, don't be afraid – go ahead – lather the butter on your bread – it's good for you!
I mean it. Butter is actually good for you. In fact, it does a lot for our bodies. Here's what Authority Nutrition says about it (I recommend reading the whole article about it if you can!):
1. Butter is Rich in Fat-Soluble Vitamins

There are a lot of fat soluble vitamins in butter. This includes vitamins A, E and K2.

I'm not going to make a big deal out of A and E. If you're eating a healthy diet that includes animals and plants then you are probably getting enough of those already.

But I do want to talk a bit about vitamin K2, which is fairly rare in the modern diet and many people don't know about.

Vitamin K2 can have powerful effects on health. It is intimately involved in calcium metabolism and a low intake has been associated with many serious diseases, including cardiovascular disease, cancer and osteoporosis (1, 2, 3).

Dairy from grass-fed cows is particularly rich in vitamin K2 (4).

2. Butter Contains a Lot of Healthy Saturated Fats

The "war" against saturated fat was based on bad science.

It was never really proven that it caused any harm.

In fact, recent studies suggest that there is no association at all between saturated fat and cardiovascular disease (5, 6).

Saturated fats raise HDL (the good) cholesterol and change the LDL from small, dense (very bad) to Large LDL… which is benign (7, 8).Additionally, butter contains a decent amount of short and medium chain fats… which are are metabolized differently from other fats. They lead to improved satiety and increased fat burning (9, 10).
Mainstream nutrition guidelines tend to backfire and have the opposite effect of what they were intended to do.

A prime example of that is the recommendation to replace butter with margarine… which is something our beloved authorities have been telling us to do for a long time.

Well, what happened is that we replaced butter, a healthy food, with something containing highly processed and harmful trans fats.

In the Framingham heart study, they examined the effects of butter and margarine on cardiovascular disease (11).

Margarine significantly increased the risk of cardiovascular disease, while butter had no effect.

Another study revealed that high-fat dairy consumption reduced the risk of heart disease by a whopping 69%, most likely due to increased Vitamin K2 intake (12).
The health benefits are definitely encouraging! So much so that I wanted to show you how to make your own butter – without a churn!
Besides, I think fresh butter that has been molded is so pretty! The butter shown in the photos was molded in a wooden butter mold I received from my mother-in-law. Yes, it takes a LITTLE extra work (shh, don't tell – people think you've slaved!) but it certainly makes the butter fancier.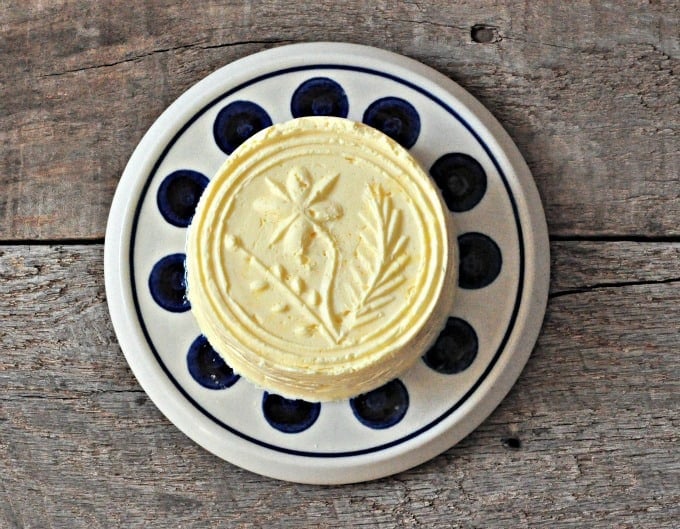 Having our own family milk cow, we have plenty of fresh raw milk.
When the milk is allowed to stand, the cream separates and rises to the top. In times past, a milk churn was used to separate the butter fat, milk protein and water.
With the modern conveniences of blenders, food processors and mixers, making butter is a much quicker process. You can use a blender or food processor to make butter, but I use my Bosch Universal Plus Kitchen Machine (affiliate link).
If you do not have your own family cow, the Weston A. Price Foundation and Real Milk can help you find sources of local raw dairy products.
How to make your own butter.
The first step after separating the cream from the milk is to place the cream in the mixer and allow it to mix on medium speed.
You will begin to see clumps of butter forming in the liquid. This liquid is called buttermilk. Depending on how much cream you start with, this step takes 10 – 20 minutes.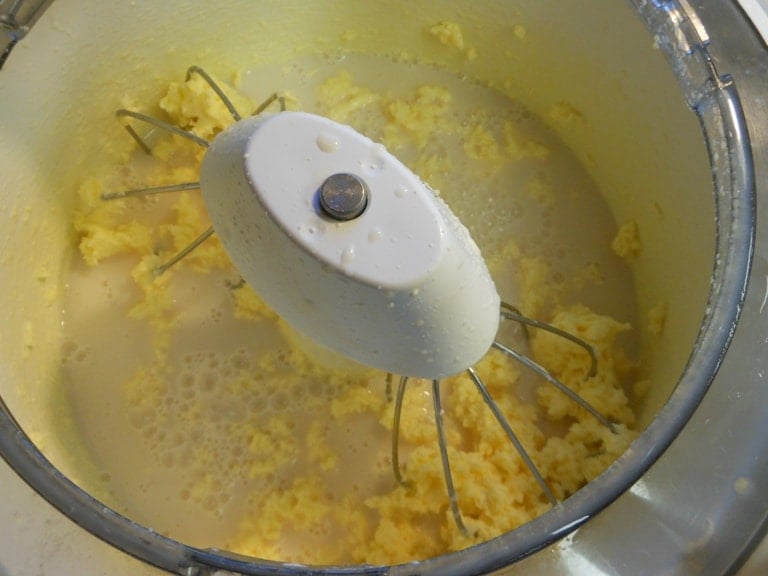 Once the clumps are formed, the butter must be rinsed to remove any buttermilk that is left. If it is not rinsed thoroughly, the butter will sour quickly. I do this by draining the buttermilk, covering the butter lumps with cold water in the mixer and mixing again on medium speed for a few seconds. Continue repeating the draining, adding more water and mixing until the water is no longer milky looking. It usually takes about 3 or 4 times of rinsing to completely remove the buttermilk.
Once the rinse water is clear, it is time to salt the butter.
The amount of salt added will depend upon the amount of butter you are making. Start with 1 tsp, mix and taste. Continue until the desired amount is added. (from my affiliate -where to buy REAL salt)
When the butter is well rinsed, shape the butter into the desired form. I use a 1/2 c. measuring spoon and press the butter into it with a spoon. Continue pressing the butter until all the water is removed.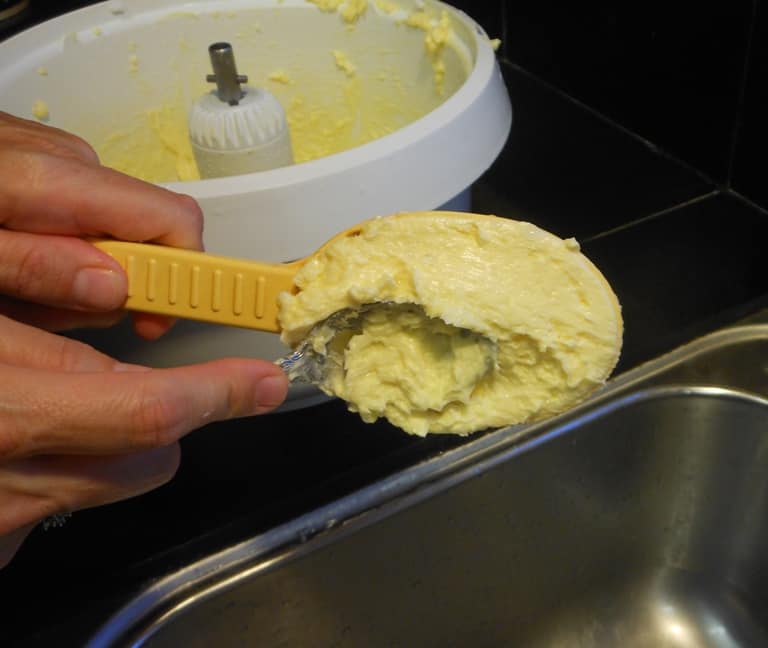 At this point, the formed butter may be used fresh or frozen for future use.
I place my formed butter on an inverted baking pan and place it in the freezer. After about an hour, the butter is firm enough to be placed into a freezer bag or other container.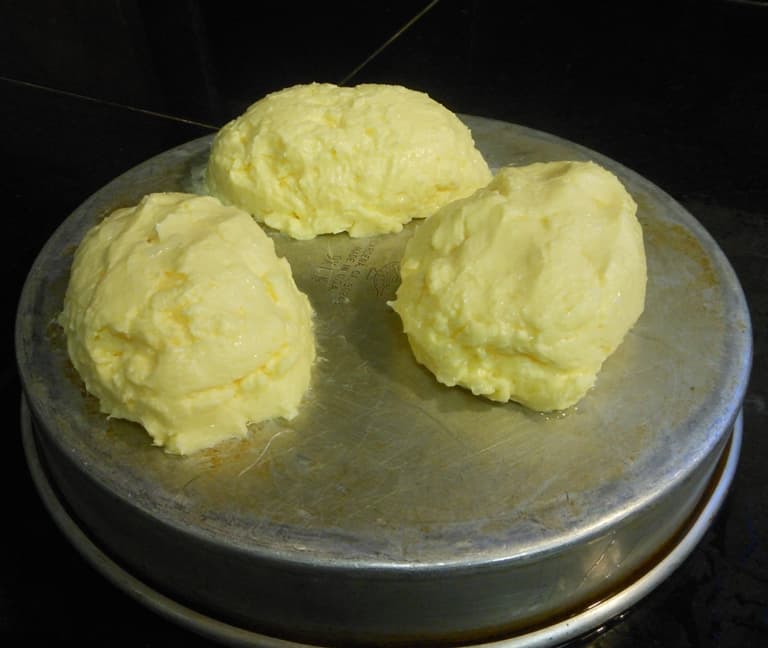 When ready to use, remove the frozen butter and allow to thaw at room temperature. If you have rinsed the whey thoroughly, there is no need to refrigerate the butter – I leave mine on the table!
Now, enjoy your fresh butter! Slather some on a warm piece of fresh chocolate zucchini bread or on a gluten free strawberry muffin – the possibilities are endless!
Join the newsletter
Join and get my Top 10 GAPS RECIPES FREE!