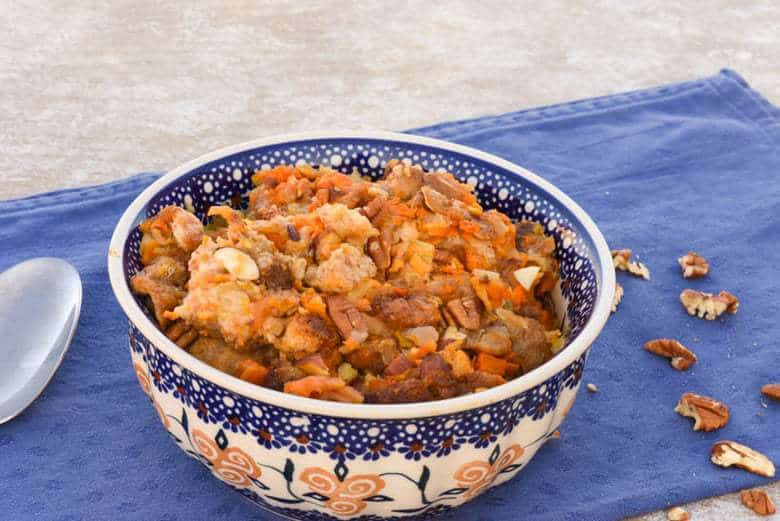 Thanksgiving is over and Christmas is only 10 days away!
That means there are only 10 days left to officially eat stuffing!
We better get to eatin'!
Stuffing is good anytime of the year – it is one of those comfort foods. It has to be with all the cubed bread, butter and broth used to make traditional herbed bread stuffing. But, it only seems right to eat it during the holiday season for some reason – it's a shame really.
I think I will be making an exception with Sweet Potato Stuffing – I here and now declare that it is legal to eat anyyyyytime of the year!
I am sure that most of you have a traditional stuffing recipe for the holidays but, do you ever have enough?
After all, the innerds of a turkey are not that big!
How much can you really stuff in that bird?
So, while you may not want to replace your holiday stuffing with a new recipe, Sweet Potato Stuffing is baked in the crock pot and can be made in addition to your regular stuffing!
And, the color! How festive are the orange sweet potatoes peeking out and around the bread crumbs! Just what a festive table needs – more color AND more delish!
But wait, there's more! Don't forget the sweetness! The sweetness of the sweet potatoes melds the rest of the flavors together in mouth watering goodness – ooohhh my!
Excuse me, I've got to go get me a bowl!
Sweet Potato Stuffing
Yield 10 servings
Ingredients
1/2 c. butter
1 c. celery, chopped
1 c. onion, chopped
1 c. chicken broth
1 tsp salt
1 tsp pepper
6 c. dry bread crumbs
2 large sweet potatoes, cooked, peeled and chopped
1/2 c. nuts, chopped (pecans, walnuts or almonds)
Instructions
In a saucepan, melt the butter over medium heat.
Add onions and celery - cook until the onions are translucent and celery tender.
Add the broth, salt and pepper.
Add the remaining ingredients and stir to combine.
Transfer to a 6 qt crock pot.
Cook covered on low for 4 hours.
Serve and enjoy!
Courses Crock Pot
Related posts: