Sourdough Pancakes are just, well, you have to taste them to appreciate them. If you have never tried sourdough recipes, you are in for a treat!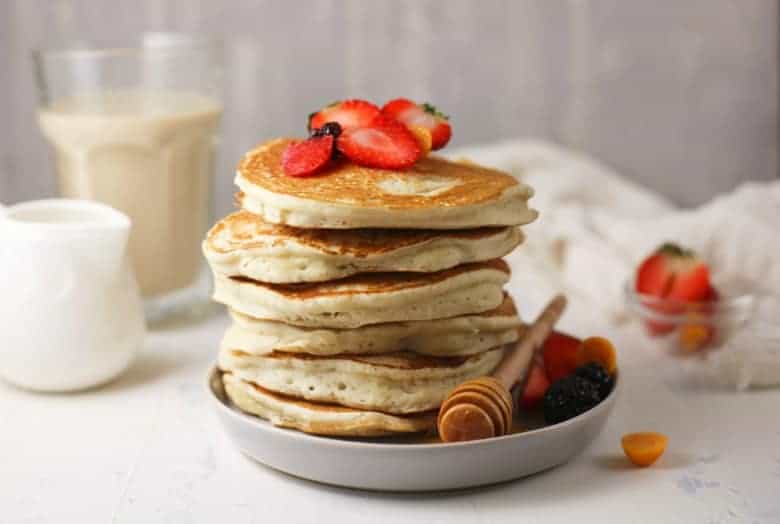 I have come full circle since my journey of reversing chronic autoimmune problems began.
After reversing rheumatoid arthritis, osteoporosis and even food allergies with the GAPS diet, I now eat a more traditional diet.
And, this Sourdough Pancake recipe is a morning ritual in our family! Well, that and our cinnamon coffee.
Sourdough Pancakes - a Breakfast Tradition
Our family has had either pancakes or waffles every morning for breakfast since John and I got married.
In our house in Alabama, I had a large commercial stove with a raised griddle so, we had pancakes. Until that is, a waffle iron was given as a Christmas present. Then, we had waffles.
When the waffle iron (and most recently waffle irons) burned out, we went back to pancakes.
You might wonder how I cook so many pancakes for our large family at once. Well, the answer is a large cast iron skillet.
Available from my affiliate partner, I use this 17" cast iron skillet for a lot more than just pancakes!
I now think that cast iron cooks pancakes like nothing else, giving them that crispy edge that I truly love.
But, back to why I am so excited about this sourdough pancake recipe...
How I Began Eating Sourdough
I originally began the GAPS diet because of my severe rheumatoid arthritis pain.
The pain in my hands was so bad that I could not even cut my own pancakes at breakfast. To allow my gut to heal through the GAPS diet, I gave up all grains - that included pancakes!
Yes, I missed them. Especially when everyone at the table was eating them for breakfast except myself.
But, after being on the GAPS diet for only 2 weeks, my pain was gone and in another few weeks the swelling in my hands was also gone.
Leaving off grains - and pancakes - wasn't so bad after all!
Since my period of healing is completed, I have added traditionally prepared foods.
In addition to Sourdough Pancakes, other recipes that use sourdough starter are: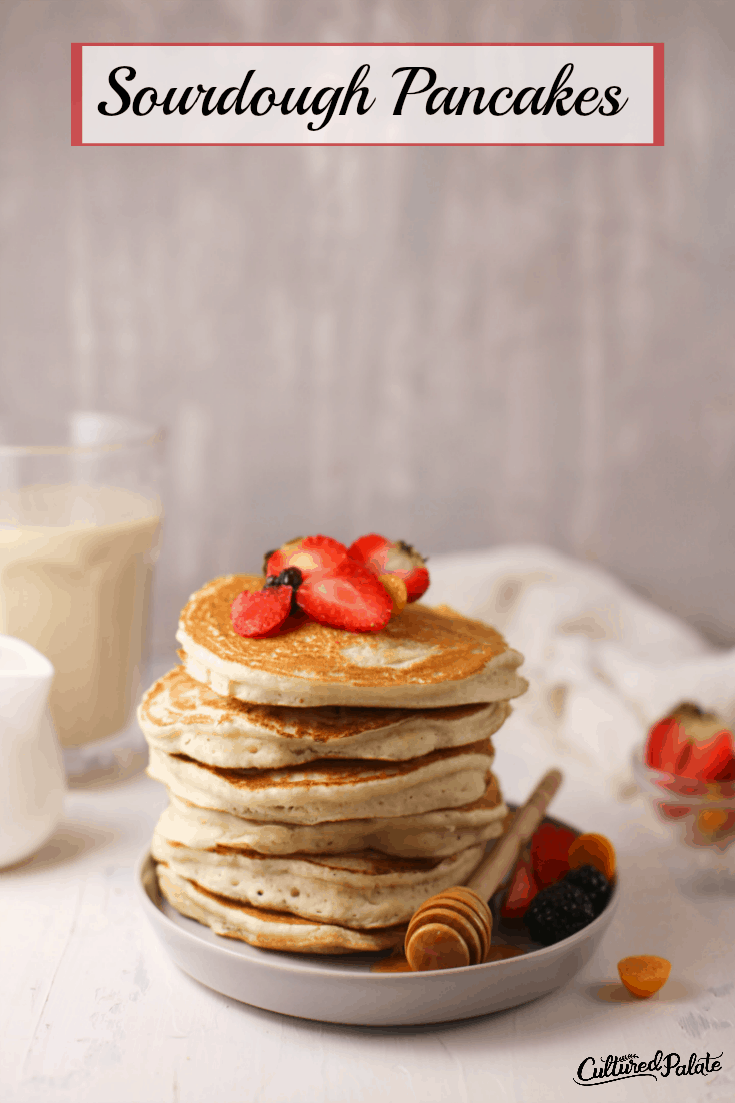 Will Children Like Sourdough Pancakes?
For the skeptics of sourdough cooking - to be totally honest, my children will eat almost anything without complaining.
With that being said, they do have opinions, and when asked, they will tell me what they think about the taste of something.
They really did like these sourdough pancakes.
Necessary Ingredients for Sourdough Pancakes
You will need a sourdough starter for Sourdough Pancakes.
The easiest way to get a sourdough starter is from a friend.
If you do not know of someone who has a starter, there are several types of starters available.
I use this San Francisco Starter from my affiliate partner.
Be sure to top your finished pancakes with grass-fed butter and either pure maple syrup or honey.
What is a Sourdough Starter?
A sourdough starter is necessary to make anything delicious like sourdough pancakes.
For a wild sourdough starter, you can begin by adding water and flour into a closed container. Let the flour and water sit there and ferment for a few days.
If you prefer, you can also buy a starter - I use this San Francisco Starter from my affiliate partner.
How to Know if Your Sourdough Starter is Bad
If you are new to sourdough starters or want to know if it is bad, there are a couple of things you can look for.
A pink or orange tint is a good indication that the starter has gone bad.
An "off" smell. However, it can be hard to tell if a sourdough starter is bad simply because of the smell. You usually have to go by the look.
Can You Freeze Sourdough Pancakes?
If you enjoy eating Sourdough Pancakes, you may be wondering if you can freeze them. I personally love making big batches of these pancakes.
If you desire to freeze these pancakes, then you can. Simply stick a small piece of wax paper between each pancake.
This keeps the pancake from sticking together and also keeps them fresh. After you do this, you can put the stack in a freezer bag.
They should keep for several months when frozen.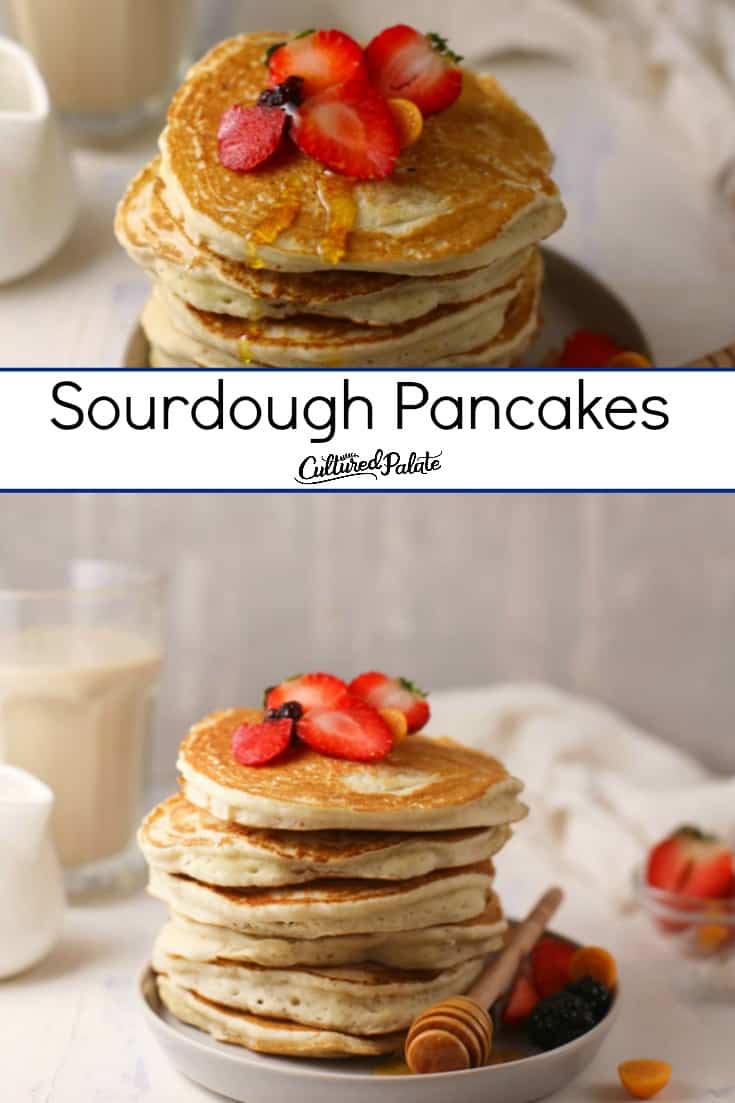 If you've tried these Sourdough Pancakes or any other recipe on Cultured Palate please take a minute to rate the recipe and leave a comment letting me know how you liked it. I love hearing from you! You can also FOLLOW ME on PINTEREST, FACEBOOK, INSTAGRAM, YouTube and TWITTER
📋 Recipe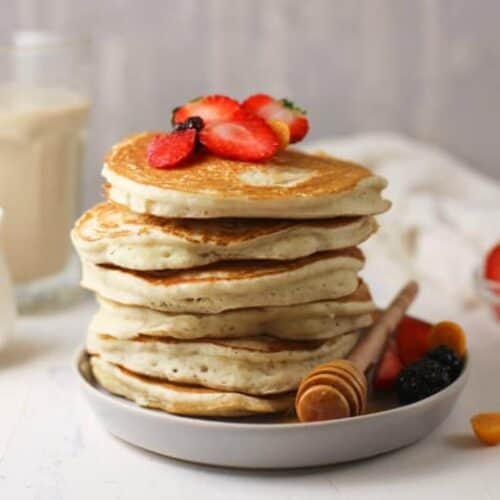 Sourdough Pancakes
Cultured Palate
Sourdough pancakes are easy to make and delicious for "breakfast" anytime of the day!
Ingredients
2

cups

active sourdough starter

½

teaspoon

sea salt

2

tablespoon

honey

¼

cups

olive oil

may use coconut oil, melted

2

eggs

pastured

1

teaspoon

baking soda
Instructions
Mix all ingredients together in a bowl.

Heat your skillet and add butter to melt.

Pour about ¼ c of the batter into preheated skillet. This makes 4 - 4 ½ inch pancakes.

Allow the pancakes to cook until there are bubbles on top that have popped leaving holes.

Flip the pancakes to cook the other side.

Serve warm with butter and pure maple syrup or honey.

Enjoy!
Notes
Serve with fresh berries or chopped fruit.
These freeze well just be sure to put parchment paper or wax paper in-between the pancakes.
Nutrition
Calories:
201
kcal
Carbohydrates:
20
g
Protein:
3
g
Fat:
11
g
Saturated Fat:
1
g
Cholesterol:
54
mg
Sodium:
425
mg
Potassium:
20
mg
Sugar:
5
g
Vitamin A:
80
IU
Calcium:
8
mg
Iron:
0.3
mg
What Do You Like as a Topping on Sourdough Pancakes?
Leave a comment, I would love to know!
Pin It!