Wondering how to freeze squash or if it can be done? Yes! Freezing squash is one of the easiest ways to preserve it! Freezing squash is easy, quick and gives you the great taste of summer squash late in the year.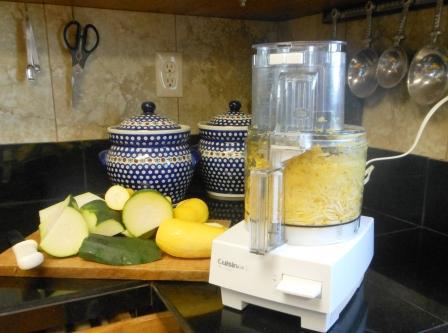 Is your garden providing you with more squash than you know what to do with? Do you have access to fresh squash at a local farmer's market? Whether it is zucchini or yellow summer squash, have I got the answer for you - Freeze it!
Freezing squash could not be easier, especially if you have a food processor to shred it. If not, a hand grater also works, but just takes longer :)
How to Freeze Squash
First wash the squash - I rinse mine in running water.
Then, cut up the squash into pieces that will fit through your food processor and shred it. I love my Cuisinart Food Processor!
Next, put the shredded squash into freezer bags or other freezer containers and place in the freezer.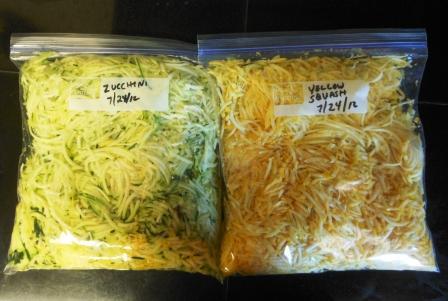 That's it!
There is no blanching required so, freezing squash does not heat up your kitchen. Later, when you are ready to use it, simply remove the squash from the freezer and thaw it. The squash is now ready to use in your favorite recipe.
How to Freeze Squash - Suggested Uses for Frozen Squash
Frozen squash can be used in any recipe calling for squash. It does have a softer texture so it is best used in recipes that are cooked.
Soups
Casseroles
Spaghetti sauce
Muffins - Chocolate Zucchini Bread and Gluten Free Chocolate Zucchini Bread
Freezing Squash is a great way to handle your garden produce.
I hope this tutorial for how to freeze squash has encouraged you not to dread the abundant produce a garden can supply. Now, you can freeze the leftover squash and enjoy it later.
Freezing garden produce is a great way to cut down on your grocery budget throughout the year. For more tips on menu planning and budgeting, see my Menu Planning on a Budget Bundle.