With only 4 ingredients plus being super quick to make these GAPS Easy Chocolate Truffles are a win-win recipe to satisfy anyone's sweet tooth! Plus, they are also great if you follow the Paleo diet or just want a good-for-you real food healthy dessert!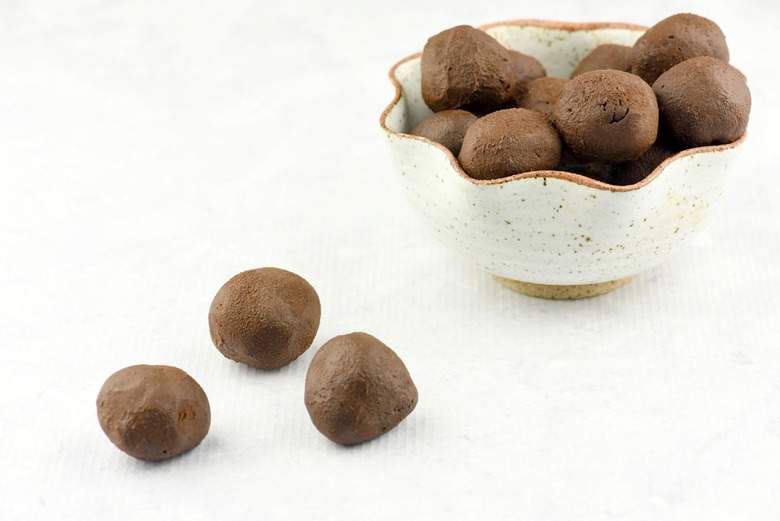 It is not often that I have a hankering for something sweet. But, when I do, these GAPS easy chocolate truffles hit the spot!
Using ingredients that I normally have on hand, being quick, easy and tasting great, they are my kind of recipe!
I am much more a salty foods person. Give me chips or cheese and crackers and I'm happy. That being said, there are times when nothing but something sweet will satisfy. Think - Coconut Oil Chocolate!
Since Chocolate Truffles are so quick to make, it is a great recipe to have for a last minute treat!
These GAPS Easy Chocolate Truffles only have 4 ingredients! You mix it all together in one bowl, chill and roll into balls.
Don't think that just because they are so easy that they cannot possibly taste good. Ohhh, contraire! They are delicious!
So, be quick about it, get up and go make some right now! You'll be glad you did. As a matter of fact, I think I'll go make a batch too (when I'm finished here) since I have eaten them all!
Easy GAPS Chocolate Truffles has cocoa, in them, is cocoa GAPS legal?
Dr Natasha Campbell-McBride states on gaps.me to answer the frequently asked question, "When can cocoa be introduced?":
"Cocoa is SCD illegal. However, I find that many people can start having it occasionally on the Full GAPS Diet, once the digestive symptoms are gone. Find pure organic cocoa powder. Mixing the powder with some honey and sour cream makes a delicious dessert, and you can add it to your homemade ice cream or cakes. After trying it for the first time, observe your patient for any reactions. Cocoa is very rich in magnesium and some essential amino acids and, unless your digestive system is not ready for it, there is no need to avoid it."
What if I eat Paleo, Keto, or Whole30 - are they allowed?
Cocoa is allowed on the Paleo, and Keto Diets. Whole30 allows it only if is 100% cocoa.
But, Easy Chocolate Truffles are sweetened with honey which is not allowed on the Keto or Whole30 diets.
So if you are on Whole30, you will have to wait - sorry! But, for Keto, I have a modification for you!
To Make these Keto Friendly:
To make these keto friendly - think of the popular "Fat Bombs" - instead of honey, you can add erythritol which is a keto friendly sweetener.
Because you are going from a liquid sweetener to a granulated sweetener, we need to adjust the liquids in the recipe.
So, remove the honey from the recipe and increase the liquid by adding 1 tablespoon - 2 tablespoon coconut cream and sweeten with erythritol. Start by using 4 tablespoon erythritol and adjust to taste. Continue with the recipe and add more liquid if necessary.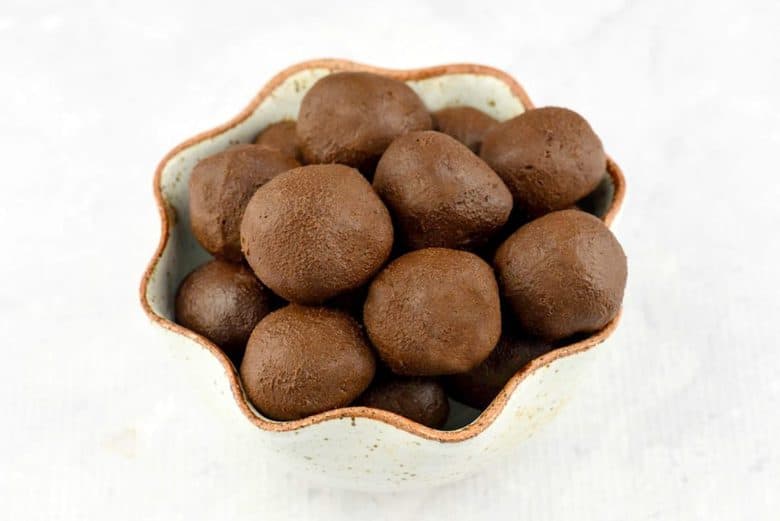 Top Tip For Making These GAPS Easy Chocolate Truffles:
Since Chocolate Truffles have coconut oil in them and coconut oil is liquid at room temperature (around 75°), be sure to refrigerate them until you are ready to serve.
Or, maybe we just keep our home warmer - we do heat with a wood stove which has caused me to open windows or walk outside in freezing weather because I am so hot! ;)
Any-who, these definitely rank high on my list for an anytime treat!
With their healthy ingredients, I love keeping them on hand for a quick treat and indulge at will! After all, what a great way to help get your daily dose of good-for-you coconut oil?
GAPS Easy Chocolate Truffles - Variations
Try adding orange zest into the mix
Roll the truffles in chopped nuts for added texture (such as hazelnuts)
Roll in matcha powder
Try adding liqueurs (if not making for kids) like bourbon or whisky.
If you've tried these GAPS EASY CHOCOLATE TRUFFLES or any other recipe on Cultured Palate please take a minute to rate the recipe and leave a comment letting me know how you liked it. I love hearing from you! You can also FOLLOW ME on PINTEREST, FACEBOOK, INSTAGRAM, YouTube and TWITTER.
📋 Recipe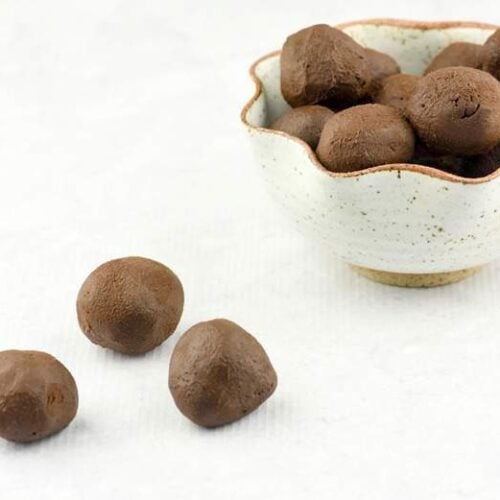 4 Ingredient Chocolate Truffles
Cultured Palate
These delicious chocolate bites are easy to make and actually good for you! So, stop depriving yourself and enjoy a real food treat!
Ingredients
1

cup

cocoa powder

¼

cup

melted coconut oil

¼ - ½

cup

honey

to taste

½

cup

coconut cream - the cream found at the top of the can of unsweetened coconut milk
Instructions
Mix all ingredients in a small mixing bowl. Use a fork and make sure to mix well.

Cover and place in the freezer for 15 minutes or until firm.

Using a teaspoon, scoop out a spoonful of the hardened chocolate and roll it in your hands - be gentle because it softens with the heat of your hands.

Roll into balls.

If desired, coat each truffle with cocoa powder or shredded coconut.

Place on a plate and cover.

I like to keep mine in the refrigerator for a quick treat!
Notes
Since Chocolate Truffles have coconut oil in them and coconut oil is liquid at room temperature which is around 75°F, be sure to refrigerate them until you are ready to serve.

Easy Chocolate Truffles - Variations

Try adding orange zest into the mix
Roll the truffles in chopped nuts for added texture (such as hazelnuts)
Roll in matcha powder
Try adding liqueurs (if not making for kids) like bourbon or whiskey
Nutrition
Calories:
59
kcal
Carbohydrates:
6
g
Protein:
2
g
Fat:
5
g
Saturated Fat:
4
g
Sodium:
2
mg
Potassium:
166
mg
Fiber:
3
g
Vitamin C:
0.2
mg
Calcium:
13
mg
Iron:
1.5
mg