Chocolate Coconut Candy is a great "no-bake" way to add coconut oil to your diet! With the spicy option, you can make it to put a little zing in your step. It's a delicious way to enjoy the great taste of chocolate made from coconut oil while still being healthy. Plus, this chocolate coconut recipe is GAPS diet legal, Paleo and has no refined sugar.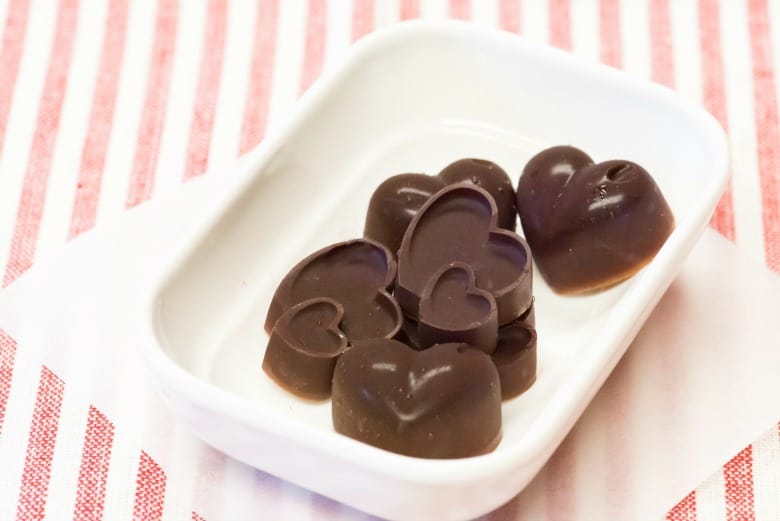 I have been adding coconut oil before each meal - I try to remember before each meal but often forget except at breakfast!
I started taking coconut oil to increase my metabolism and help balance hormones. There's lots of ways to consume coconut oil, but honestly, I had some trouble. I don't use it for oil pulling, though a lot of my friends do.
But, since finding that I can make Chocolate Coconut Candy and also coconut coffee, I don't seem to have that problem anymore!
Plus, there's more and more evidence emerging that eating chocolate in moderation can actually boost people's health.
Chocolate Coconut Candy Makes Great Gifts!
A friend gave me a wonderful homemade gift - coconut chocolate made with coconut oil. She had used a candy mold and they were so cute. Not only did they look good, they were delicious!
And, the surprise was, there was a hint of spiciness to it! And, no, I did not share them with the children! ;)
Savoring them, I left them on the counter in the jar wrapped with a ribbon, just as they were given to me - it just made me feel special to look at them.
What I forgot though, was that coconut oil turns to liquid at around 75F.
Guess what? The next day, I went to get a treat and they were all melted!
Yes, it was a let down but it was short lived - it still tasted great. Only, now I ate it with a spoon!
I guess I should have shared! ;)
If using Chocolate Coconut Candy as a gift, don't forget gift tags: Inspirational Printable Gift Tags, All Occasion Printable Gift Tags, Free Christmas Gift Tags to Color.
Health Benefits of Coconut Oil:
Did I mention Chocolate Coconut Candy is Healthy?
Coconut oil is a very healthy oil that and is made from the fatty part of the coconut!
Here are a few of the health benefits of coconut: (Sources:1, 2, 3)
improves the body's immune system and helps fight off viruses and bacteria
helps stabilize blood sugar
it helps stabilize hormone levels
thyroid levels are boosted to increase metabolism, energy, and stamina
improves digestion and helps absorb fat-soluble vitamins
decreases cholesterol levels. Coconut oil has a saturated fat called lauric acid which has been shown to increases the good HDL cholesterol in the blood to help improve cholesterol ratio levels.
If you are looking for a dependable source of coconut oil check out my affiliate partner - click here.
Tips for Using Coconut Oil in Candy
Coconut oil is different from other oils in that is gets hard when the temps get cool. By cool I mean 75F and lower. Normally, coconut oil is liquid in temps above 75F and hardens below 75F.
What does that mean for your candy?
Speaking from experience, keep these candies refrigerated if your home is warm. Otherwise, they will become a gooey, delicious puddle of goodness!
If that happens, don't worry, just eat it with a spoon ;)
What if My Coconut Oil is Hard?
Since coconut oil becomes solid in temperatures below about 75F, all you need to do is melt it. This can be done in the microwave starting with one minute and then 30 second intervals until the coconut oil is liquid.
What Can I Use Instead of Candy Molds?
I love making the cute shapes that can be made using silicone molds but you can make them without molds.
Don't have any candy molds?
Don't worry, you can still make wonderful no-bake chocolate candy!
Simply line a baking dish with parchment paper and pour the chocolate into it. Refrigerate or place in freezer until hardened, then break (or cut) into pieces.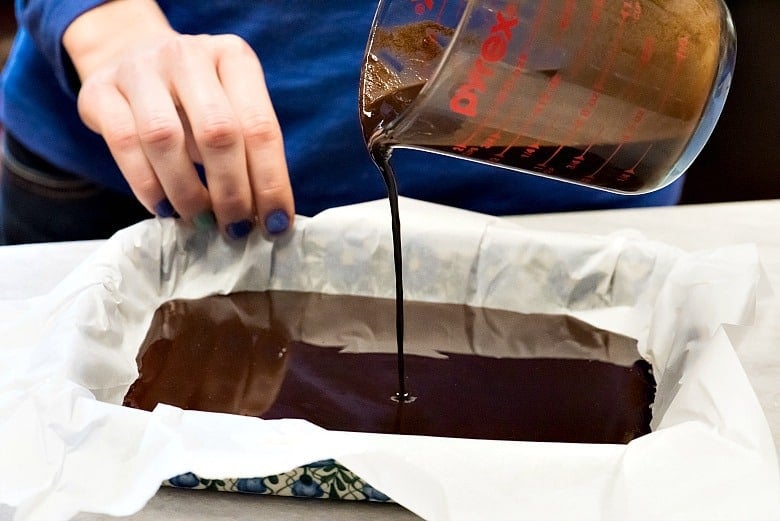 Chocolate Coconut Candy Step by Step
Mix the coconut oil, honey and vanilla together. Photo 1
Add remaining ingredients. Photo 2
Beat until light and fluffy. Photo 3
Pour into molds (I use these silicone molds) or parchment lined baking dish. Photo 4
Refrigerate (or place in freezer) until firm.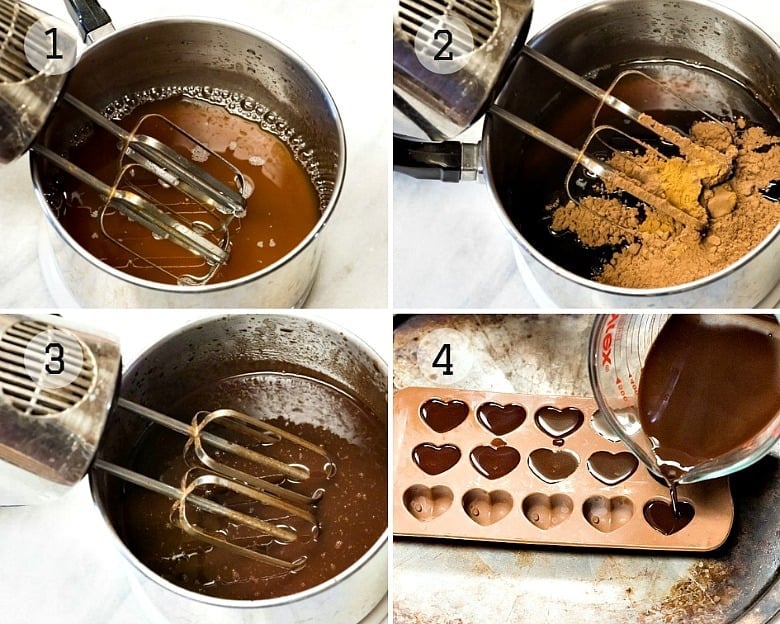 Tweak Spiciness to Your Taste
I confess I am a wimp when it comes to hot spicy foods. It is a shame really, because my husband loves hot foods, in fact, the hotter the better for him.
But these chocolates had just a hint of spice, not too much, just a slight zing.
Feel free to have fun and play with the spice levels of this chocolate. It's fairly easy to tweak by the batch. Or you can make a few smaller batches and test out the different levels of spice.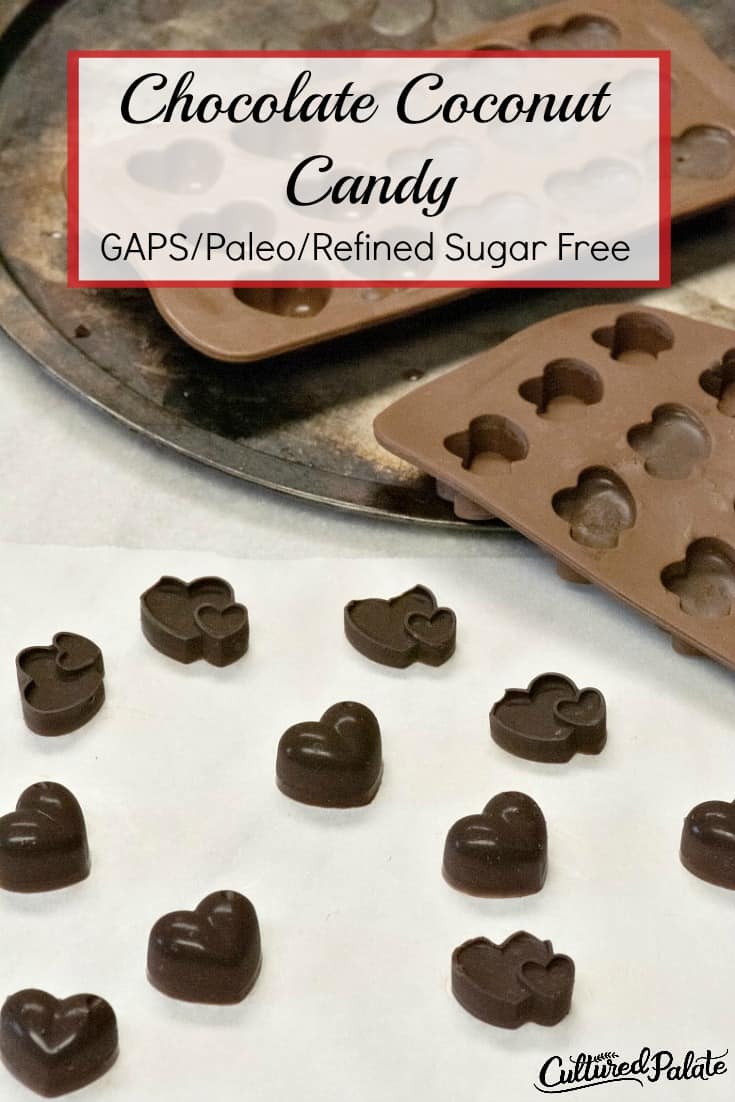 Now that we have a reason to indulge in such a delicious treat for our health's sake, on to the coconut oil chocolate recipe!
If you've tried these
Chocolate Coconut Candy
or any other recipe on Cultured Palate please take a minute to rate the recipe and leave a comment letting me know how you liked it. I love hearing from you! You can also
FOLLOW ME
on
PINTEREST
,
FACEBOOK
,
INSTAGRAM
,
YouTube
and
TWITTER
.
📋 Recipe
Chocolate Coconut Candy with Spicy Option
Cultured Palate
Making your own candy? Why not! You control the ingredients and level of spice. This is a great way to get good-for-you-fats, and there is no baking involved!
Ingredients
2

cups

coconut oil

at room temperature

4

tablespoons

raw honey

2

teaspoons

vanilla

½

teaspoon

sea salt

½

teaspoon

cinnamon

1

cup

cocoa powder

3

pinches

cayenne pepper - optional

use if spicy treats are desired.
Instructions
Mix the coconut oil, honey and vanilla together.

Blend in the remaining ingredients - sea salt. cinnamon, cocoa powder and cayenne if making the spicy option.

Blend until light and fluffy.

Pour into candy mold or parchment lined baking dish.

Refrigerate until firm.

Store in the refrigerator to prevent melting.

Enjoy!
Notes
Don't have molds? Line a baking dish with parchment paper, pour chocolate into it, refrigerate or place in freezer until hardened. Break or cut into pieces.
Nutrition
Calories:
53
kcal
Carbohydrates:
7
g
Protein:
1
g
Fat:
3
g
Saturated Fat:
2
g
Sodium:
74
mg
Potassium:
88
mg
Fiber:
1
g
Sugar:
4
g
Vitamin A:
80
IU
Vitamin C:
0.2
mg
Calcium:
7
mg
Iron:
0.8
mg
Here are other coconut recipes you will enjoy:
Pin It!