Baked Potatoes in Crock Pot are another one of those easy crockpot meals that require just a few toppings and dinner is served! Plus, they are the closest to a steak house baked potato I have ever made!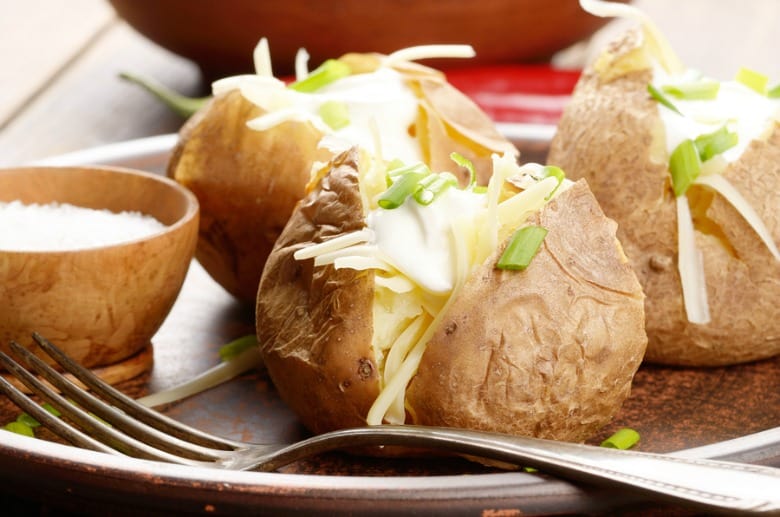 One meal that our family enjoys is baked potatoes with all the toppings. Delicious and easy, right? Well, not always...
Normally, I bake potatoes in the oven and it takes about an hour. That is not too long, but in the summer, the oven does put out a lot of heat.
The bottom line is that during hot weather, I don't want to heat up the kitchen if I don't have too!
Maybe you can tell by the recipes I have shared lately, I have really been using my crock pot. More specifically, I use my roaster.
With 5 growing boys and their farm boy appetites, my 6-quart crock pot (affiliate link) is just not large enough anymore, but my 22 qt roaster is!
So, having just bought a case of potatoes, I wanted baked potatoes and I had what I thought was a brilliant idea - I would try them in the crockpot.

Turns out, this was not as ingenious as I thought - I found several articles about crockpot baked potatoes after I did it.
Some of the recipes crinkled up aluminum foil in the bottom to rest the potatoes on and others oiled and salted the potatoes before wrapping them individually in aluminum foil.
Baked Potatoes in Crock Pot Are So Delicious!
Why then, if other recipes are out there, would I post about it?
Because, I want you to know that not only do baked potatoes cooked in the crock pot work, they are super easy and taste great - without crinkled foil or other seasonings!
Don't get me wrong: I love seasonings on my baked potato. But I felt like we could do better.
Potatoes are delicious on their own and there's no need to complete lots of complicated steps to get them to taste delicious.
So although I will absolutely eat a potato with salt and pepper (and maybe a little onion powder), I thought it best to start from the most natural taste and work our way to the spiced recipes from there.
In fact, this is probably the closest thing to a steak house baked potato that I have ever made!
Besides, there is just something about preparing the ingredients, turning on the crockpot and coming back in a few hours and having your meal ready - it's magic!
Toppings To Put On Your Baked Potato
Once the crock pot has worked its magic, don't forget the toppings - loaded baked potatoes are a meal in themselves! Our standards are:
creamy butter
sour cream
onions
In the winter we like somewhat heavier toppings like:
sautéed onions with barbecue sauce
veggies like broccoli - plain or with cheese sauce!
mushrooms
bacon
Let's just say that the options are endless when it comes to making a loaded baked potato!
If you want an even easier meal setup, why not try a baked potato bar? I love this option for making up a meal for my family.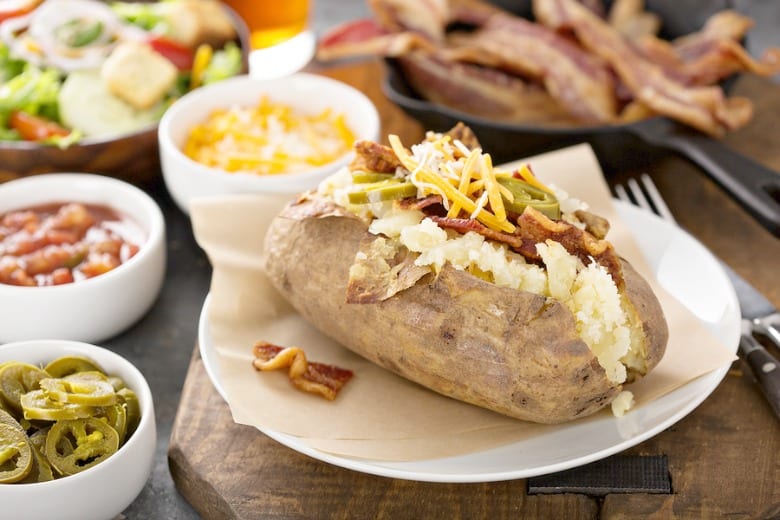 Again, this all goes back to striving for a natural taste first and then building upon it.
I'm sure potatoes baked with spice inside from the get-go taste delicious! But, they're not what I'm looking for.
I want a potato that I and anyone else in my family can put anything they want inside. But still savory and full-bodied!
The preparation for crock pot baked potatoes is very similar to oven baked potatoes.
And, you could do it all the night before so, in the morning, all you have to do is plug in the crock pot.
How To Make Crock Pot Baked Potatoes
First, wash the potatoes. I did not even poke holes with a fork or rub them with olive oil! I just wrapped each potato in aluminum foil, placed them in the crockpot (roaster) with about an inch of water in the bottom, and cooked them on low for 8 hours.
That's all! You can't get much easier that that!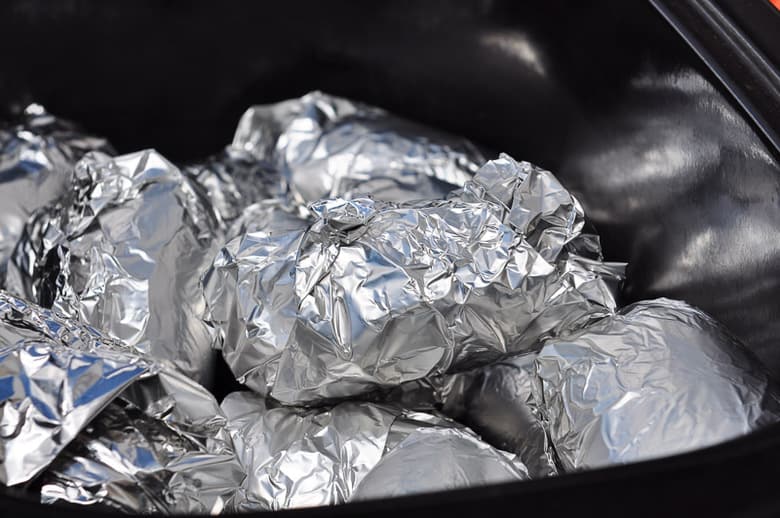 Nutritional Value of Potatoes - Crock Pot Baked Potatoes Recipe
Potatoes, when eaten with the skins, are:
rich in fiber (when eaten with the skin), contain very little fat and no cholesterol. The fiber content aids in the slow digestion of the starch and absorption of simple sugars in the gut. This helps keeps blood sugar levels within the normal range and avoid wide fluctuations.
rich in potassium - potaotes contain more than a banana! Potassium is a mineral that helps regulate fluid and mineral balance within cells, this means it helps regulate blood pressure.
a good source of vitamin C which is an antioxidant, helps with iron absorption and among other things supports your body's immune system.
a good source of vitamin B6 which aids in carbohydrate and protein metabolism, helps the body make amino acids and is part of the red blood cells.
a good source of other minerals, such as, manganese, magnesium, phosphorous, copper and potassium.
suggested by plant genetics scientist Roy Navarre in a recent study at Agricultural Research Service to help fight cancer and to be heart protective because of a flavonoid antioxidant, quercetin, contained in potatoes.
Notice how I wrote "with the skins" in bold type.
This is partly out of frustration because I frankly cannot understand why so few dishes feature potatoes with the skins on.
Do they not know how much nutrition they're leaving behind when they do that?? It boggles my mind.
The skins of a potato guard all the goodness inside, yes. But it's not completely useless like, say, the skin of a kiwi fruit.
There's no conventional seed structure in a potato. All bets are off, so feel free to eat the skin!
Other crockpot recipes you can try: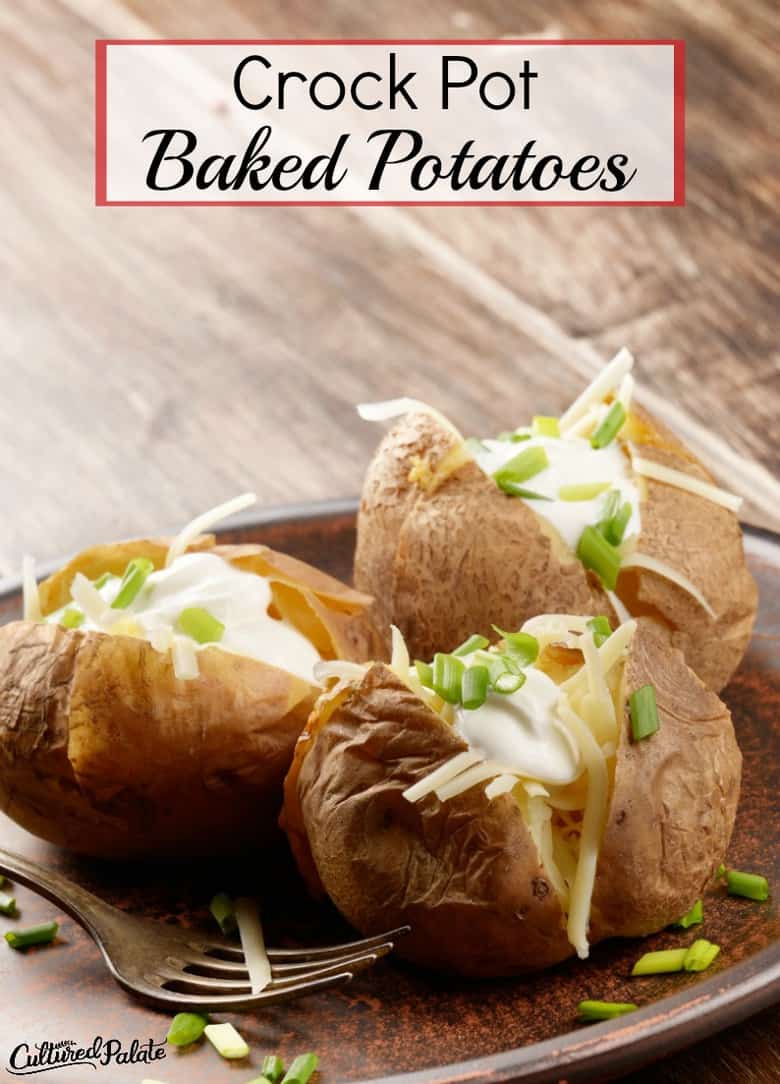 If you've tried these crock pot baked potatoes or any other recipe on Cultured Palate please take a minute to rate the recipe and leave a comment letting me know how you liked it. I love hearing from you! You can also FOLLOW ME on PINTEREST, FACEBOOK, INSTAGRAM, YouTube and TWITTER.
📋 Recipe
Baked Potatoes in Crock Pot
Cultured Palate
I love "baking" potatoes in the slow cooker because it's totally hands off and assures they are fully cooked.
Ingredients
baking potatoes

olive oil

optional
Instructions
Wash the potatoes and cut out any bad spots.

Rub the potatoes with olive oil if desired.

Wrap each potato in aluminum foil.

Add 1 inch of water to the bottom of the crock pot

Place wrapped potatoes in the crock pot in the water

Cook on low for 6 - 8 hours - fork should insert easily.
Notes
About 4 lbs of potatoes will fit into a 6 qt crock pot. I cook 10 lbs of potatoes in the roaster and could probably do 20 lbs.
Nutrition
Calories:
168
kcal
Carbohydrates:
38
g
Protein:
4
g
Sodium:
10
mg
Potassium:
888
mg
Fiber:
2
g
Sugar:
1
g
Vitamin C:
12.1
mg
Calcium:
28
mg
Iron:
1.8
mg
What Toppings Do You Like on Your Baked Potatoes?
Pin It!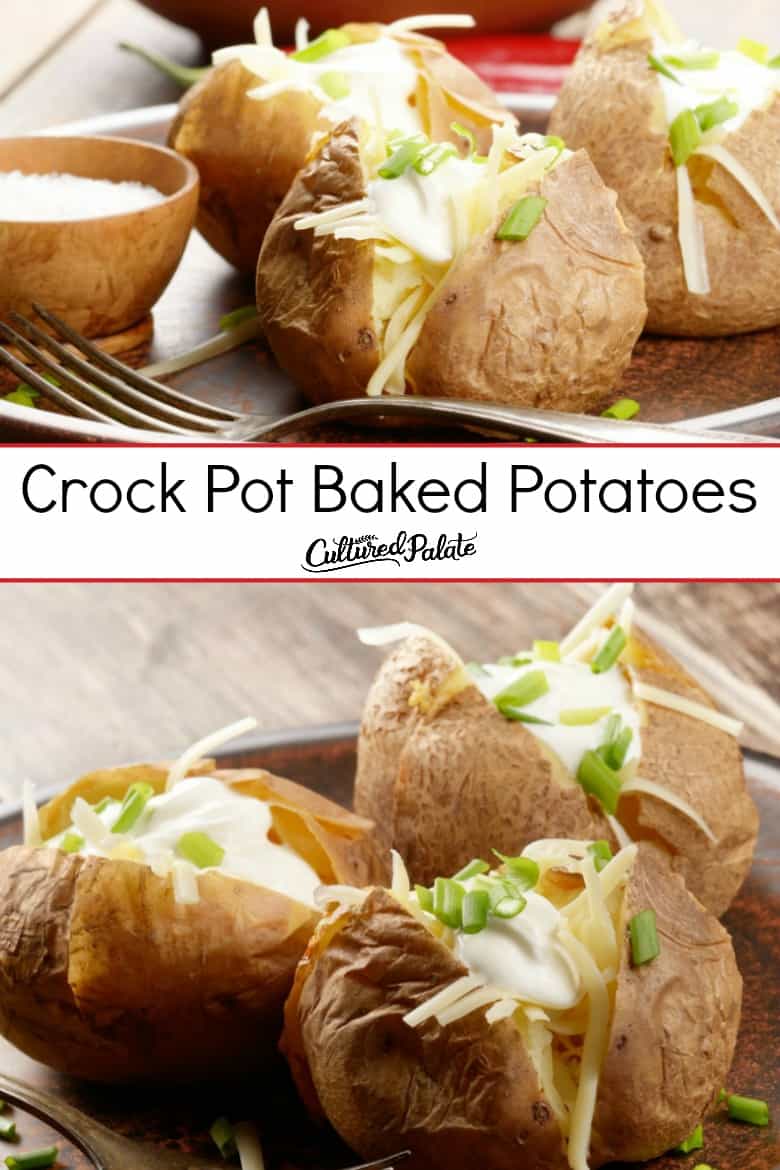 Sources: Nutrition and You