Our family normally only has Italian Stuffed Bell Peppers in the summertime when our garden is producing, and then, only the green bell peppers.
Key word, "normally".
Well, I have been thinking about our garden and what to plant. I always plant the same thing so, there is not really much to think about except getting the seeds – which I normally order! But, it is taking the time to stop and do it! Do you ever have that problem? Please tell me it is not just me!
Anyway, that little bit of thinking gave me a hankering for fresh produce and summer meals.
You may be wondering where I am going with this.
For some reason, I feel the need to justify buying bell peppers.
Why? I don't know. It is not like they are that expensive!
I think just maybe, it is because I know how easy they are to grow! So, I feel bad buying them when I could be growing them. Silly, right?
Yeah, I know – I should just stop and get my seeds ordered!
We had a taste of spring with temperatures in the mid 70's – that is shorts wearing weather for us, especially while pruning the vineyard! That weather got everyone wishing for spring! During those few warm days, while I was shopping, what should I see but beautiful brightly colored bell peppers.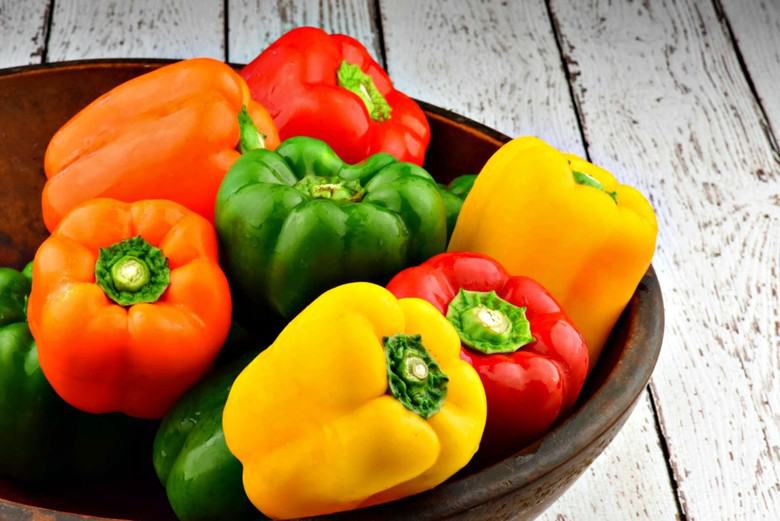 I had never made Italian Stuffed Bell Peppers with anything other than green bell peppers until now. Boy, we are all spoiled – they were delicious. Oh, the green ones are good but, the yellow, orange and red have a sweetness that is out of this world when mingled with the flavors of the stuffing!
One nice advantage to stuffed peppers is that they can be assembled and even cooked ahead – just reheat! You can even assemble them the night before, refrigerate overnight and cook them in the crock pot the next day – nothing like having dinner waiting on you!
For a few brief days, we had spring-like weather. One day everyone was pruning the vineyard in shorts; the next day everyone was bundled up in coats, gloves and hats again. Crazy weather, but maybe it will help motivate me to order my garden seeds!
I buy all my herbs, spices and real salt from Wilderness Family Naturals because they are organic, natural and excellent quality.
Italian Stuffed Bell Peppers
This may be a different flavor profile than you are used to for stuffed peppers, but I guarantee you'll like it.
Ingredients
6

bell peppers

1

lb

ground beef or sausage

2

c.

water

1

c.

rice

1

onion

chopped

2 to

matoes

chopped

1 1/2

c.

cheddar cheese

1 1/2

c.

tomato sauce

1 1/2

Tbsp

oregano

1 1/2

Tbsp

basil

1

tsp

cilantro

1/2

tsp

garlic

1

tsp

salt

1/2

tsp

pepper

butter or olive oil
Instructions
Preheat oven to 375 F.

In a small pot, bring water to a boil and add rice - cook until tender.

Cut the tops off the bell peppers and remove the seeds. I use the tops diced in salads or you may saute them with the onions.

While the rice is cooking, in another boiler, saute the onions in butter or olive oil until translucent.

Add the ground beef to the onions and brown.

Add the remaining ingredients including the cooked rice to the ground beef mixture and stir well.

Place the bell peppers in a baking dish and fill with the stuffing mixture.

Add 3/4 inch of water to the bottom of the baking dish.

Place in preheated oven and cook for 45 minutes - the peppers should be tender but not limp.

Enjoy!
Recipe Notes
Crock Pot Method: Follow the above instructions for stuffing the bell peppers. Place in the crock pot and add 3/4 inch water to the bottom of the crock pot. Cook on low for 6 hours or high for 4 hours.
Nutrition Facts
Italian Stuffed Bell Peppers
Amount Per Serving
Calories 636
Calories from Fat 315
% Daily Value*
Total Fat 35g 54%
Cholesterol 115mg 38%
Sodium 1127mg 47%
Potassium 796mg 23%
Total Carbohydrates 45g 15%
Protein 32g 64%
* Percent Daily Values are based on a 2000 calorie diet.
Join the newsletter
Join and get my Top 10 GAPS RECIPES FREE!