Keto Butterscotch Bars combine the delicious taste of chocolate and butterscotch in a delectable treat. It is hard to believe that this is actually one of the healthy sweets recipes that fits the keto diet!

Keto is the diet that is on everyone's lips now-a-days and it is all about good fats, low carbs and no refined sugar.
To put yourself into "ketosis", you eat very few carbs so your body switches its energy source from carbs to fats. That is why fat intake is so important if you are on the keto diet.
There are quite a few sweets and/or sweeteners that are Keto approved and some that most Keto Gurus will urge you to try.
I have linked to my affiliate partner and if you purchase through these links, it will not cost you any more and I will make a small commission.
Some natural sweeteners include:
Monk Fruit Sweetener

(

which we use in this recipe

)

Stevia (

which is naturally derived from the Stevia plant

)

Erythritol (

which is a sugar alcohol used as a low calorie sweetener

)

Yacon Syrup

(

Yacon syrup is a syrup substitute made from the roots of the Yacon plant!

)
Sweeteners
Sweeteners that have carbs and increase the blood sugar levels are a no-no on the keto diet. Here are a few that you should avoid because they contain carbs:
Coconut Sugar

Honey

Palm Sugar

Maple Syrup

Maltitol is often used in sugar-free products but is a carbohydrate and has an effect on blood sugar levels.

Splenda (besides being a questionable chemical sweetener, it

contains dextrose and maltodextrin

)

Agave Syrup
Ingredients
Many may be able to find the ingredients at local stores but for those of you who are unsure, here are the ingredients that I use: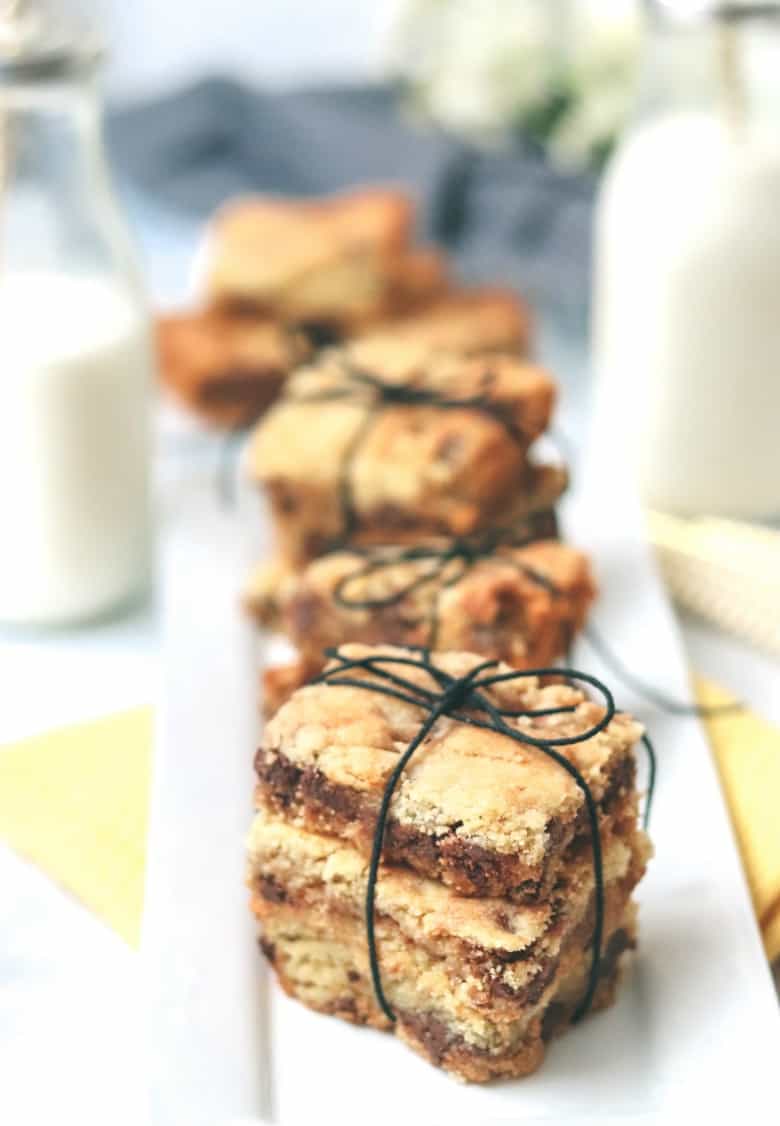 Fats
Because good fats are such an important part of the keto diet, here is a list of healthy fats that can be used in this recipe and other diets.
Sesame Oil - Heart-healthy, all-natural and packed with a healthy dosage of essential fatty acids, sesame oil is a seed oil with a rich, smooth flavor, and a nutty aroma.
Butter or Ghee - Butter is my top pic for these bars.

Avocado Oil

Coconut Oil

Olive Oil - Extra Virgin olive oil has a stronger flavor than virgin olive oil.

Hazelnut Oil

Walnut Oil
Top Tips
Here are my top tips for making these delicious, healthy bars:
Don't skimp on the fat - Remember, you are getting your energy from fats!

Use blanched almond flour rather than almond meal for a smoother textured baked good.

Use a combination of unsweetened baking chocolate and cocoa powder.

Mix the batter well, but not too much.

Don't over bake the keto bars.

Don't pour off any excess butter.

Let keto chocolate bars cool to set.
If you've tried these Keto Butterscotch Bars or any other recipe on Cultured Palate please take a minute to rate the recipe and leave a comment letting me know how you liked it. I love hearing from you! You can also FOLLOW ME on PINTEREST, FACEBOOK, and YouTube .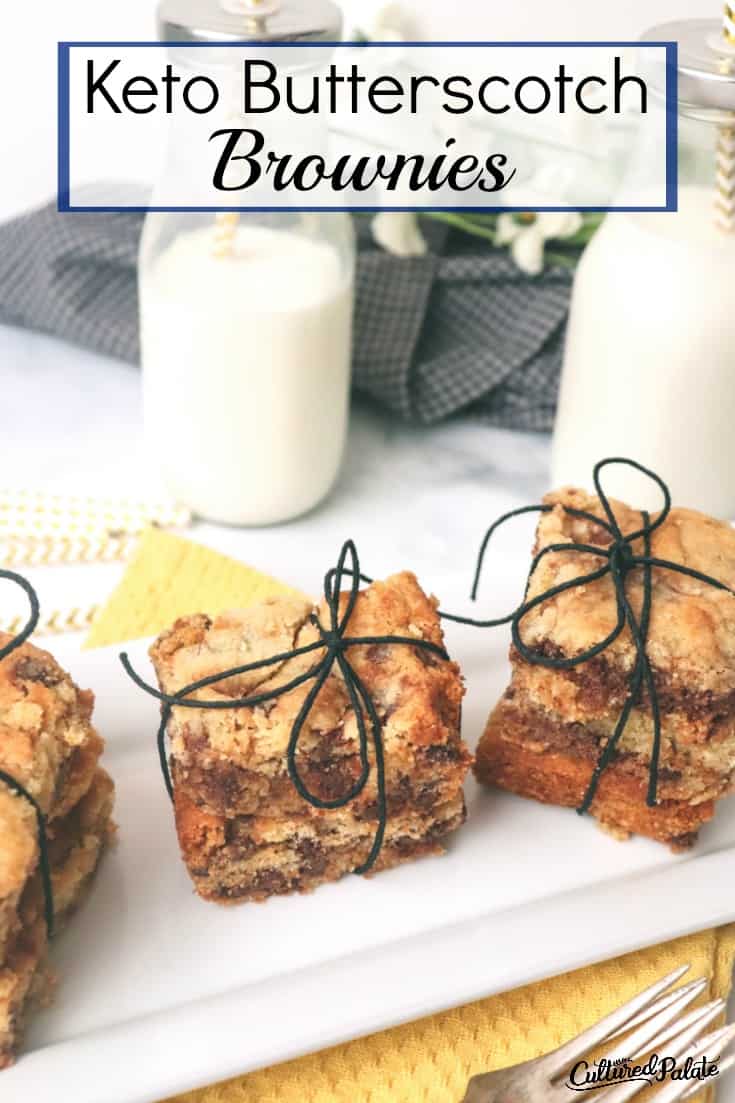 📋 Recipe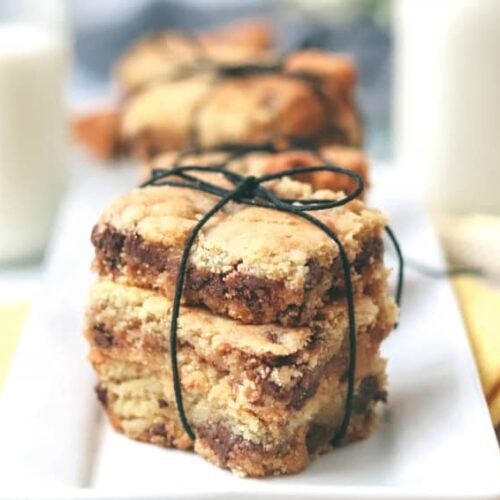 Keto Butterscotch Bars
Keto Butterscotch Bars combine the delicious taste of chocolate and butterscotch in a delectable treat.
Ingredients
½

cups

butter

2

cups

almond flour

kirkland brand

½

cups

Monkfruit sweetener

Swerve or other keto approved sweetener may be used

2

teaspoon

molasses

1

teaspoon

baking powder

¼

teaspoon

salt

1

egg

½

teaspoon

butterscotch extract

½

cups

sugar free chocolate chips
Instructions
Melt butter in a small bowl in microwave or on stovetop and allow it to cook for 4 - 5 mins until it is a light brown. Remove from heat and allow to cool.

Preheat oven to 325F and prepare a 9x9 inch square pan with nonstick cooking spray.

Whisk together the almond flour, monkfruit, molasses, baking powder, and salt.

Stir in the egg, browned butter and butterscotch extract until well combined.

Stir in chocolate chips.

Press dough evenly into prepared ban and bake 15 to 20 minutes, until just set and golden brown.

Allow to cool completely before cutting into bars.
Notes
Allow to cool completely before cutting into bars.
Swerve or other keto approved sweetener may be used.
Nutrition
Calories:
174
kcal
Carbohydrates:
1
g
Protein:
3
g
Fat:
15
g
Saturated Fat:
5
g
Cholesterol:
25
mg
Sodium:
91
mg
Potassium:
42
mg
Fiber:
1.5
g
Sugar:
1
g
Vitamin A:
192
IU
Calcium:
16
mg
Iron:
1
mg
Is Baking Cocoa Keto Friendly?
You are good to go, as long as it is unsweetened.
Make sure you aren't dumping a pack of sweetened cocoa in there and thinking its all good, its keto! It doesn't quite work like that.
However, feel free to go CRAZY with the unsweetened cocoa and make yourself COO-COO for cocoa!
Can I Eat Chocolate On The Keto Diet?
Surprisingly, chocolate can be part of a ketogenic diet.
However, it's important to choose dark chocolate that contains a minimum of 70% cocoa solids and preferably more.
One ounce (28 grams) of unsweetened chocolate (100% cocoa) has 3 grams of net carbs.
What is Your Favorite Thing About Keto Butterscotch Bars?
Leave a comment, I would love to know! Mine is the delicious taste of butterscotch!