Prune recipes are not easy to find! And, while Prune Plum Ketchup is an old fashioned condiment, its sweet and tart flavor is a delicious compliment to pork! Plus, this prune plum ketchup recipe is GAPS diet legal, paleo approved and a delicious real food recipe.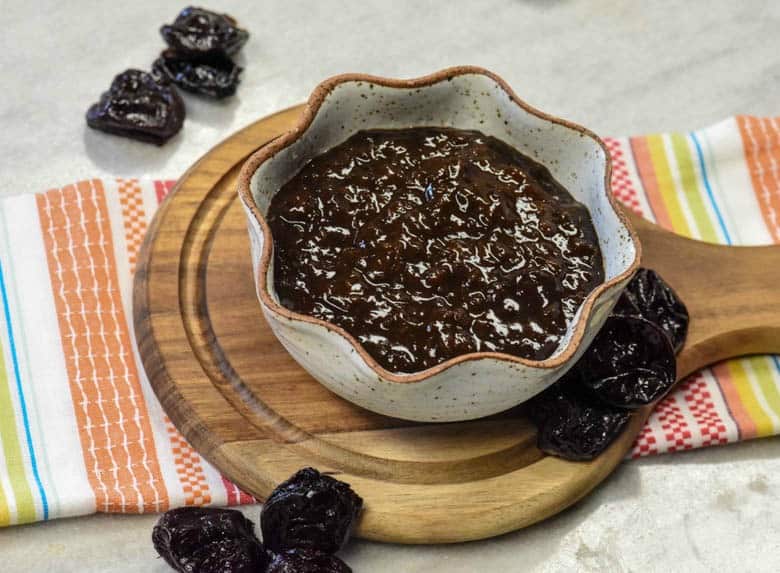 Prune Recipes are Hard to Find
I first heard about the benefits of prunes from my sister and that prompted me to dig deeper. After discovering just how good prunes are for you, I decided we, as a family, need to eat more of them!
But, how many ways are there to eat prunes? Besides, just right out of the bag - which is a great way to eat them.
Not many, so, I went searching for prune recipes.
That is how I found a Prune Plum Ketchup recipe. I had never heard of it until I was looking through a cookbook belonging to my mother which is now out of print (used copies are available from my affiliate partner), America Cooks.
Benefits of Using Prune Plum Ketchup
You might wonder how I came across a recipe for Prune Plum Ketchup. Well, I was specifically looking for prune recipes! Here are just a few of the benefits of adding prunes and prune recipes to your diet:
1. High in Antioxidants. It might come as a shock to you - I know it was for me, but prunes are high in antioxidants.
According to a study done at Tufts University in Boston, prunes had twice the amount of antioxidants than blueberries and raisins! 
This means that consumption of prunes may help slow the aging process of the body and the brain and even help prevent Alzheimer's!
2. They are high in potassium which is necessary for heart function, muscle contraction and normal blood pressure.
3. Aid digestion - they contain fiber which helps prevent constipation
4. Prunes contain other vitamins including vitamin K, A, B6 and riboflavin.
5. Good source of iron. A ½ cup serving has 0.81 mg of iron.
Are Prunes Good for Constipation?
Yes, this is probably the most widely known benefit of prunes.  Whether fresh plums, dried prunes or prune juice - the affect is the same.
Both fresh and dry plums are known as a natural laxative, mainly due to the fiber they contain. But also responsible for the laxative affect are the natural chemicals sorbitol and isatin.
What are Prunes?
Prunes are basically just dried plums. And while plums are high in antioxidants also, there is something about the drying process that concentrates the levels of the antioxidants.
How I Use Prune Plum Ketchup
After making Prune Plum Ketchup, I tried it as the sauce for barbecue chicken and it was good, but the sweet and tart flavor of it called for pork.
I love using Prune Plum Ketchup as a marinade for pork. It is super easy and I give the instructions in the recipe below.
It is very easy - put the pork (or any meat) in a dish or bag and coat with the prune plum ketchup. If time allows, refrigerate it overnight or for 24 hours. Place the pork in a baking dish and bake as desired.
I used boneless back ribs simply because that is what I had but any pork would do.
What Cut of Pork is Prune Plum Ketchup Good to Use With?
I buy any meat that we do not raise ourselves when it is on sale and freeze it for future use. So, use what you have but some popular cuts are:
pork loin
pork chops
tenderloin
ribs
ham
sausage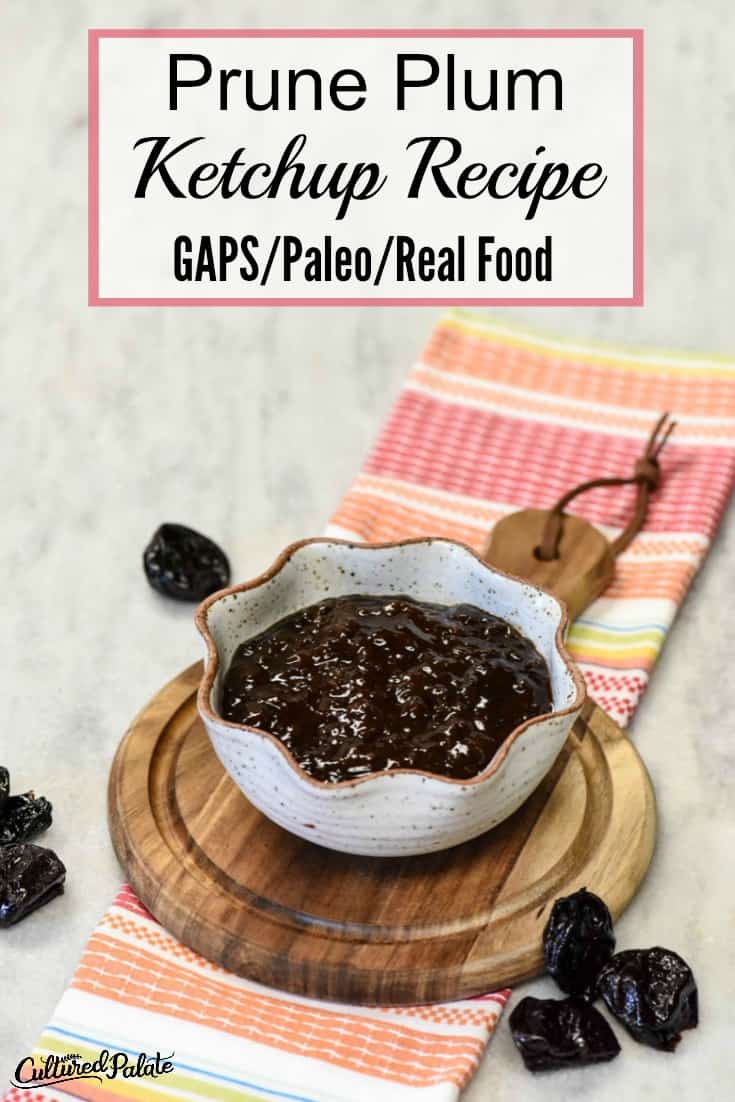 Other Ways To Use Homemade Prune Plum Ketchup
Use as a marinade for any meat
Use as a condiment to dip chips or veggies into
Try on sandwiches with leftover roast meats
Pour over cream cheese and serve with crackers
If you've tried this recipe for Prune Plum Ketchup recipe or any other way, please take a minute to rate the recipe and leave a comment letting me know how you liked it. I love hearing from you! You can also FOLLOW ME on PINTEREST, FACEBOOK, INSTAGRAM, YouTube and TWITTER.
📋 Recipe
Prune Plum Ketchup
Cultured Palate
Prunes make a delicious sweet and tangy condiment for pork, as well as, other meats and even as a dip.
Ingredients
3

lbs

pork - I used boneless back ribs but other cuts work well - pork loin
For the Prune Plum Ketchup
1

lb

dried prunes

½

cups

water

1

medium onion

chopped

1

green pepper

1

cups

vinegar

2

cups

raw sugar or sucanat

OR 1 ½ c. honey

½

teaspoon

cinnamon

½

teaspoon

ground cloves

⅛

teaspoon

black pepper

¾

teaspoon

salt
Instructions
Prune Plum Ketchup
If the prunes are not pitted, pit them. Chop the prunes finely, place prunes in a bowl and mix with the water.

In a boiler, combine the onion, green pepper and vinegar - bring to a boil. Cook over medium heat for 20 minutes.

Stir the prunes with water and remaining ingredients into the onion, pepper and vinegar mixture.

Cook over low heat stirring until the sugar is dissolved. Continue cooking over medium-low heat for 45 minutes or until thickened.

Store in refrigerator once cooled.
Prune Plum Ketchup with Pork (or other meats)
Marinate pork in Prune Plum Ketchup for 12 - 24 hours.

Preheat oven to 325 F.

Place pork in baking dish and pour marinade over the pork.

Cover and bake for 1 hour or until done.

Serve and enjoy!
Notes
If you will be using the Prune Plum Ketchup later, pour into hot sterilized jars and seal. Otherwise, allow to cool and refrigerate until ready to use.
Other Ways To Use Homemade Prune Plum Ketchup
Use as a marinade for any meat
Use as a condiment to dip chips or veggies into
Try on sandwiches with leftover roast meats
Pour over cream cheese and serve with crackers
Nutrition
Calories:
305
kcal
Carbohydrates:
48
g
Protein:
19
g
Fat:
3
g
Saturated Fat:
1
g
Cholesterol:
53
mg
Sodium:
153
mg
Potassium:
557
mg
Fiber:
2
g
Sugar:
40
g
Vitamin A:
250
IU
Vitamin C:
6.7
mg
Calcium:
24
mg
Iron:
0.9
mg
Have you tried Prune Plum Ketchup? Is so, how did you use it?
Other pork recipes you might enjoy:
Chinese Sweet and Sour Pork
Other Condiment Recipes to Try:
Pin It!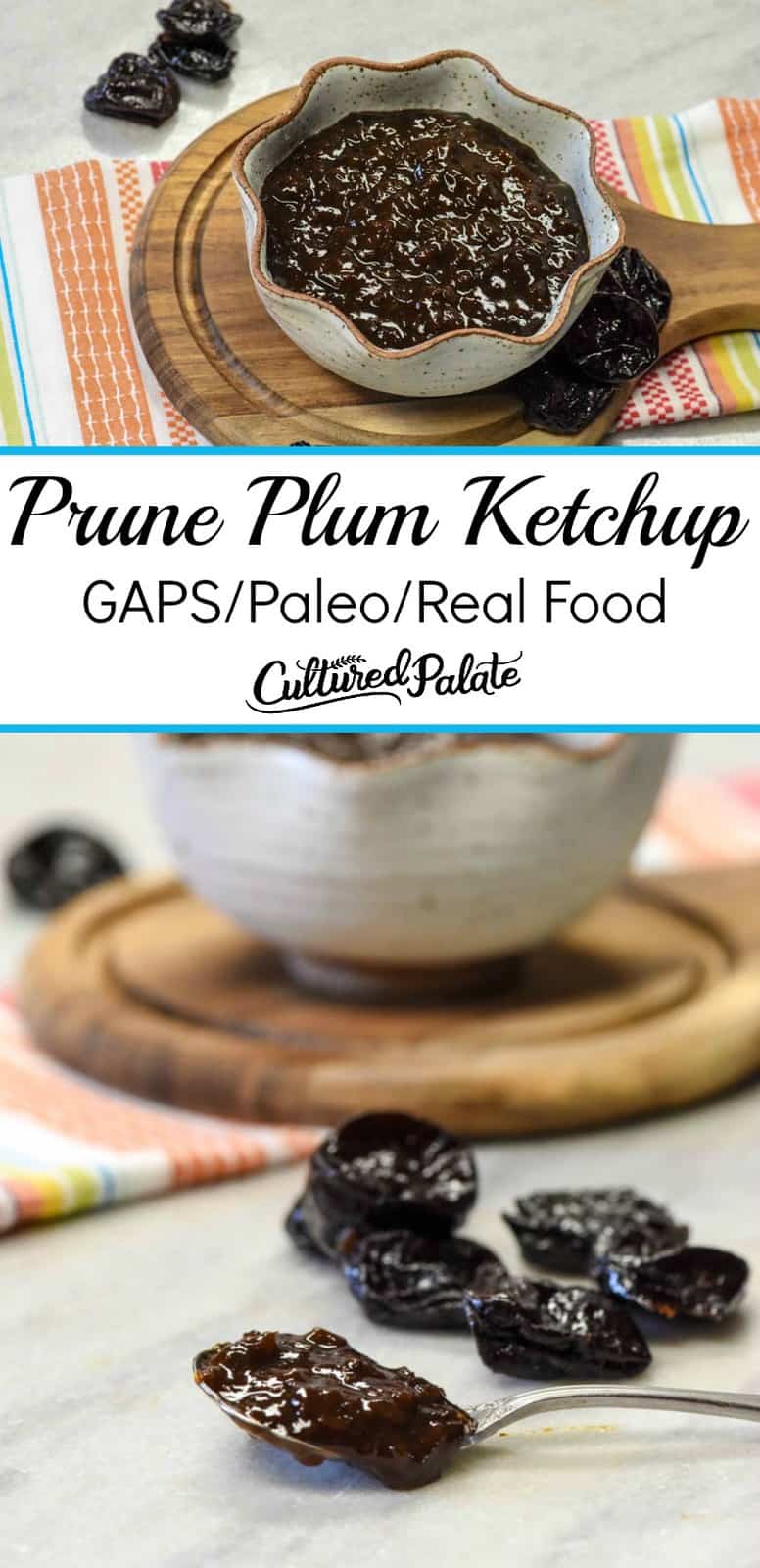 Sources: NCBI, Pharmaceutical Online, Healthline,