This Pumpkin Pie Pudding recipe will make you wonder why you saved pumpkin for the holidays! Pumpkin is nutrient dense and full of antioxidants plus delicious.
Who says pumpkin pie is just for the holidays? I used to! But, not since making Pumpkin Pie Pudding!
It all started when I was cleaning out my pantry. If you are like me, it seems there are always items (usually canned foods) that are lost behind everything else. This time, it was canned pumpkin that I bought on sale after the holidays - last year or maybe the year before, who knows!
The canned pumpkin smelled fine and tasted good so I had to find a use for it. Pumpkin Pie was the first recipe that came to mind. But, with the heat of summer, I was not in the mood to make pie crust - period.
Then I had a thought - the filling to pumpkin pie is so delicious, why not make it with modifications into a pudding! And then, my real creativity kicked in - I could cook it in the crock pot and not heat the kitchen up at all!
I love my  6 quart  crock pot and it was the perfect size. The results were delicious AND I used up my canned pumpkin!
Nutritional Benefits of Pumpkin
As if the taste of pumpkin pie pudding, pumpkin pie, cooked pumpkin, or other recipes using pumpkin is not enough to convince you to include pumpkin in your diet, there are serious nutritional benefits to consider!
Some health benefits of pumpkin:
high in the antioxidants leutin, xanthin, carotene
loaded with vitamin A, B, C and E
contains beta carotene which the body converts into a form of vitamin A which is important for eyesight
also contains another eye-healthy antioxidant, zea-xanthin, which has UV (ultra-violet) rays filtering actions in the macula lutea in retina of the eyes - it helps protect from "age-related macular disease" (ARMD) in the elderly
contains no saturated fats or cholesterol
high in fiber - 3 gram per 1 cup serving means it will keep you fuller longer
combine the fiber content with the low calorie content (49 calories /1cup) and you have a great food to help ward off unwanted pounds.
may help reduce the risk of cancer due to the antioxidants - The National Cancer Institute found  pumpkin, as well as, sweet potatoes and butternut squash to have a part in cancer prevention.
1 cup of pumpkin has more potassium than 1 banana! Pumpkin has 564 milligrams and a banana has 422 milligrams.
If you've tried this pumpkin pie pudding or any other recipe on Cultured Palate please take a minute to rate the recipe and leave a comment letting me know how you liked it. I love hearing from you! You can also FOLLOW ME on PINTEREST, FACEBOOK, INSTAGRAM, YouTube and TWITTER.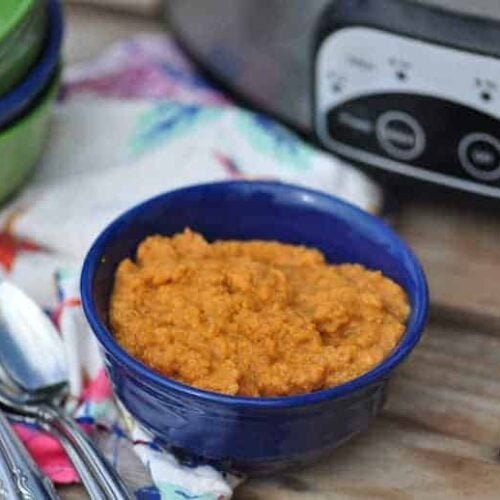 Pumpkin Pie Pudding
Pumpkin Pie Pudding is a delicious treat. You can even use fresh or canned pumpkin!
Ingredients
1

tsp

butter or cooking spray

15

oz

canned pumpkin

1 ½

c.

milk

4

eggs

⅔

c

sucanat or raw sugar

2

tsp

vanilla

2 ½

allspice

½

tsp

cinnamon
Instructions
Grease the crock pot with butter or spray.

Combine all ingredients in a bowl and mix well using a hand mixer.

Pour mixture into the crock pot.

Cover and cook on low for 3 - 4 hours. The pudding should be firm - like pumpkin pie without the crust.

Serve (hot or cold) and enjoy!
Notes
This recipe works well with fresh cooked or canned pumpkin.
Nutrition
Calories:
194
kcal
Carbohydrates:
31
g
Protein:
6
g
Fat:
4
g
Saturated Fat:
2
g
Cholesterol:
115
mg
Sodium:
79
mg
Potassium:
275
mg
Fiber:
2
g
Sugar:
27
g
Vitamin A:
11270
IU
Vitamin C:
3
mg
Calcium:
111
mg
Iron:
1.6
mg
Sources: Huffington Post, Nutrition and You