Nothing tastes better to me than a GOOD piece (or two) of Lemon Meringue Pie like grandma used to make. You know the type I mean. The piece just looks pretty and tastes delicious!
A beautiful meringue. Sweet but tart lemony filling. And, of course a delicious flaky crust!
Yep, my mouth is watering as I get ready to share this Lemon Meringue Pie recipe that fits the bill.
I'm telling you, you are going to love it!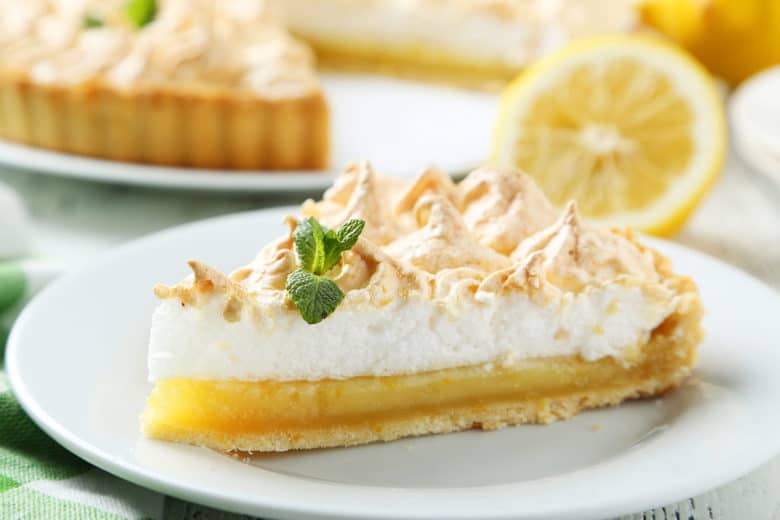 Whether it is hot outside and you need a refreshing cool dessert.
Or, it is cold outside and you want a homey delicious tasting dessert.
Lemon Meringue Pie has you covered!
To me, this is one recipe that brings back good memories and is definitely a comfort food! I hope you enjoy it too!
Unlike other Lemon Meringue Pies, this recipe is thickened with cornstarch and does not contain any milk or flour. I like to make a homemade pie crust but you could easily use a store bought one.
Using fresh lemon juice, this recipe contains the perfect balance of sweetness and tartness.  Fresh squeezed lemon juice definitely gives a better flavor than lemon juice concentrate!
Grandma's Lemon Meringue Pie
Yield 1 - 9" pie
Ingredients
Filling
1 1/2 c. sugar
6 Tbsp cornstarch
1/4 tsp salt
1/2 c. cold water
1/2 c. lemon juice (fresh tastes best!)
3 egg yolks, beaten
2 Tbsp butter
1 1/2 c. water, boiling
1 tsp lemon zest
Meringue
2 egg whites
1/4 tsp cream of tartar
3 Tbsp sugar
1/2 tsp vanilla (Make your own!)
I buy my salt and spices from Starwest Botanicals. They have organic products that are more flavorful and colorful than any others I have tried.
Instructions
Combine the sugar, cornstarch and salt in a medium saucepan.
Gradually stir in the 1/2 c, cold water, and lemon juice and stir until smooth.
Add and mix thoroughly the egg yolks and butter to the mixture.
Sir constantly and add 1 1/2 c. boiling water.
Bring the mixture to a full boil as you stir gently.
Reduce the heat as it begins to thicken and allow to simmer slowly for 1 minute.
Remove from heat and stir in the lemon zest.
Pour into the baked pie shell and cover with meringue.
Meringue
Preheat oven to 350F.
Whip egg whites until frothy.
Add cream of tartar.
Whip until they are stiff but not dry. They should stand in peaks.
Beat in slowly, 3 Tbsp sugar being careful not to over beat.
Add vanilla.
Spread on pie and bake 10 - 15 minutes.
Related posts: