This healthy coconut coffee is the perfect way to start the day. Smooth, creamy and warming it's not only healthy but so delicious and full of flavor. A gourmet specialty coffee right from your own kitchen!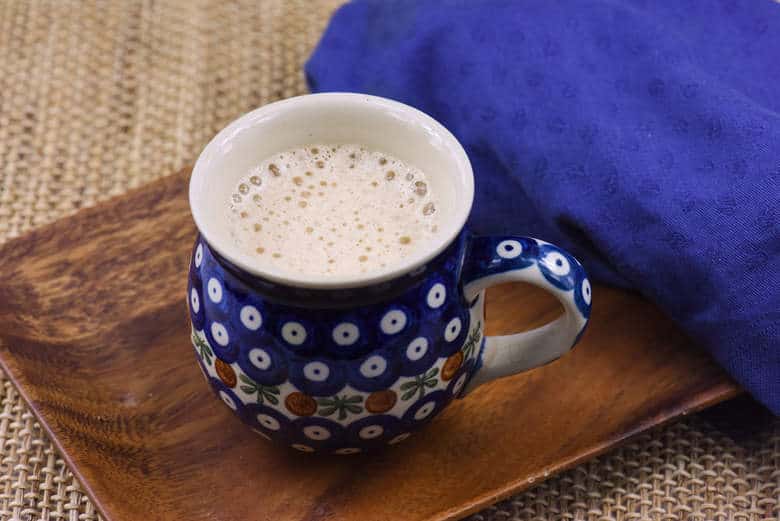 I'm in heaven! It happens every morning when I have my coffee.
You may think I am exaggerating but I'm telling you this is absolutely delicious - you've got to try it - seriously! Healthy Coconut Coffee makes every plain cup of coffee I have taste really bland. And, I don't even sweeten it!
Health Benefits of Coconut Oil
I like to add coconut oil to my diet because of its health benefits because coconut oil...
Is a healthy fat containing medium chain triglycerides (MCT). MCT's are fatty acids of medium length which are metabolized differently than long chain fatty acids. MCT's are used as quick energy sources since they go from the digestive tract to the liver. Here they are turned into ketone bodies which have proven therapeutic in epilepsy and Alzheimer's.
May help increase metabolism thus encouraging weight loss.
Can help prevent disease. Coconut oil contains lauric acid and when digested, coconut oil also forms a monoglyceride called monolaurin. Both lauric acid and monolaurin can kill harmful pathogens like bacteria, viruses and fungi potentially fighting infection.
May help curb the appetite and promote weight loss. The good fats make you feel full.
Is loaded with saturated fats which can raise the HDL or the good cholesterol - this helps your overall cholesterol level.
I tend to go in spurts and that is what I have done with coconut oil. While I went for quite awhile adding a tablespoon to a cup of coffee, stirring and then slurping the oil off the top. I got used to it but it was easy to get out of the habit of taking it daily.
Then, I saw an article touting coconut oil as an Alzheimer's cure. This got my attention! Briefly, Dr. Newport used coconut oil to treat her husband's early onset Alzheimer's with amazing results! In her book, Alzheimer's Disease: What if There Was a Cure?, she gives more details about what and why she added coconut oil.
Making Coconut Coffee
In sharing this article with a friend, she told me about adding coconut oil to her coffee and blending it - thanks, Joy!
The light bulb went off - Amazing - I had never thought of doing that! No more oil puddles sitting on the top of my coffee.
She further explained that she also added gelatin to her coffee! Gelatin - from grass fed cows - is a great source of collagen protein which is good for your joints, hair, nails and skin!
Gelatin is cooked collagen.
Update: I have begun using Hydrolyzed Collagen which dissolves readily and is easier for the body to absorb. It is also a great protein source and I now use it instead of protein powders.
Now, before you say, "yuck", you have to try it.
I use my immersion blender and like I said before, it is delicious - frothy, creamy and healthy! It is a gourmet specialty coffee right from my own kitchen!
Oh, I feel so pampered!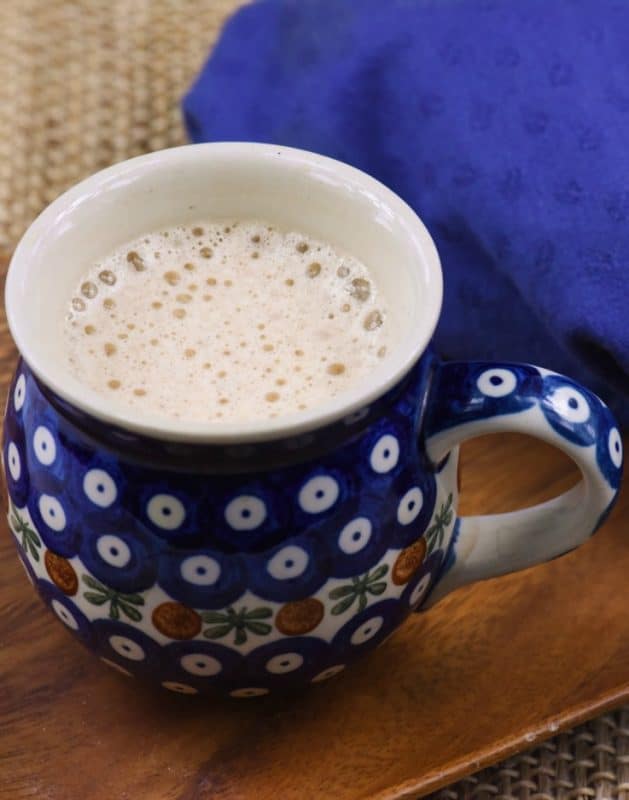 If you've tried this Coconut Coffee or any other recipe on Cultured Palate please take a minute to rate the recipe and leave a comment letting me know how you liked it. I love hearing from you! You can also 
FOLLOW ME
 on 
PINTEREST
, 
FACEBOOK
, 
INSTAGRAM
, 
YouTube
 and 
TWITTER
.
📋 Recipe
Healthy Coconut Coffee
Cultured Palate
This is a perfect way to add non-dairy creaminess to your daily cup.
Ingredients
1

cups

coffee

1

tablespoon

coconut oil

1

teaspoon

gelatin or collagen

sweetener

optional - it is delicious without!
Instructions
Add ingredients to a large cup. I use a 4 cup measuring cup.

Using an immersion blender, blend thoroughly - about 30 seconds.

Pour into coffee cup.

Enjoy.
Notes
An immersion blender or regular blender can be used.
I use this grass fed, hydrolyzed collagen which dissolved in anything and is easier for the body to absorb.
Nutrition
Calories:
133
kcal
Protein:
3
g
Fat:
13
g
Saturated Fat:
11
g
Sodium:
12
mg
Potassium:
115
mg
Here are other coconut recipes you will enjoy: