Homemade Bisquick is an easy homemade baking mix. This recipe is made with only 4 ingredients and is so easy to make. There are no unnecessary ingredients involved and it lasts for months, a great pantry staple!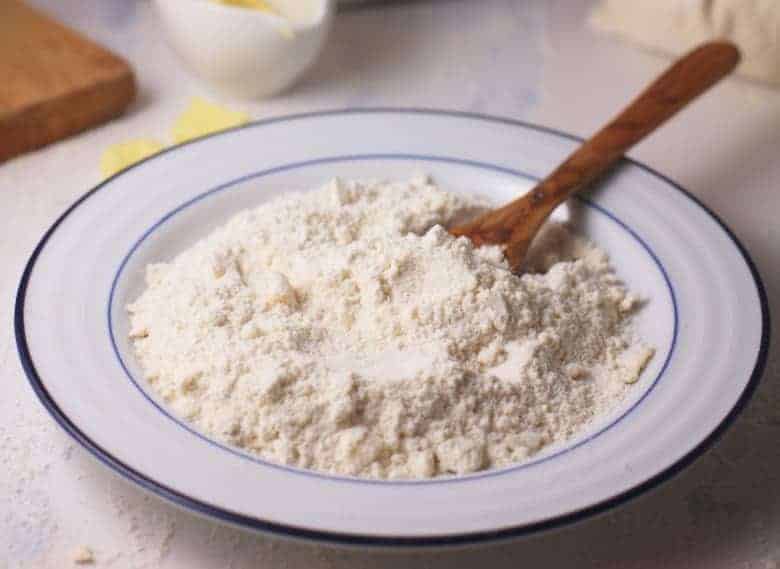 I have several recipes that call for Bisquick. But, since I have had such amazing results with the GAPS diet and have begun a more traditional diet, I now read labels.
And yes, the Bisquick box, typical of most highly processed foods, is filled with chemicals and preservatives. So began my quest for a healthier, homemade Bisquick substitution.
Homemade Bisquick is made with minimal ingredients
In fact, there are only 4 - flour, baking powder, salt and tallow.
Once mixed together, the homemade Bisquick will keep for 3 - 6 months especially if it is kept refrigerated.
If you family is like mine you might want to slowly increase the amount of tallow - I did ½ tallow and ½ shortening in the beginning - since tallow can have a different taste and smell than regular shortening.
My family had to get used to it!
You can render your own tallow very easily or if that is not possible, my affiliate, US Wellness Meats is a reliable source of quality, grass-fed products which include tallow.
I have bought tallow from them myself and was very pleased!
In the following homemade Bisquick recipe, I normally use fresh ground whole wheat flour but I have also mixed unbleached white flour with equal portions of whole wheat.
Either way, this homemade version of the popular Bisquick baking mix works great and is much healthier for you and your family!
Is Bisquick the Same as Pancake Mix?
The beautiful thing about using Homemade Bisquick is that you can also use it as pancake mix. Let's say you look in the cabinet and realize there is no pancake mix, this Bisquick mix will work nicely.
I think one of the best parts of this mix is that you know exactly what goes into it. You don't have to worry about hydrogenated oils going in your food, when you make it yourself.
For the sake of knowing what is in your own food, it's good to know that you can use Homemade Bisquick for a variety of baking needs around your own home.
Looking for a different pancake recipe? No problem - here are some delicious pancake recipes:
Is Bisquick Unhealthy?
I would say if you're going to the store to grab a box of Bisquick, you're not getting the healthiest version. However, when you make it yourself you are!
Knowing what you're putting in your own food is super important. Using Homemade Bisquick as a home base for your cooking, ensures that almost anything you make is the healthier version.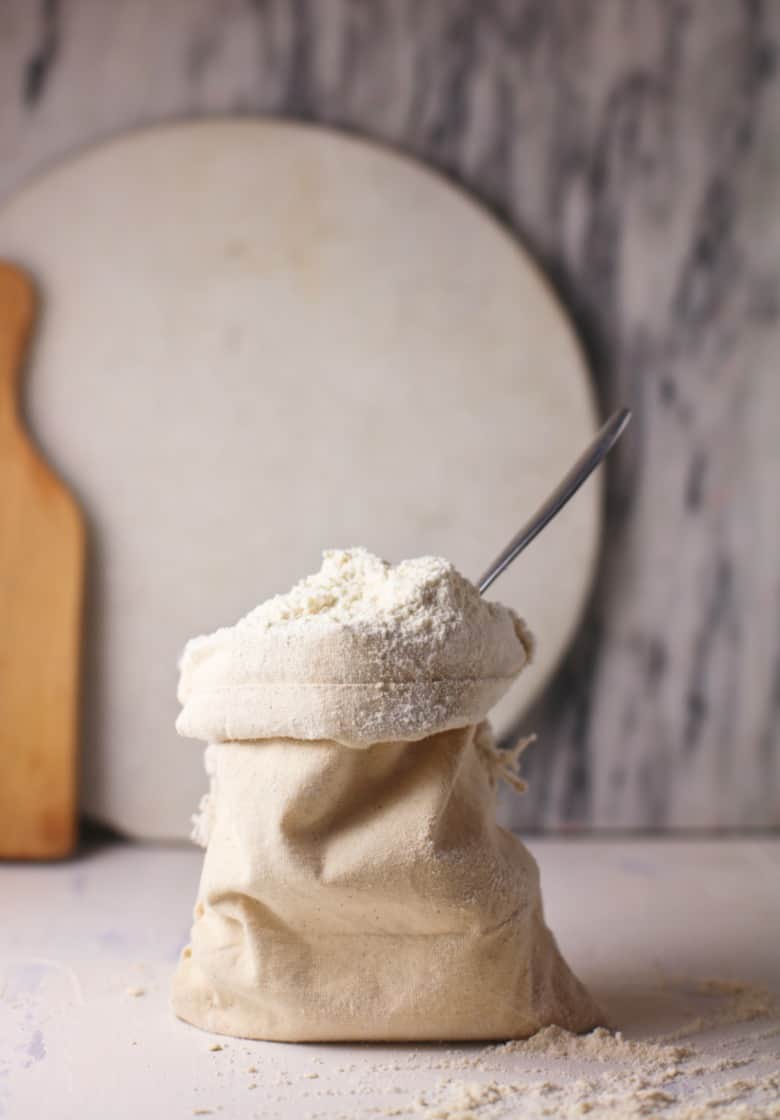 Is Bisquick Vegan?
If you're looking for a Vegan option for Bisquick, I'm excited to tell you that you can easily make Homemade Bisquick Vegan. You'd simply use shortening.
Butter is dairy which is not vegan friendly and lard is an animal product which is also not a option for a vegan diet.
So, by using shortening, you're able to make Vegan friendly biscuits, pancakes, waffles, and much more. Enjoying baked items as a Vegan is possible.
Just make sure that the shortening you are using is a vegetable shortening because many "shortenings" will contain some lard.
Is This Homemade Baking Mix Gluten Free?
If you use gluten free flours, yes, it can be made to be gluten free. I love the versatility of this recipe.
Can I Use Any Flour?
Yes, you can use your favorite flour in this recipe. I most often use either whole wheat flour or all purpose. The type of flour I use depends upon what I plan to make with it.
How Fast Can You Make Homemade Bisquick?
I think my favorite part of this recipe is that it's so fast to make. You don't have to wake up five hours early to make breakfast, you can do it all within minutes.
When you want to pull something together quickly, this is your recipe. Give it a try if you're looking for something that is easier, more delicious, and overall better for your wellness.
What Else Can You Make From Homemade Bisquick?
Just like you can make a variety of recipes with store bought Bisquick, you can make a lot of different things from homemade Bisquick too.
You can make your own tortillas with homemade Bisquick. Taco night just got a whole lot easier!
One of my favorite recipes to make with homemade Bisquick is meat pies! Those who love meat will find that meat pies are delicious and super easy with the help of Bisquick you make at home.
Apple Fritters are also a recipe that I enjoy making with homemade Bisquick. You can really go to town on making desserts, thanks to this recipe.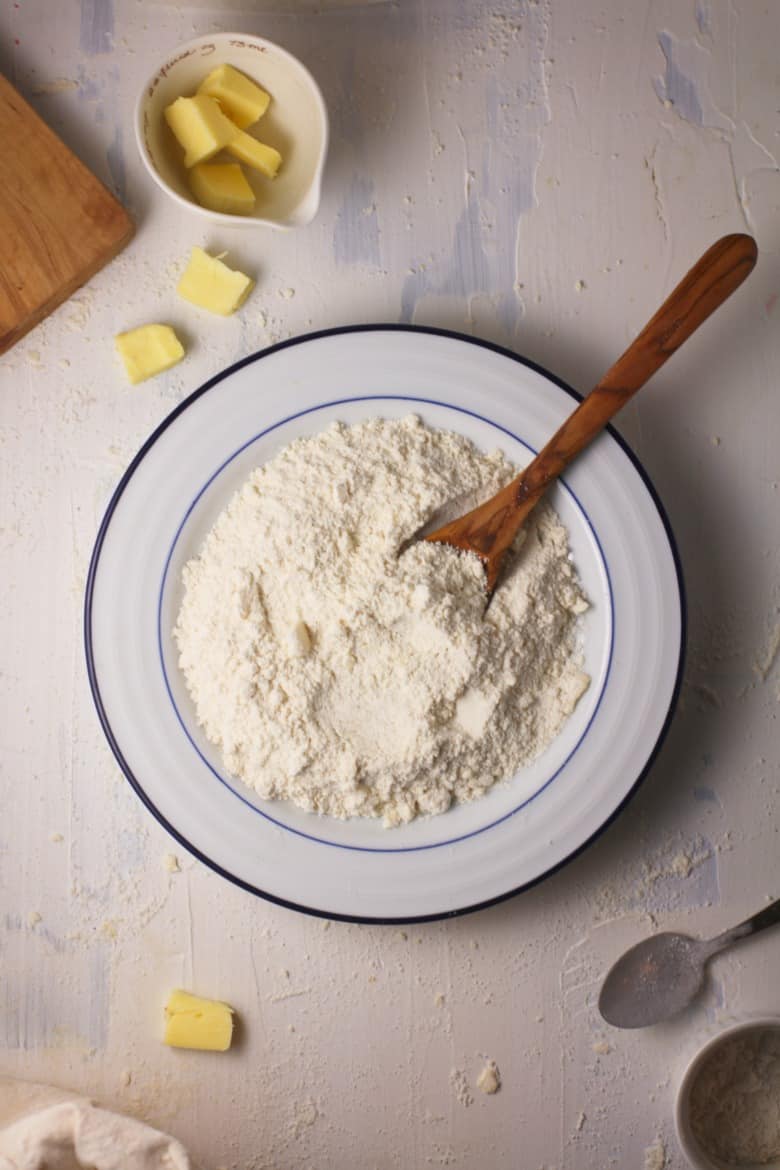 If you've tried this Homemade Bisquick recipe or any other recipe on Cultured Palate please take a minute to rate the recipe and leave a comment letting me know how you liked it. I love hearing from you! You can also FOLLOW ME on PINTEREST, FACEBOOK, INSTAGRAM, YouTube and TWITTER.
📋 Recipe
Bisquick, Homemade
Cultured Palate
Makes 10 cups
Ingredients
10

cups

flour

whole wheat, all purpose, or any gluten free flour

⅓

cups

baking powder

1

tablespoon

salt

2

cups

tallow or butter
Instructions
Mix flour, baking powder and salt together.

Add tallow.

Using 2 knives, pastry cutter or food processor ( I use my hands), mix until crumbly.

Place in sealed container.

Keeps 3-6 months in refrigerator.
Nutrition
Calories:
1194
kcal
Carbohydrates:
184
g
Protein:
24
g
Fat:
39
g
Saturated Fat:
23
g
Cholesterol:
97
mg
Sodium:
1033
mg
Potassium:
1060
mg
Fiber:
6
g
Vitamin A:
1135
IU
Calcium:
388
mg
Iron:
11.6
mg
📋 Recipe
Recipes Using Bisquick
Cultured Palate
Bisquick is the ultimate quick-fix pantry staple. Make your own to know exactly what is going into your recipes.
Ingredients
Bisquick Pancakes
2

cups

mix

1

cups

milk

preferably raw

2

large

eggs
Bisquick Dumplings
2

cups

mix

⅔

cups

milk

preferably raw
Bisquick Waffles
2

cups

mix

2

tablespoon

olive oil

1

large

egg

1 ⅔

cups

milk

preferably raw
Bisquick Biscuits
2

cups

mix

1

cups

milk

preferably raw
Instructions
Pancakes
Mix ingredients together and bake on greased hot griddle, turning once. Cook until golden brown.

Bisquick Dumplings
Mix ingredients together. Spoon over boiling liquid. Cover and cook 12-15 min until fluffy.Bisquick Waffles
Bisquick Waffles
Mix together and bake in greased preheated waffle iron until golden.
Bisquick Biscuits
Mix ingredients well. Add enough milk to enable a soft dough which can be rolled out. Roll to ½ inch thickness. Cut and place on greased cookie sheet. Bake at 350F for 12-15 minutes.
Notes
Makes 6 pancakes, 8 dumplings, 4 waffles or 8 biscuits
Nutrition
Calories:
161
kcal
Carbohydrates:
20
g
Protein:
4
g
Fat:
6
g
Saturated Fat:
1
g
Cholesterol:
49
mg
Sodium:
414
mg
Potassium:
107
mg
Sugar:
5
g
Vitamin A:
100
IU
Calcium:
96
mg
Iron:
1
mg
What is Your Favorite Recipe Using Homemade Baking Mix?
Leave a comment - I would love to know!
Pin It!