This Kefir Smoothie is made with frozen fruit and honey and is so delicious. But, of course, you can use any sweetener you want! It's a great way to start the day and get your probiotics.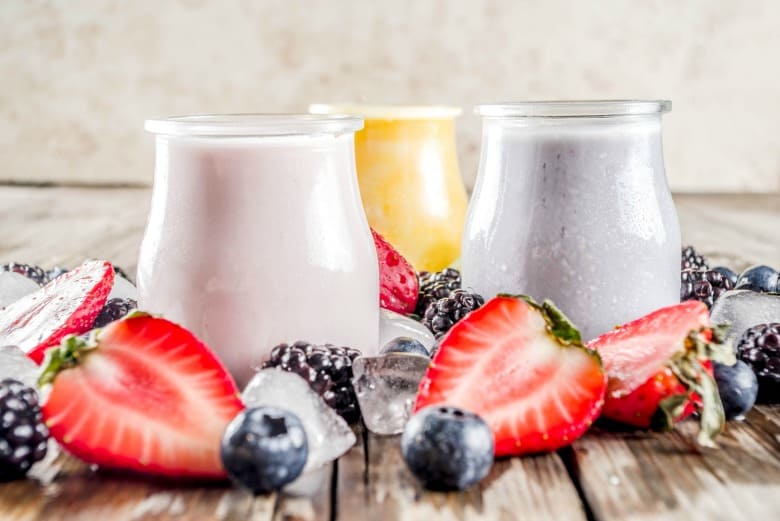 Kefir is high in nutrients and probiotics that is good for gut health and digestion. It even contains three times more probiotics than yogurt!
Kefir is not as thick as yogurt and is drinkable like regular milk. However, kefir generally has more twang than yogurt, thus depending on your taste, may require more sweetener.
What is Kefir?
Kefir is a fermented drink, typically made with cow's milk. It's made by adding kefir grains to the milk, letting it ferment for about 24 hours, and then removing the grains. What is left is a kefir drink that has many health benefits.
I have purchased kefir grains which are required for homemade kefir and you can find detailed instructions on making it yourself in the How to Make Kefir Video.
Probiotics, known as 'friendly bacteria,' are important for your gut health. I know we all want to be healthier and having a healthy gut is very important. Kefir and other fermented foods are a tool to reach that end.
Fermented foods have other positive health benefits besides just probiotics. When we ferment certain types of foods this can improve the availability of nutrients, make it easier to digest, and may even support heart health. These Fermented Carrots is another great recipe with added health benefits!
Instructions
We like to add sweeter fruit to our smoothies, such as strawberries and blueberries, to help balance the sourness of the kefir.
Add your favorite fruit and play around with different textures. Rule of thumb is ½ cup of fruit per 1 cup of kefir. Of course, you can use any ratio you like if you prefer a thicker or thinner smoothie.
Start by adding kefir, fresh or frozen fruit, and honey (or your choice of sweetener) to a blender and blend until smooth.
Add additional kefir if the smoothie is too thick, or ice cubes if the smoothie is too runny.
Serve and enjoy!
Different fruit combinations are delicious and there are lots of great combos to be found!
Top Tips
In the following kefir smoothie recipe, the amount of honey you add varies depending on the tanginess of the kefir and how sweet you like it. Feel free to adjust depending on your preference.
Add any kind of fruit. I love using bananas, strawberries, blueberries, or mango. The possibilities are endless!
Don't be afraid to try a green kefir smoothie - add 1 c. spinach or kale and 1 c. fruit.
If you are using frozen fruit, you probably won't need to add any ice, unless you prefer a thicker smoothie.
More Kefir Recipes
There are lots of ways to use kefir. It's a wonderful dairy product that you can use as a substitute in many recipes.
Use it in my Fried Chicken recipe and it produces a deliciously tender yet crunchy fried chicken!
Kefir can be used as a substitute for sour cream (although it is not as thick), buttermilk, or an enhancer for many recipes. In my Buttermilk Pie, I find that it adds a sweet tang to the overall taste.
Kefir isn't always the predominant flavor in every recipe where you find it, but sometimes you want it to be! That's why we also use it in recipes like the one for these Healthy Kefir Popsicles.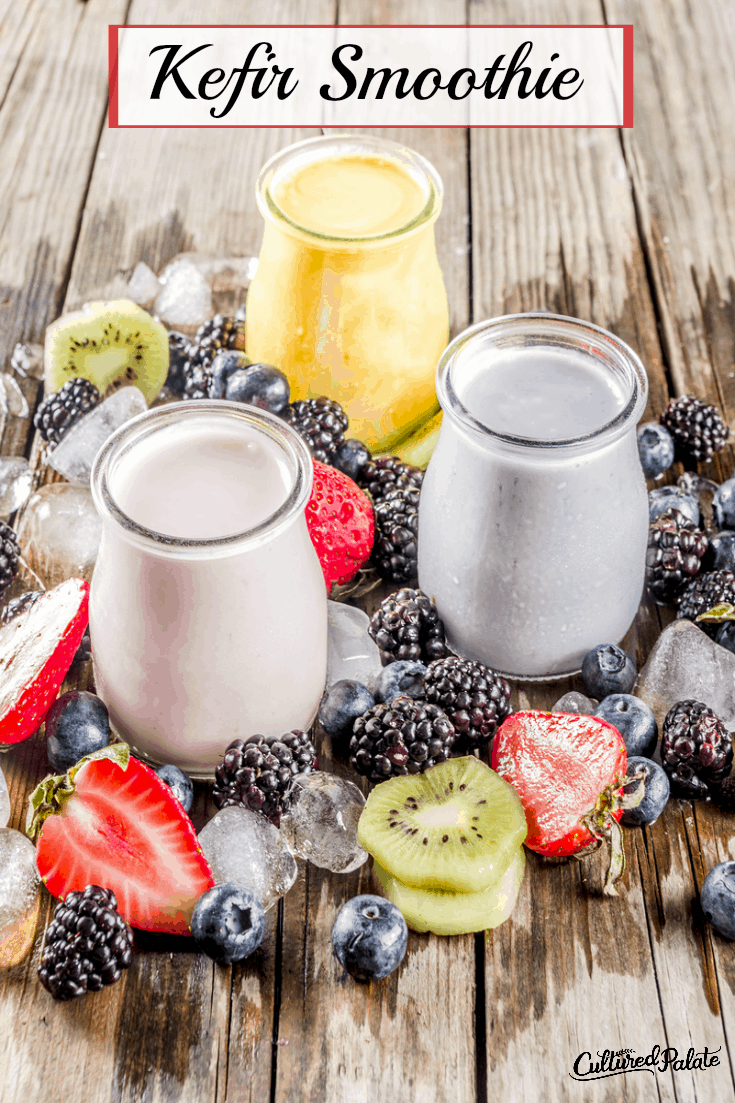 If you've tried this Kefir Smoothie or any other recipe on Cultured Palate please take a minute to rate the recipe and leave a comment letting me know how you liked it. I love hearing from you! You can also FOLLOW ME on PINTEREST, FACEBOOK, INSTAGRAM, YouTube and TWITTER
📋 Recipe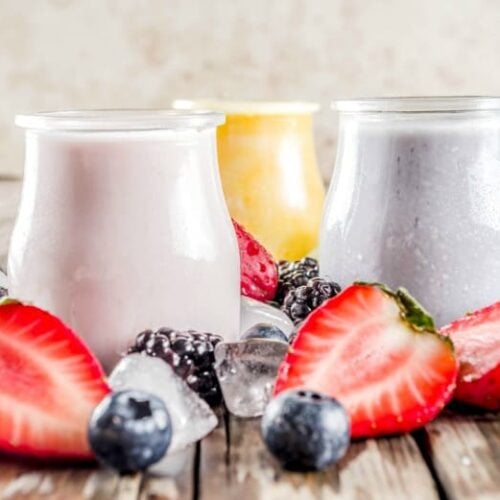 Kefir Smoothie
Cultured Palate
This homemade kefir smoothie is the perfect breakfast or snack. It's filled with a ton of probiotics that are good for gut health.
Ingredients
To make 2 cups:
1

cup

kefir

½

cup

fruit

fresh or frozen strawberries, peaches, blueberries, bananas ...

1 - 2

tablespoons

honey

adjust to taste

½

cup

ice cubes

optional
To make 6 cups:
4

cup

kefir

1

cup

fruit

fresh or frozen strawberries, peaches, blueberries, bananas ...

4 - 6

tablespoons

honey

adjust to taste - we like them tangy!

½ - 1

cup

ice cubes

optional
Instructions
Blend all ingredients in a blender just until smooth.

Serve and enjoy!
Nutrition
Calories:
442
kcal
Carbohydrates:
47
g
Protein:
20
g
Fat:
19
g
Saturated Fat:
11
g
Cholesterol:
74
mg
Sodium:
312
mg
Potassium:
233
mg
Fiber:
3
g
Sugar:
42
g
Vitamin A:
1395
IU
Vitamin C:
70.9
mg
Calcium:
760
mg
Iron:
0.7
mg
What Fruit Flavor Kefir Do You Like the Best?
Leave a comment - I would love to know!