This Kefir Smoothie Recipe is the one I use daily. It's made with frozen fruit and honey and is so delicious. It's a great way to start the day and get your probiotics.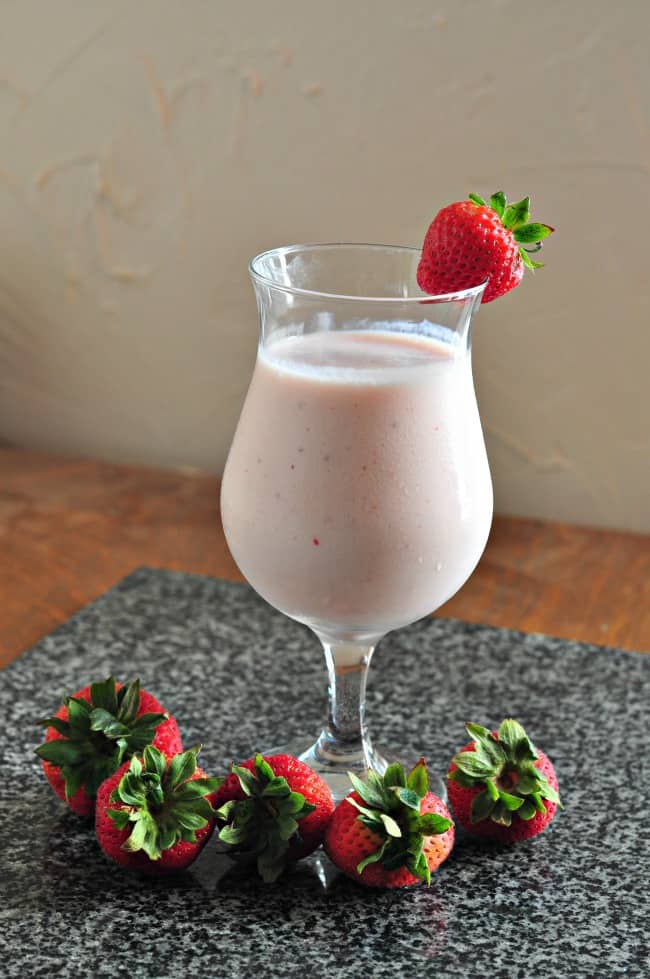 This kefir smoothie recipe is just one of the recipes included in my Simple Cheesemaking ebook. Follow the link to find more wonderful cheese recipes with easy to follow instructions and much more!
Kefir smoothies are enjoyed daily at our house. Because they're so easy to make from scratch and they contain such delicious ingredients, our family has embraced them wholeheartedly!
If you are not familiar with kefir, it is like yogurt on steroids, as far as probiotics are concerned. Yogurt can have 5 – 7 strains of beneficial bacteria but, kefir can have 50+!
That is quite a difference if you are concerned about your gut health. I know we all want to be healthier and have a healthy gut biome. This food is a directly help tool to reach that end.
Kefir is not as thick as yogurt and is drinkable like regular milk. Kefir also has more twang than yogurt thus, depending on your taste, may require more sweetening. Yet I find it more drinkable partly for that exact reason.
Other Ways To Use Kefir
There are lots of ways to use kefir. It's a wonderful dairy product that you can use as a substitute in many recipes. We even use it in our fried chicken recipe!
Lots of people use kefir as a substitute or an enhancer for many recipes. In my Buttermilk Pie, I find that it adds a sweet tang to the overall taste.
Kefir isn't always the predominant flavor in every recipe where you find it—but sometimes you want it to be! That's why we also use it in recipes like the one for these popsicles.
While I like to drink kefir plain, others in the family prefer it to be made into a smoothie. So, that is what we have each morning with our breakfast – a kefir smoothie.
Making a Kefir Smoothie From Scratch
We like to add sweeter fruit to our smoothies, adding things like strawberries and blueberries. Just add the type of fruit you want to work with and play around with different textures. Different fruit combinations are delicious and there are lots of great combos to be found!
I have purchased kefir grains which are required for homemade kefir and you can find detailed instructions on making it yourself in the How to Make Kefir Video. If you have not tried it before, I encourage you to – it is very simple and much more economical.
Remember I said that kefir is like yogurt on steroids?
Kefir is amazing! According to Wikipedia:
Probiotic bacteria found in kefir products include Lactobacillus acidophilus, Bifidobacterium bifidum, Streptococcus thermophilus, Lactobacillus delbrueckii subsp. bulgaricus, Lactobacillus helveticus, Lactobacillus kefiranofaciens, Lactococcus lactis, and Leuconostoc species.

Lactobacilli in kefir may exist in concentrations varying from approximately 1 million to 1 billion colony-forming units per milliliter and are the bacteria responsible for the synthesis of the polysaccharide kefiran.

In addition to bacteria, kefir often contains strains of yeast that can metabolize lactose, such as Kluyveromyces marxianus, Kluyveromyces lactis and Saccharomyces fragilis, as well as strains of yeast that do not metabolize lactose, including Saccharomyces cerevisiae, Torulaspora delbrueckii, and Kazachstania unispora. The nutritional significance of these strains is unknown.
In the following kefir smoothie recipe, the amount of honey you add varies depending on the twanginess of the kefir and how sweet you like it. Feel free to adjust as your taste changes.
If you've tried this kefir smoothie or any other recipe on Cultured Palate please take a minute to rate the recipe and leave a comment letting me know how you liked it. I love hearing from you! You can also FOLLOW ME on PINTEREST, FACEBOOK, INSTAGRAM, YouTube and TWITTER
Kefir Smoothie
Homemade kefir made into a smoothie is perfect for breakfast or a snack.
Course:
Breakfast, Drinks
Keyword:
kefir smoothie, probiotic food, smoothie
Ingredients
To make 2 cups:
1

c

kefir

1/2

c

fruit

fresh or frozen strawberries, peaches, blueberries, bananas ...

1 - 2

Tbsp

honey

adjust to taste

1/2

c

ice cubes

optional
To make 6 cups:
4

c.

kefir

1

c.

fresh or frozen fruit - strawberries, peaches, blueberries, bananas ...

4 - 6

Tbsp.

honey

adjust to taste - we like them tangy!

1/2 - 1

c

ice cubes

optional
Instructions
Blend all ingredients in blender just until smooth.

Serve and enjoy!
Nutrition Facts
Kefir Smoothie
Amount Per Serving
Calories 442
Calories from Fat 171
% Daily Value*
Total Fat 19g 29%
Cholesterol 74mg 25%
Sodium 312mg 13%
Potassium 233mg 7%
Total Carbohydrates 47g 16%
Protein 20g 40%
* Percent Daily Values are based on a 2000 calorie diet.