Peppermint Coffee Scrub is gonna knock your socks off! Homemade sugar scrubs are easy to make and turns out coffee is good for more than just drinking! Who knew that coffee was so good for the skin.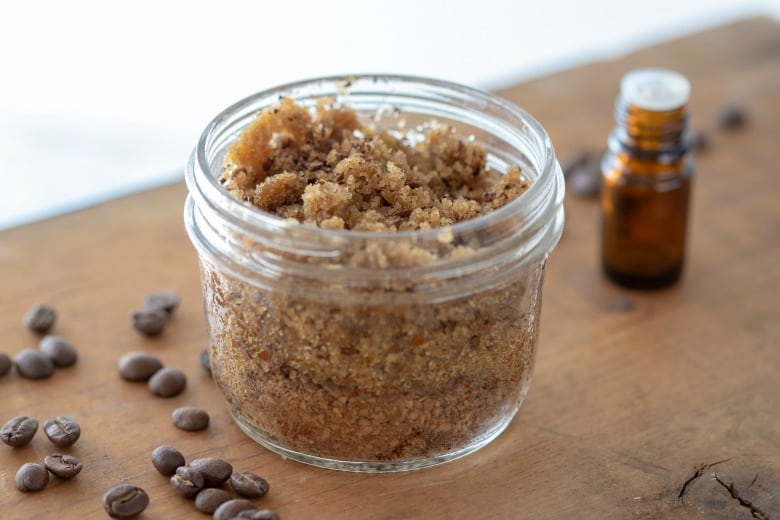 If you are like me, you love to drink coffee. But, I had never thought of using it in my sugar scrub. That is, until now!
Turns out, there are wonderful benefits in store as you use this rich exfoliant Peppermint Coffee Scrub.
Benefits of Using Coffee Scrub on Your Skin
Coffee is a good source of nutrients and antioxidants that can benefit the skin. Sugar is a natural source of Glycolic acid (AHA) that is a safe exfoliant and encourages cell turnover giving younger-looking skin.
Put the two together, add peppermint essential oil (which is refreshing and calming) and you have the best coffee scrub ever!
The caffeine in coffee scrubs helps increase blood flow which can decrease the appearance of cellulite and give a more even skin tone.
Almond Oil moisturizes and goes on lighter and smoother than heavier oils like coconut. It's emollient properties help to improve skin tone and complexion. Sweet almond oil is especially good for dry and sensitive skin. This is the sweet almond oil I use.
If coconut oil is used, it is also a great moisturizer that can help the appearance of fine lines and wrinkles. Since it has anti-oxidative properties, it also helps support the skin's connective tissue keeping it strong.
Sugar, as stated above, is a good natural source of Glycolic acid, also known as AHA, which is found in commercial beauty products in synthetic form. It is a safe exfoliant and penetrates the skin cells leaving you looking fresh and rejuvenated. (1)
Coffee grounds do not dissolve in water which makes them very good for exfoliation and scrubbing away the dead skin cells.
Coffee contains polyphenols which are antioxidants that may help to protect against ultraviolet (UV) rays and some signs of aging linked to sun exposure. Drinking or using coffee on the skin delivers the antioxidants to your skin. (2)
Coffee also has chlorogenic acids which may also reduce inflammation and protect against some strains of bacteria. (3)
Is Peppermint Coffee Scrub Good for Acne?
Yes, since one of the most widely known causes of acne is clogged pores, cleaning out the pores is a must. Peppermint Coffee Scrub combines two powerful but gentle exfoliants with sugar and coffee.
Scrubbing the face with a coffee and sugar scrub can help clean out and remove clogs from the pores.
The chlorogenic acids found in coffee can also help reduce inflammation and protect against bacteria. (4)
Do I Use New Coffee Grounds or Used Ones?
That is completely up to you but used coffee grounds work well in my Peppermint Coffee Scrub. Plus, using coffee grounds that have already been brewed for coffee is more environmentally friendly.
What type of coffee should I use?
Go with a high ground coffee that's been freshly roasted. High grown coffees like those from Ethiopia and Costa Rica cultivate more slowly, delivering more nutrients and chlorogenic acids to the beans.
Can I Make Peppermint Mocha Coffee Scrub From This Recipe?
Yes, the basic Peppermint Coffee Scrub can easily be made into a Peppermint Mocha Coffee Scrub. Cocoa powder is also high in antioxidants and may help boost the elasticity of your skin thus preventing the signs of aging.
To make the Peppermint Mocha Coffee Scrub variation, use the following recipe and add 1 tablespoon cocoa powder with the other ingredients.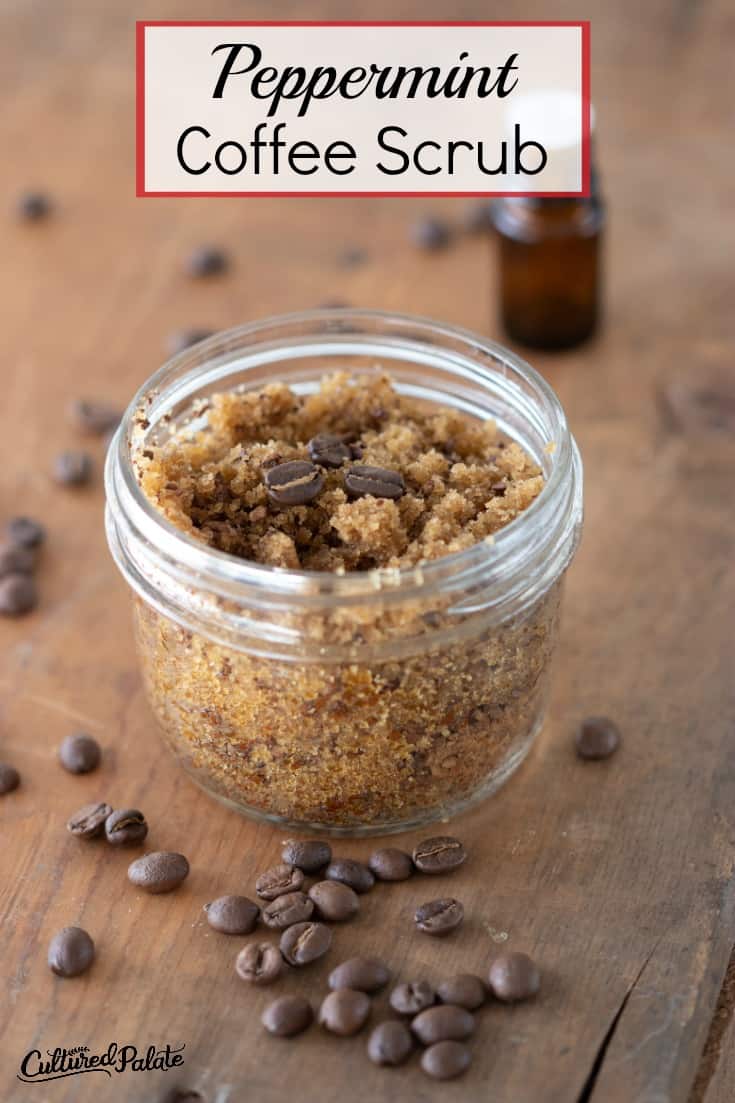 Can I Use Peppermint Coffee Scrub on My Face?
Coffee may be very beneficial for people experiencing puffy, inflamed eyes.
Caffeine stimulates blood flow and dilates, (or opens up) the blood vessels. This increases blood flow, which can help the skin to naturally tighten. The result may be a reduction in the buildup of fluid under the eyes.
To use on the face, be sure to use finely ground coffee in your Peppermint Coffee Scrub recipe. (2)
Where Can I Use this Peppermint Coffee Scrub Recipe?
This Peppermint Coffee Scrub is appropriate for all areas of your body and face. If you have sensitive skin, you may want to start with finely ground coffee if using it for a face scrub.
The peppermint essential oil is both calming and cooling effect on the skin which feels amazing whether on your face or your body.
How Use

Peppermint Coffee Scrub
As with any sugar scrub, apply Peppermint Coffee Scrub to your skin and message in a circular motion for about 60 seconds. Rinse with warm water and use a facecloth to remove any remaining scrub.
Storing Peppermint Coffee Scrub
Like other sugar scrub recipes, Peppermint Coffee Scrub or its variation, Peppermint Mocha Coffee Scrub, should be kept in an airtight container.
I prefer storing my sugar scrubs in glass jars and many cute decorative ones are available. Hobby Lobby is a great source as are many online stores.
Here are a couple of my favorites: 4 oz jelly jars, squared jars with cork lids.
Sugar Scrubs Make Great Gifts!
There is just something special about getting a beautifully packages homemade sugar scrub as a gift! And it is super simple to do with just 3 easy steps!
Make sugar scrub recipe.
Place in jar with a lid.
Add a ribbon around the top with a bow.
Don't forget gift tags to add that special touch to your gift!
Pin It!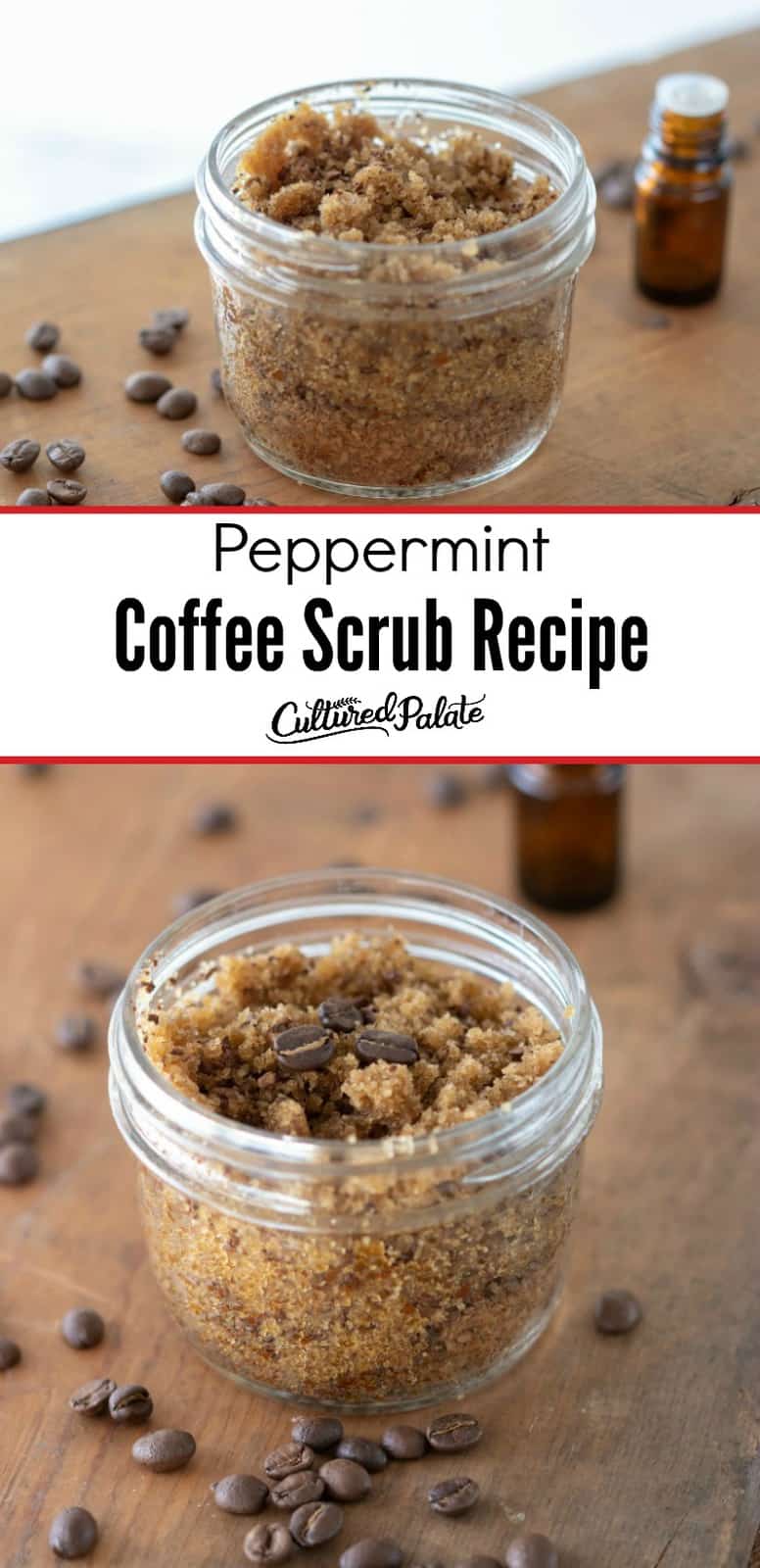 Peppermint Coffee Scrub
Ingredients
1

cup

quality

coffee grounds




½

c.

brown sugar (white sugar may also be used)




¼

c.

Almond oil - add up to ½ c. to get desired consistency (coconut oil or jojoba also work well)




5

drops peppermint essential oil (more if desired)

1

teaspoon

vitamin e oil

(optional)
Directions
Combine all ingredients in a medium bowl.
Store in airtight container.
Variation:
Peppermint Mocha Coffee Scrub - add 1 tablespoon cocoa powder to the above recipe.
Have You Tried This Coffee Scrub Recipe? Leave a Comment and Let Me Know How You Liked It!