This Mint Face Scrub will make you a believer that healthy looking skin does not have to cost a fortune! Be sure to check out my Sugar Scrubs page if you are new to DIY beauty products for a complete guide that will get you started today!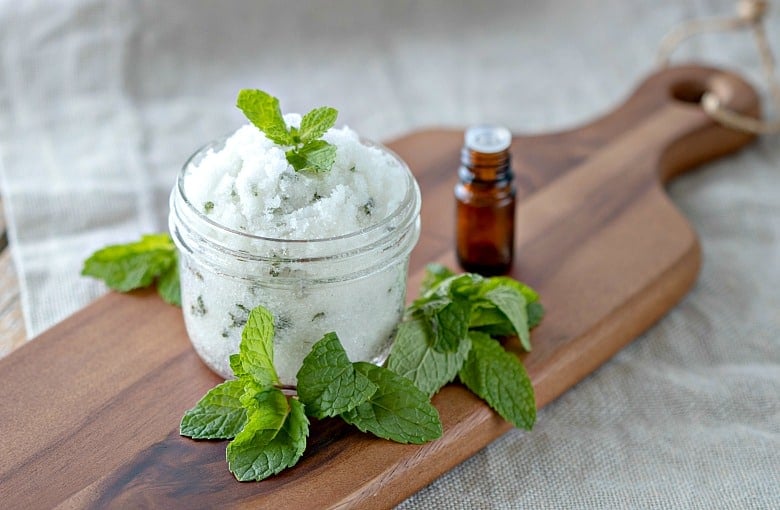 Mint Sugar Scrub Benefits
Exfoliation and moisturizing are two big benefits of using sugar scrubs.
Different oils have different benefits and coconut oil is made up of medium chain fatty acids. These fatty acids act as an antimicrobial agent to help kill viruses and bacteria. This is the coconut oil that I use.
If you prefer there are many other carrier oils that can be used - see Homemade Sugar Scrubs for more information, as well as, the best sugar scrub recipes.
Fresh mint has a soothing and calming affect on the skin. Mint can be used on any skin type and is especially good for oily and combination skin because it helps balance natural oils. That means fewer clogged pores.
Peppermint essential oil has a cool, minty scent that promotes blood flow and helps liven the feeling of your skin.
A review of essential oils as potential antimicrobials to treat skin diseases published in Evidence-Based Complementary and Alternative Medicine found that peppermint oil is effective when used to reduce blackheads, chicken pox, greasy skin, dermatitis, inflammation, itchy skin, ringworm, scabies and sunburn. (1)
What Other Additives Work Well With This Mint Sugar Scrub?
I love experimenting with sugar scrubs and this Mint Face Scrub is no exception! So far, I have enjoyed adding the following:
Cucumber - Use ¼ cucumber, unpeeled and pureed (or blended) before adding and decrease the oil to ⅛ cup. Add more oil if needed to get the desired consistency.
Lavender essential oil - I use about 10 drops Lavender and 5 drops of Peppermint essential oil.
What Colorant Can I Use for This Mint Face Scrub?
Green is especially popular around the holidays for using this sugar scrub for gifts. To color my DIY sugar scrubs, I use India Tree - they are vegetable colorings without any corn syrup or synthetic dyes.
Remember, the skin is your largest organ and what you put on your skin can get into your bloodstream faster than the food you eat. It is important to use good quality ingredients!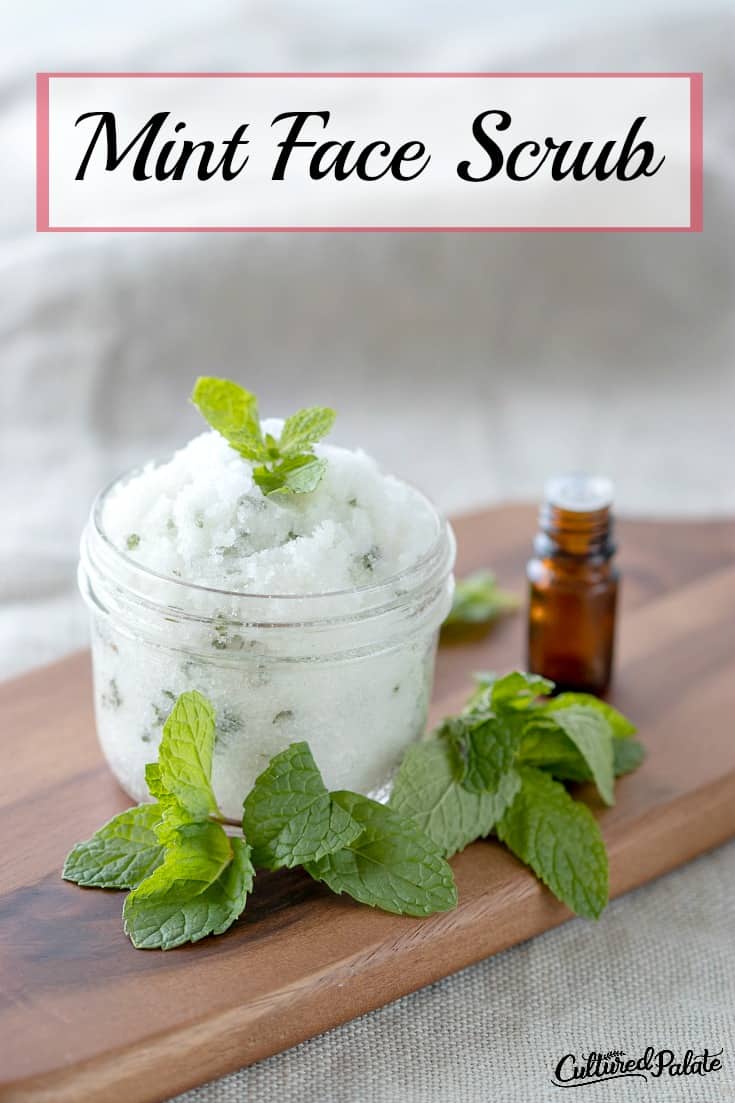 Why Use Peppermint Essential Oil and Fresh Mint?
I enjoy the scent of peppermint essential oil and the uplifting, rejuvenating feeling I get when using it. But, some people find that it is irritating to their eyes.
The fresh mint leaves add visual appeal to the scrub, as well as, the benefits from mint, making it great for gifts.
In this recipe, it can easily be left out while still enjoying the benefits of the soothing and calming effect mint has on the skin.
Peppermint Essential Oil Seems to Irritate My Eyes - What Can I do?
Some people do find that peppermint essential oil irritates or burns their eyes. There are a couple of things you can do and still enjoy all the benefits of the Mint Face Scrub.
Decrease the number of drops of peppermint essential oil you put in.
Leave out the peppermint oil altogether and just use the fresh mint leaves.
What is the Best Consistency for Mint Face Scrub?
I like to use 1 part oil to 2 parts sugar. For me, that gives a gentle but good exfoliation. Feel free to experiment to see what you like best.
If your scrub is too dry, add more coconut oil. If your scrub is too wet, add more sugar. Make it however you like it!
Should the Coconut Oil Be Liquid or Hard When Mixing?
It is not necessary to melt the coconut oil before mixing this sugar scrub. If, however, you desire, you can heat the coconut oil just until liquid and melted - not hot and follow the recipe.
Heating the coconut oil until it is hot will cause the sugar to melt giving a smooth face scrub without the benefits of exfoliation.
How Long Will Mint Face Scrub Last?
Most sugar scrubs will last for at least a year. With the added ingredient of fresh mint leaves, the Mint Face Scrub may not last quite as long. I have easily used mine up before having any problems with it.
If you are concerned about the shelf life, simply leave out the fresh mint or just use it quickly.
Storing Sugar Scrubs
As with other sugar scrub recipes, Mint Face Scrub should be kept in an airtight container. I prefer glass for my DIY skincare products.
I find them either at Hobby Lobby (on sale) or online. And, don't forget, small widemouth mason jars make great storage containers. I use these: 4 oz jelly jar and 8 oz mason jars
Using Sugar Scrub as Gifts
Mint Face Scrub like other sugar scrubs makes great gifts. To use as a gift, mix the recipe, place in air tight container. Add the lid and ribbon. Easy peasy!
Don't forget gift tags to add that special touch to your gift!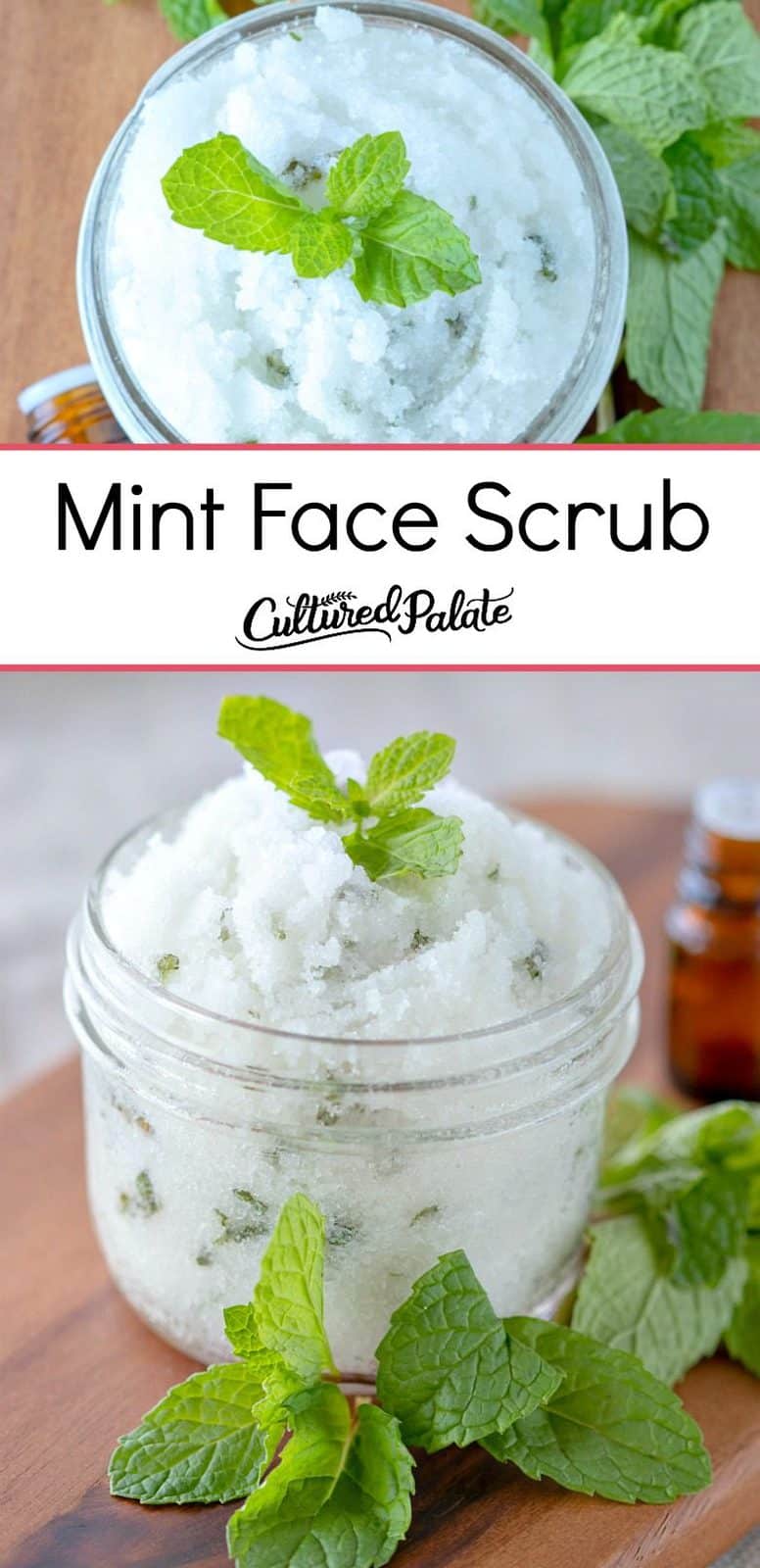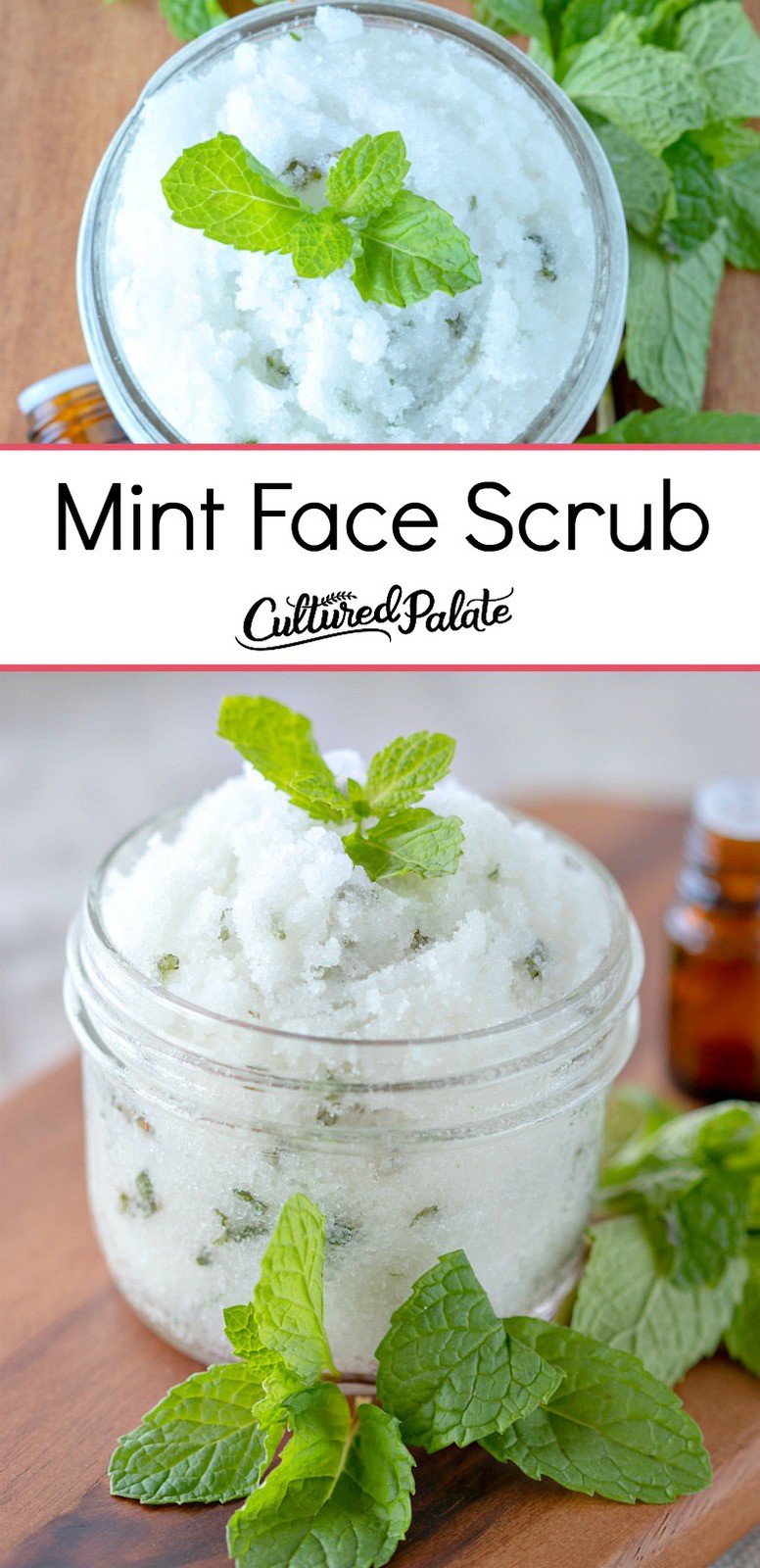 Mint Face Scrub
Ingredients
½ c coconut oil (almond or olive oil also work well)
1 c sugar
¼ c mint leaves minced - about 40 leaves
5 drops peppermint essential oil, optional (or more as desired - see note below)
Note: Some people find that peppermint essential oil can irritate and burn the eyes. Feel free to leave it out if desired.
Directions
Combine all ingredients.
Store in airtight container.
To Use
Apply a layer of the mint face sugar scrub, to clean face and gently massage for 60 seconds.
Rinse with cold water to seal pores - use a facecloth to help remove any remaining scrub.
More Sugar Scrub and Exfoliation Options
What if you don't want to make your own sugar scrub? Your skin is the largest organ of your body. And, what is put on your skin can get into your blood stream quicker than the food you eat!
So, it is very important to use only safe, non-toxic, chemical free products on your skin. This Sugar Body Scrub in Lemongrass from Beautycounter is wonderful AND it contains only food-for-you ingredients. It is gently enough for your face too!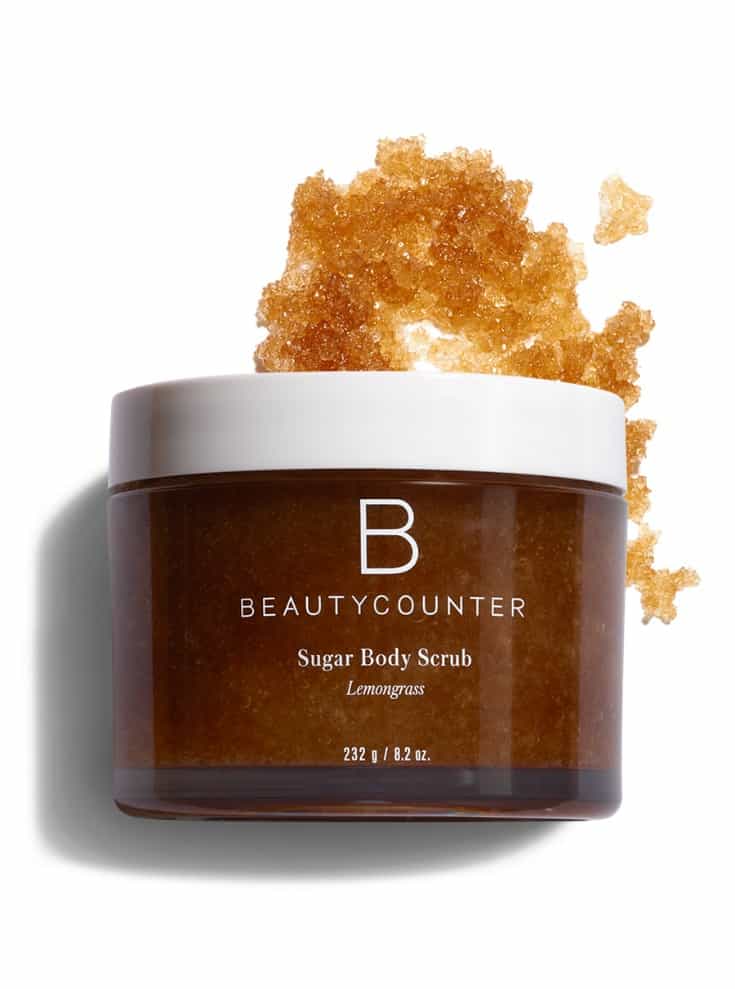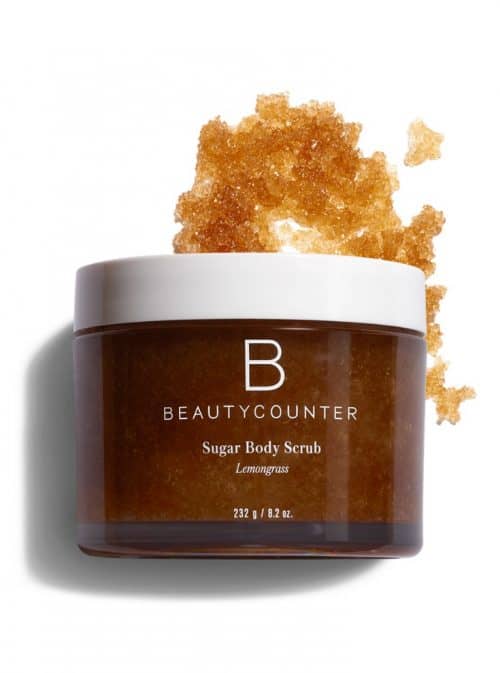 The Nourishing Cream Exfoliator by Beautycounter is another affective product to remove dead skin cells leaving you looking more youthful.
Using jojoba beads, it gently exfoliates and removing dry, dull skin leaving behind a brighter, more youthful looking skin. It also contains organic coconut oil and aloe to soothe and hydrate your complexion.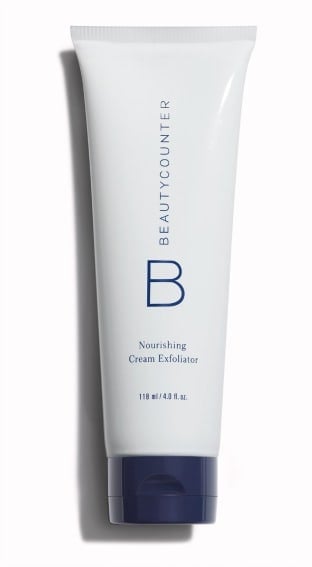 The Body Butter in Citrus Momosa from Beautycounter is another must-have for those with dry skin. It contains shea butter and mongongo oil to hydrate and nourish, plus organic sunflower oil, aloe, and chamomile to soothe and smooth. This Body Butter is thick, rich and melts into skin being absorbed without leaving you feeling greasy.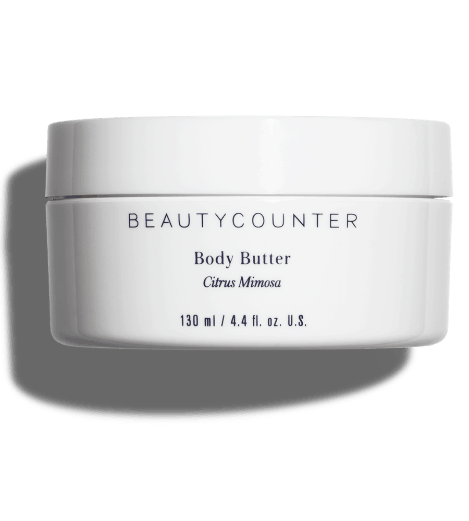 Do You Like to Use Peppermint Essential Oil, Fresh Mint Leaves or Both in Your Face Scrub?