In the following article and recipe, I have linked to products from my affiliate partners that I personally use and recommend.
Dried beans are a nutrient dense food that is often overlooked!
Per serving dried beans provide exceptionally high amounts of protein and fiber. In a book that is now out of print "Food Habits in Later Life Study", it was found that for every 20g intake of legumes which included dry beans, the risk ratio of death was reduced by 6% in the older people (aged 70 and older) studied!
There is a big difference in the taste and look of dried beans but amazingly, the nutritional content is very similar. They are a nutritional powerhouse filled with protein, complex carbohydrates, vitamins, minerals and fiber.
According to the Bean Institute,
They are rich in lignans, which may play a role in preventing osteoporosis, heart disease, and certain cancers. The flavonoids in beans may help reduce heart disease and cancer risk. The plant stanol esters, or phytosterols, contained in dry beans may help reduce blood cholesterol levels.
Beans are an excellent source of copper, phosphorus, manganese, magnesium and iron. While the nutritional make-up of dried beans are very similar  the one exception is the iron content. White beans have almost twice the iron of black beans and kidney beans fall somewhere in between. Dried beans are also an excellent source of thiamin, folic acid, riboflavin and vitamin B6.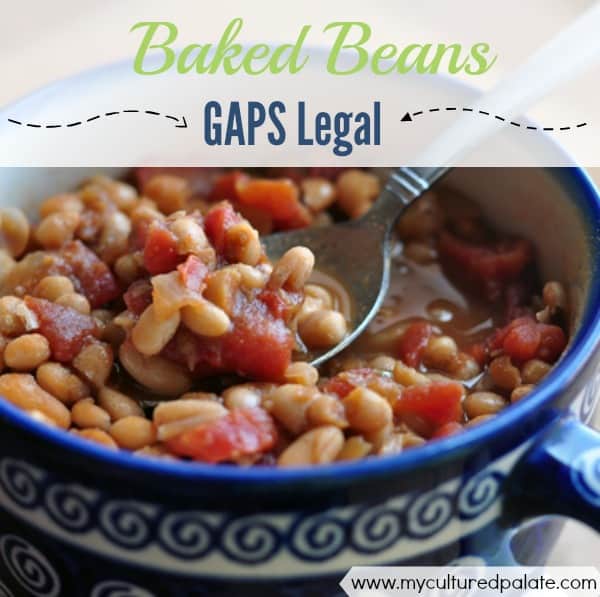 Our family really enjoys baked beans and in an attempt to find a healthy alternative to the store-bought version, I decided to use white beans – not only are they GAPS legal, but also very high in iron! If you are on the GAPS diet, leave out the molasses and double the amount of honey.
Be sure to properly prepare your beans by soaking them overnight to help neutralize the phytic acid which is found in them- for more information, see Grain Preparation.
Baked Beans - GAPS Legal
Yield 6 servings
Ingredients
Ingredients
3 cups uncooked white beans (where to buy)
1 large onion, chopped
3 cloves garlic, minced
28 oz can chopped tomatoes (I blend 1/2 of them quickly in the blender)
1/4 c. molasses (leave out for GAPS)
1/4 c. honey (where to buy raw honey)or you may use maple syrup) (where to buy)
2 tsp dry mustard
2 tsp sea salt
2 Tbsp raw apple cider vinegar

***I buy all my spices and real salt from my affiliate partner, Starwest Botanicals, because of their superior quality. Their herbs & spices are organic, non-irradiated plus, I think they are more aromatic and full flavored than any others.
Instructions
Soak the beans overnight covered with water.
Drain the water from the beans, cover with fresh water and bring to a boil. Cook until tender.
Drain the water from the beans and add the chopped onion, tomatoes, molasses (if using), honey (double the amount if you are not using molasses), dry mustard, salt and vinegar.
Cover tightly and bake at 300F for about 4 - 6 hours - until the beans reach the desired consistency.
Enjoy!
Related posts: