My Homemade Peppermint Sugar Scrub Recipe, moisturizes and is aromatherapy at its best! Don't let the price of store-bought sugar scrubs keep you from enjoying them - make your own! They are super easy and cost pennies per batch.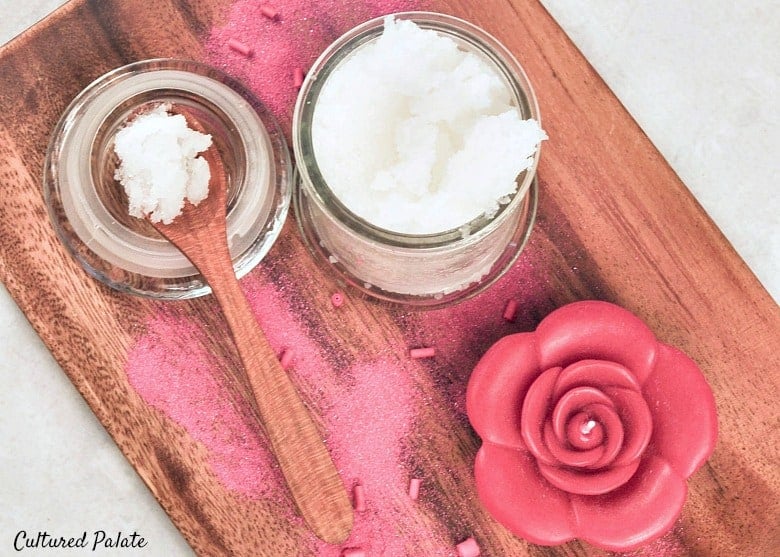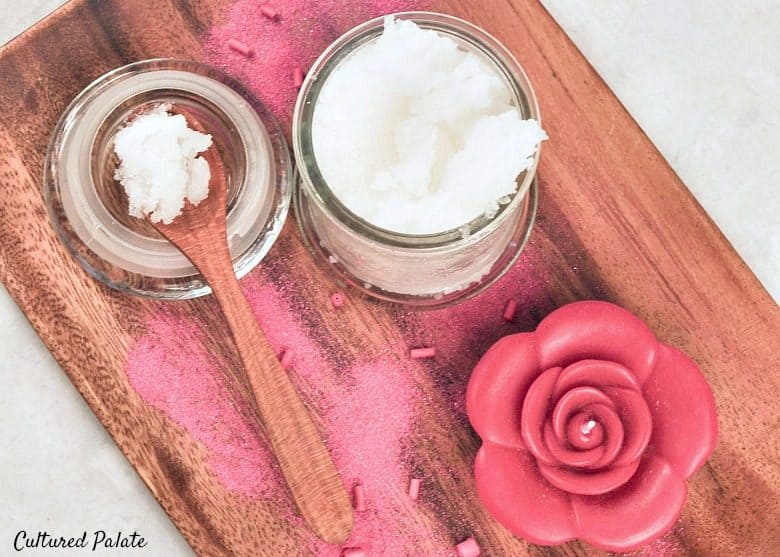 I can't tell you how many times I have looked at sugar scrubs in a store and contemplated buying them for myself and as gifts. What stopped me? To be blunt - the price!
But now, with my Homemade Peppermint Sugar Scrub Recipe and its variations, the whole family is enjoying sugar scrubbing (not sure "sugar scrubbing" is a term but you get the picture)! In fact, I think this year, everyone on my shopping list may get a jar!
Think Valentine's, Mother's Day, Birthday, Christmas, House-warming.....
If you are making sugar scrub for gifts, be sure to check out the Printable Gift Tags to add that little something special!
Homemade Peppermint Sugar Scrub Video
I learn best by watching someone else. So, watch the video and see for yourself just how easy it is to make Homemade Sugar Scrub!
Homemade Sugar Scrub Video Resources
I love knowing what other people use and why they like particular products. Here is a list of resources that you see me use in the video and why I like it. Most links will take you to Amazon.
You probably know by now that I love homemade product replacements, and as you look at this recipe, remember, the sky is the limit!
While the basic recipe calls for peppermint essential oil, any essential oil or combination of oils can be used to make your own unique blend.
Just remember, the quality of the essential oils you choose is VERY important.
The skin is the largest organ of the body! Whatever you put on your skin can be absorbed into your bloodstream faster than the food you eat! So, be sure to use the purest, highest quality oils you can.
Update: I have hesitated to specify which essential oil company I use because I know there is no perfect company and it is important for you to choose one that you are comfortable with. But, since so many of you have requested to know which essential oils I trust, here is my doTerra site for you to browse.
I like to use this Homemade Sugar Scrub with Peppermint when washing my hands, but for real energizing, try it on your feet and legs!
It drives the blues away leaving you invigorated and leaves your skin amazingly soft and moisturized. Talk about a win-win!
This makes for a fantastic gift for those people on your list who love getting pampered but hate spending a lot of money on luxurious bath products.
My favorite oil for making homemade sugar scrub: Coconut oil.
You can use several different oils as the base for your homemade sugar scrub and you might be wondering which is best. I think it is personal preference.
I have coconut and jojoba oil on hand so, those are the ones I use.
Coconut oil had a stronger smell than jojoba so you may need to adjust the amount of essential oil used to obtain the desired fragrance. This is the coconut oil that I use.
Coconut's the general favorite for skin products, and it's easy to see why! According to Organic Facts:
Coconut oil is famous throughout the world not only as an edible oil and hair tonic but also as an excellent massage oil and a moisturizer for the skin. In the tropical parts of the world where coconuts are readily available and used in many ways, natives use coconut oil for skin, as they believe that it protects from the sun's harmful rays. So this natural oil, without any chemical or additives, can protect the skin in the hottest and sunniest places on earth better than the processed and artificial sun creams.

The best aspect of coconut oil that makes it so beneficial for skin is that it does not become rancid. When you apply it on the skin, it can work for a longer time, unlike many other oils, without getting rancid. Due to these various beneficial properties of coconut oil, it is used as an important ingredient in several skin care creams.
Jojoba is also a bit darker so your sugar scrub will have a slightly darker color. This is the jojoba oil that I have used.
But jojoba's no slouch when it comes to skincare!
Natural Living Ideas points out a lot of its benefits:
Jojoba oil is unique in that, unlike most other vegetable oils, it closely resembles sebum, a waxy substance produced by our skin glands, so it can act as a natural skin conditioner. It has nearly replaced animal fats in the manufacture of skin lotions and creams. As a matter of fact, this oil rode into popularity on the back of the opposition to whale oil which was the traditional base of many cosmetic preparations earlier.

Jojoba oil has a slight nutty smell and clear golden color in the raw form, but the refined oil is completely odorless, negating the need for any perfuming agents when used for cosmetic and healing purposes. At the same time, it is a good carrier oil for several essential oils.

Since the Jojoba wax has a very low melting point, it practically remains in the liquid state all the time, and can be used directly without dilution. Also, being a wax, it does not have as much of a greasy feel as oils.
Sounds good to me! I'm all for either one of these wholesome oils. Both of them work just fine, so you can choose according to your desired benefits.
Homemade Peppermint Sugar Scrub Recipe Variations
Any essential oil or oil blend can be used, so let your imagination run wild! I always have peppermint on hand so that is my go-to. But, each oil has its own set of benefits, so select according to what you're looking for.
And remember, at pennies per batch, you can afford to experiment and come up with your own special blend.
To get the creative juices flowing, here are some of my favorites:
20 drops Lemon essential oil - Energizing and Cleansing
10 drops Peppermint essential oil and 10 drops Wild Orange - Citrus Mint!
5 drops each - Lemon, Lime, Grapefruit and Wild Orange - Citrus Explosion!
20 drops Lavender - Relaxing
These make great gifts especially when you put them in a cute glass jar.
While these are wonderful for the hands, they are fabulous when used in the shower. But, be careful because in the shower the glass jar can get slippery!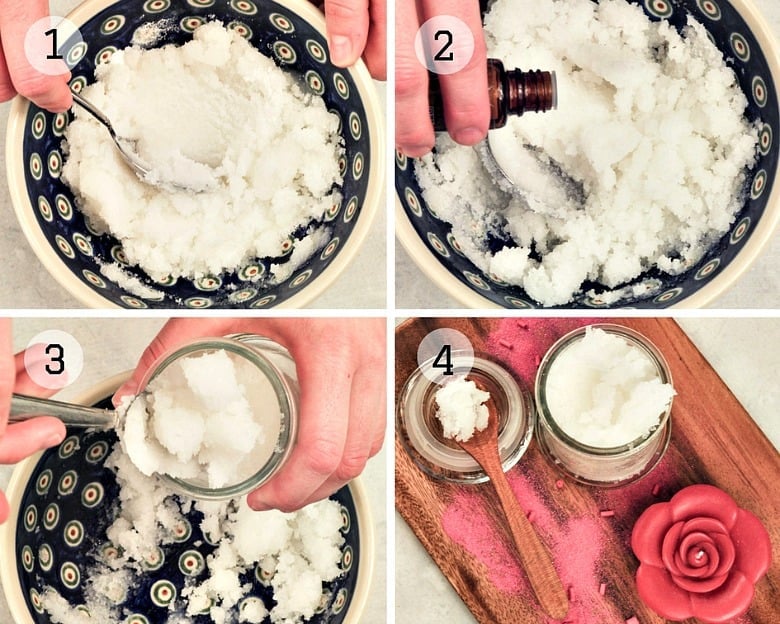 Peppermint Sugar Scrub Recipe
1 c white sugar (brown sugar may be used but gives a darker color)
⅓ c coconut oil (may also use olive, jojoba or almond)
22 drops Peppermint essential oil
Instructions
Put sugar in a small mixing bowl. Add coconut oil or oil of choice and stir with a spoon thoroughly.
Add essential oil and stir. Adjust the amount for the desired scent.
Spoon into a glass container with a tight-fitting lid to maintain the fragrance.This keeps for a couple of months but honestly, we don't have it around that long!
Enjoy being pampered.
Other DIY recipes you might be interested in: Homemade Sunscreen, Homemade Soap ,Whipped Body Butter, DIY Bath Salts, Homemade Body Wash
More Sugar Scrubs you will love:
Wild Orange Sugar Scrub Recipe
Pin It!