Wild Orange Sugar Scrub Recipe
is another homemade bath scrub that will leave you energized and silky smooth! Check out my
Sugar Scrubs
page for all the ins and outs of making sugar scrub recipes - whether you are new to making a DIY body scrub or a seasoned veteran.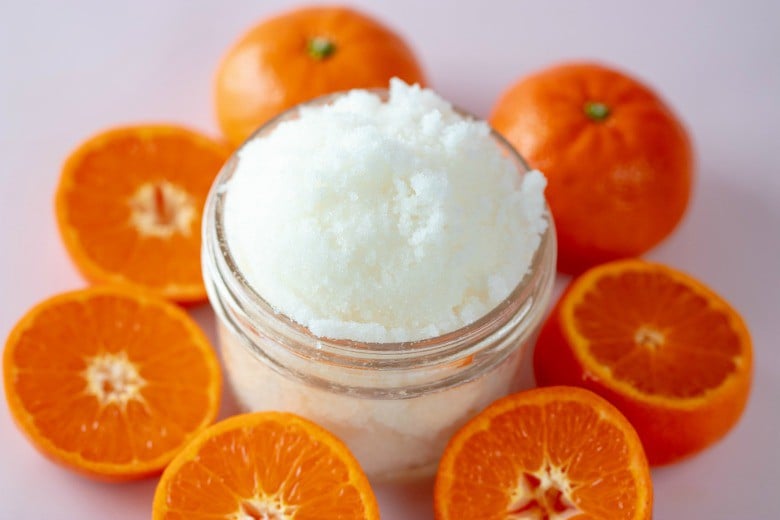 Why is the DIY Body Scrub Popular?
You have to admit, there is just something so pampering when it comes to using a body scrub or any sugar scrub recipe for that matter.
For only pennies a batch you can have the spa experience in the comfort of your own home for a fraction of the cost.
All while leaving your skin soft, nourished and moisturized.
Plus, you have the benefits of sugar - see below!
Benefits of Sugar in Sugar Scrubs
One of the reason that the DIY body scrub is so popular are the benefits of sugar on your skin. While it is commonly known that sugar is not good for your digestive system, it is very good for your skin.
Here are 3 benefits of sugar on your skin:
Sugar is a natural humectant. That means that it draws moisture from the environment into the skin. So, when using sugar scrubs, it will help hydrate your skin and hold the moisture in. (1)
Sugar crystals are small particles that make a good exfoliant without being too harsh. Exfoliation is the removal of dead skin cells. This leaves the younger-looking, fresh skin glowing for a youthful appearance. Sugar crystals are smaller and therefore more gentle than a scrub made with salt which can cause tiny tears. (2)
Sugar is a natural source of glycolic acid which penetrates the skin and encourages cell turnover. It is found in many commercial beauty products in synthetic form. (3)
Can Other Essential Oils Be Used?
Yes, other essential oils can be substituted in this recipe. However, I prefer to use wild orange alone because it has, not only a wonderful fragrance, but also is so invigorating.
You can use either single oils or a blend of oils. Each has characteristics that can benefit and help support your body's systems.
For oils and oil blends - start with a few drops of each oil and add more as desired. Remember, essential oils are concentrated so it will not take very much.
Other essential oil combinations to try:
Citrus Blast - orange, lemon, grapefruit
Double the Energy - orange, peppermint
Soothing and relaxing - lemon, lavender
Is This a doTerra Recipe?
While I do use doTerra essential oils, this is not necessarily a doTerra recipe. I am confident of their quality and use them for myself and my family but any orange essential oil can be used.
However, I encourage you to choose your essential oils carefully, as well as, any ingredient used on your skin.
Your skin is the largest organ in your body and what you put on your skin can enter the bloodstream faster than the food you eat.
How to Use Wild Orange Sugar Scrub Recipe
My Wild Orange Sugar Scrub Recipe, like other sugar scrub recipes are easy to use and only take a few minutes.
To Use:
Scoop out a small amount into your palm.
Using a circular motion, massage your wet skin gently for 30 - 60 seconds.
Rinse with warm water and pat dry.
If necessary, use a facecloth to remove any residual sugar scrub.
When Should I Use Wild Orange Sugar Scrub?
This homemade bath scrub should be used in the shower or bath on warm wet skin. The sugar scrub is effective to exfoliate while giving your the energizing benefits of wild orange sugar scrub.
It is also wonderful to use when giving yourself a pedicure or just a leg massage.
Massage Wild Orange Sugar Scrub onto your legs and feet and feel the invigoration.
For added benefits, leave it on for a few minutes before rinsing with warm water.
How Often Should I Use Wild Orange Sugar Scrub?
The frequency that you use this or any sugar scrub recipe is really up to you. I use my homemade sugar scrubs several times a week.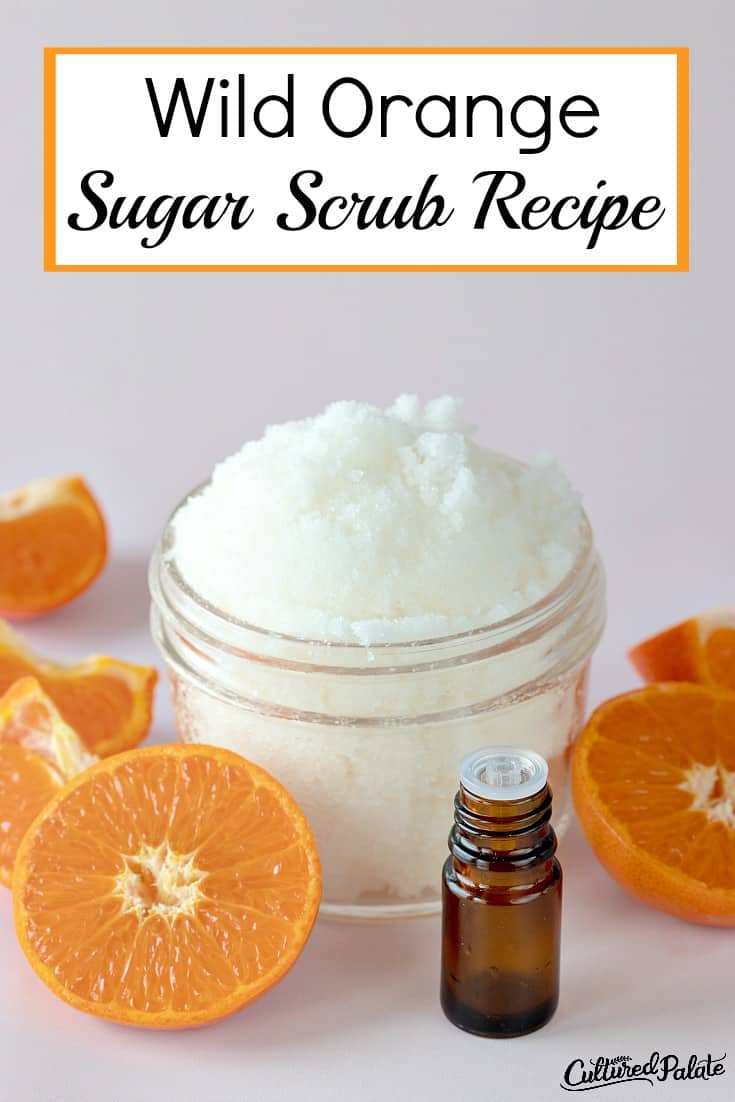 Homemade Bath Scrub for Gifts
My Wild Orange Sugar Scrub recipe makes great gift by themselves or as part of a gift basket. Think a Spa Basket with any of the following:
Don't forget gift tags to add that special touch to your gift!
What Are Good Containers for Storing a DIY Body Scrub?
A DIY body scrub or any sugar scrub should be stored in an airtight container. I like to store my sugar scrubs in glass jars but you could also use plastic.
Many cute glass jars are available both online or at Hobby Lobby where they are often on sale. Here are some of my favorite finds:
4 oz jelly jars
apothecary jars with cork lids - these are great when making a lot for gifts
Wild Orange Sugar Scrub Recipe
1 c. sugar (for a coarser scrub, add more sugar)

½ c. coconut oil

20 drops wild orange essential oil 

1 teaspoon vanilla extract (optional but gives a Creamsicle scent that is delicious!)
Directions
Mix all ingredients together.

Place in an airtight container.
To Use
Dip a small amount of Wild Orange Sugar Scrub Recipe into your palm.
Rub into your skin for 30 - 60 seconds using a circular motion.
Rinse with warm water and use a facecloth to remove and residual sugar scrub.
For More Sugar Scrub Recipes you will love, be sure to see my Sugar Scrubs page.
When is Your Favorite Time to Use Wild Orange Sugar Scrub?
Not Into DIY Beauty Products?
Not really into making your own DIY products but still want safe skincare options? There are good options available so let me highlight a few.
Since your skin is the largest organ of your body, and what is put on your skin can get into your blood stream quicker than the food you eat, "safe" is a keyword in skincare and cosmetics!
But, just because products say "organic" does not mean they are safe. Many have unnecessary ingredients, chemicals that are harmful and even hide behind the word "fragrance" so they can add unhealthy ingredients.
It is very important to use only safe, non-toxic, chemical free products on your skin. This Sugar Body Scrub in Lemongrass from Beautycounter is wonderful AND it contains only food-for-you ingredients. It is gently enough for your face too!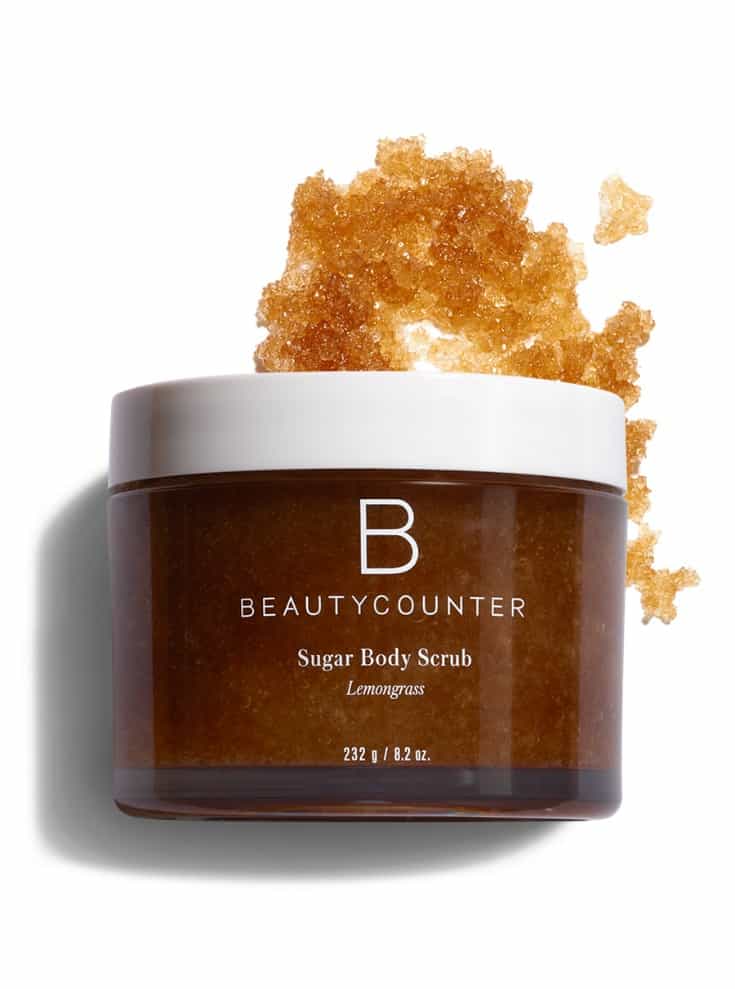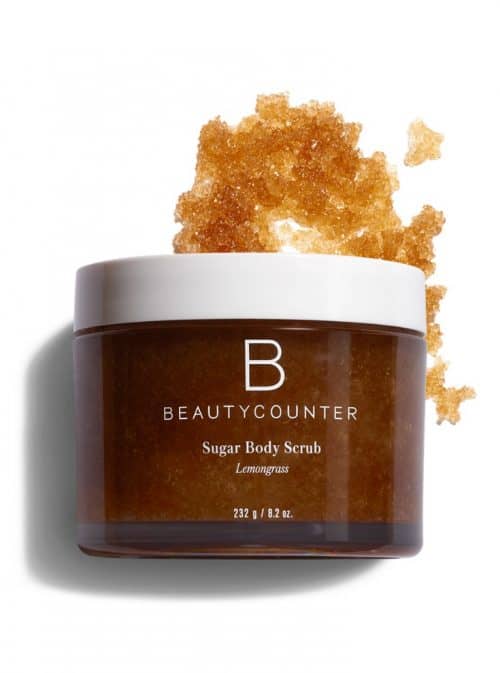 The Nourishing Cream Exfoliator by Beautycounter is another affective product to remove dead skin cells leaving you looking more youthful.
Using jojoba beads, it gently exfoliates and removing dry, dull skin leaving behind a brighter, more youthful looking skin. It also contains organic coconut oil and aloe to soothe and hydrate your complexion.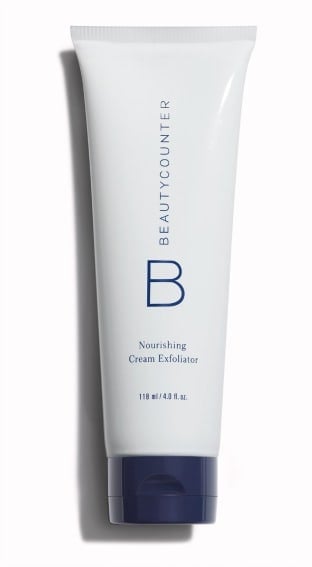 The Body Butter in Citrus Momosa from Beautycounter is another must-have for those with dry skin. It contains shea butter and mongongo oil to hydrate and nourish, plus organic sunflower oil, aloe, and chamomile to soothe and smooth. This Body Butter is thick, rich and melts into skin being absorbed without leaving you feeling greasy.