Nothing is quite so comforting as a home cooked meal that includes Easy Scalloped Potatoes. You will be surprised at just how easy this dish is to make and how yummy it tastes!
Easy Scalloped Potatoes is simple yet delicious, economical and healthy! But, don't let the simplicity of it fool you – it will pass even the most discriminating of palates!
It is a win-win dish that your family is going to love!
With fall upon us, we are moving toward harvest. In fact, we have already harvested our Roussanne grapes and will probably start harvesting the red varieties next week.
As grape growers, we get paid once a year – after grape harvest. Talk about a budgeting nightmare!
So, after getting our yearly pay, I sit down and make a budget. I assign every dollar a name and what it is to be used for.
Making a budget has been a life-saver and you can do it too using these free printable budget sheets. If you have any debt, you might also want to check out the debt snowball which gives a plan for shaking free of debt.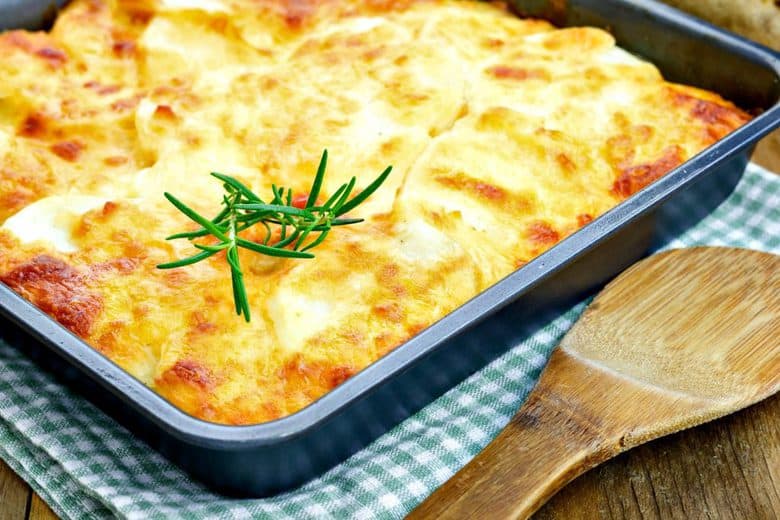 Everyone knows that potatoes are an inexpensive food. But, they are also nutritious and good for you. Now you can enjoy a delicious side dish that is easy on your budget AND good to your tummy!
The following Easy Scalloped Potatoes recipe is quick and easy to make. The longest part is baking but, I consider that down time to get the rest of the meal ready!
One way to make this recipe even faster to prepare is to slice the potatoes using your food processor equipped with the slicing disc.
Now, you must admit, fast, easy, budget friendly, nutritious AND delicious is definitely and win-win!
Scalloped Potatoes
Yield 6 servings
Ingredients
1 can (10 3/4 oz) can cream of mushroom soup (Make your own!)
1/2 - 3/4 c. milk
4 c. thinly sliced potatoes
1 small onion, thinly sliced
1/4 c. parsley
2 tsp. pepper
butter
1 c. shredded cheese for topping (optional)

I buy my real salt, herbs and spices from my affiliate, Starwest Botanicals - many of their herbs & spices are organic, and I think they are more aromatic and full flavored than any others.
Instructions
Combine soup, milk, parsley and pepper.
In a 1 1/2 qt casserole layer in the following order: potatoes, onions, sauce. Continue layers ending with sauce.
Dot with butter.
Cover and bake at 375 F for 45 minutes.
Uncover and sprinkle with shredded cheese if using.
Cook for 15 min. longer - even if you are not using cheese.
Related posts: