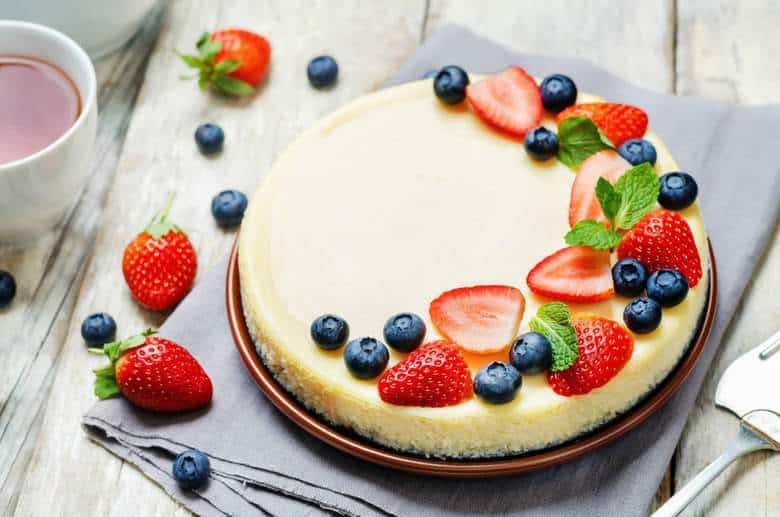 Sour Cream Cheesecake is one of my all time favorite desserts! I love it topped with fruit – especially strawberries and blueberries.
After all, what can beat the smooth creaminess of Sour Cream Cheesecake?
Not much!
Add a cup of coffee and it's a win-win.
Now, if you have the idea that a cheesecake takes special talent to make – think again!
This Sour Cream Cheesecake recipe is super easy – even a beginner cook can make it successfully!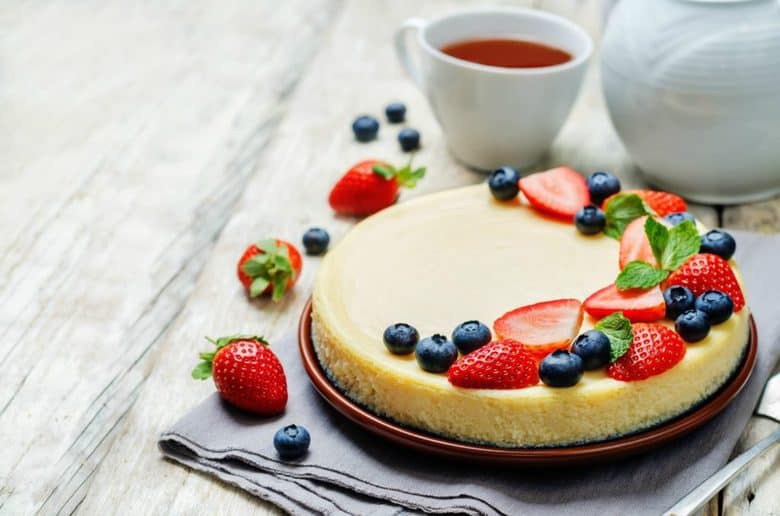 I have been inspired!
I like to jog on my mini-trampoline while watching a show on Netflix – it helps pass the time and I forget I am exercising!
Well, I finished all the Hawaii 5-0's and started looking for something else and discovered the Great British Baking Show.
If you are not familiar with it, let me share a bit about it. The season starts with 13 bakers in a weekly competition. One is dismissed at the end of each week.
In the final episode of the season, 3 bakers remain. Throughout the season, each weekly competition consists of three challenges – a signature bake, a technical challenge and a show stopper.
Guidelines are given for each challenge – flavors and ingredients to be used. But, it is up to each baker as to how to do the baking.
One thing I have learned from watching the show is that having the right tools is important to the final presentation.
A spring-form pan makes all the difference in a cheesecake!
If made in a traditional pan, the crust of a cheesecake sticks and is difficult to remove. So, the final appearance is lacking!
I am going for Show Stoppers!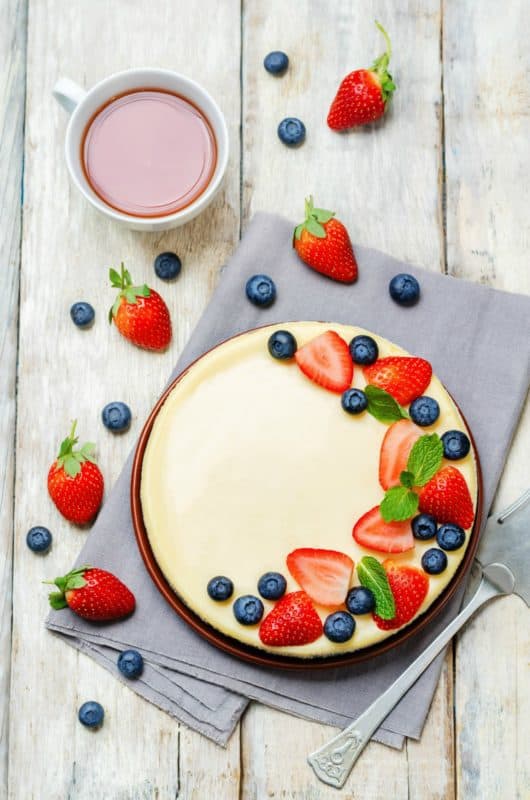 Wondering what the rest of the family thinks about this dessert, especially since there are so many boys in my family?
Let me answer this way: I normally make two cheesecakes at a time and they are both eaten completely – in one sitting!
That says it all – this is a definite winner!
Sour Cream Cheesecake
Yield 9 " cake
Ingredients
Graham Cracker Crust
1 c. graham cracker crumbs
2 Tbsp butter, melted
Filling
16 oz. cream cheese, softened
3/4 c. sugar
2 c. sour cream
3 eggs
1 Tbsp vanilla

I buy my real salt, herbs and spices from my affiliate, Starwest Botanicals - many of their herbs & spices are organic, and I think they are more aromatic and full flavored than any others.
Instructions
For Crust
Grind cookies fine in a blender. You can also put them in a ziplock bag and roll them with a rolling pin.
Add the butter and mix well.
Press into the bottom of a 9" spring-form pan.
Refrigerate while preparing the filling.
Filling
Beat cream cheese until smooth with hand mixer.
Add the sugar and sour cream and mix well.
Add the eggs and vanilla - mix until smooth.
Pour into the pan and smooth the top.
Bake at 350F for 30 - 40 mins.
Turn oven off and leave in oven 1 hour to set.
Remove and chill in frig. until firm - about 3 -4 hours.
Related posts: